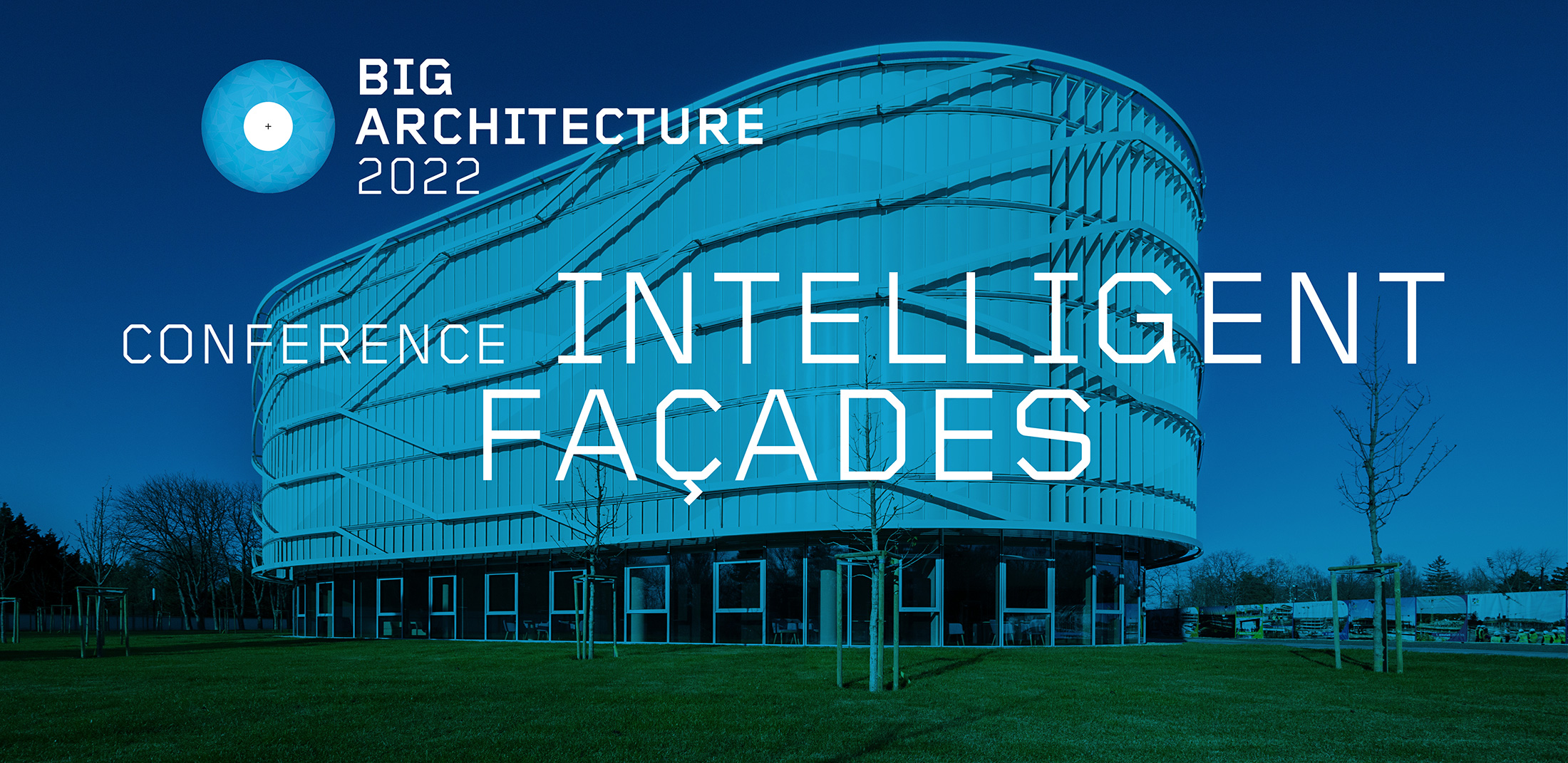 May 5
9.30-12.00
Cankarjev dom
Ljubljana, Slovenia
Conference Intelligent Façades
Interlacing of demands and human-centered design
Intelligent façades no longer represent an added value, but an inevitable necessity, so that a building can function properly. Advances in building technology, tightened requirements of the legislative bodies resulting from environmental causes, and higher expectations of various building users, push the development of an outer building skin even further. Façades are becoming adaptive, interactive and intelligent in order to meet the demands of time. Its design shall determine the benefits a facade can have on its occupants, its impact on the surrounding environment or its effect on building energy efficiency. It can, among other things, improve the natural lighting conditions of the interior space, contribute to unisturbed views to the outside, enable fresh flow of air, and harvest water or energy from the sun, among other aspects. And yet, a façade is still the face of a building which is shown to the outside world. It represents an exterior of a building which can now, with the evolvement of a building skin, be freer in expression and can be more communicative with the outside world.
Curator: Jernej Markelj PhD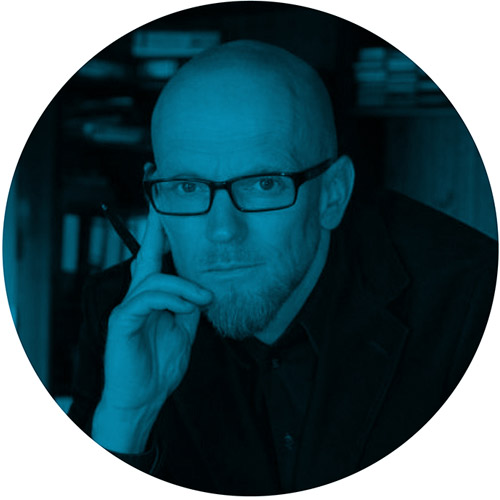 Brian Cody is university professor at Graz University of Technology and head of the Institute of Buildings and Energy since 2004. His focus in research, teaching and practice is on maximizing the energy performance of buildings and cities. Before his appointment in Graz, he was associate director of the international engineering consultancy Arup. He is founder and CEO of the consulting firm Energy Design Cody, which is responsible for the development of innovative energy and climate control concepts on construction projects all over the world. Professor Cody serves as member on many advisory boards and juries and is Visiting Professor at the University for Applied Arts in Vienna. He is author of the book "Form follows Energy" published in 2017.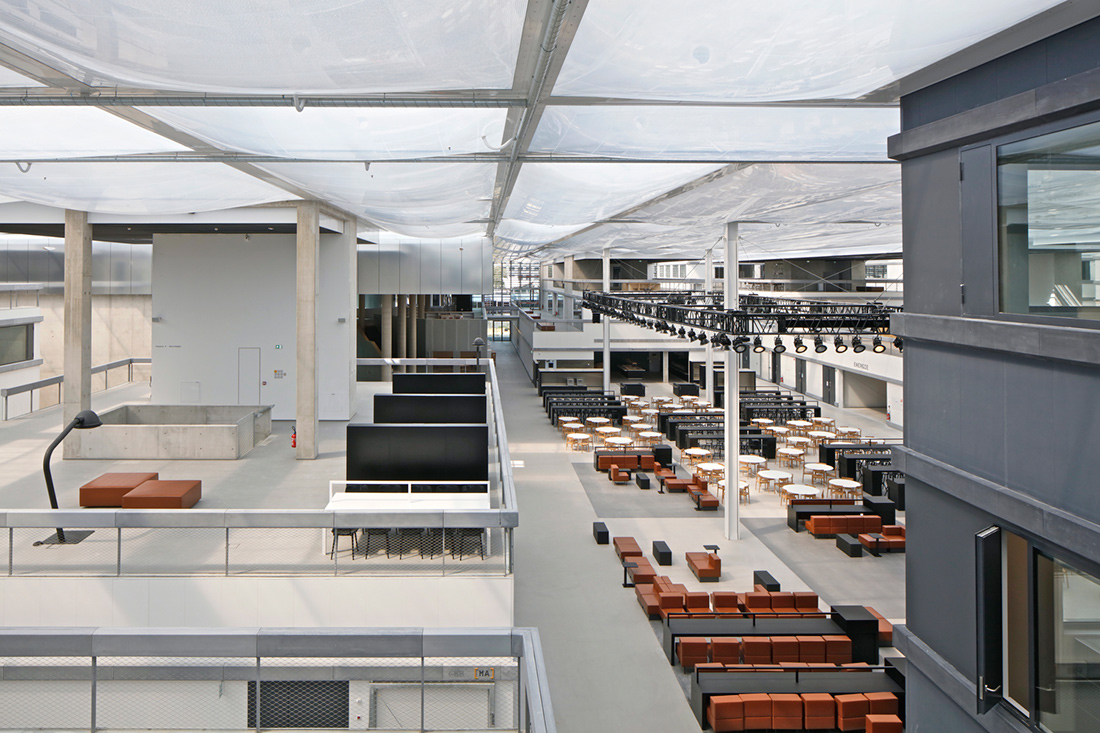 LAB CITY CENTRALESUPÉLEC – ENGINEERING SCHOOL, ECOLE CENTRALE PARIS
Their involvement on this project started during the competition phase. They worked with OMA architects in Rotterdam to help them develop a new university campus building typology which achieves high energy performance by utilizing synergetic interactions between the various uses while creating a new form of campus space under a "climate envelope". The building comprises teaching spaces, laboratories and offices, all enclosed within a climate envelope so that the in-between spaces form an indoor campus. Within the hall under the climate envelope, composed of a PTFE foil roof and glass façades, a macroclimate is created, largely by passive means, which is not as closely controlled as the internal environments within the laboratories and the offices. The roof design reacts to the requirements of the various spaces below by combining highly insulated opaque areas with transparent areas and optimizing their placement and distribution to reflect the distribution of the building program in the hall. The hall is a transitional space between the internal and external environments, supporting and enhancing the campus atmosphere and informal communication. The concepts developed work in the completed building to enhance both communication between people and synergetic energy flows between the many diversified uses under its roof, transferring surplus heat from the laboratories to spaces which require heat such as the offices.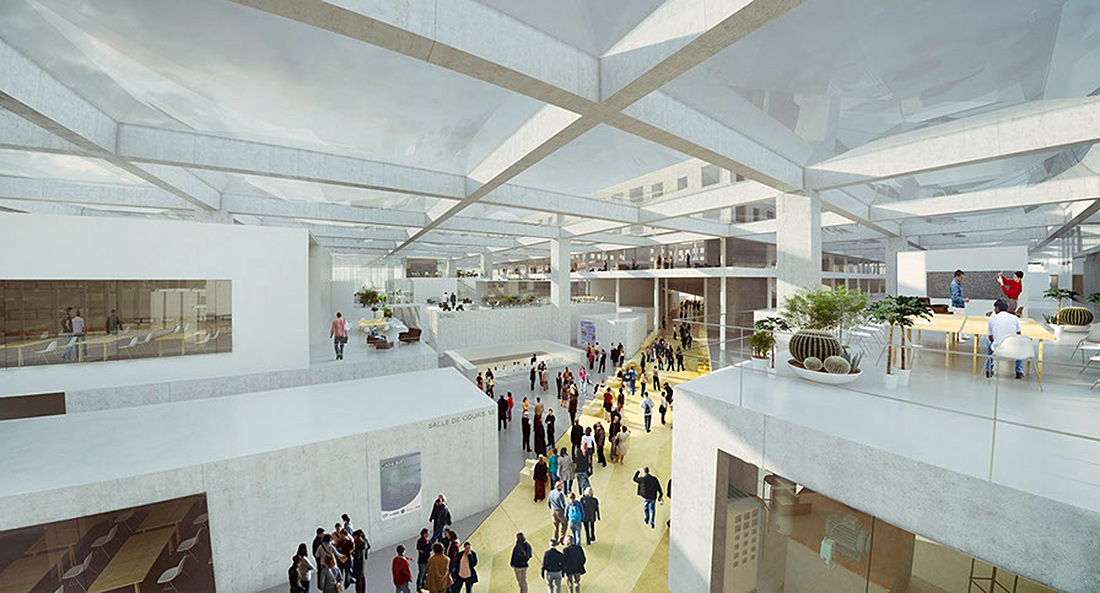 DATA:
Location: Paris, France
Architect: OMA Office for Metropolitan Architecture
Building owner: Ecole Centrale Paris
Total floor area: 50 000 m2
Start date: 2012
Completion date: 2017
Service: Energy design concepts
Status: Completed
Rendering: OMA
Photos: Philippe Ruault
Renderings: OMA Office for Metropolitan Architecture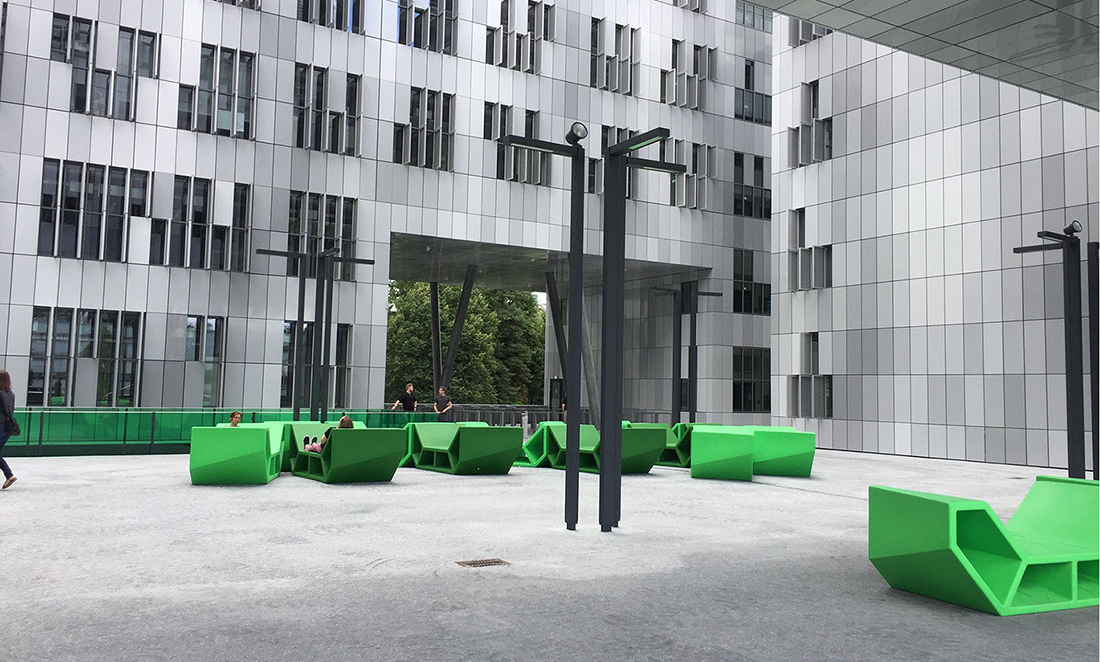 MED CAMPUS GRAZ
The exploitation of symbiotic relationships and synergies in the development of the energy systems is an important aspect of the concepts we developed for the new campus of the medical University of Graz, in collaboration with the architects Riegler Riewe. Deceptively simple strategies can save considerable amounts of energy and resources. In the laboratory areas, a system was developed which employs the supply of cooled air and the use of reheaters to meet the individual demands of the laboratory spaces instead of the conventional HVAC system type utilized in Central Europe with isothermal supply air and secondary cooling systems, ensuring a greater utilization of free cooling and thus saving thermal energy and increasing energy performance. The floor plan is so configured that the office spaces and write- up areas are positioned in the regions with the best daylight conditions. The daylight openings in the façades in the lab areas are provided at two levels, at mid-level to provide views at the write-up areas and at high level to provide daylight to the laboratories behind. The configuration and size of the openings in the façades depends on the specific location within the dense urban structure and the use of the spaces behind the façade. The offices are naturally ventilated and heated and cooled via suspended radiant ceiling panels. On account of wind considerations related to microclimate the buildings are orientated with the long axis running north-south. The external shading devices were therefore designed as automatically controlled vertically aligned perforated metal elements which allow daylight and views while blocking solar radiation.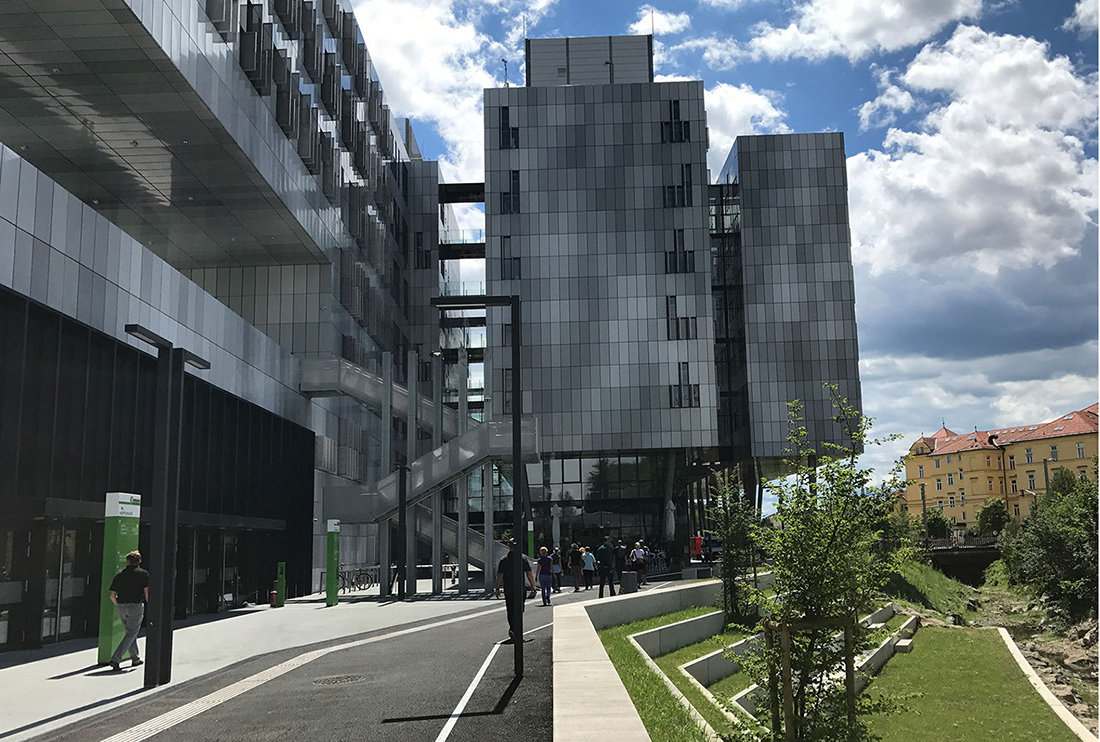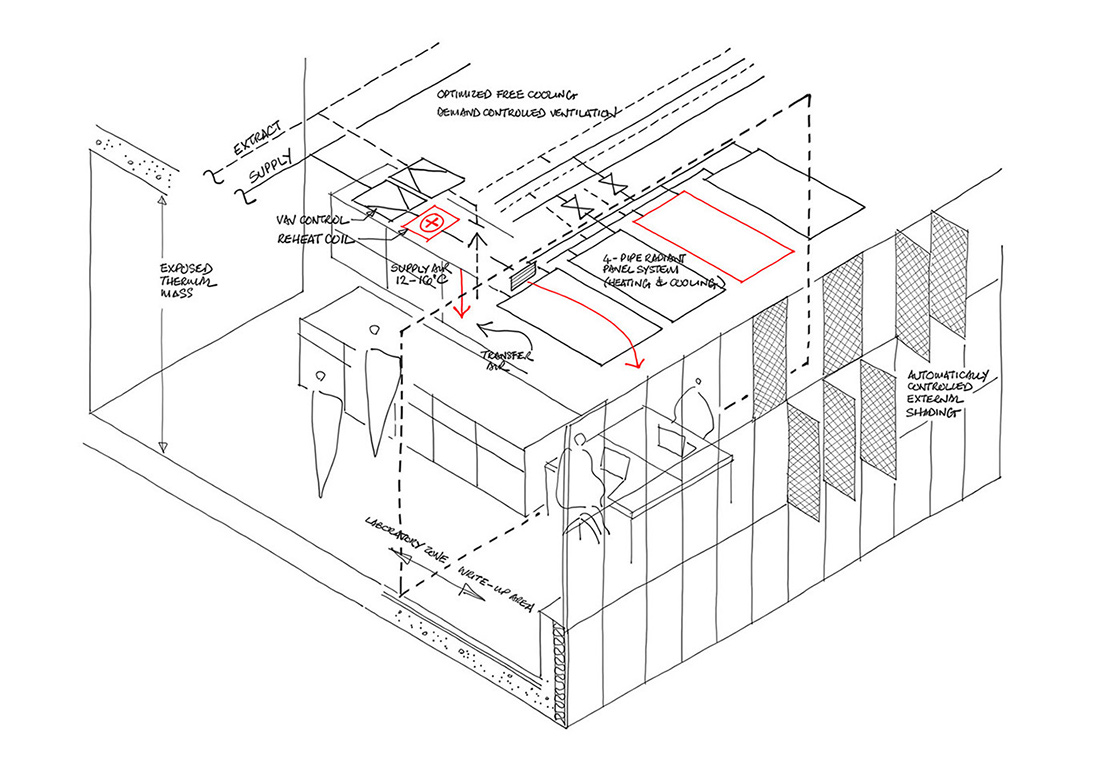 DATA:
Location: Graz, Austria
Architect: Riegler Riewe Architects
Building owner: BIG Bundesimmobiliengesellschaft m.b.H.
Total floor area: 90 000 m2
Start date: 2010
Completion date: 2017
Service: Energy design concepts
Status: Completed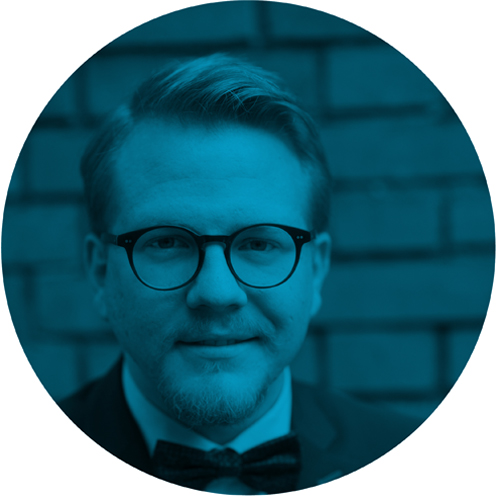 Dr. rer. nat. Sebastian Schmidt, engineer and materials scientist. He has been working in the R&D department of the FIXIT GRUPPE as a project manager since 2020. His field of activity includes the supervision of Fixit 222 Aerogel high-performance insulating plaster, the development of new insulating plasters, testing and approval of building materials, the creation of environmental product declarations (EPDs) and participation in a committee on the topic of "recycling" of building materials.
 The FIXIT GRUPPE has been in existence since September 2006 as the umbrella organisation for the five building material brands FIXIT, GREUTOL, HASIT, KREISEL and RÖFIX. With 67 locations in 18 European countries and around 2500 employees, the FIXIT GRUPPE is one of Europe's leading system providers in the building materials sector.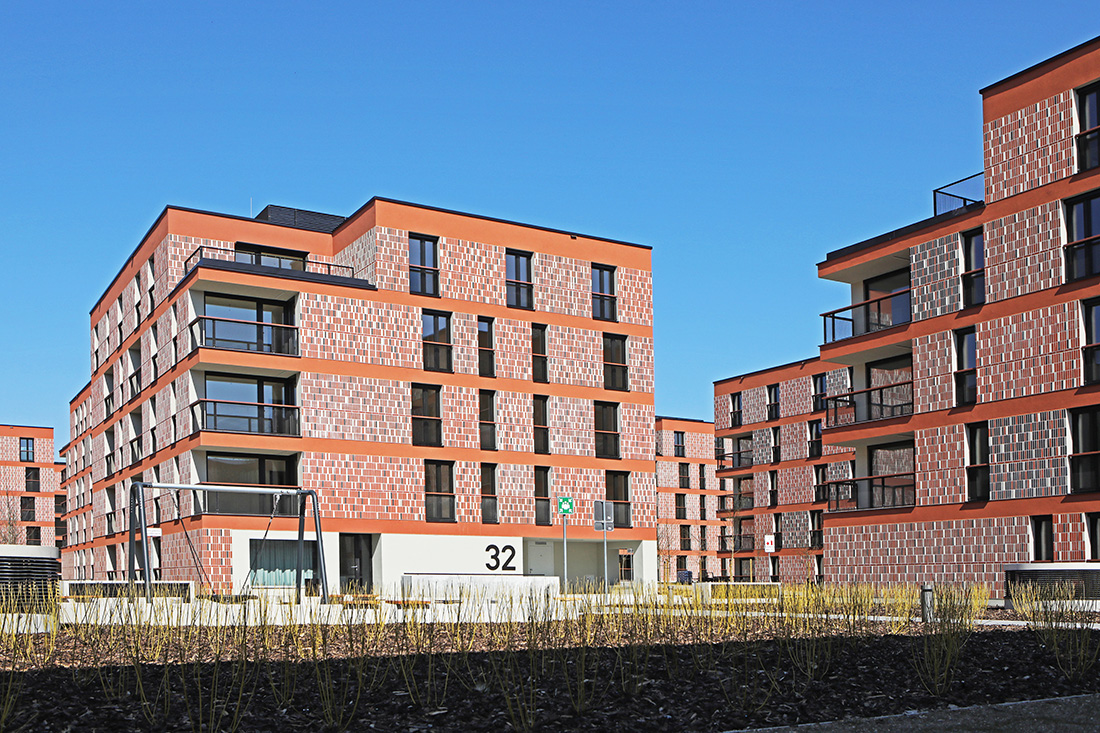 At the end of 2021, the land area of the neighbourhood Novo Brdo measuring 4,8 ha witnessed finalization of the construction of 498 rental apartments, from 30 to 80 square metres each, in 18 buildings. This housing development is situated in Ljubljana Vič, between the Cesta na Vrhovce Road and Cesta na Brdo Road. The new neighbourhood consists of individual smaller buildings, the so called villa blocks and larger longitudinal blocks. The blocks are separated from each other and extend independently from North to South, they are divided by inner sidewalks and cycle tracks. These are higher standard buildings and flats providing a living space to a cohousing community of different generations. The well-being of the residents of this new neighbourhood will be provided by a safe open external area filled up with a new green system, playgrounds and connections with the existing green circle. Buildings all excel in high quality longlife facades, being carefully designed and professionally coordinated among the suppliers and contractors of individual construction elements, like facade components, insulation panel production, cladding installation, damp proofing installation and joint grouting. With the facade system StoneEtics ®50 of Röfix Slovenia, these buildings acquire aesthetic perfection, functionality and sustainability.
DATA:
Novo Brdo Neighbourhood
Architect: Dekleva Gregorič Architects
Size: 18 buildings
Facade: 25,000 m2 Röfix StoneEtics® and 8,000 m2 Röfix Etics
Photo: Matjaž Žnidaršič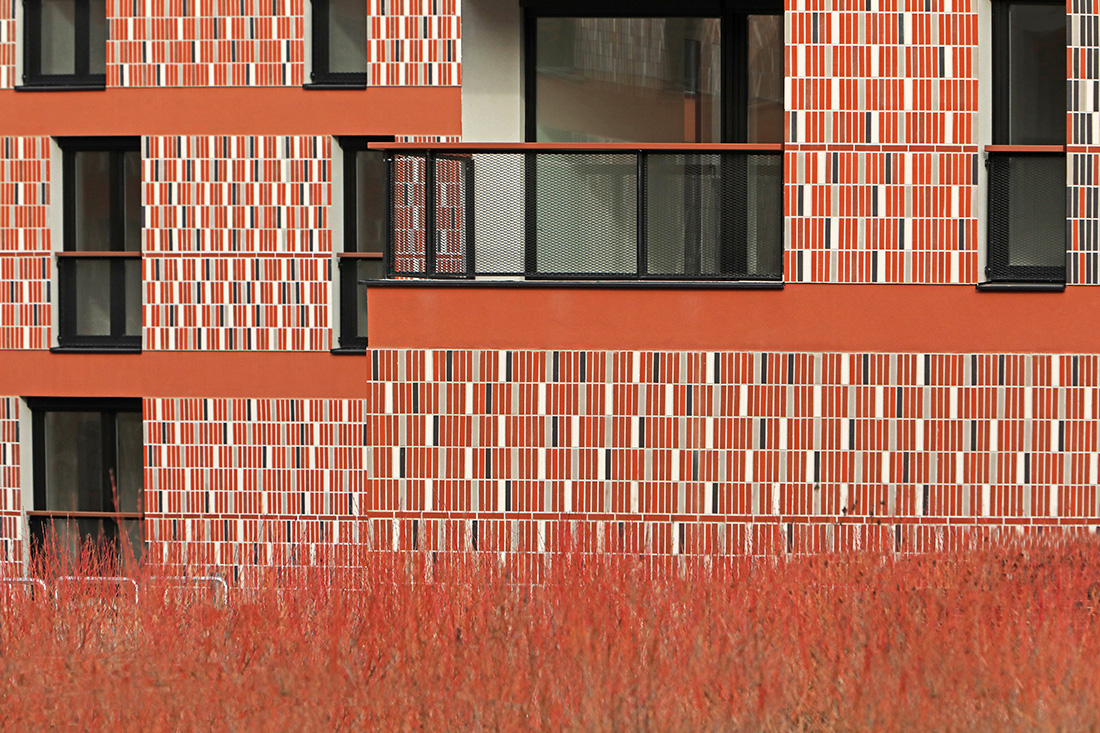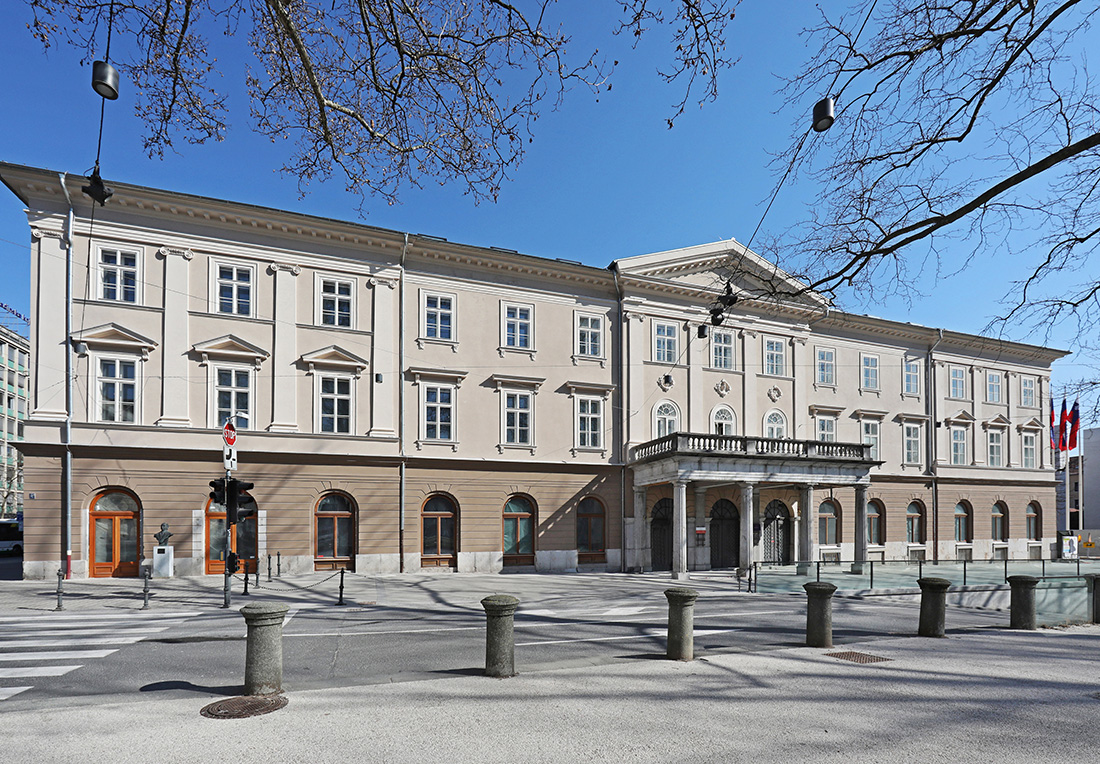 The famous palace of Kazina, which was renovated at the end of 2021, shall be protected in future as an important local cultural monument. Proposal for Kazina being a local cultural monument was submitted by a group of conservators at the local unit of the Institute for the Protection of Cultural Heritage of Slovenia in Ljubljana. The »palace« represents one of some rarely preserved cases of a multipurpose public palace type, built in the first half of the 19th century, which already at that time was more than a meeting and association place. Actually, it became a true social forum of the nobility at first, and later of the townspeople as well. The Kazina Association had this building erected between 1835 and 1837, and its construction was led by the city master craftsman Venceslav Vadnav. In future, Kazina shall be entirely intended for the purposes of the Academy of Music. Reconstruction, that is renovation of the Kazina building was supervised by the Institute for the Protection of Cultural Heritage of Slovenia and on renovation proposal of the materials supplier Röfix Slovenia. We, in the company of Röfix Slovenia, strongly believe that maintenance of such buildings is our highest priority, so that these buildings shall be saved for future generations as witnesses of time. We endeavour that the project work is not reconstruction-oriented only, but also directed towards preservation of the historical substance. Röfix Slovenia can offer to professional personnel a great variety of historical mortars, base and final renders as well as coating products for restoration of historical architectural surfaces, as this was the case with the renovated Kazina palace in Ljubljana.
DATA:
Kazina of Ljubljana
Institute for the Protection of Cultural Heritage, Organisational Unit Ljubljana
Size: 6,000 m2 indoors and 2,500 m2 facade
Renovation system: Röfix Slovenia
Photo: Matjaž Žnidaršič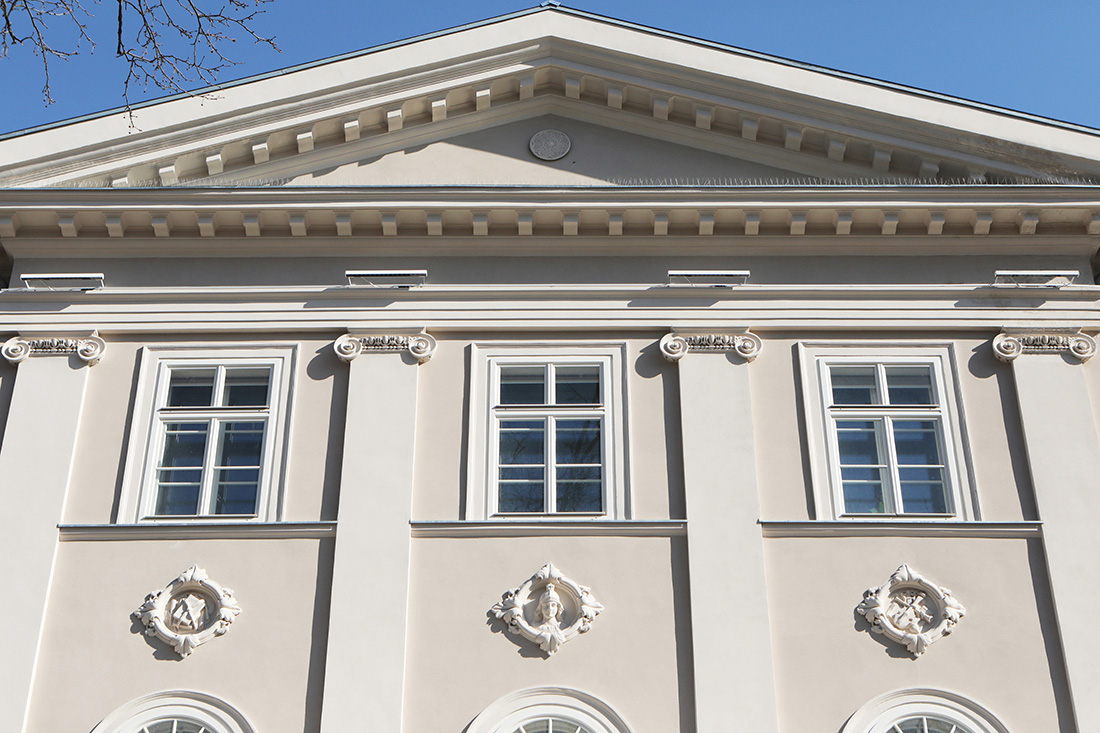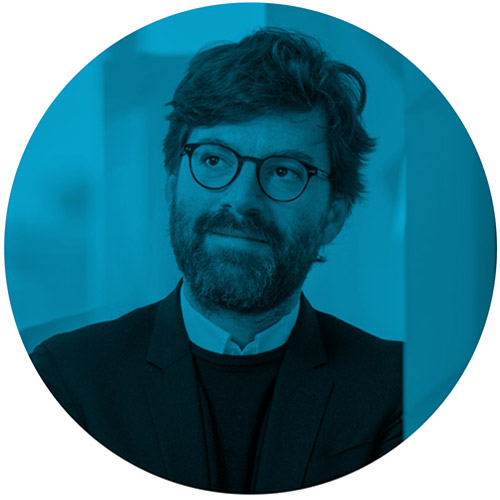 Studiomolter is an interdisciplinary workshop researching and practicing in architecture and design. Inspired by curiosity they explore complexity and diversity of all scales in architecture and design focusing a scientific design research approach. Their method to design the built environment is based on a deep cultural as well as geographical research. The way they work reflects personal as well as social context in order to find the appropriate solution in an open and collaborative design research with architects, engineers, scientists and experts.
Philipp Lionel Molter is a former architect of Renzo Piano Building Workshop. Philipp founded his own studio in 2010 and realized award winning projects across all scales of the built environment. He was co-leading the Associate Professorship of Architectural Design and Building Envelope of the Technical University Munich before being appointed to full Professor for Architecture at IU International University. His principle research and teaching focuses on adaptive building envelopes and their thermal, visual and environmental performance. In this context, Philipp Lionel Molter is inventor and holds patents at the European Patent Office. For his doctoral thesis he was awarded with the Dr. Marschall Prize for an outstanding dissertation completed at the Department of Architecture of the Technische Universität München.
Based on his international background, Philipp Lionel Molter is author of books, scientific journal papers and peer reviewed articles. He is peer reviewer for scientific journals and has been lecturing all across Europe and in Australia. His work has been published by many authors in several magazines including wallpaper magazine, Frame magazine, DETAIL magazine and on TV.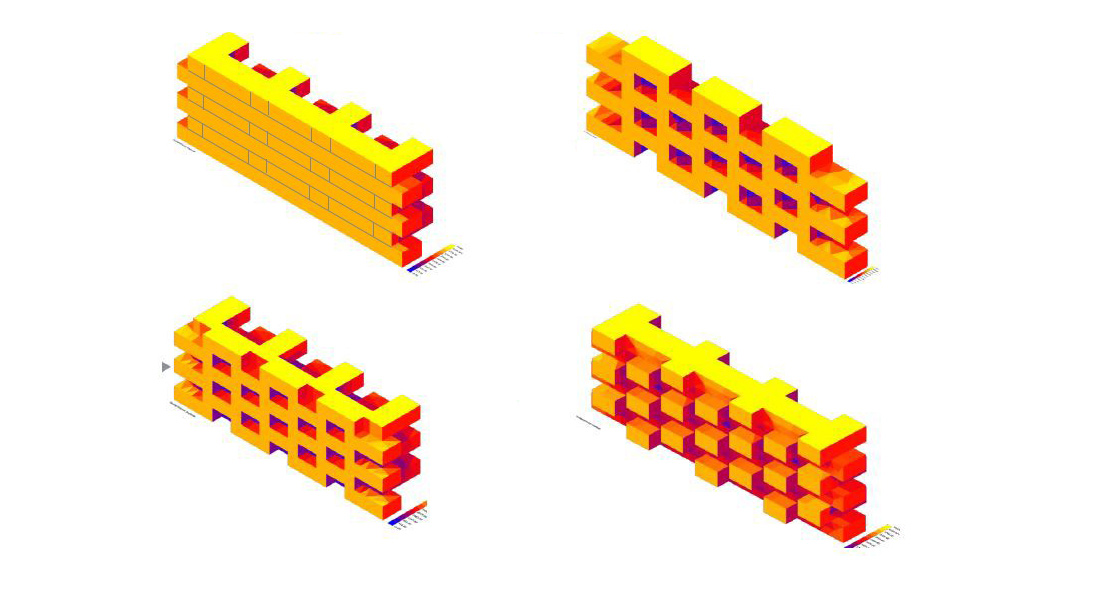 SELECTED RESEARCH PROJECTS: CLIMATE ACTIVE BRICKS
Brick has been proven to be one of the most widespread building materials worldwide and this is projected to continue. The adobe material, due to its high thermal capacity robustness and formal flexibility, can be assembled in different ways to control the thermal behaviour with self-shading or adding active interventions like extra moisture. Additionally, bricks as modular elements have the potential to be further studied in terms of geometric configurations to minimize or maximize their solar exposure for summer or winter scenarios as climate control elements. The potential of sprinkled bricks decreasing surface temperature of building envelopes can significantly contribute to an improved microclimate and improved urban heat island (UHI). This research investigates the potentials of different geometrical brick patterns and their behaviour on self-shading potential to reduce mean surface temperature of solar exposed brick walls. The study shaped in two layers including field measurements for geometric behaviour and evaporative cooling potential. The results are discussed and compared for 3 configurations of solid, extruded and perforated under varying boundary conditions over a day. Field measurements of solar exposed brick mockups are conducted in a range of experiments and their surface temperature monitored. The results show an average temperature difference of eight degrees Celsius between a straight solid wall and an optimized brick pattern featuring self-shading geometry. A second experiment showed eleven degrees of surface temperature difference combining self-shading brick geometry with irrigated surfaces.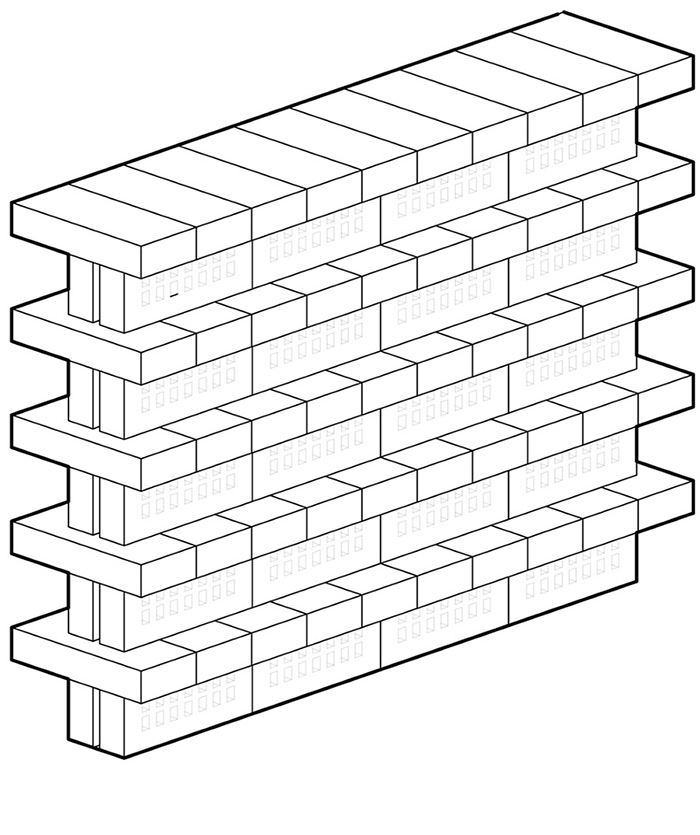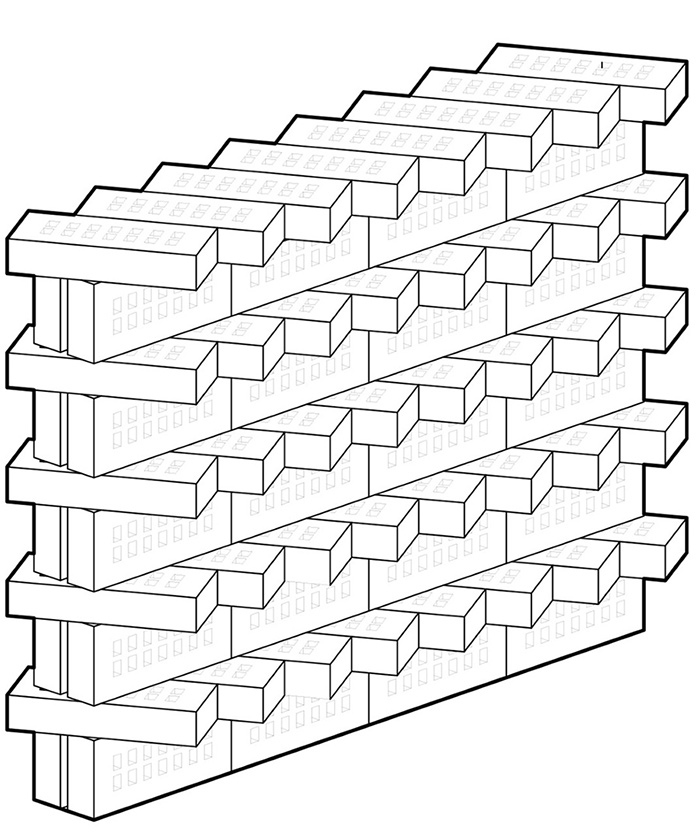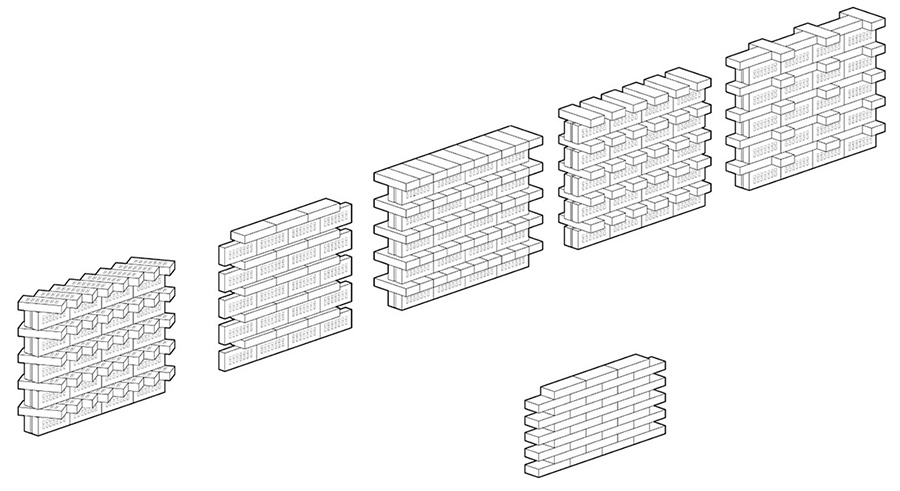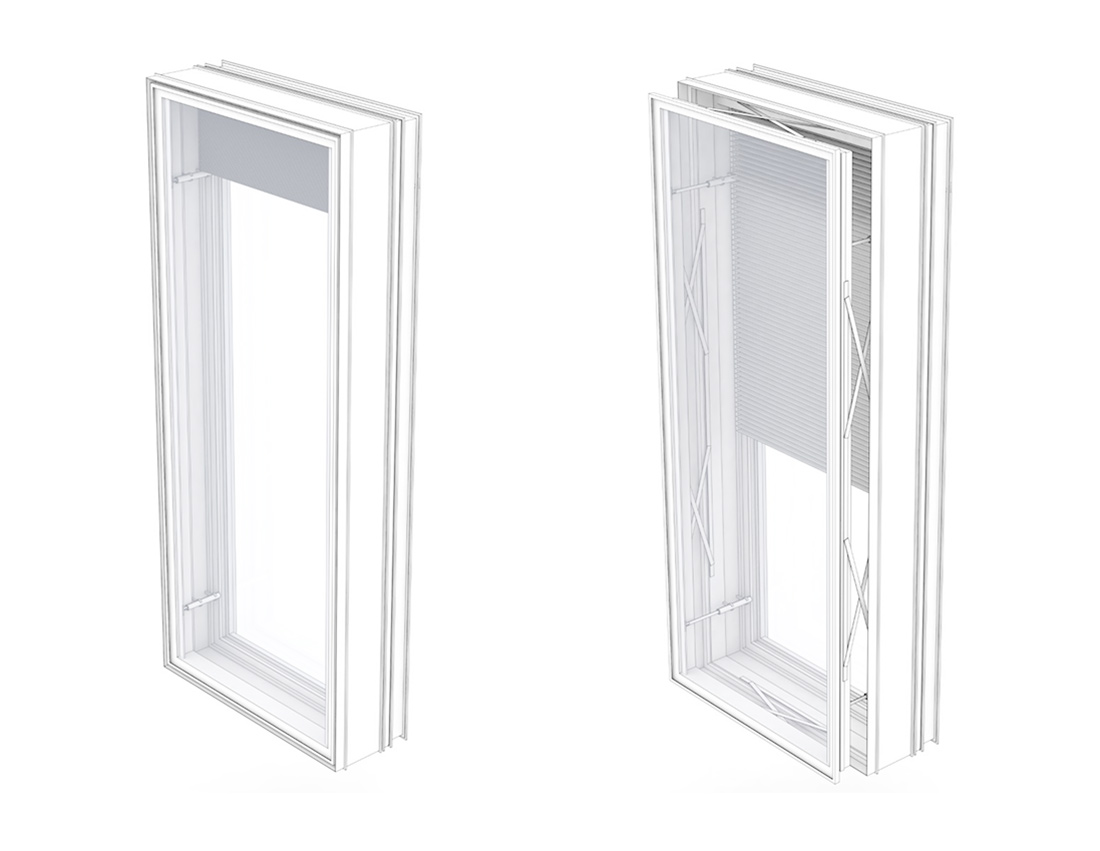 SELECTED RESEARCH PROJECTS: AUTOREACTIVE BUILDING ENVELOPES
The heart of the Ventflex technology developed by Dr. Philipp Lionel Molter is a paraffin-filled thermal cylinder. The wax-oil mixture inside the cylinders expands when the temperature rises above a certain value. The increase in volume generates a pressure that pushes the cylinders apart like telescopes. If the temperature drops, they contract again. Until now, thermal cylinders have only been used to open and close ventilation slots in greenhouses. In his research project, which has just been completed, Molter is able to show that the technology is also suitable for cooling double-glazed facades efficiently, cost-effectively, energy-efficiently and without the need for complex electronic control systems.
Thermal cylinders control the low-tech facades
The elements of the new low-tech facade do not differ visually from conventional facade elements. However, the outer pane of the double-glazed box window is not fixed but connected to the frame at all four corners via the thermal cylinders. If the temperature between the panes rises above 23 degrees Celsius, the cylinders push the outer glass-front 5 cm outwards. The slot between the frame and pane allows cooler outside air to enter and naturally ventilate the space between the panes occupied by the heated sun protection. If the temperature drops below 23 degrees, the gap closes again automatically. The reaction time is only a few minutes. In winter, the facade module remains closed on cold days to prevent the offices from cooling down.

Positive energy balance
Simulations at the Chair of Building Technology and Climate Responsive Design at the Technical University of Munich show that the new low-tech concept is very efficient: Compared with modern facades, up to 50% of the energy required for heating and cooling can be saved. For high-rise buildings from the 1970s and 1980s, which have not yet been renovated and therefore consume a lot of energy, the savings can be considerably greater.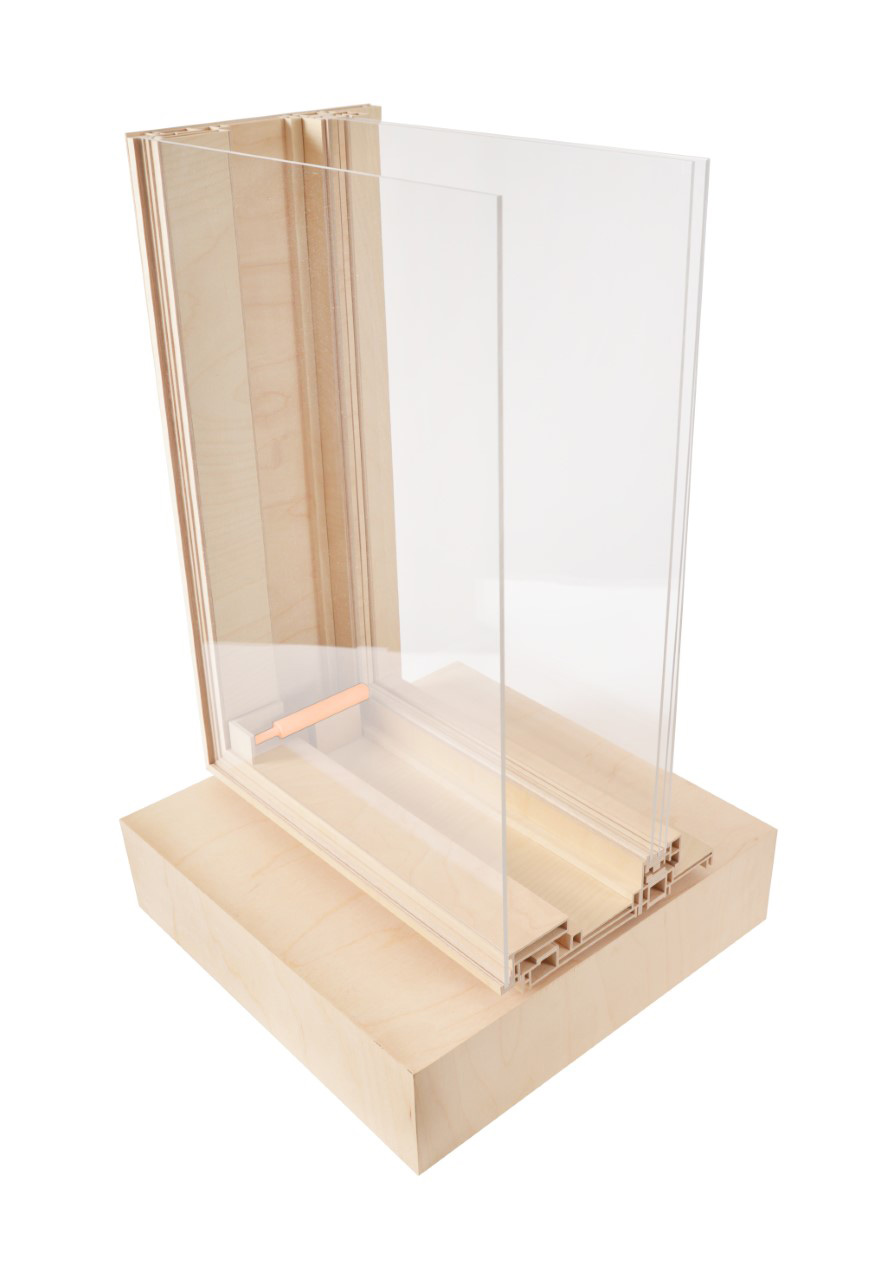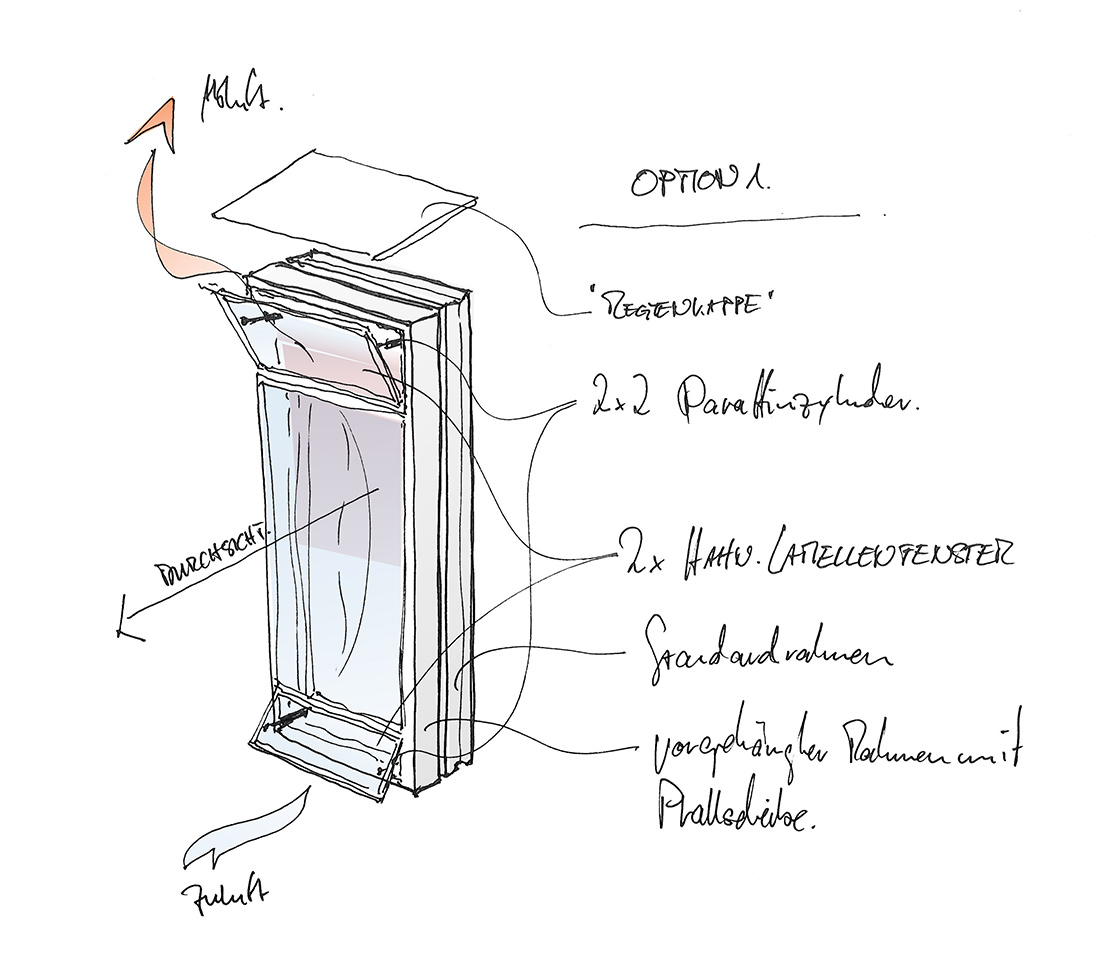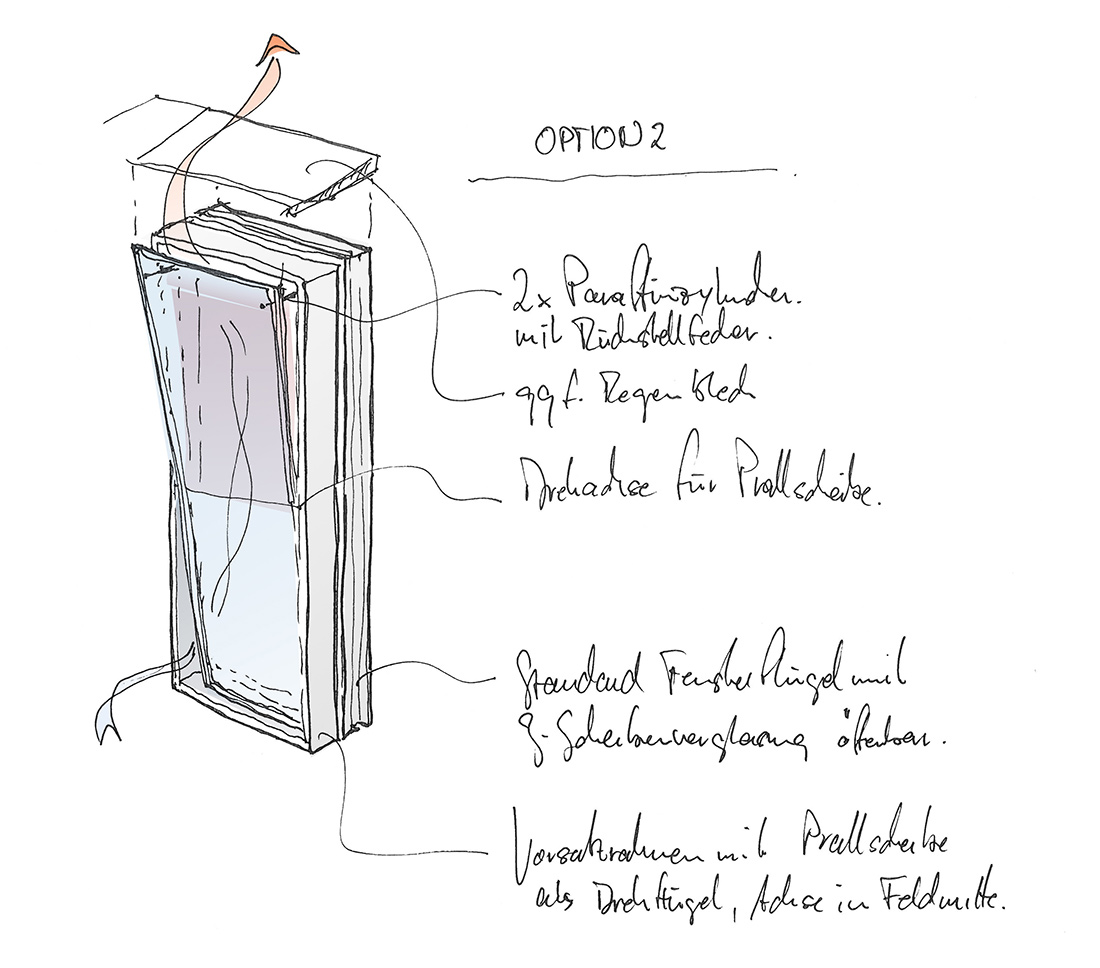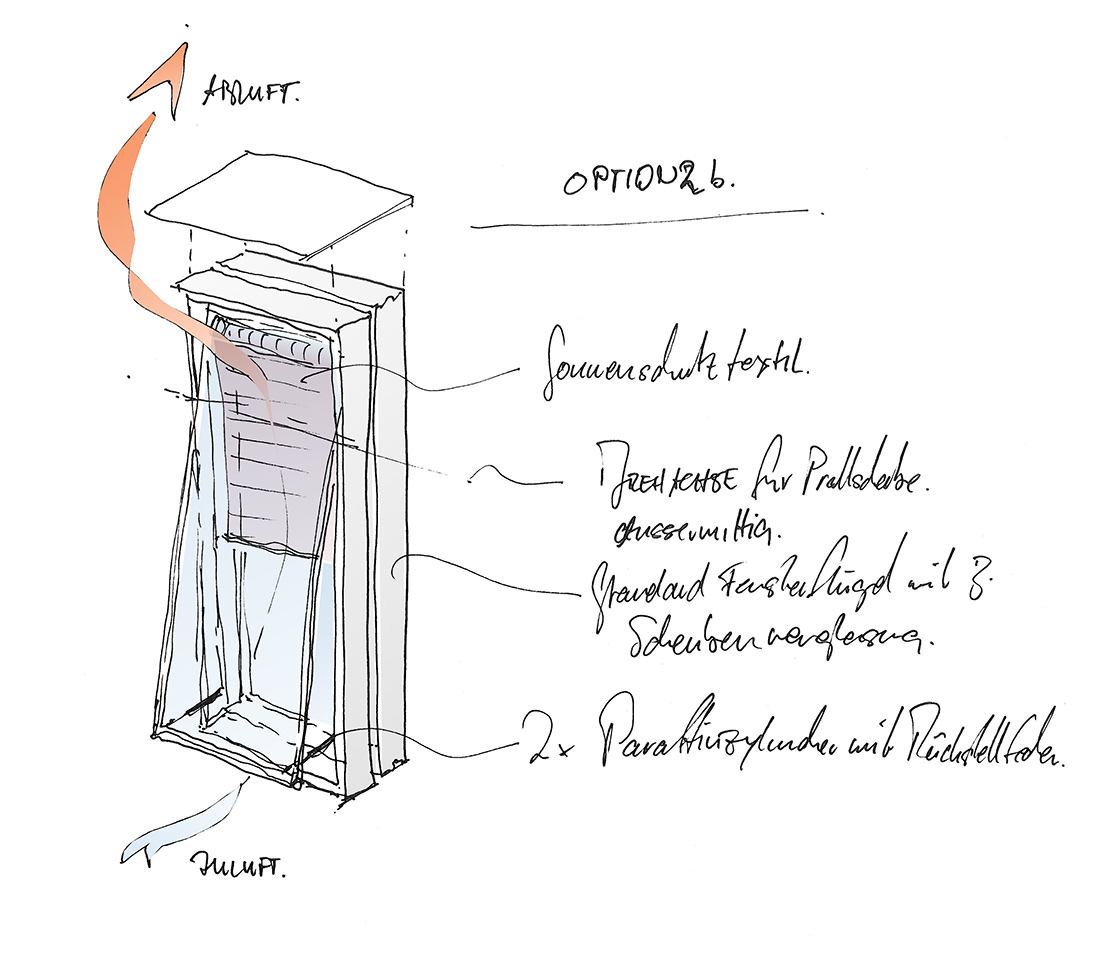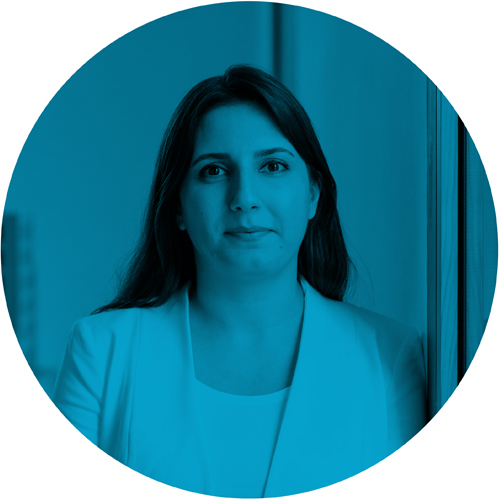 Yasemin Yalcın-Chauca was born in 1988 in Bregenz, Austria. After studying architecture at the Technical University in Innsbruck, she designed boutiques in Europe, Asia and the USA for the St. Gallen fashion house Akris. From May 2016 she worked at Baumschlager Eberle Architekten in Dietmar Eberle's team on concepts, competitions and publications. In 2018 she completed her Masters in Collective Housing at ETH Zurich/UPM Madrid. Since 2020 she has been repeatedly invited as a guest professor at the Collective Housing program. Since January 2020 she has been the managing director of company 2226, which is part of the Baumschlager Eberle group. Photo portrait: Baumschlager Eberle Architekten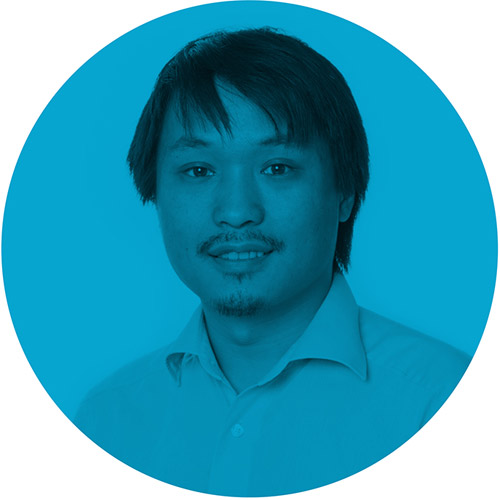 Transsolar is an international climate engineering firm determined to create exceptional, highly comfortable indoor and outdoor spaces with a positive environmental impact. They believe that the very measures taken to create remarkable architecture can simultaneously enhance human experience and minimize resource use. To them, sustainability is not separate from design, but an indispensable component that enhances the experience of the built environment.
They are vision facilitators, idea generators, and design integrators. Their engineers are not just experts in basic physical principles; their creativity enables the collaboration necessary to develop deeply integrated comfort and energy concepts. Beginning from a project's earliest conception, they work alongside the client, architect, design team, and the most vital participants of all – the occupants. They study the seasonal behaviour of sun, wind, heat, light and other energy flows in and around the building, and formulate concepts based on the complex interdependence of the local climate, user needs, architectural design and engineered systems.
Jochen Lam studied mechanical engineering at the University of Stuttgart and joined Transsolar's Stuttgart office in 2013. In 2016 he worked in Transsolar New York office for one year. Jochen is part of the TRNSYS development team and an expert in thermal modelling of buildings and systems. Besides his consulting work, he gives lectures and workshops at European universities.