Housed in a large ground floor space of a 1960s apartment building, Third Place is located in the heart of Athens. The design choices are enhanced with an industrial aesthetic inspired by the building's past: exposed concrete columns, concrete levels, custom made steel lights, visible air ducts and cable trays, enhance an emerging urbanity.
The design was based to the understanding of how people will use the overall space, incorporating atmospheric transitions and spatial qualities to succeed changing behaviours. Strict geometric forms for the heavy constructions and smooth curved ones for the detailing elements soften the harshness of the industrial aesthetic. Underpinned by a minimalist sensibility the monochromatic approach, far from creating a cohesive environment, has created a lyrical interplay of light, depth and textures, giving birth to a scenery of calmness.
The restored terrazzo floor, a typical feature of mid-century Greek residential architecture, juxtaposed with the concrete surfaces, and the coloured furniture. The emerging urbanity is complemented by the concrete platform, where the visitors can sit and enjoy their coffee in different ways.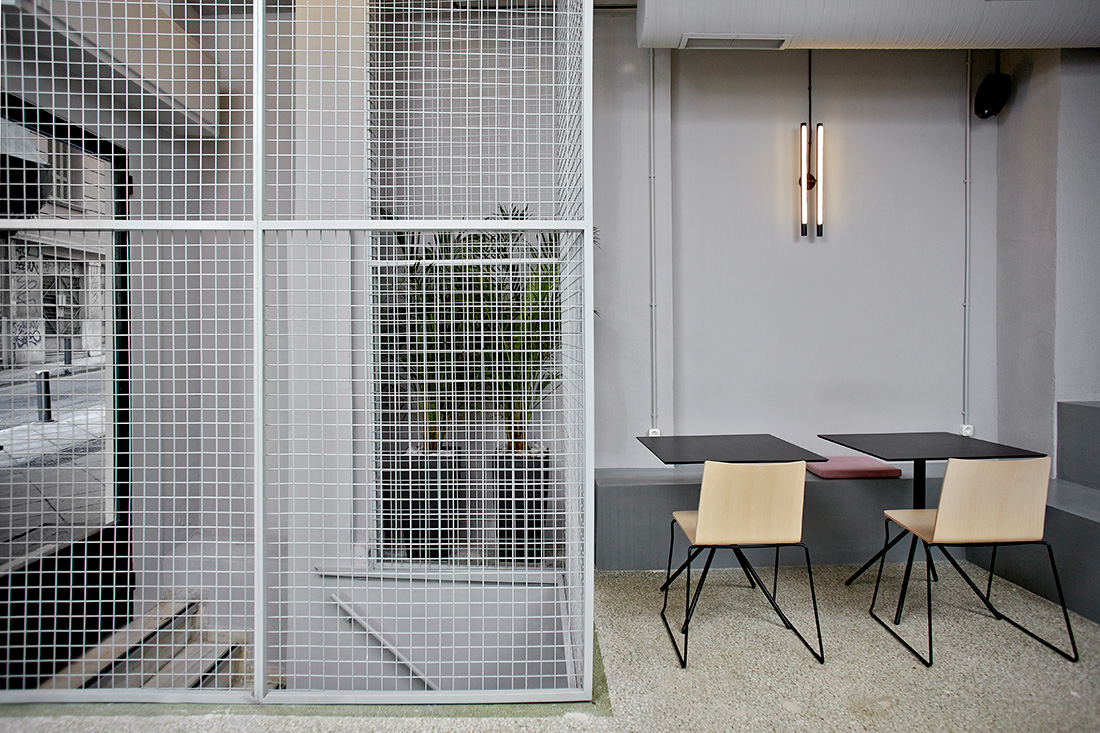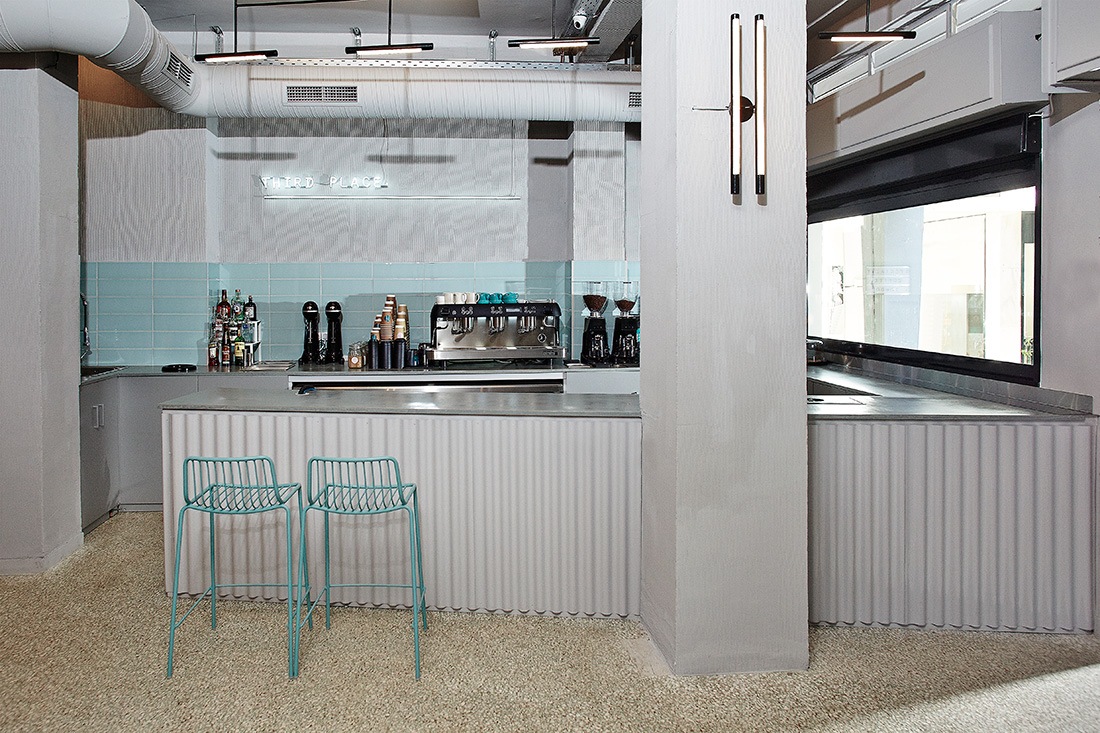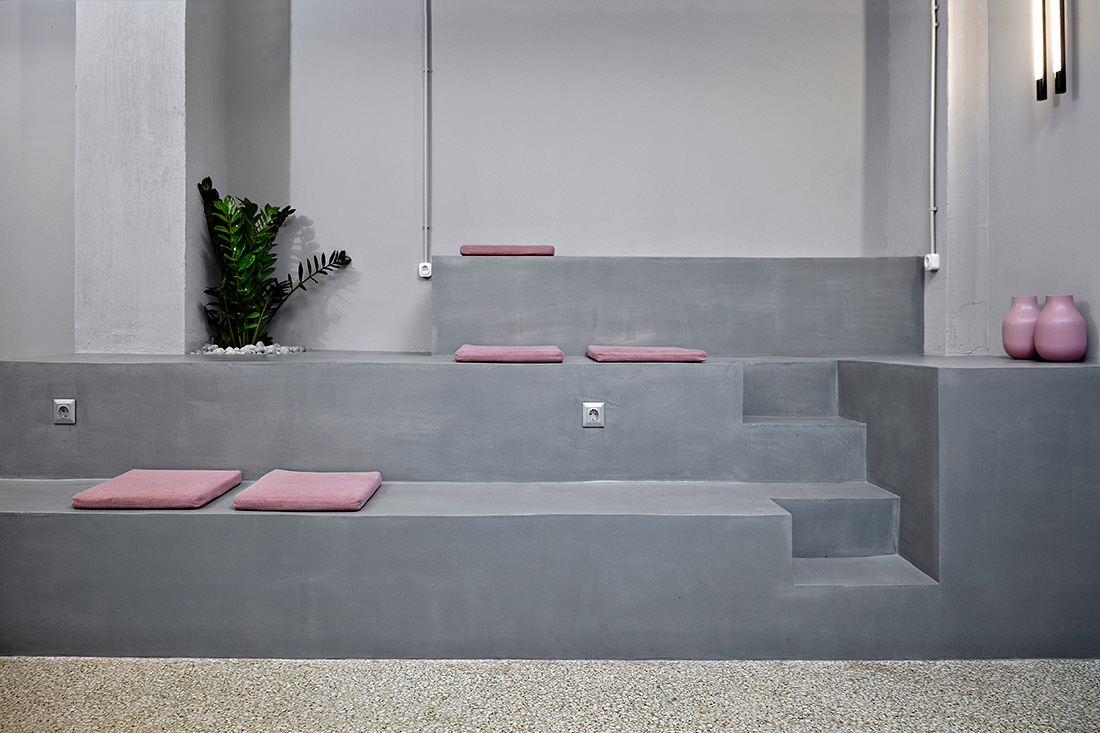 What makes this project one-of-a-kind?
Third Place is your home away from home! It is a coffee shop where coffee is treated more like an experience, an urban act. The open plan space completely opens up to the city scape and removes the boundaries with the exterior. The concrete multi-levelled gathering space – similar to an open-air urban auditorium – transforms the venue into an urban space of gathering where the visitors can socialize, drink their coffee and occasionally watch projections of movies and documentaries on the opposite wall.
The most unique feature according to its visitors is the bathroom! Decorated in just one colour, from walls to furniture the toilet is actually a spatial colour story that engages the senses in unexpected ways, devoted to the joy of colour. Far from the aesthetic aspect, the question behind the colour choice during a time where social, sexual, and gender identities are upturned and questioned was: in which way one can provide a space that is both neutral and sensual, free from social markers.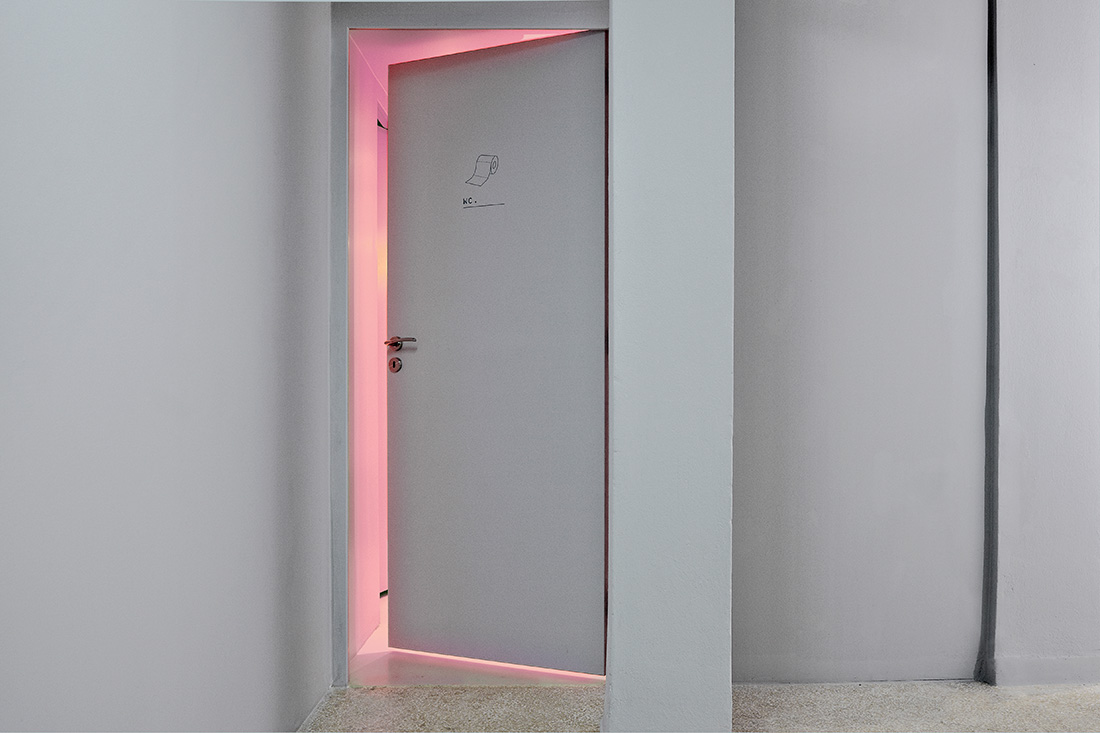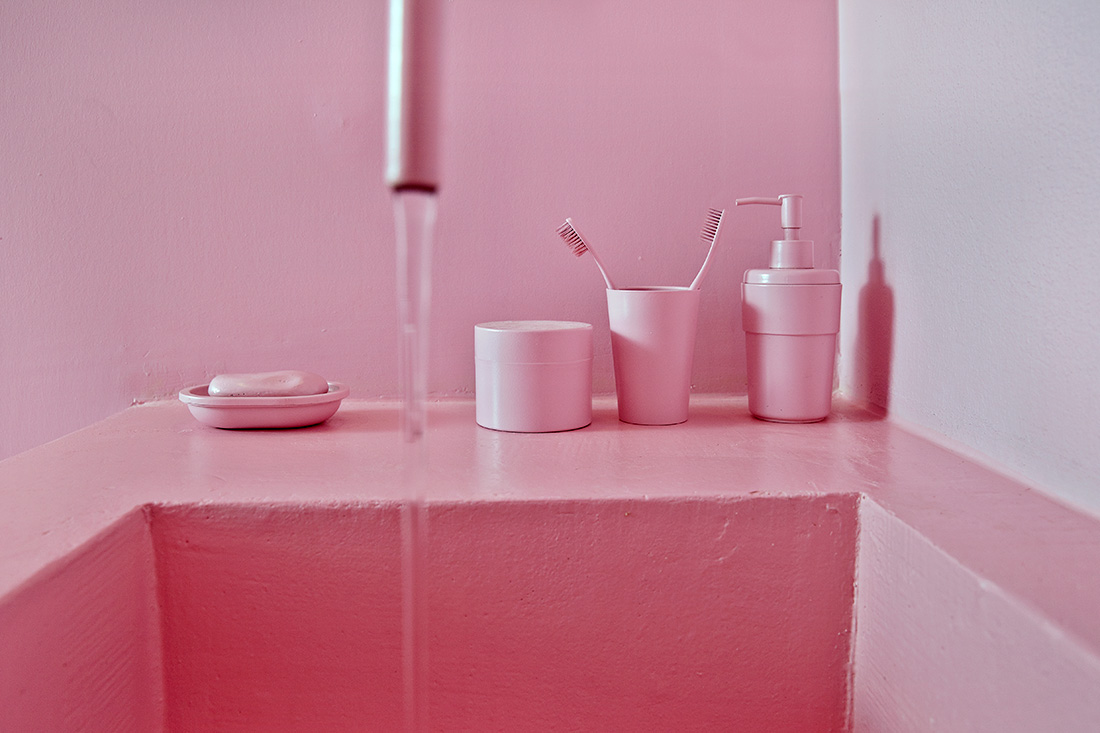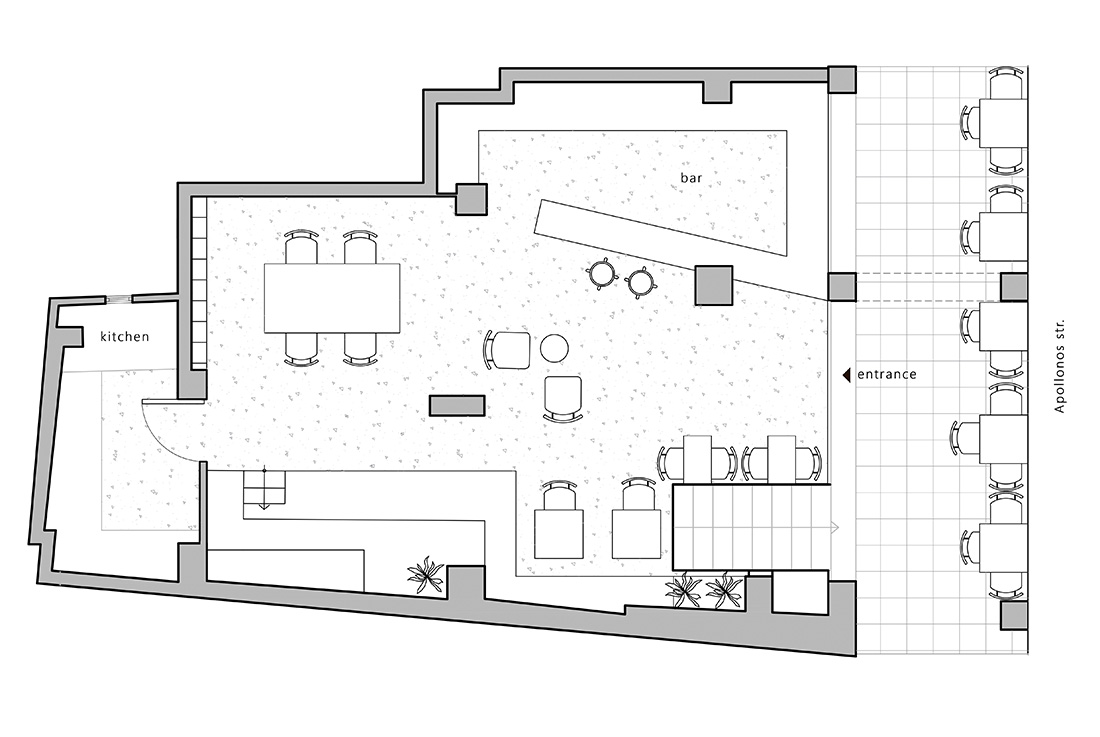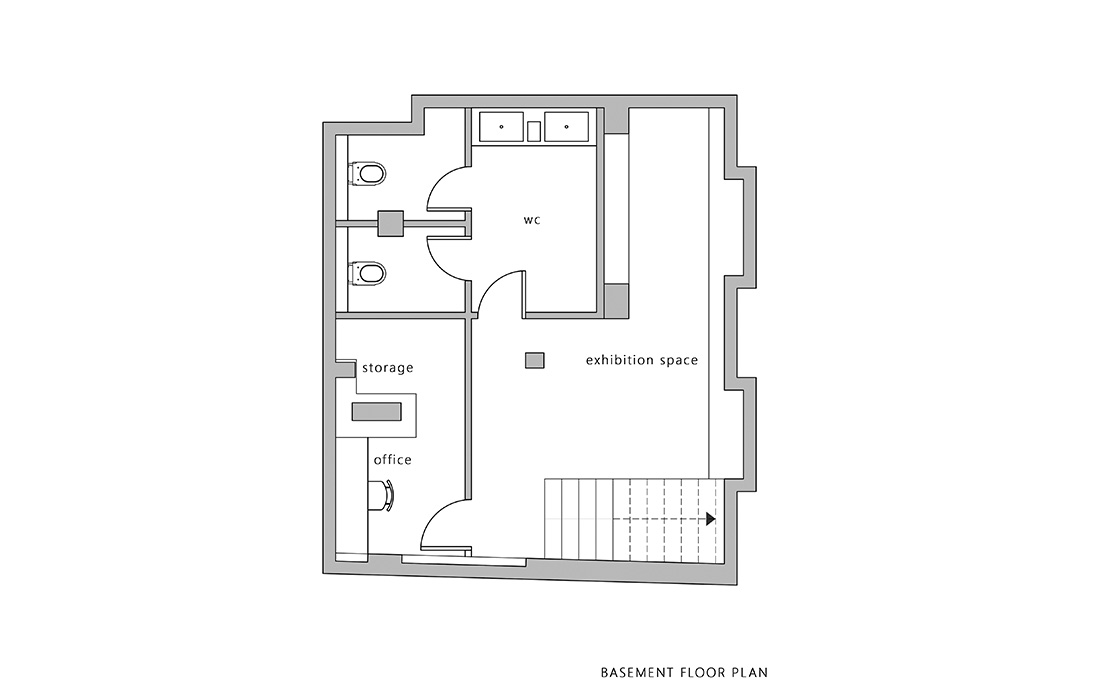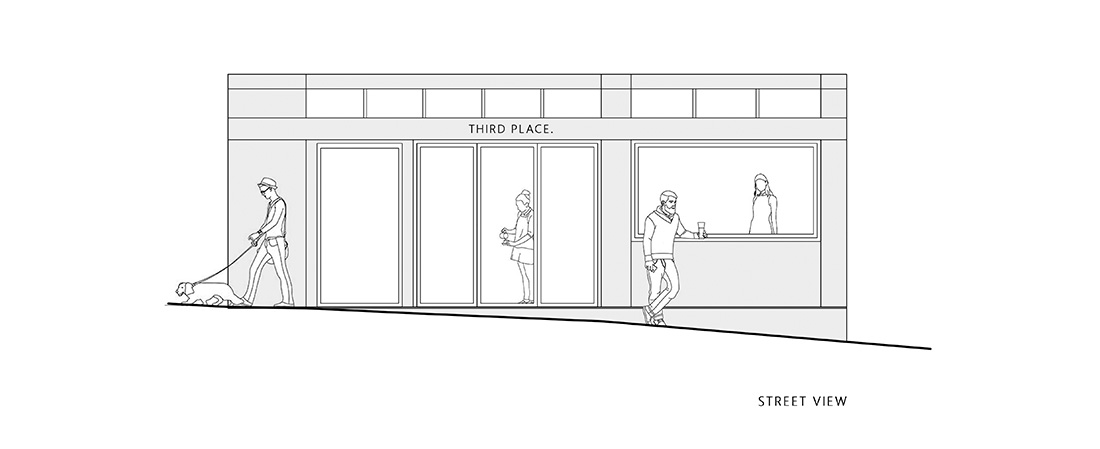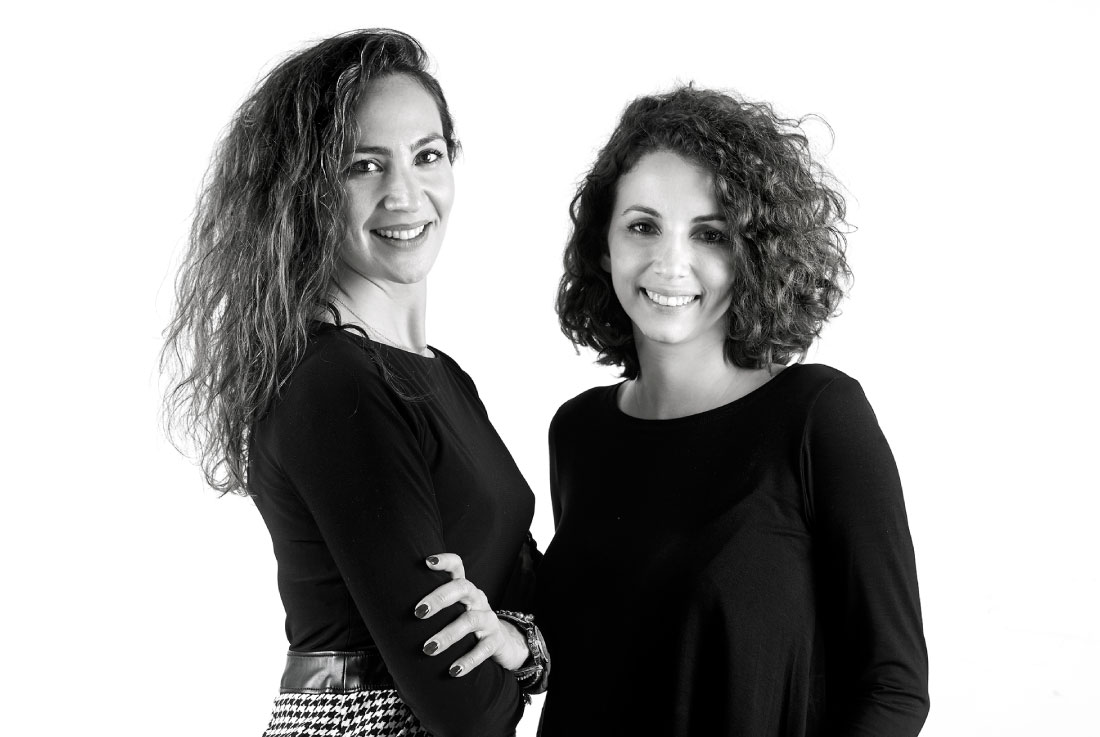 About the authors
Amalgama – Architects Studio is an architecture and interior design studio based in Athens since 2015. We work on a wide range of building typologies and projects. Our name derives from our contextual approach, which combines the wide experience from the fields of architecture, art and academia.
A palimpsest of influences in order to create spatial narratives to the context and aspirations of each project. Light, materials, colour, and textures are all essential to the creation of form and shape. Throughout architecture and interior design, we aim to build identities informed with a deep understanding regarding every aspect of the project we undertake, renegotiating notions of tradition, locality and contemporary life.
FILE
Authors: Amalgama Architects; Elina Mitsi & Angeliki Avdi
Client: Third Place
Photos: Yannis Zindrilis
Year of completion: 2018
Location: Athens, Greece
Total area: 2018
Text provided by the authors of the project.