One of Budapest's most important technology companies, in the heart of Budapest, with restaurants, ruins and tourists. Their wishes to present their thoughts in attractive form at the headquarters of Mercury Palace, built between 1900-1903 for the first telephone centre. The main product of Prezi, a presentation software developed by Ádám Somlai-Fischer. Using the "Zoomable Interface" principle, users can put their thoughts into a spatial narrative – just as the offices provide a spatial framework for the company's tasks.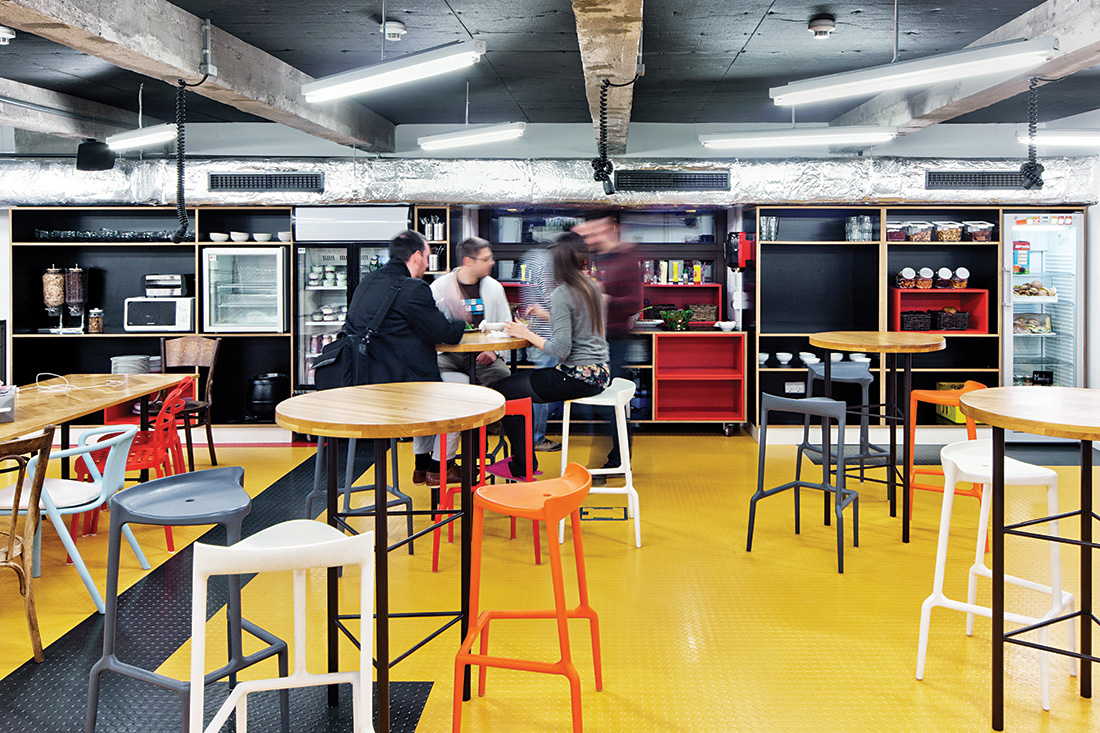 In the light of the gradual expansion of Prezi, we do not want to create a fully-fledged office in a 4,000-square-foot building. We made of semi-finished spaces with movable objects and writing walls, thus encouraging workers to shape their environment. In the spirit of spatial flexibility, Prezi seeks to use simple and inexpensive raw materials. The state-of-the-art cold traffic avoided and untreated materials created its directness, intimacy and community existence.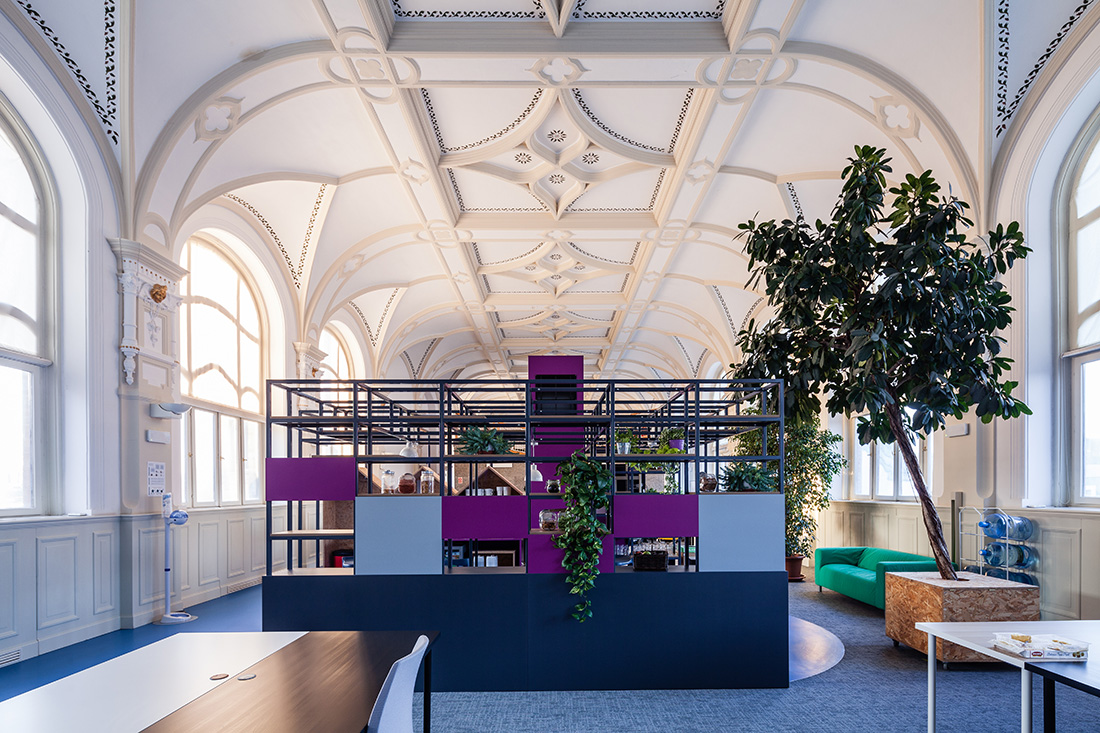 What makes this project one-of-a-kind?
Written by Polyák Levente for A10 magazin.
"Minusplus were not only the designers of Prezi's previous headquarters, but lent their office space and furniture to the tech company in its earliest start-up phase.
The two firms' shared history informed the design process: similarly to Prezi's previous offices, the new headquarters were constructed in phases, keeping pace with the company's expansion.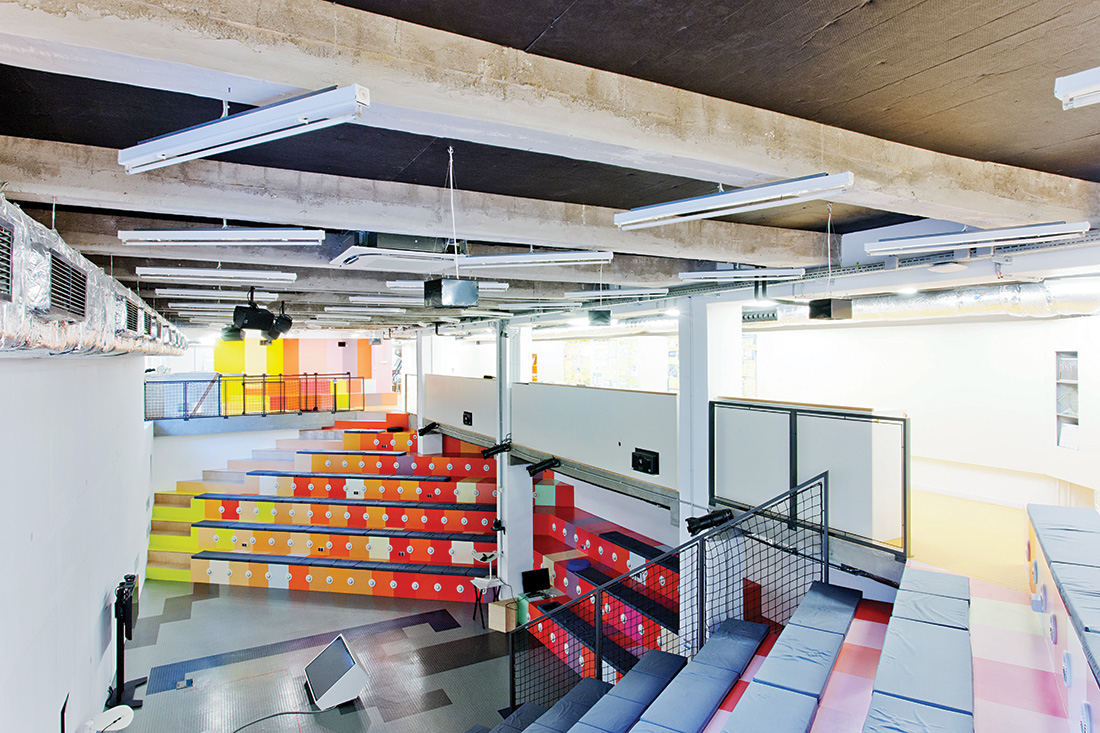 The new headquarters, designed in parallel with the firm's new San Francisco offices, are situated on four levels of the Mercury Palace. The top floor baptized "ballroom" is an urban garden, a large indoor landscape with hills hiding conference rooms. In the smaller offices, some of the elements are repeated, like the plants and trees separating workspaces, a concept recycled from the company's previous offices. However, each floor and conference room has a distinct identity: as the nearly 200 people in Prezi's dynamic work scheme change desks almost every week, each space needs a strong theme in order to help orientation.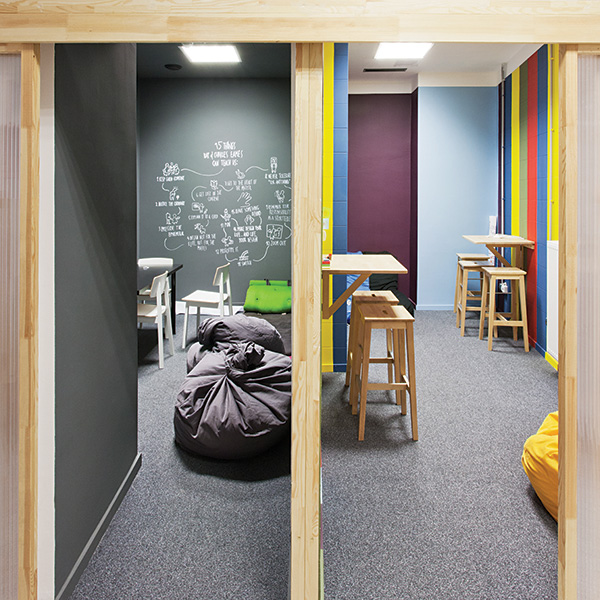 In the absence of fixed working hours, to make people chose to work there; the building has to offer a diversity of situations: "When they wake up in the morning and think about where they could work best – in a coffee house, a dark corner or in bed – we want them to find all this here." All floors have coffee kitchens or snack corners, inviting workers to engage in social interaction. The entrance area includes a music corner and a bistro that brings visitors to the building's semi-public auditorium, the "House of Ideas", where employees meet for general assemblies and for events focusing on technology and culture.
In working with Prezi, Minusplus architects established their role as not only designers but partners in the elaboration of the client's way of working: "They didn't expect us to give them plans to be built and then leave but to act as consultants of the whole operation. Design is not only an instant here but a process of constant adjustment: it is custom-made architecture."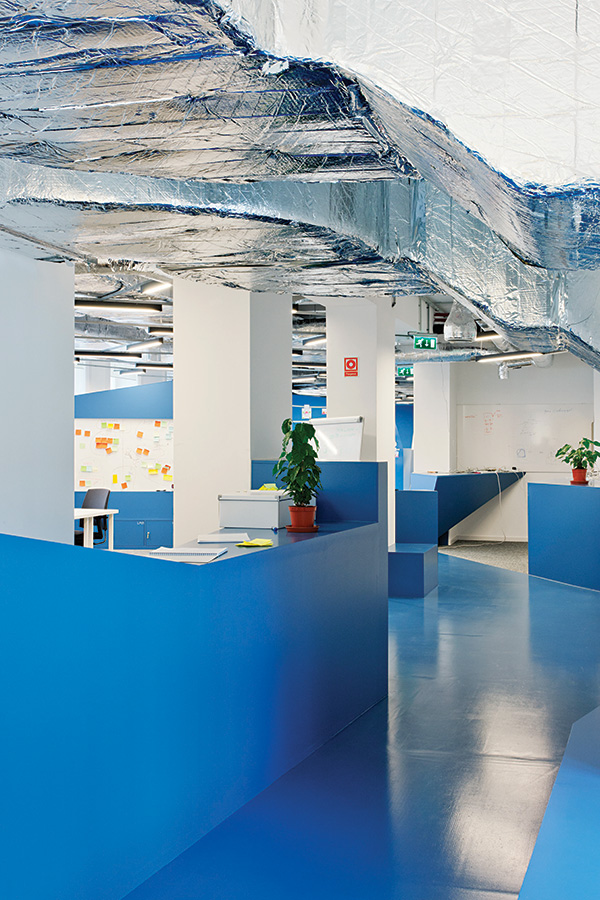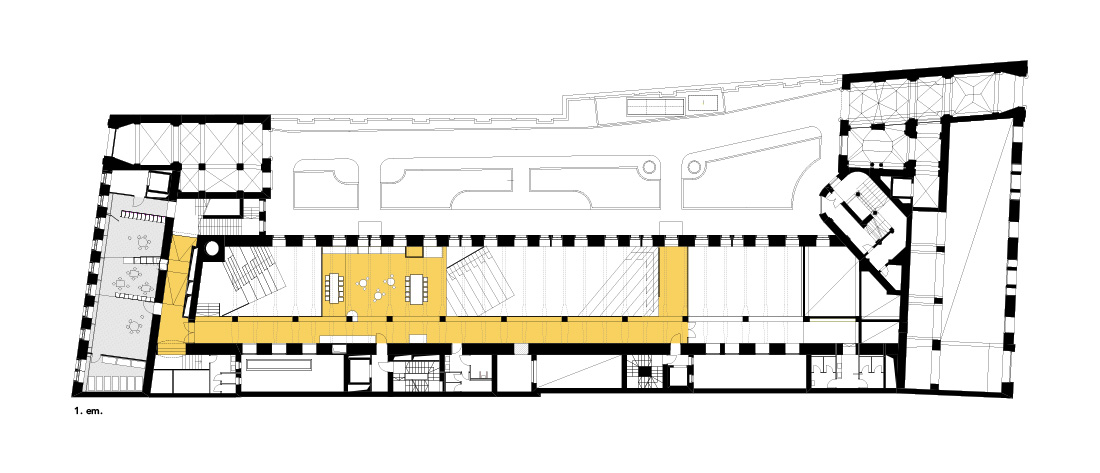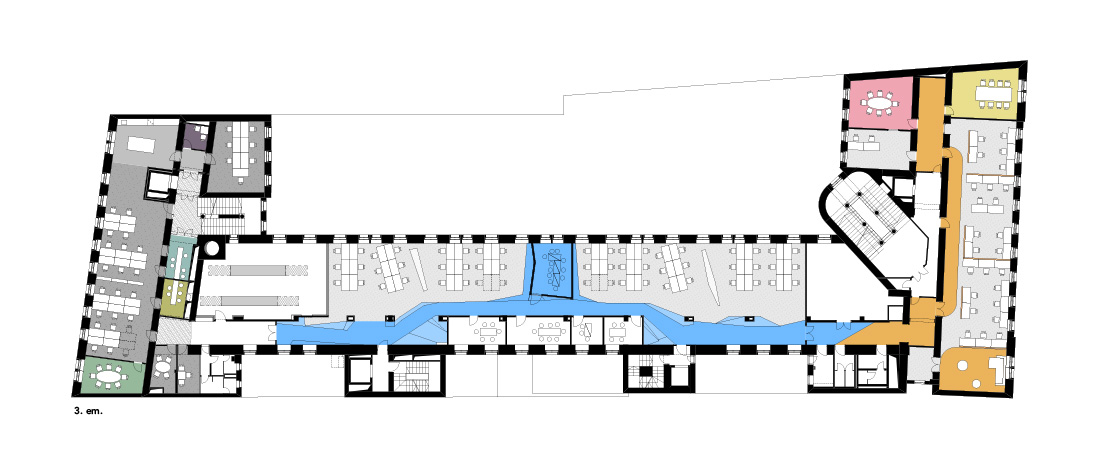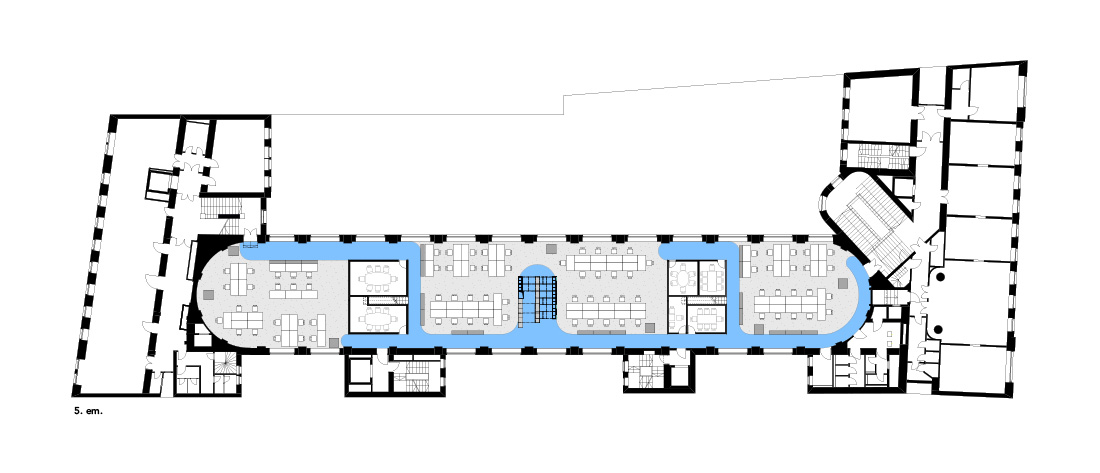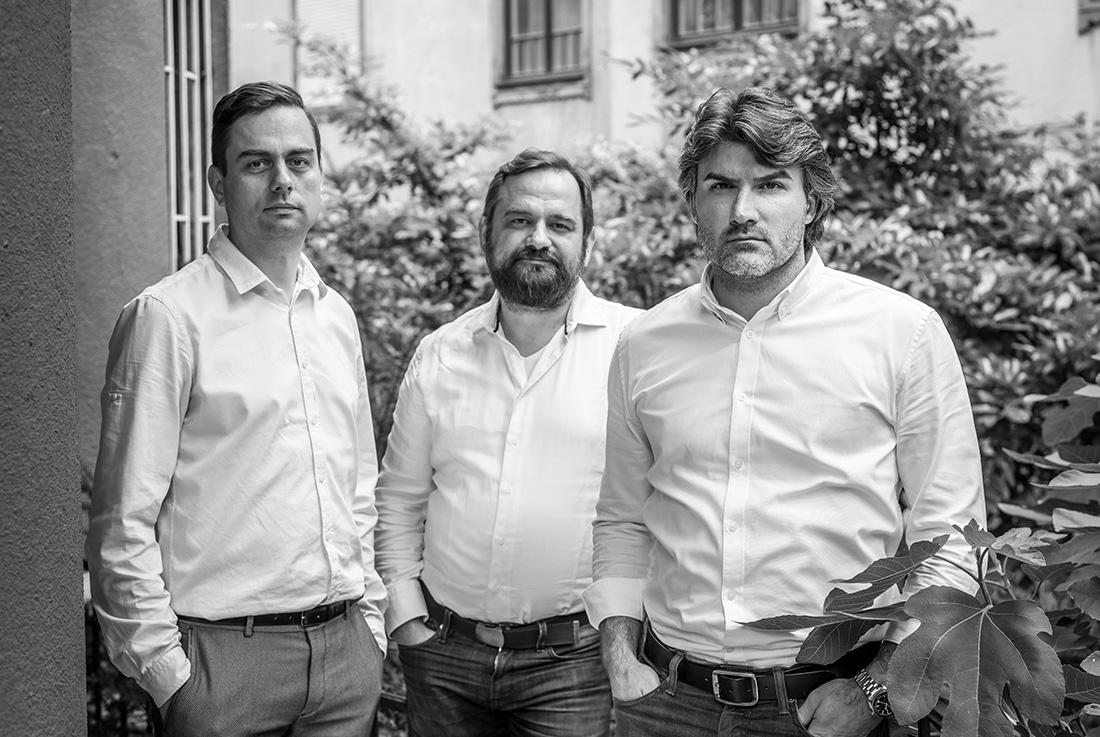 About the authors
Minusplus is an independent, 20 person architecture and design studio based in Budapest. We provide sustainable and innovative design solutions. We are sentient human beings, we love harmony and beauty. The most important thing for us is to create beautiful and harmonious design. Our interest is faithfully reflected in the diversity of our works. We enjoy what we do, and this is clearly visible in our buildings as well. Our plans are surrounded by continuous professional interest; our buildings are regularly published and rewarded with prizes.
The main ambition of our team is to design buildings that encourage their activity. We explore new contexts and re-interpret the relationship of spaces and their habitants. We believe this makes the world around us a better place.
Our working method is receptive, therefore our architectural responses are various and colourful. We believe that harmonizing different approaches will advance our world and build our environment.
FILE
Authors: Zsolt Alexa, Donát Rabb, Ákos Schreck, Gabriella Antal, Tímea Molnár, Balázs Turai Zsófia Bakó, Ágnes Bubla, Péter Debreczeni, Kata Gulyás, Zsófia Hompók, Balázs Kis, Ferenc Kis, Eszter Macsuga, Szabina Pap, Olga Péteri, Tímea Szodorai, Blanka Zvolenszki; MINUSPLUS Architecture and Design
Client: Prezi.com
Photos: Tamás Bujnovszky, Tamás Török; Topogram
Year of completion: 2002-2017
Location: Budapest, Hungary
Total area: 5000 m2
Text provided by the authors of the project.