The space of a new reception and reception lobby Millennium spreads into an adjacent current shoe shop. Demolishing the wall between the two sections creates a space 100 m2, which became the subject of our proposal. It is the main entrance into the large portion of the building located between Masaryk Station and Marriott Hotel, which offers rental of office and retail space.
The project of the new reception lobby respects the main already used material as iron and marble as well as the aesthetics of the edifice (black line of new entrance door). These ideas has been developed as furniture or details. The final touches were put with the finest and never get old materials as concrete, brass, wood and glass, which have been used in the "purest" form. It creates an elegant and fresh look. The natural connection of noble and timeless materials, which are in the same tine contemporary, conjures an special and elegant atmosphere.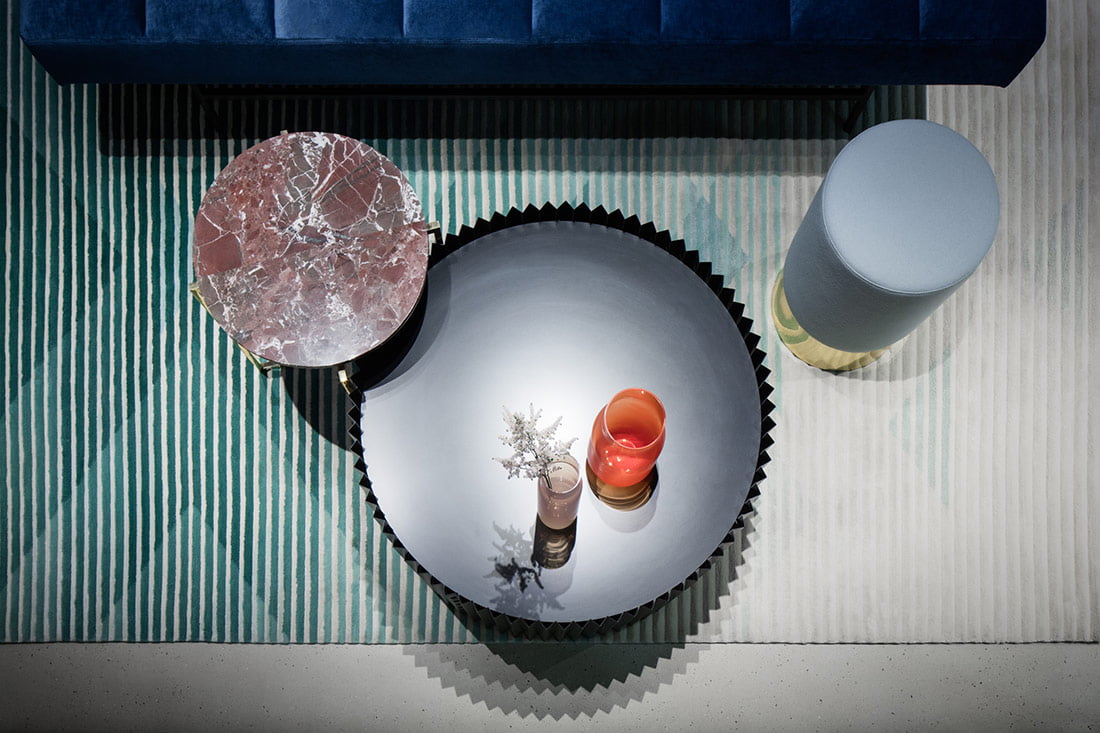 This impact supports the choice of furniture too, which is comprised by selection of Czech and international design. A "serrated" coffee table Ondulé by famous design duo Jan Plecháč and Henry Wielgus with original rainbow-coloured shiny surface is added with products by Danish high-quality product Gubi, German Classicon, Italian Azucena. The dim colours accentuate the shapes and their dignified attendance in interior.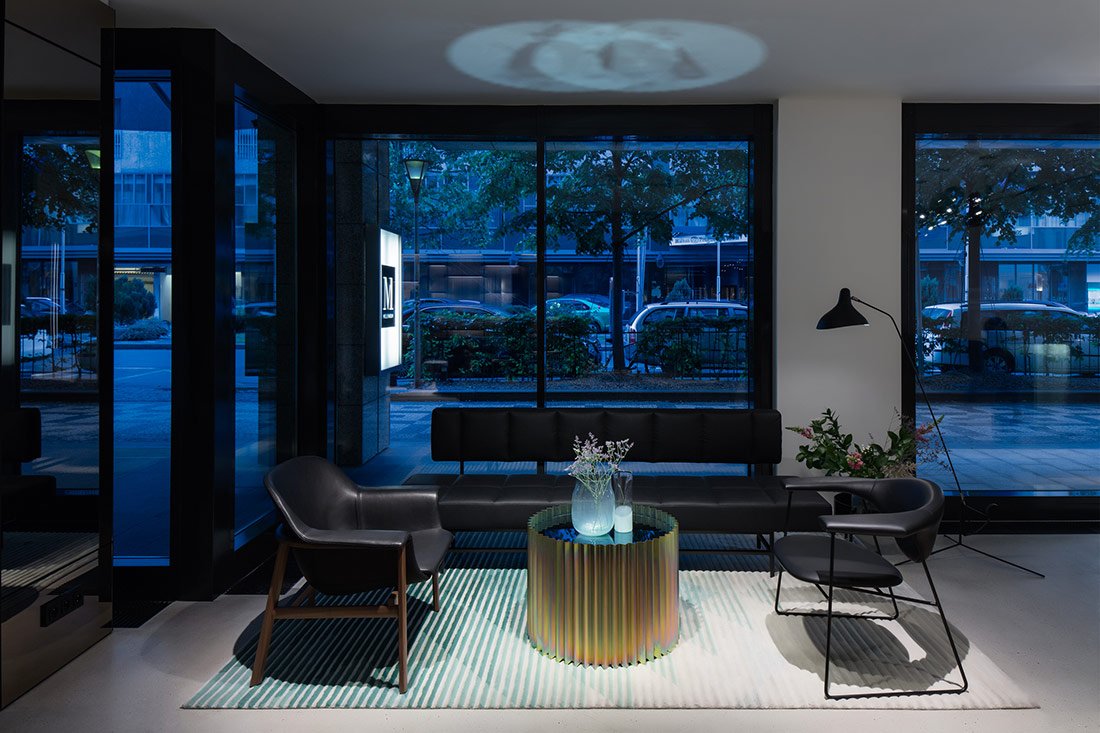 The reception has been designed individually. A monumental prism of the reception desk is covered with brass. Its surface mirrors the whole space refined and create a light but elegant feeling of the room. The back part has been equipped with storage and space for a small fridge and minibar. It means that the interior object includes representative as well as practical functions. The "reception" wall contains two niche for comfortable intimate sitting.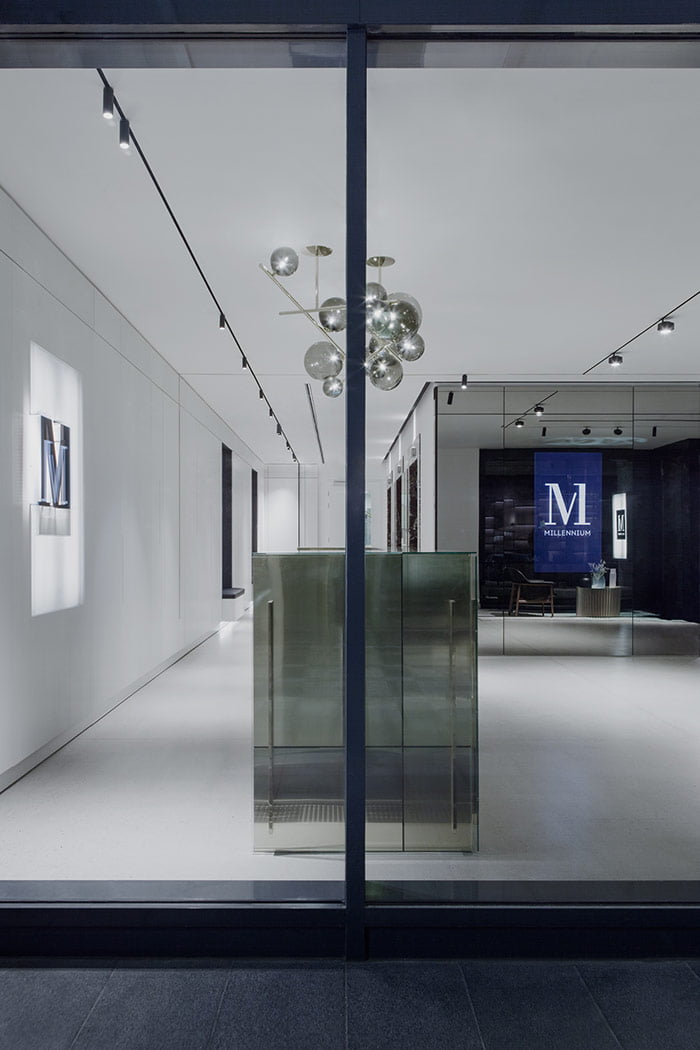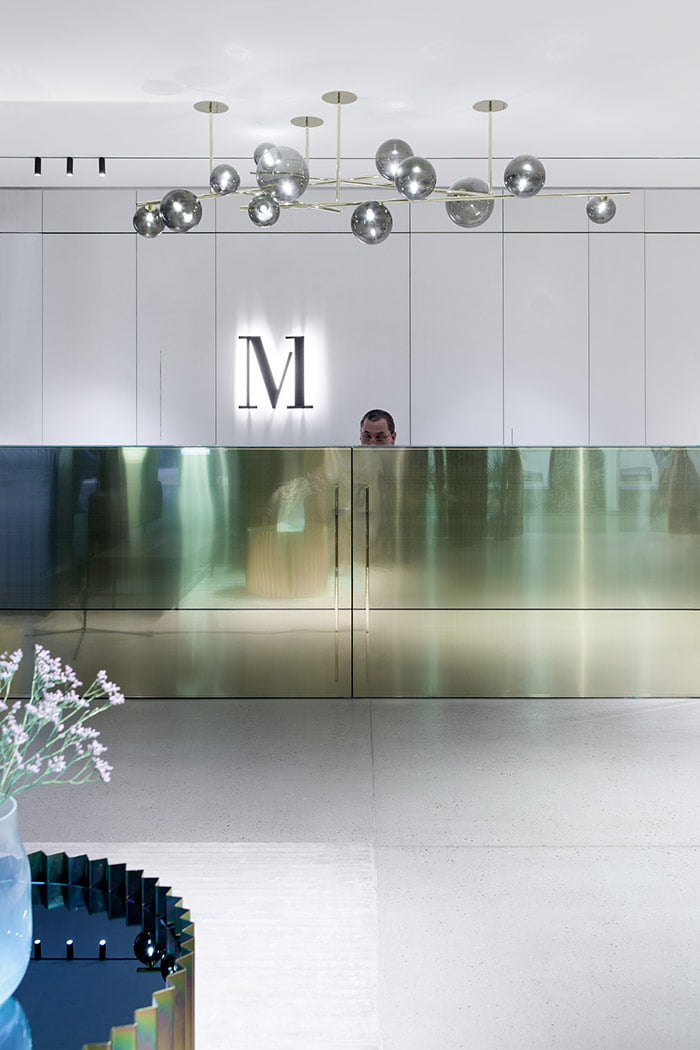 There hang a decorative glass light above the reception desk, which was made by studio Dechem, the winner of Czech Grand Design 2014, especial for this room. The hanging brass construction with glass blown greyish shades charges the space with elegant dynamics and its sculptural form changes the interior into the once-in-a-lifetime one.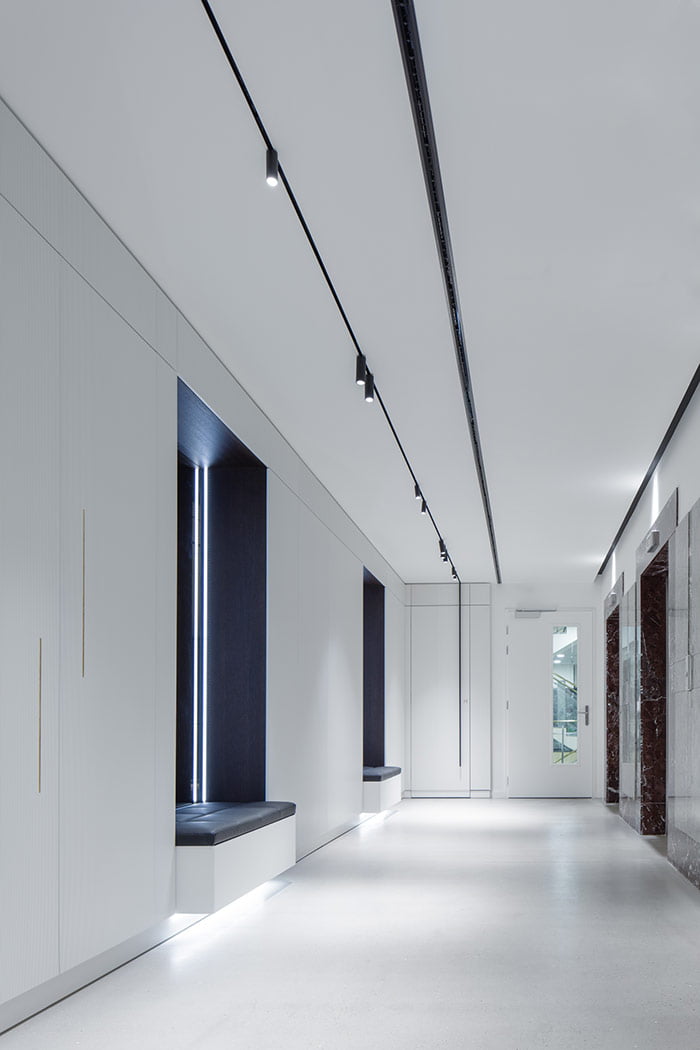 The choice of other lights underlines the function and quality. The decorative standing lightning Mantis has been added with built-in system with slats and moveable point light by Flos, which could easily light up every part of interior.
Light as the art element demonstrates a sculptural light bookcase by Italian producer Viabizzuno. The minimalist shelf-system is one of the high-light of the interior. Thanks this part a reception can change the light atmosphere of the space and change the position of the shelves according all needs too.
The interior in total with its dim colours, noble materials and informal light out, which remains cosy flat, is a dignified representative space, elegant place for meeting, informal conversation and short comfortable rest too.

FILE
Authors: Formafatal; Dagmar Štěpánová, studio Dechem; Denisa Strmisková
Photos: BoysPlayNice; Jakub Skokan, Martin Tůma
Client: B.H. Centrum
Year of completion: 2016
Location: Prague, Czech Republic
Surface: 100 m2