In the very heart of Belgrade, there is a rundown, narrow building with an unusual orthogonal shape, which consists of many small apartments. By connecting two small units on its top floor, it's created a 90-square meter high quality apartment.
The living space consists of a spacious kitchen daringly clad in black and a sitting room. In order to get more depth in the fairly narrow sitting space, the master bedroom is separated by a wide sliding handmade door, which when open serves as a frame to the painting Mapping by Srecko Nedeljkovic, another representation of the city unfolding outside the windows. When closed, this door hides the owner's bedroom, an oasis of peace in white, with a bathtub placed in the old studio's loggia – an ideal place for meditation and relaxation.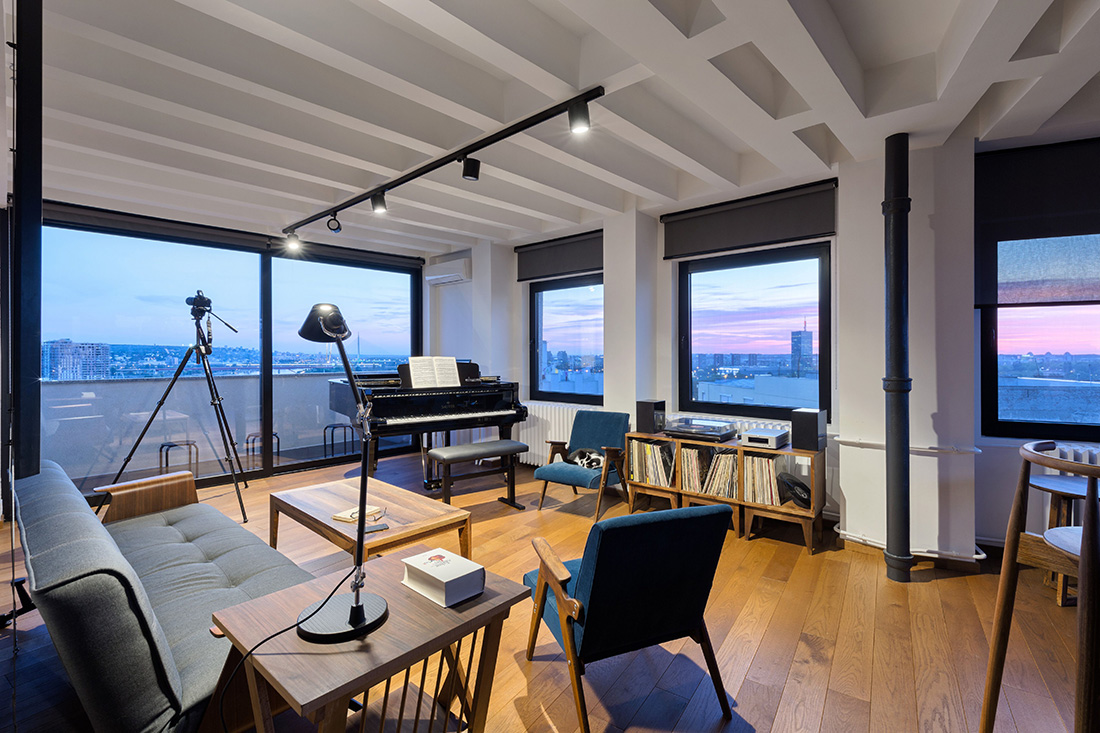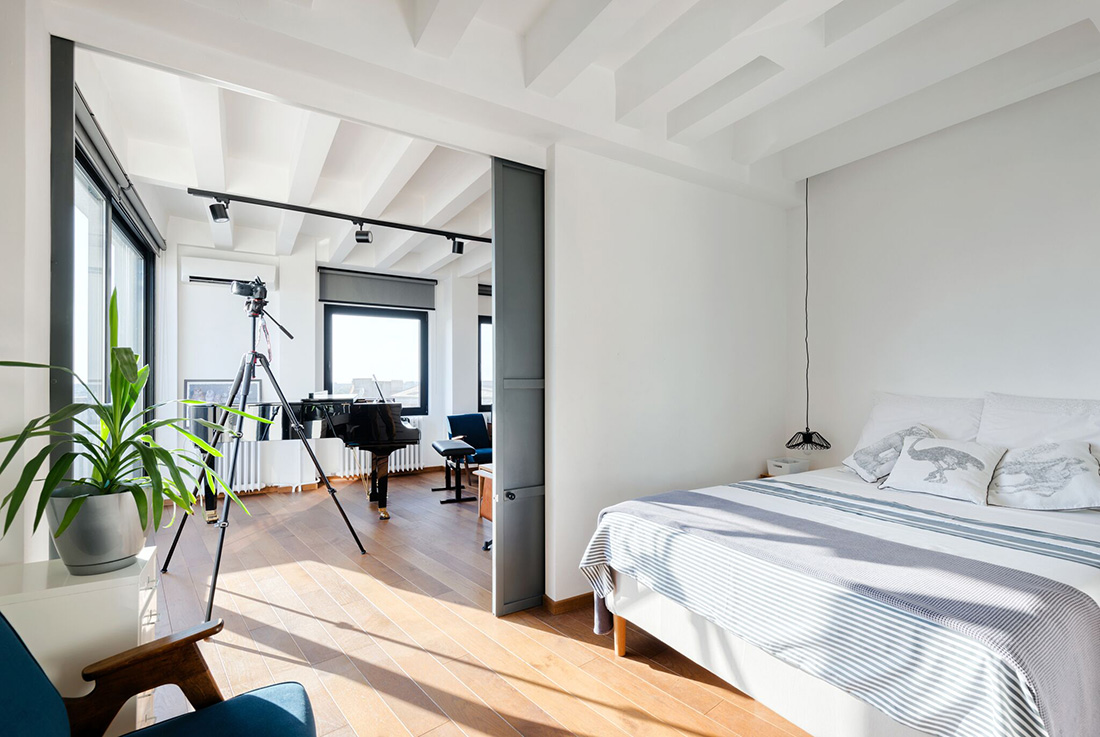 The only other bedroom is on the opposite side of the apartment, with a handmade nut wood bed placed in the former loggia, providing an impressive view to the tower of the Saborna church.
A multitude of windows and sliding doors in black aluminium gives the city's skyline an almost artistic. From dawn to dusk, this apartment lives in a successful symbiosis with the city and the skies around, and witnesses of a unique location of Belgrade on the map of Europe.
What makes this project one-of-a-kind?
The concept of a project that follows the spirit of the place.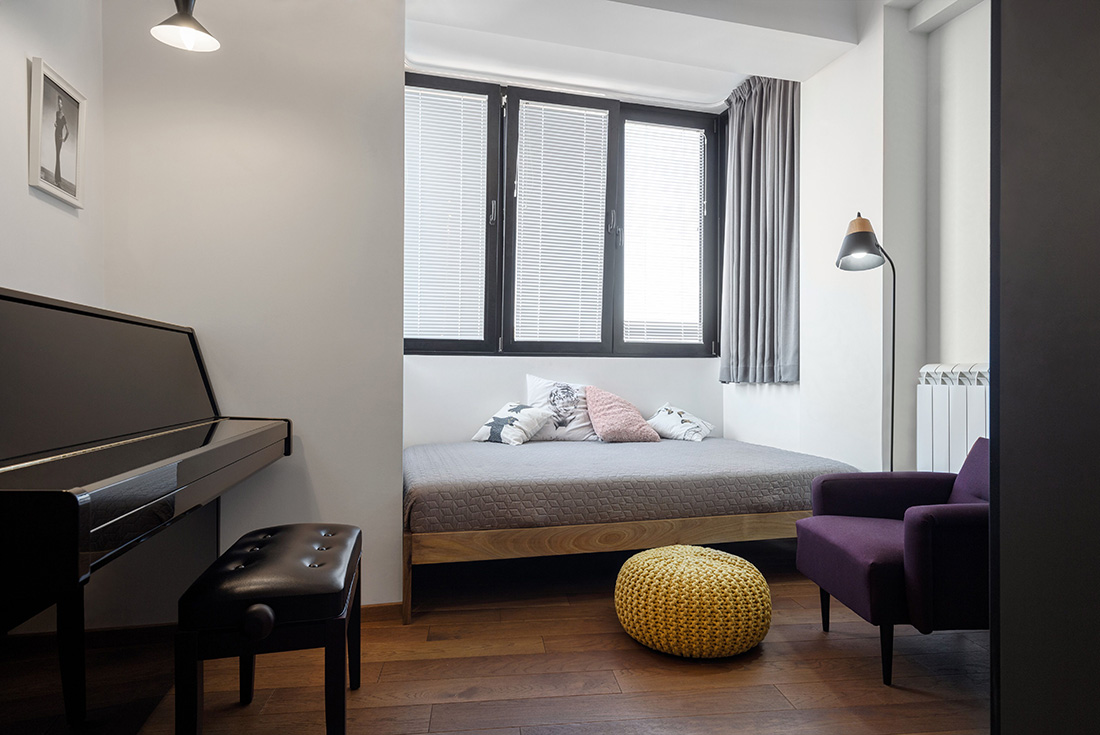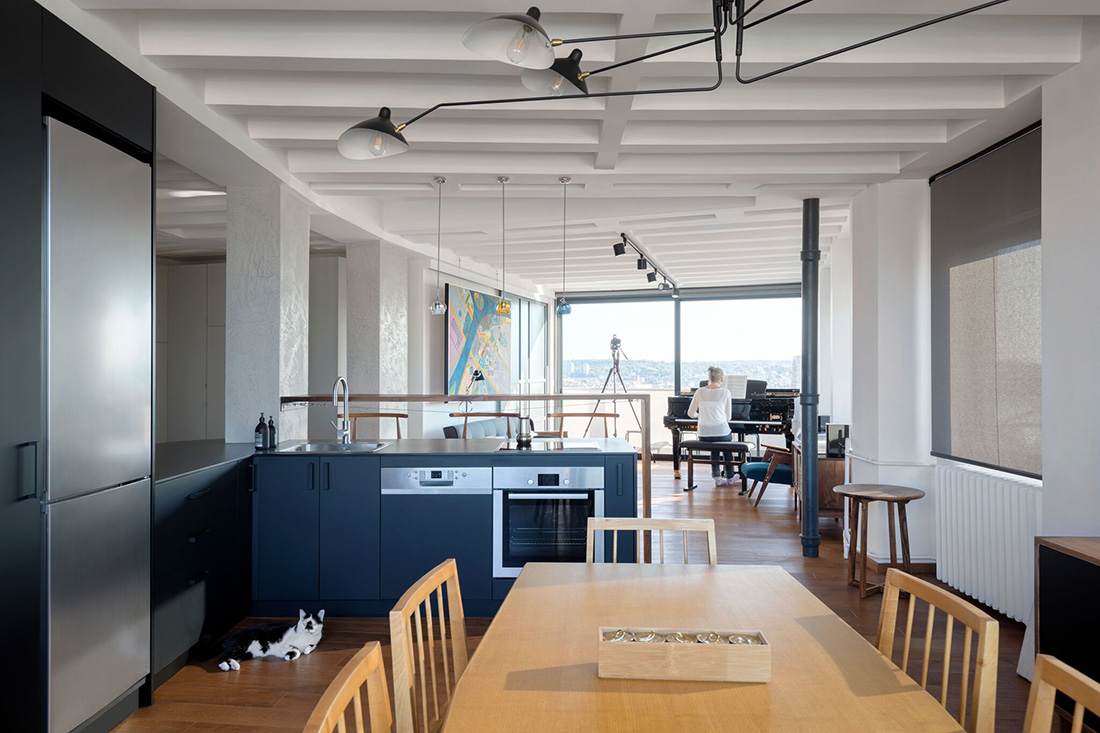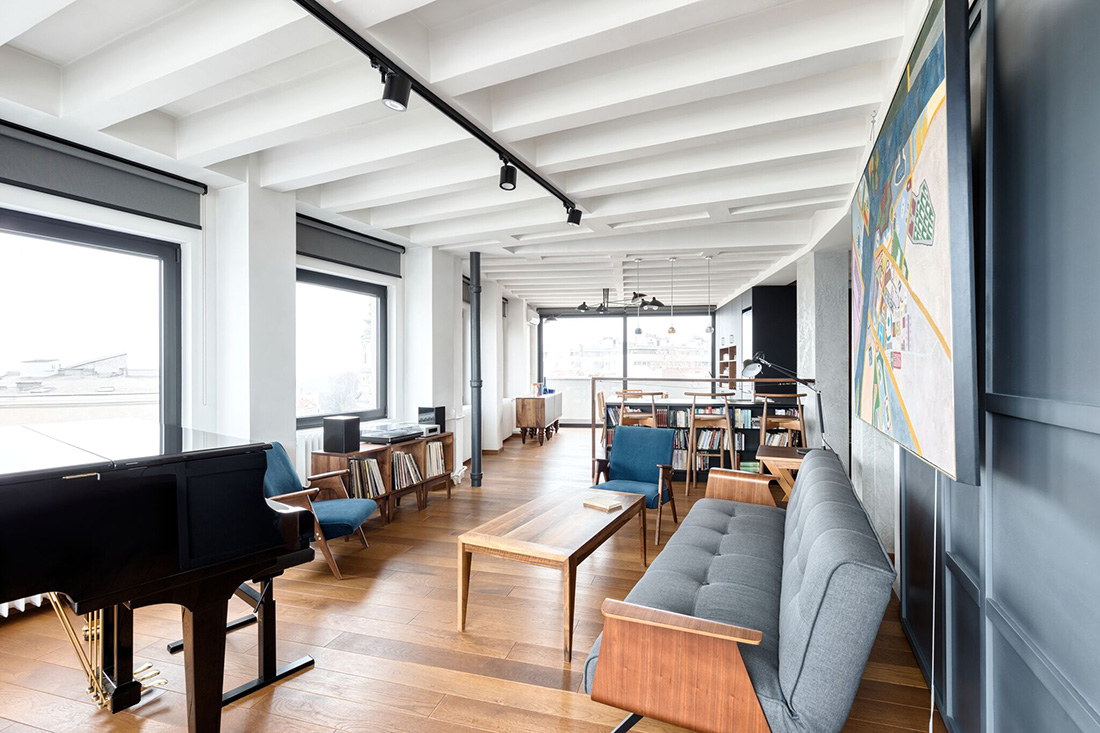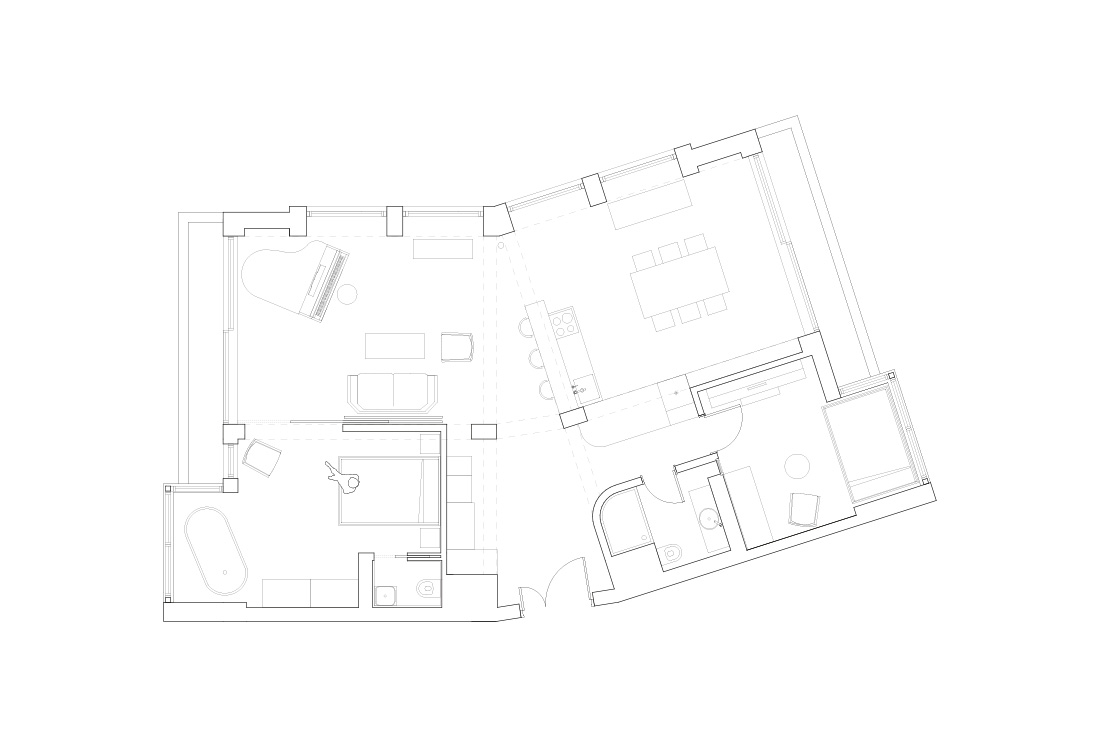 About the authors
Teodora Stamenkovic
Teodora Stamenkovic, M.Arch, born in Banja Luka in 1987. Graduated in 2012 at the university ENSAP Malaquais in Paris. In the upcoming year, she was attending specialist studies HMONP, which make her a licensed architect in France. Since 2014, she was working on interior renovation projects. Then in 2016, she was attending BIM training, which she applies at the Lemanarc bureau in Lausanne on a residential project in the construction phase. Since the fall of 2017, she has been employed as the BIM Manager of the brodbek & roulet Architects Bureau in Geneva.
Milica Lambrin
I was born in 1986. After finishing secondary school for architecture in 2006, I studied Architecture at Belgrade University. I graduated in 2011, and cooperated with several architectural studios (MITARH, FLUID: ARHCHITECTURE, FERIX NISKOGRADNJA, LEKO ARCHITECTS INTERNACIONAL) where I gained experience in all design phases. I took part in various competitions as an associate or co-author where I dealt with problems of social housing, hotels, business complex, television design as well as design of a bus and railway station. In November 2013. I passed examine in 2014 and I become a licensed architect. Since October 2015, I have been a freelance artist-architect.
Aleksandra Prastalo
Born in 1987 in Belgrade. Graduated in 2011, Architectural Design at the Faculty of Architecture, University of Belgrade. After studies in Belgrade, I got the opportunity to continue my professional development in Lille, France, where I was during the period from June 2012 to August 2013. I worked in the architectural office Atelier9.81 (www.atelier981.org) on the position of junior architect. At the same time, I finished HMONP-6th year of architecture at the university ENSAP de Lille which make me licensed architect in France. Since November 2015, I have been a freelance artist-architect.
FILE
Authors: Teodora Stamenkovic, Milica Lambrin, Aleksandra Prastalo
Client: Milanka Stamenkovic
Photos: Relja Ivanovic
Location: Belgrade, Serbia
Year of completion: 2018
Total area: 90 m2
Text provided by the authors of the project.