Modularity is a key word in the design of this Loft.The young couple wanted a spacious place with a children bedroom and a third one in the future.We started when the building was being built so the apartment was left an empty shell for us to design with entire freedom.The use of few materials and clean lines combined with a generous living area enhance the impression of open space.
Preserving intimacy was fundamental. The 2 bedrooms overlook at the centenary trees outside.Some architectural elements were left in rough concrete.The Box and the kitchen were covered in white oak and reflective brushed stainless steel.A continuous white bookcase links all the living area, creates various storage all around and integrates the doors. The Box is a fully functional object. It encloses a bathroom, storage and defines the dining area with a bench. The kitchen is modular, it opens or closes completely allowing to hide the mess and the technique when needed. The brushed stainless-steel floor reflects the light that comes in filtered through the trees in a lively and poetic way.The angled led lights disturb the calm, clean and square design and provide it with some energy and motion.
What makes this project one-of-a-kind?
The strength of this project resides in the fact that one single element solves all the problems. With one wood box positioned and scaled appropriately in the apartment, all the spaces are defined around and inside of it. It creates open spaces while solving technical aspects such as the bathroom, lots of storage, a bench or the dining room as well as the air conditioning units.
The box also enables to build a 3rd bedroom in the future, when the family will expand. It defines intimate and gathering spaces while existing as a strong wooden and stainless steel object with its own identity.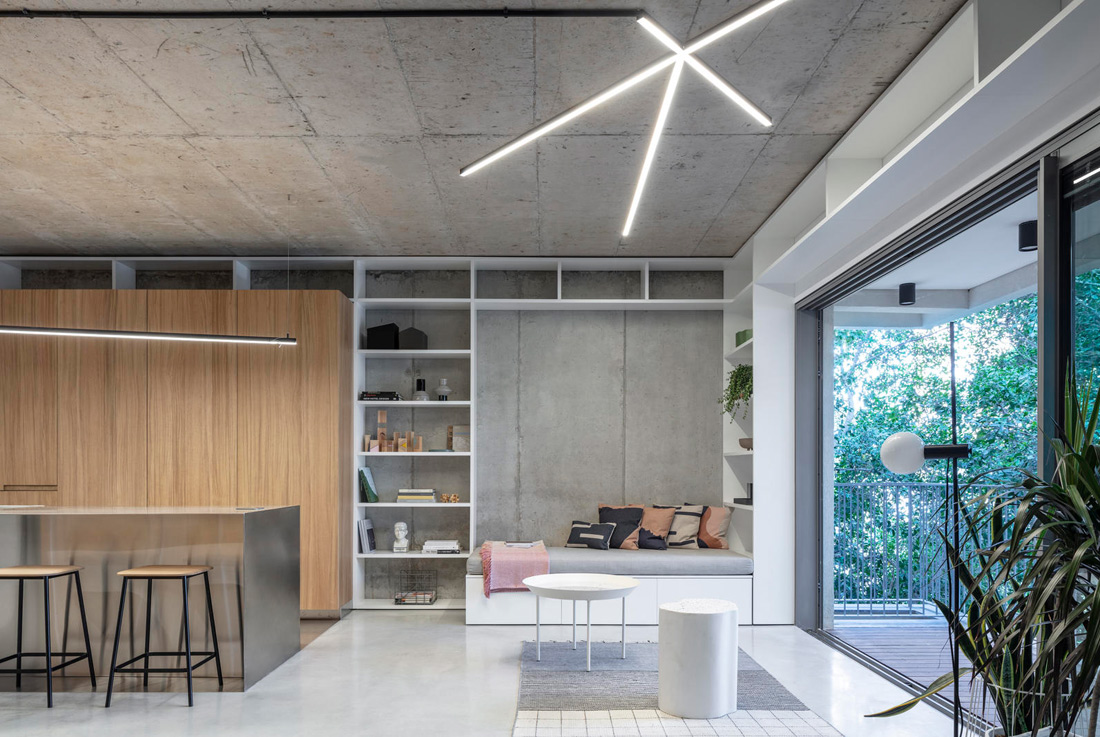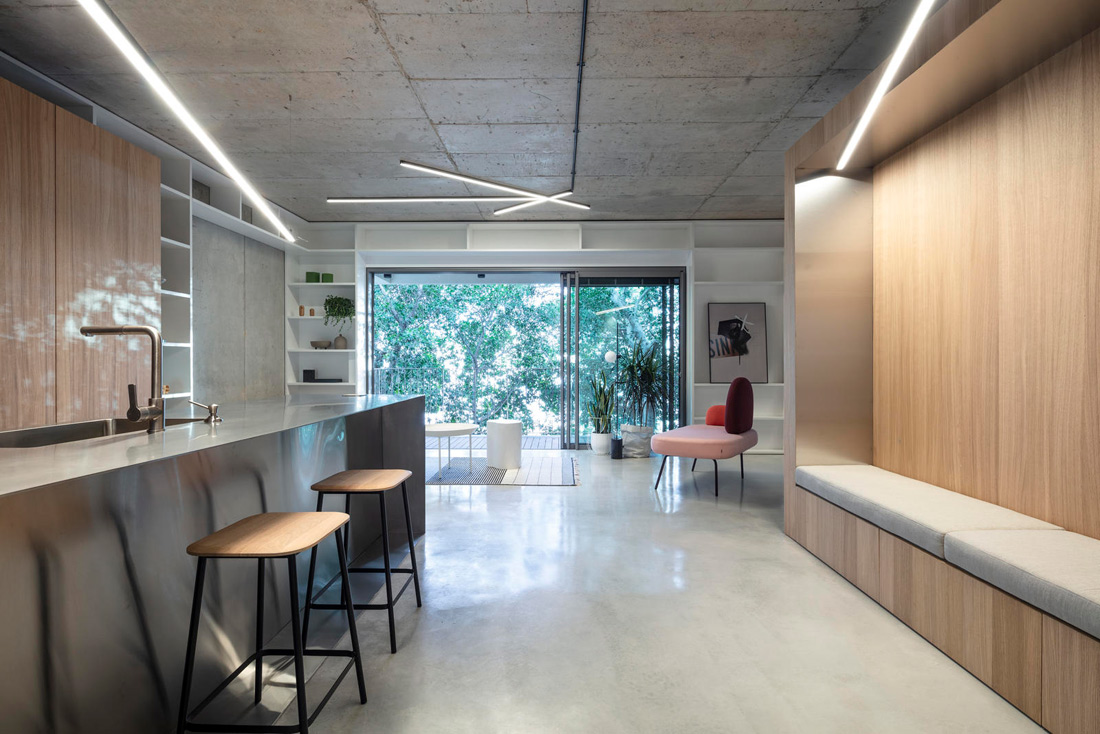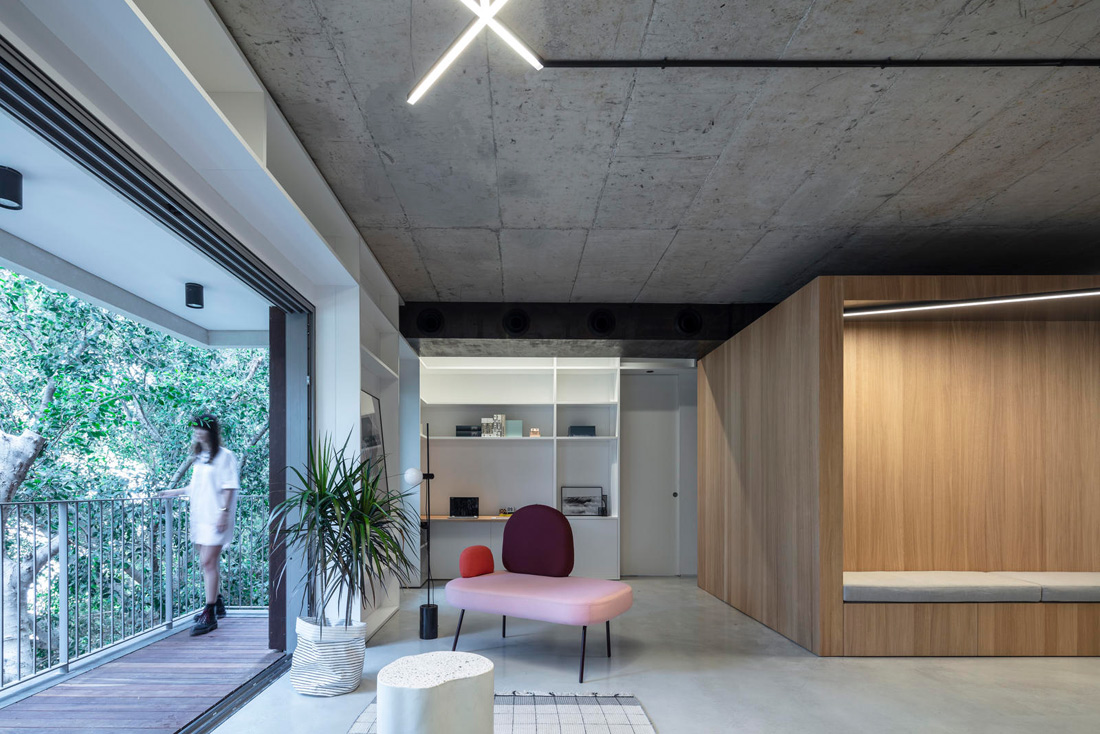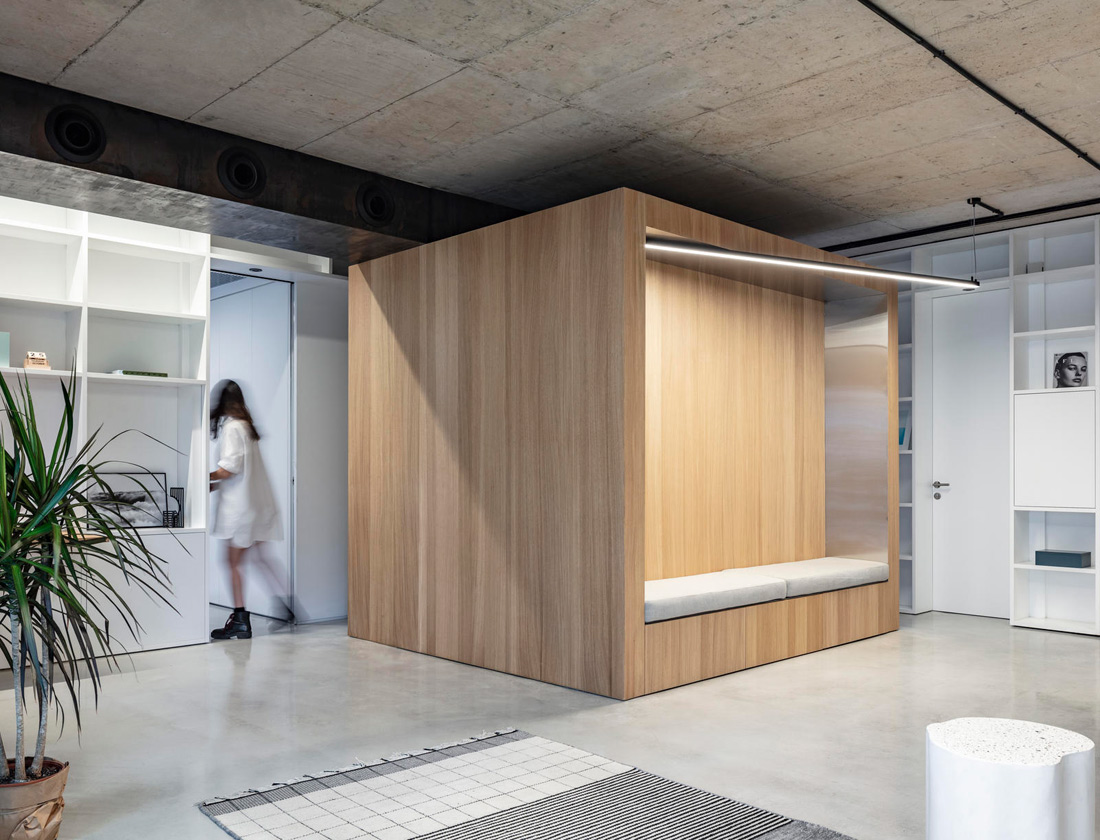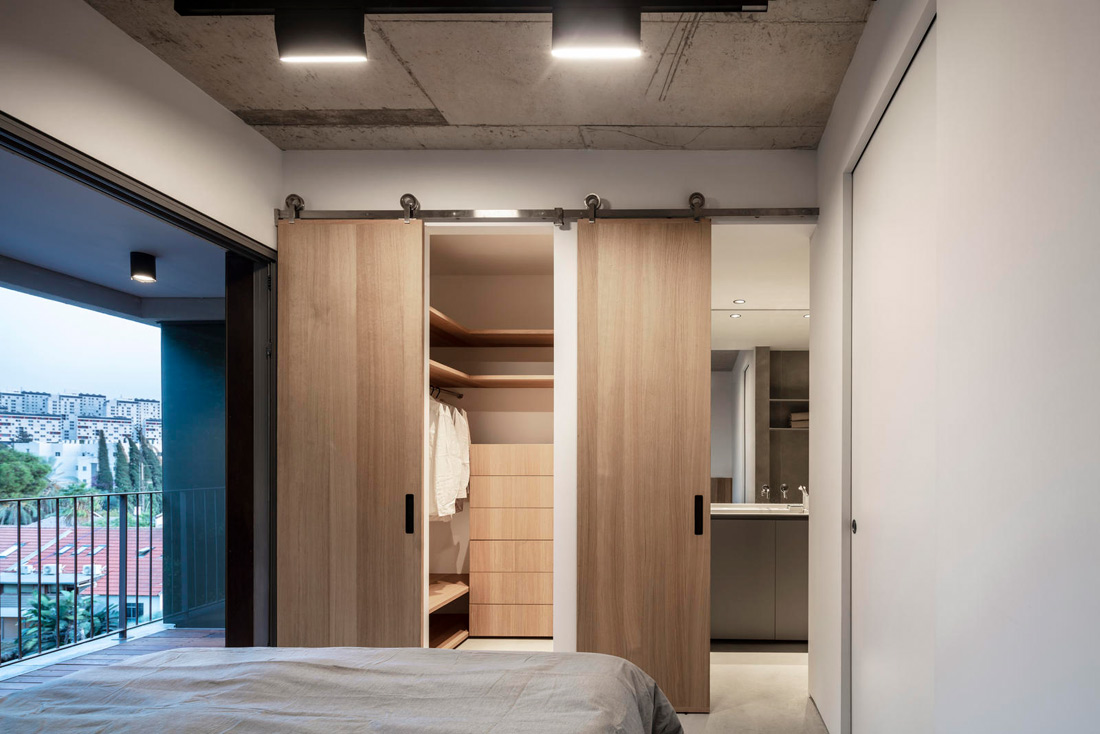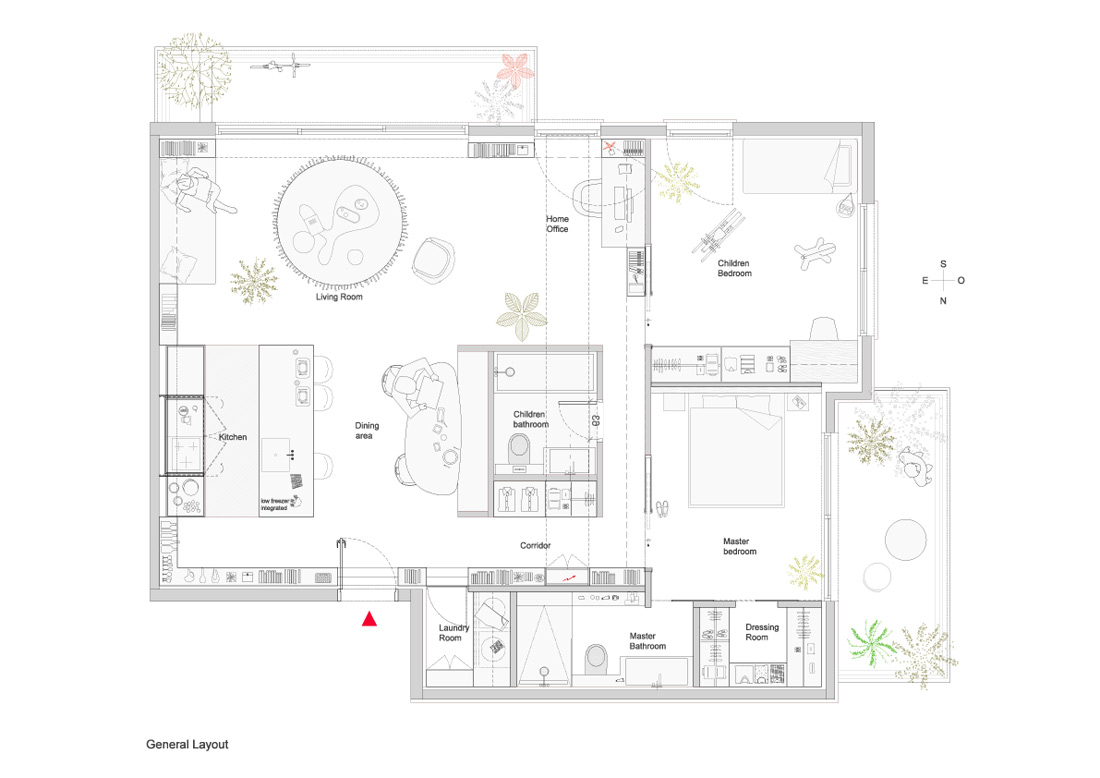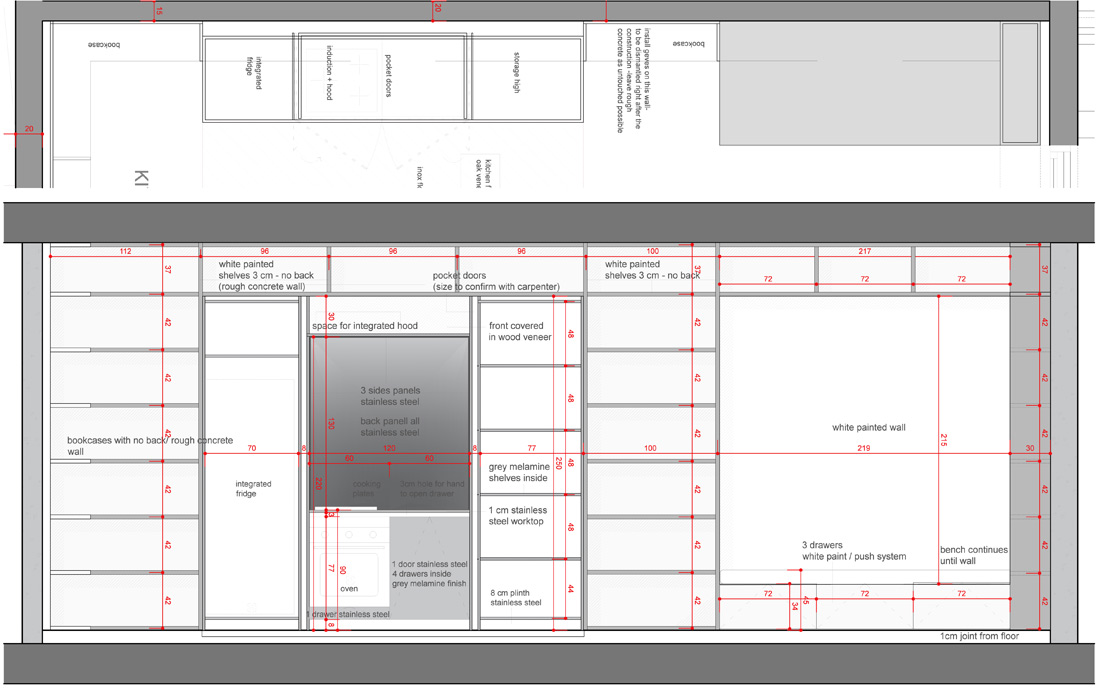 Credits
Architecture
Toledano + architects; Gabrielle Toledano
Main contractor for wood construction
Boaz Shinuy
Client
Private
Year of completion
2018
Location
Tel Aviv, Israel
Total area
110 m2
Photos
Amit Geron
Project Partners
Mody Israel, Exclusive Lighting Ltd, Bio Refine Ltd.
Related posts
Powered by