Pavilion by the Sea was designed as the foundational dominant architectural element at the center of the Bostanlı Sea Square. The structure, which is positioned between the dry pool at the upper level and the cascaded wooden platforms on the lower side, with an angle of 45 degrees to the shoreline, was created with the repetition of identical modules that are each made of steel sheets of 2 cm thickness and produced through computer-aided precision cutting, twisting, and welding processes. In addition to its basic shading function, this extraordinary architectural element creates a complementary visual backdrop for public uses on both sides with its lace-like appearance created by thin, delicate steel plate sections. While guiding the perception and movement towards the sea with its positioning, Papilio invites one on an inner journey along the middle axis framing the sea and the horizon, starting from the square and ending by literally touching the sea with concrete sea steps.
What makes this project one-of-a-kind?
Pavilion by the Sea provides users a unique subtle coastal experience in contrast with the hustle and bustle of daily urban life. The installation serves as an urban spot for on-demand serenity.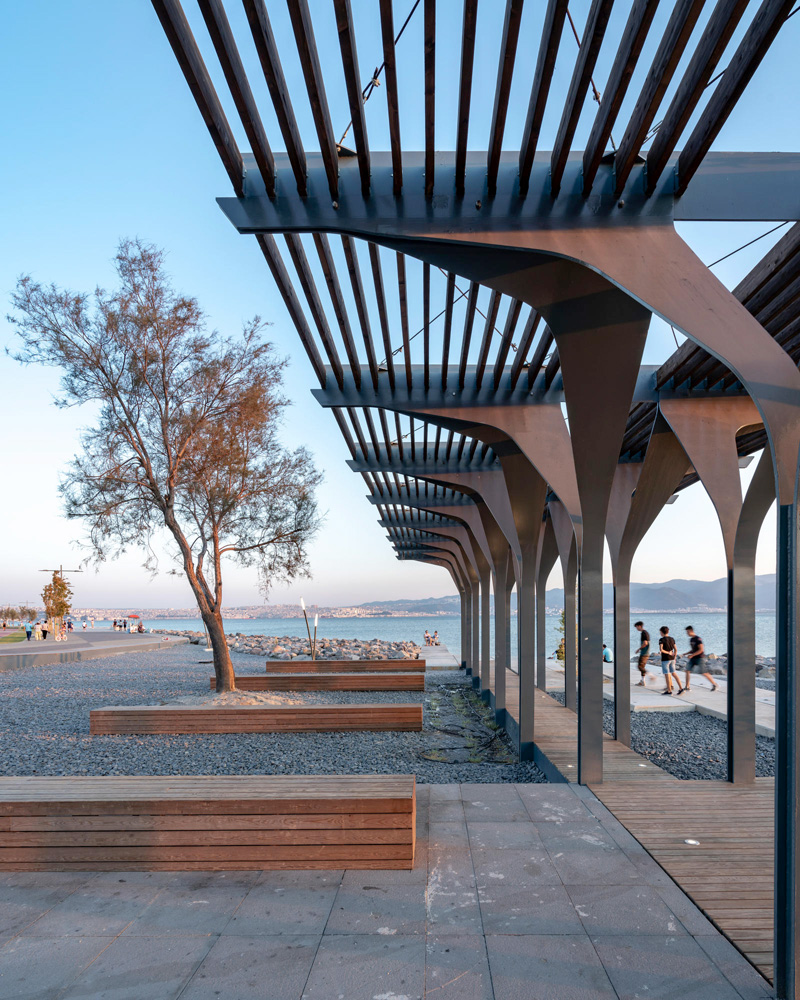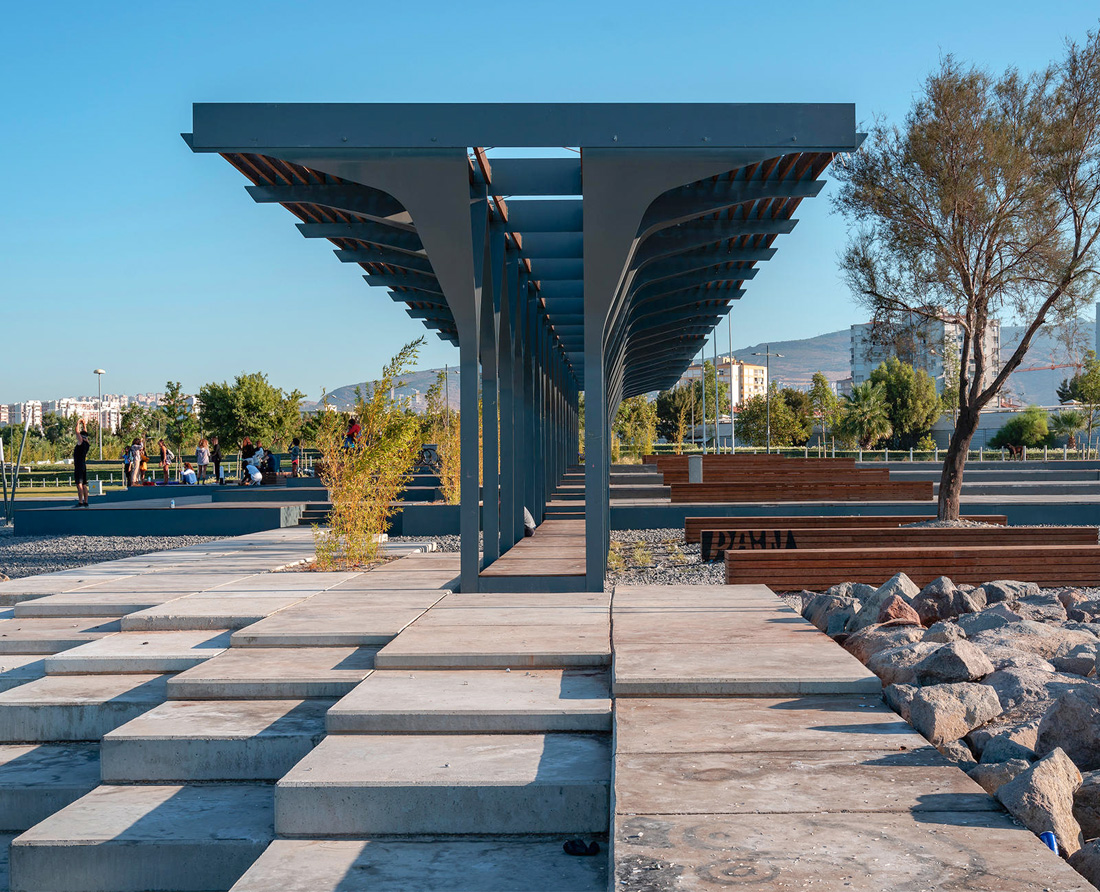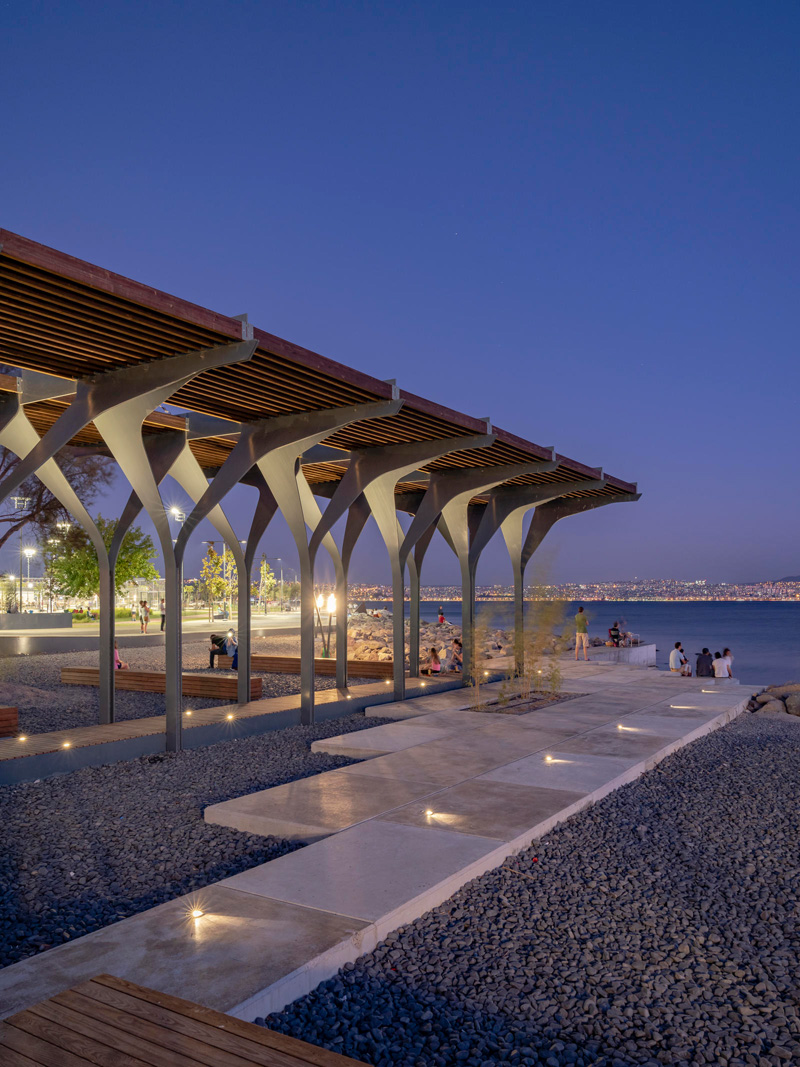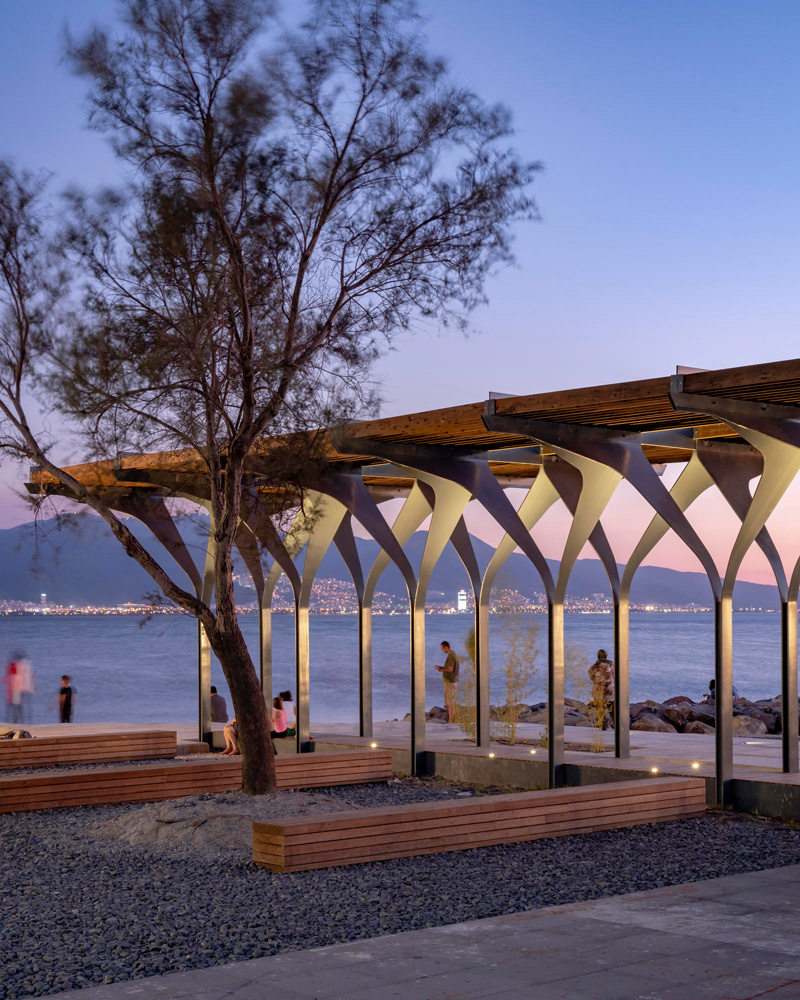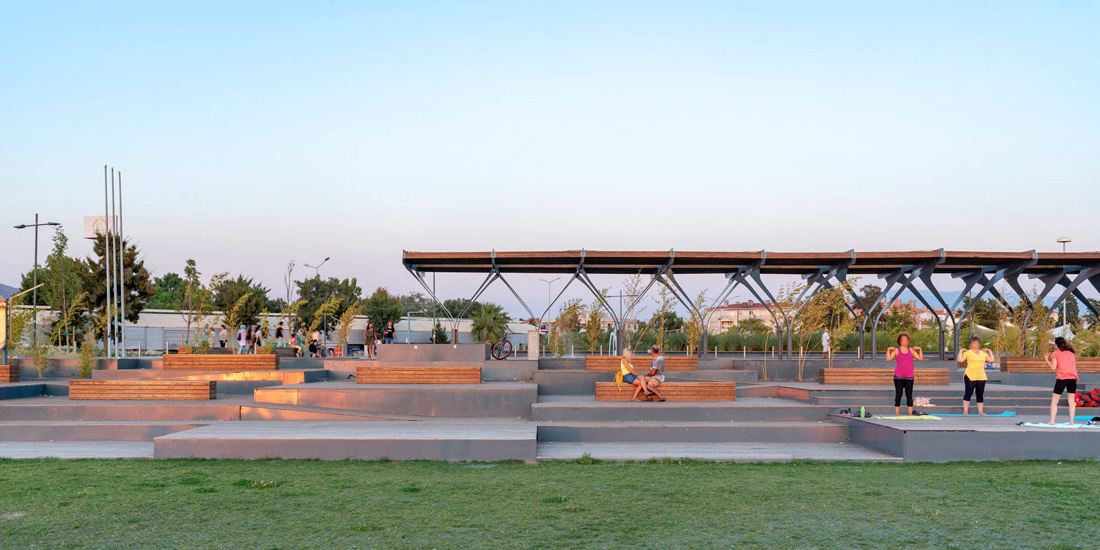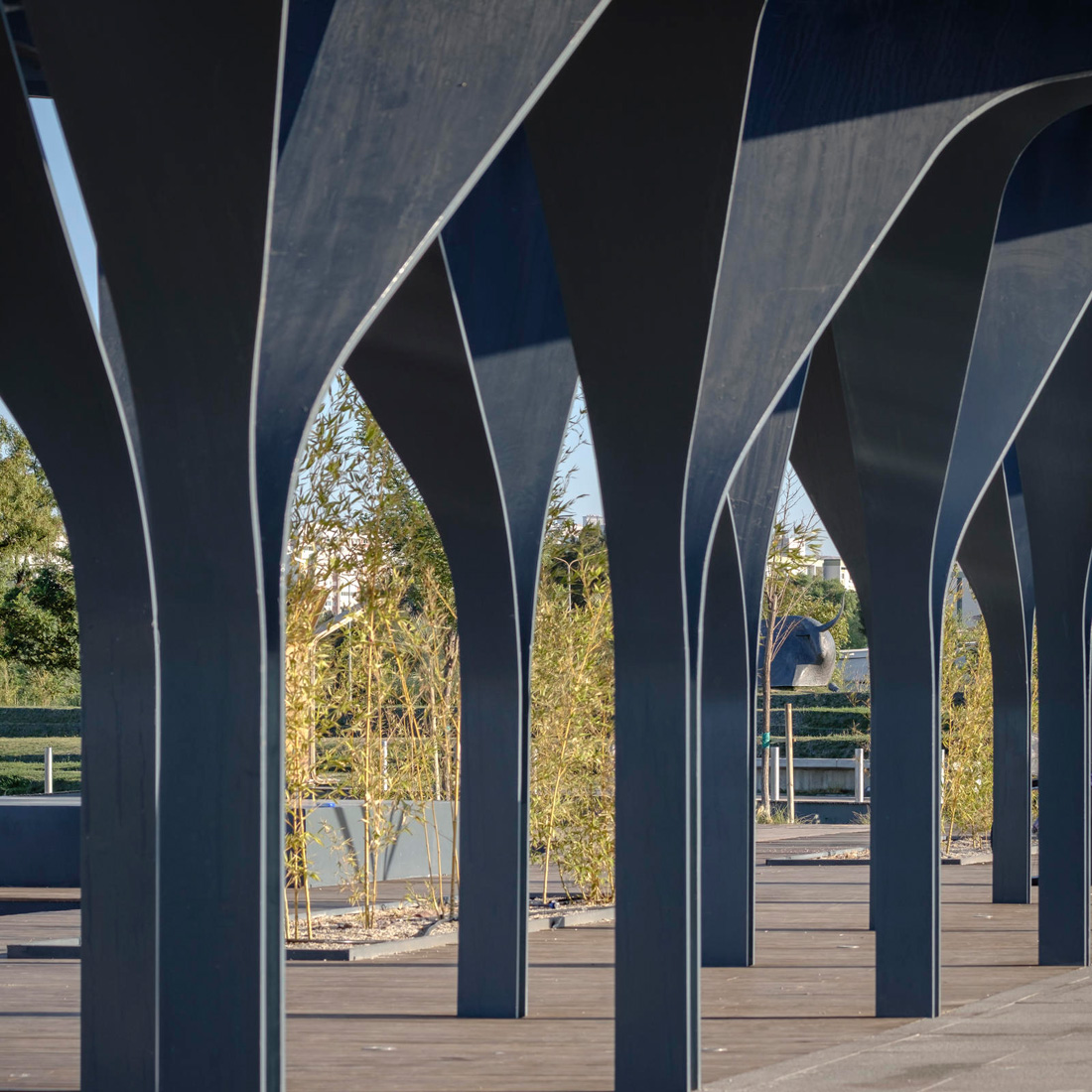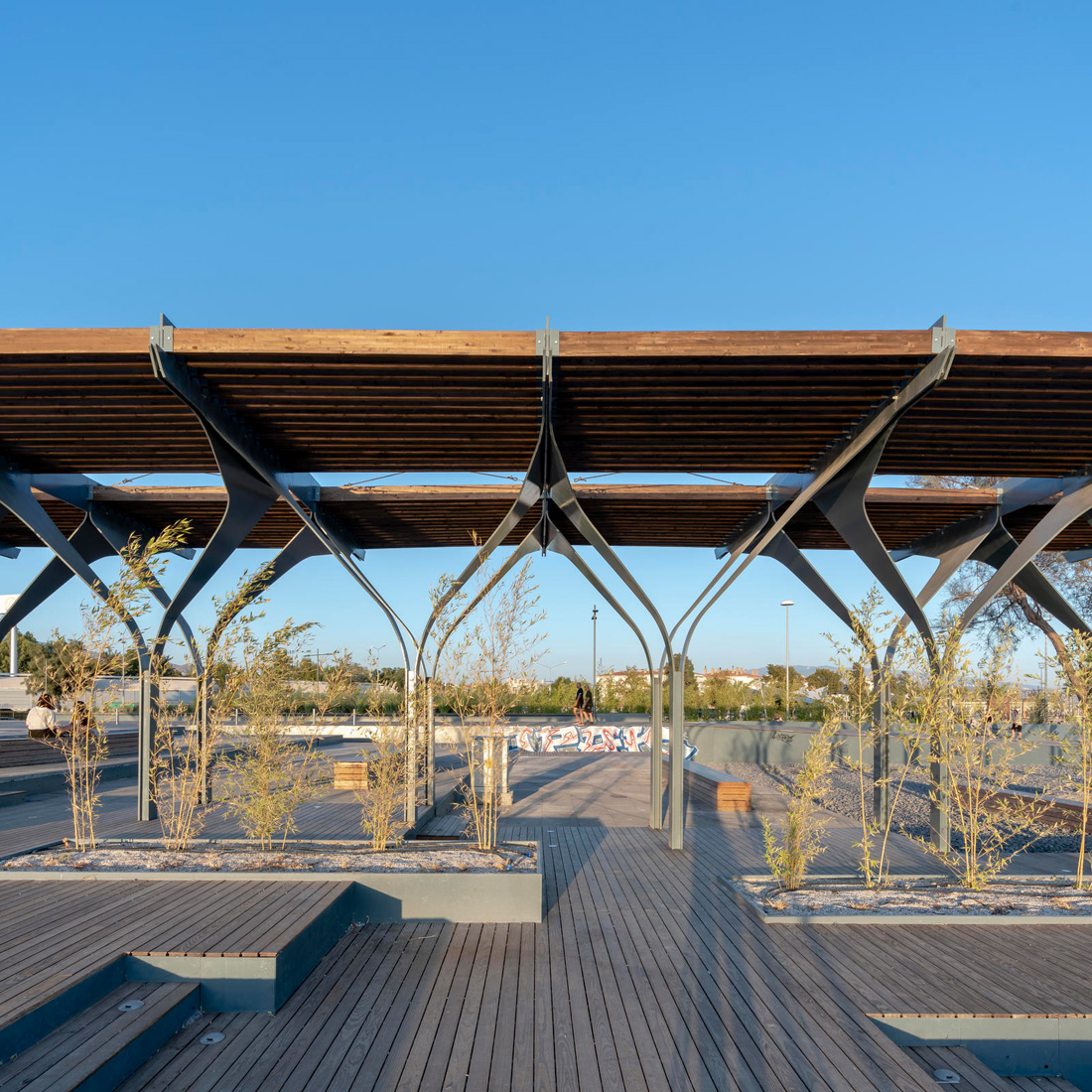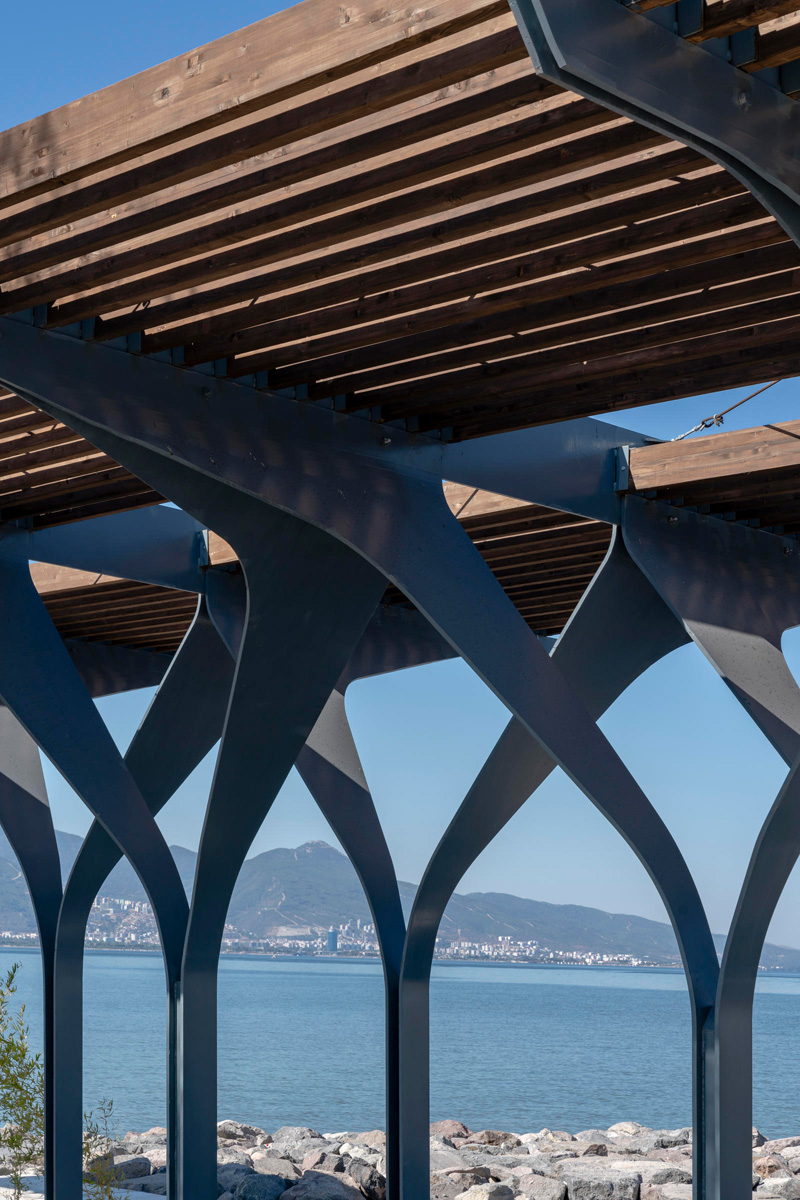 Credits
Architectural Concept
Studio Evren Başbuğ Architects; Evren Başbuğ (Lead Architect, Principal Designer)
Architectural Design Group
Studio Evren Başbuğ Architects; Can Özcan, Oğuzhan Zeytinoğlu
TH&İDİL Architects; Özlem Arvas
Client
İzmir Metropolitan Municipality
Year of completion
2019
Location
İzmir, Turkey
Total area
8.500 m2
Site area
20.830 m2
Photos
Yerçekim Architectural Photos, ZM Yasa Architectural Photography (Drone Photography), Mert Uslu Architecture Archive, Studio Evren Başbuğ Architects Archive
Project Partners
Pavilion by the Sea Engineering & Consultants Group
Cemal Coşak (Civil Engineer, Hydraulic Expert / Methal Engineers)
Mustafa Şahin (Civil Engineer / Methal Engineers)
Necdet Tunalı (Mechanical Engineer / Proje Isı Engineers)
Alişer Parlak (Electrical Engineer / İzmir Metropolitan Municipality)
Korhan Şişman (Interior Architect, Lighting Expert / Planlux)
Durmuş Ali Kasap (Architect / D.A. Architects)
Dilşad Kurtoğlu (Architect)
Ceyhun Baskın (Architect)
Rüya İpek Balaban (Architect)
Contractors
Ladin İnşaat
Related posts
Powered by