Longing Cabinet is composed by small squared compartments. This cabinet of wishes makes a clear and current reference to old sideboards where biscuits and candies where usually kept away from children and locked up. A key for each compartment. An iconic piece of furniture.
The cabinet expresses the peculiarities of wishes through the selection of De Castelli copper finishes: for each compartment a unique finishing that enhances the company know-how and its dedication to this precious material.
The piece asserts a unique novelty by capturing the vintage charm and grandeur of old dining room buffets. Nika Zupanc aimed to entice a touch of desire by complimenting the furniture piece with a series of keys crafted in heart shaped and floral forms. This feature provides an extra embellishment to the cabinet, provoking both a sense of mystery and discovery.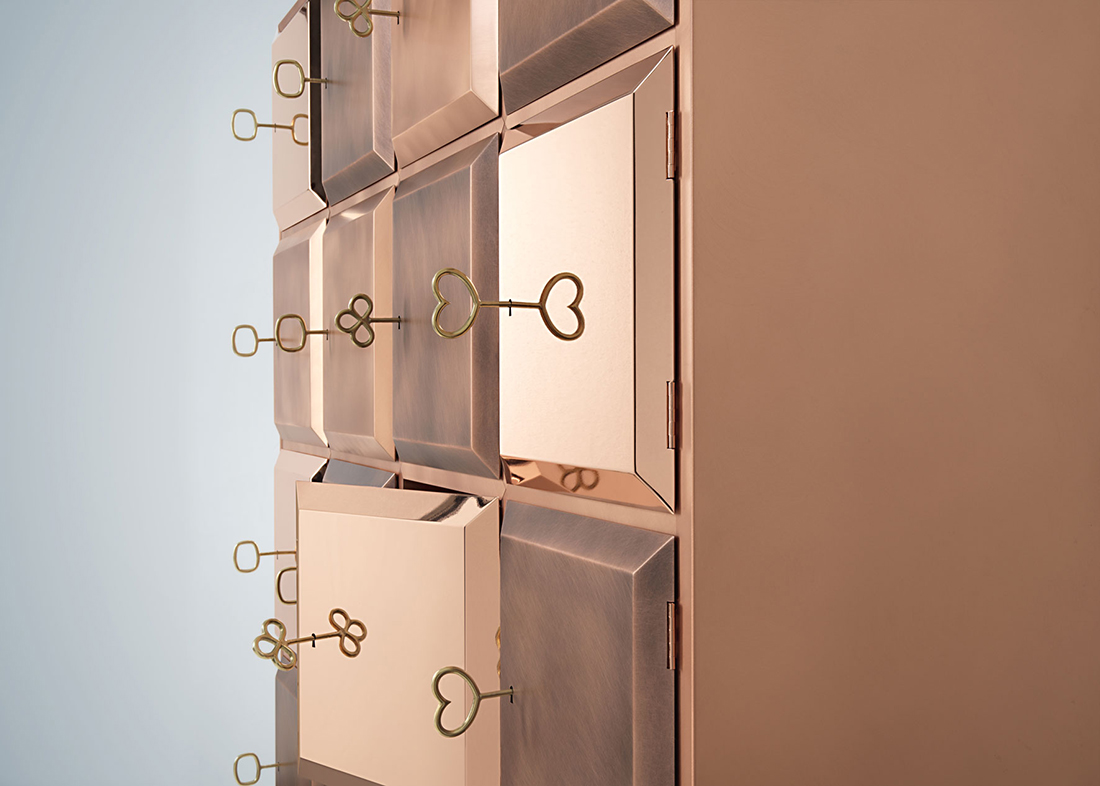 'Consider the credenza, much-loved yet inexplicably misplaced. An assemblage of small, very personal lockers, each with its own key, and each keeping its very own secret, secret desire, just out of reach. An homage of meticulous metalwork dressed in radiant coppers, an intuitive collaborative effort designed to take full marvellous advantage of de castelli's rich range of immaculate metal finishes. Because longing has many names – but all come from the same sacred place. put it in the safe and lock it.' Nika Zupanc
About the designer:
Nika Zupanc's works bring inspiring reports from the outer frontiers of technologies, materials and possibilities. Her visual language comes from deep within and is about "communicating the things that cannot be told."
About the producer:
Faithful to its decision to reinstate the special role of metal in design and experimentation, De Castelli infuses artisan ideas and workmanship into industrial processes, leading to entirely original results. The encounter with design inspires an approach to materials founded upon respect for their potential, be it hidden or obvious, which emerges slowly in a collection of pieces that, despite being part of a series, remain unique.
Unique not only for the hand that has created them, but also for the singular cultural path that focuses on the aesthetic (and not just practical) value of the primordial material with which De Castelli shapes living spaces.
FILE
Designer: Nika Zupanc (Slovenia)
Producer: De Castelli Srl (Italy)
Year of production: 2017
Photos: Massimo Gardone
Text provided by the authors of the project.