Designed by Christoph Meier, Ute Müller, Robert Schwarz and Lukas Stopczynski, the LAX BAR, a copy of the Loos Bar, emphasises this aspect of the social sculpture that turns viewers into actors. In contrast to the original, however, it is a walk-in sculpture with a makeshift character and only officially operates five times.
The LAX BAR reduces architecture to its very essence and centres around a seemingly simple design that underlines the sheer impact of the material while at the same time rejecting the material opulence of Loos's original version. The bar's displacement, its own temporality as a "different place", is also celebrated. When the door to this inconspicuous building opens, the visitors, like Alice in Wonderland, fall down a kind of rabbit hole: They enter a completely white tiled room that could be anywhere, that seems different from the outside world and yet is part of it in a strangely displaced way.
What makes this project one-of-a-kind?
The LAX BAR is already the artists' third edition of the legendary bar designed by Adolf Loos. All three versions required that the original floor plan be scaled in accordance with the available space, leading to modifications that impacted the overall concept of the bar. The spatial dimension of the LAX BAR is similar to that of the Loos Bar, but here the ceiling is only about half as low and therefore the music is lower, meaning that all pitches are transposed down in the same ratio. When, in keeping with the tiled and grouted concept, The Art of the Fugue by Bach resounds from the loudspeakers positioned around the room, the LAX BAR mutates into a surreal sound box in which the neon tubes below the endless mirrors pulsate in time to the music.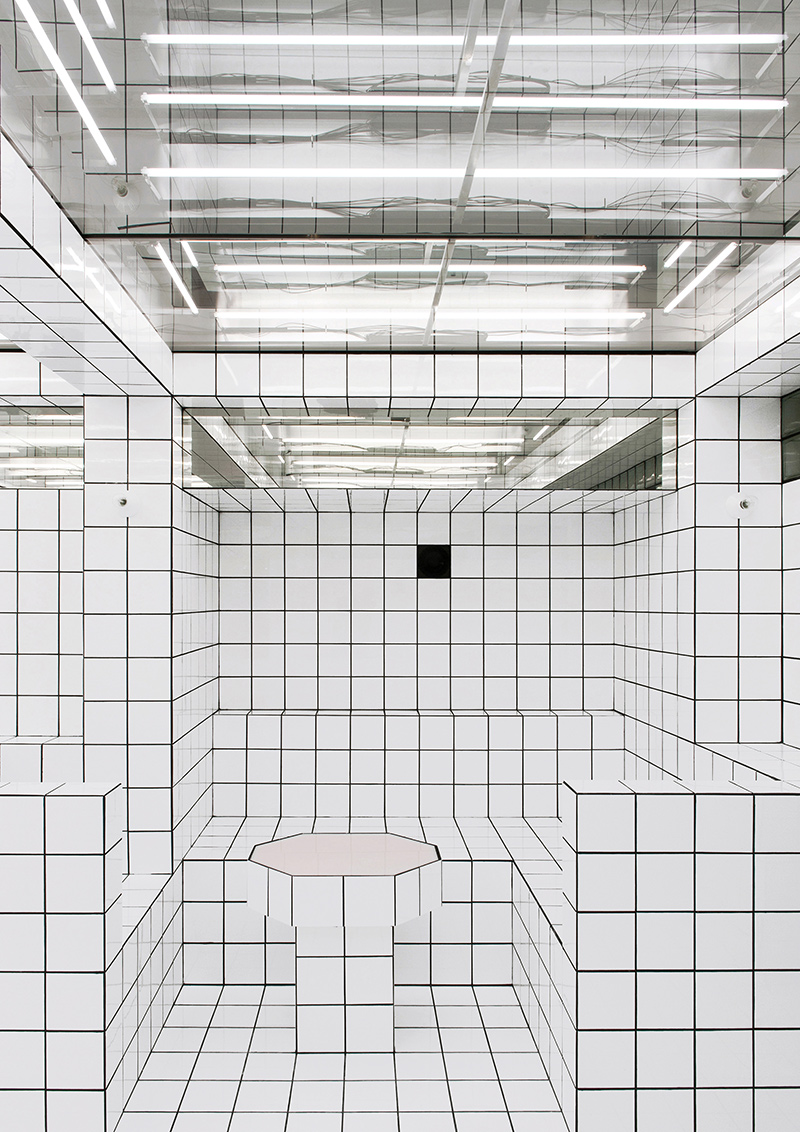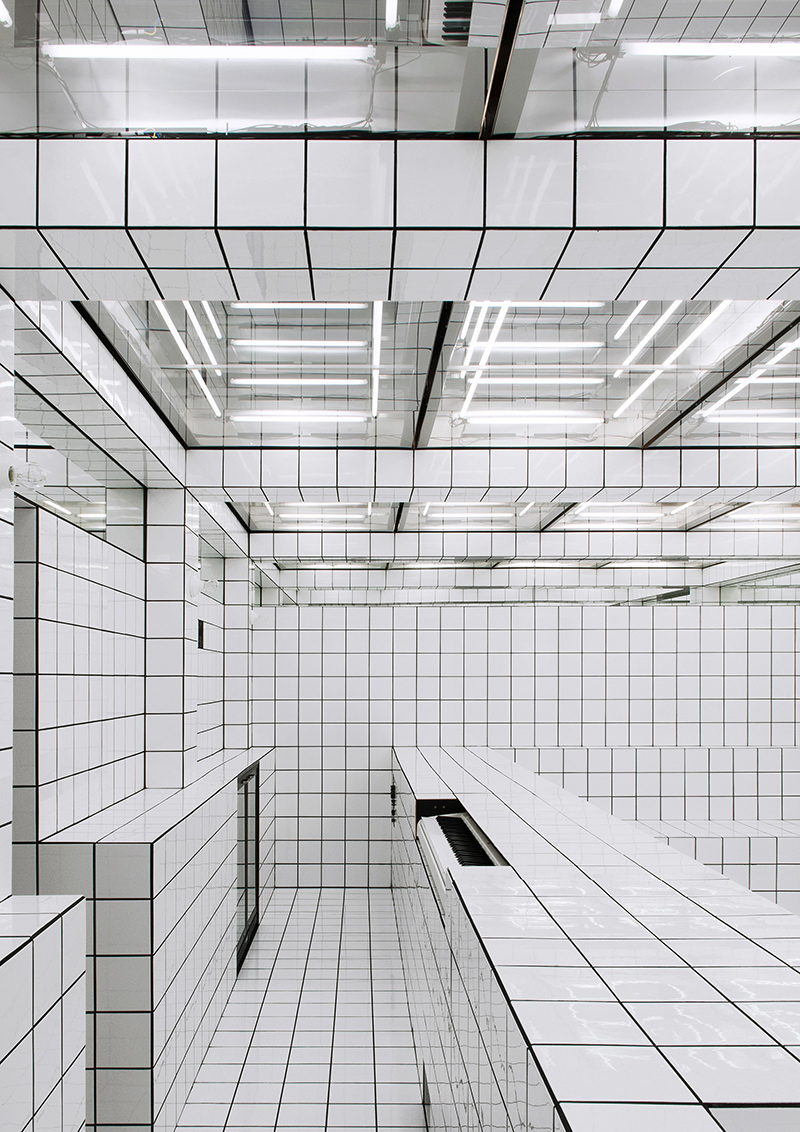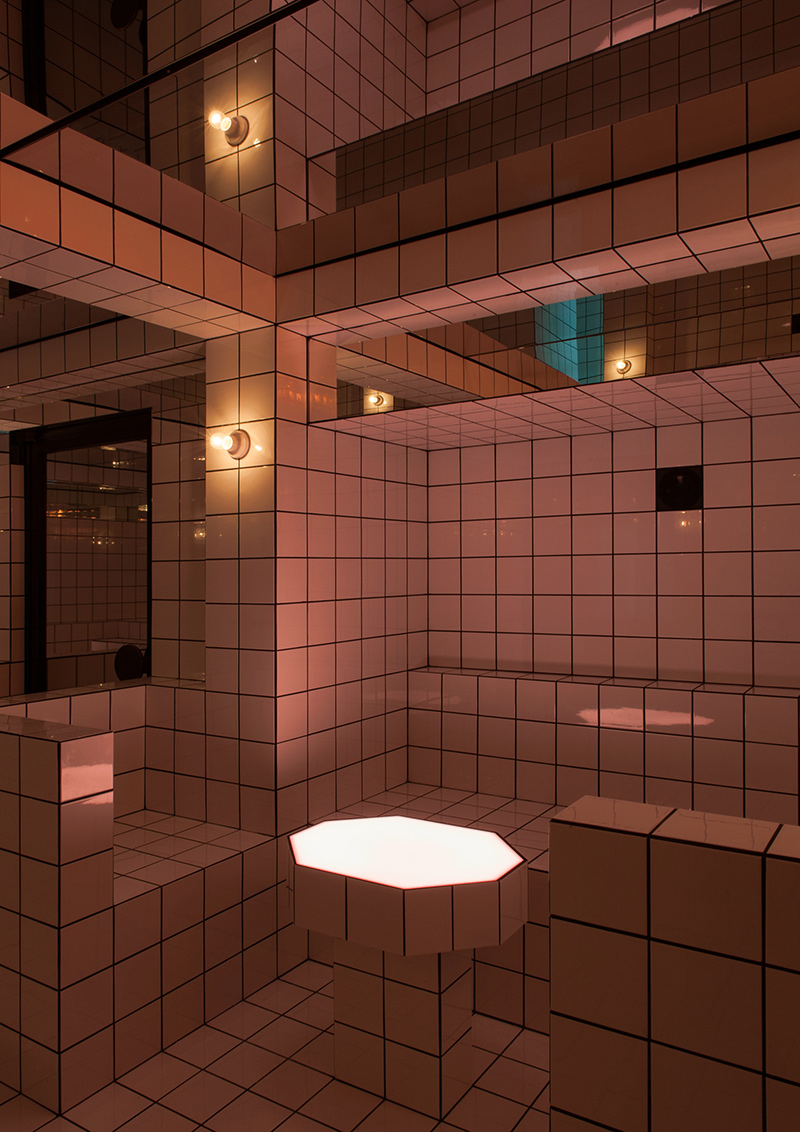 Credits
Autors
Christoph Meier, Ute Müller, Robert Schwarz, Lukas Stopczynski
Client
Wiener Festwochen GesmbH
Year of completion
2019
Location
Vienna, Austria
Total area
29,88 m2
Site area
125,49 m2
Photos
Ute Müller, Elodie Grethen
Project Partners
Wiener Festwochen GesmbH, Goran Tiles Vienna
Related Posts
Powered by