The project of the votive chapel is an integral part of the complete urban-architectural project of the Kondžilo sanctuary complex. Construction works on the Kondžilo sanctuary began in 2010. Due to its complexity and significance, its construction is divided into phases. So far, only the chapel facility has been fully completed. The black glass chapel is the focal point and the sign of the Sanctuary, a contemporary place of community identification imbued with the deep symbolism that guided its architectural design. With its exterior, the chapel represents folded hands in prayer lifting the cross high and preserves in memory the archetypal silhouette of the first known modest chapel from 1906.
The floor plan of a chapel is a black glass square bounded by a white concrete cross. The archetypal silhouette and symbolism in contemporary interpretations continue to persist in the consciousness of the community through the associations of what has already been seen, learned and inherited. The fully glass chapel is located at the top of the hill, but the view into the interior of the chapel is completely disabled by the use of reflective black glass.
The introverted interior of the chapel forms a peaceful and dignified place for prayer and contemplation, protected from the outside view while at the same time opens up free sights to all who are inside it. Opened- closed space of this glass chapel symbolizes all the complexity of the moment, offers and seeks re-examination, self-confrontation and transcendence.
What makes this project one-of-a-kind?
The technically demanding and innovative construction and contemporary full glass materialization have redesigned the archetypal chapel silhouette, which authentically presents the time at which it was created as well as the capabilities of its builders. This black glass chapel is a sculpture in space, the site of a new, contemporary, dynamic and promising community identification, a sign and a compass.
Statement by the jury
The chapel at Kondžilo sanctuary in Komušina by Novi dom reinterprets the traditional chapel with contemporary materials and an innovative structure.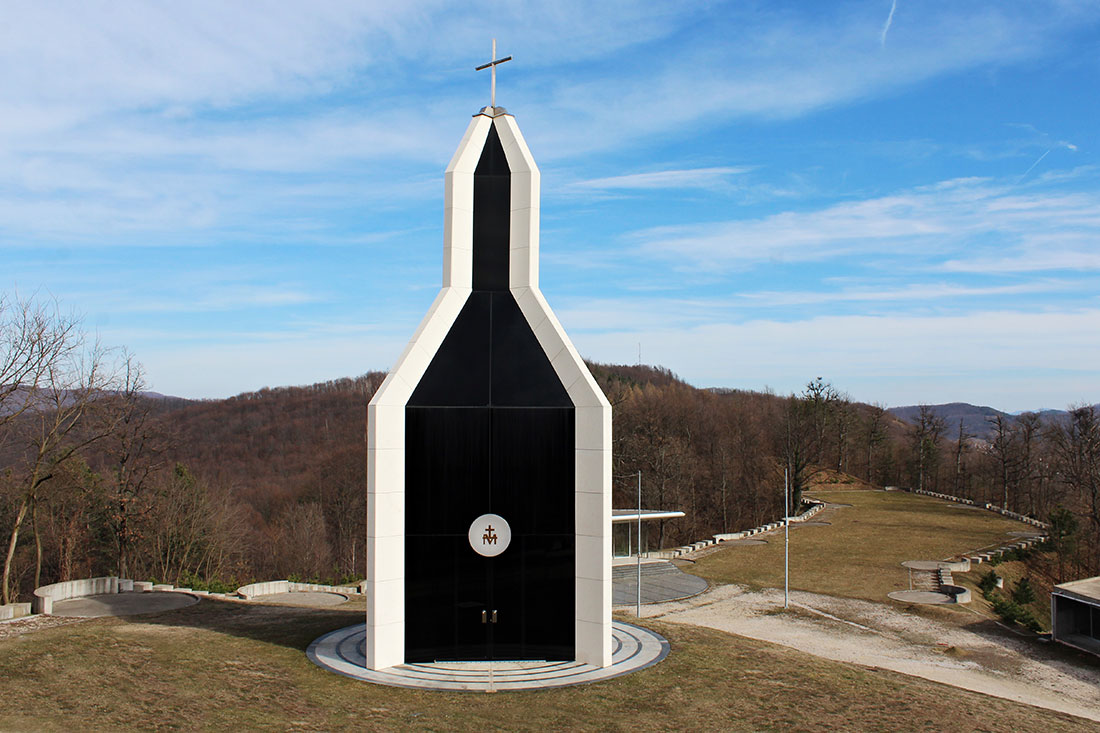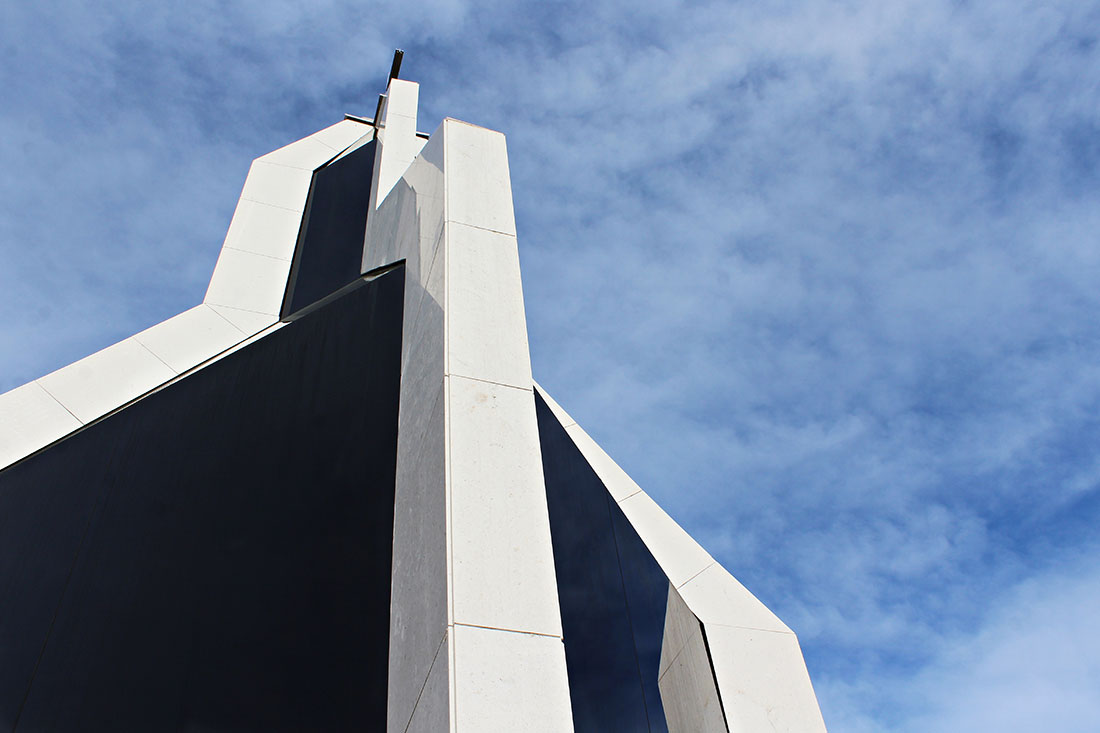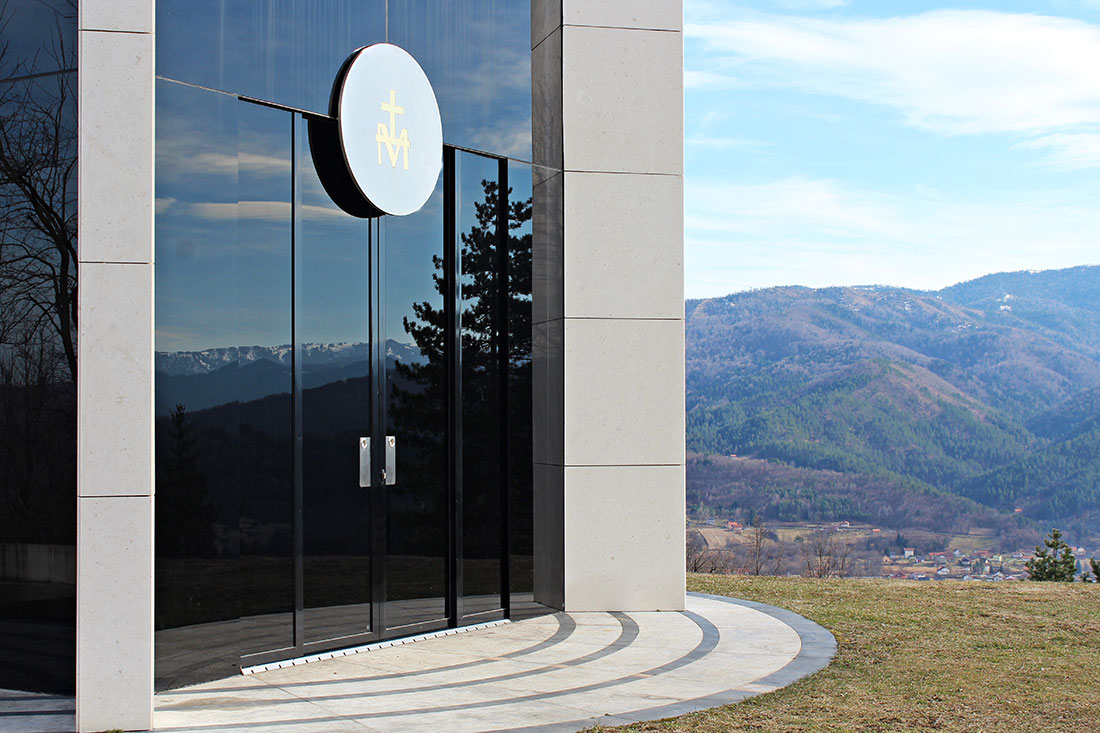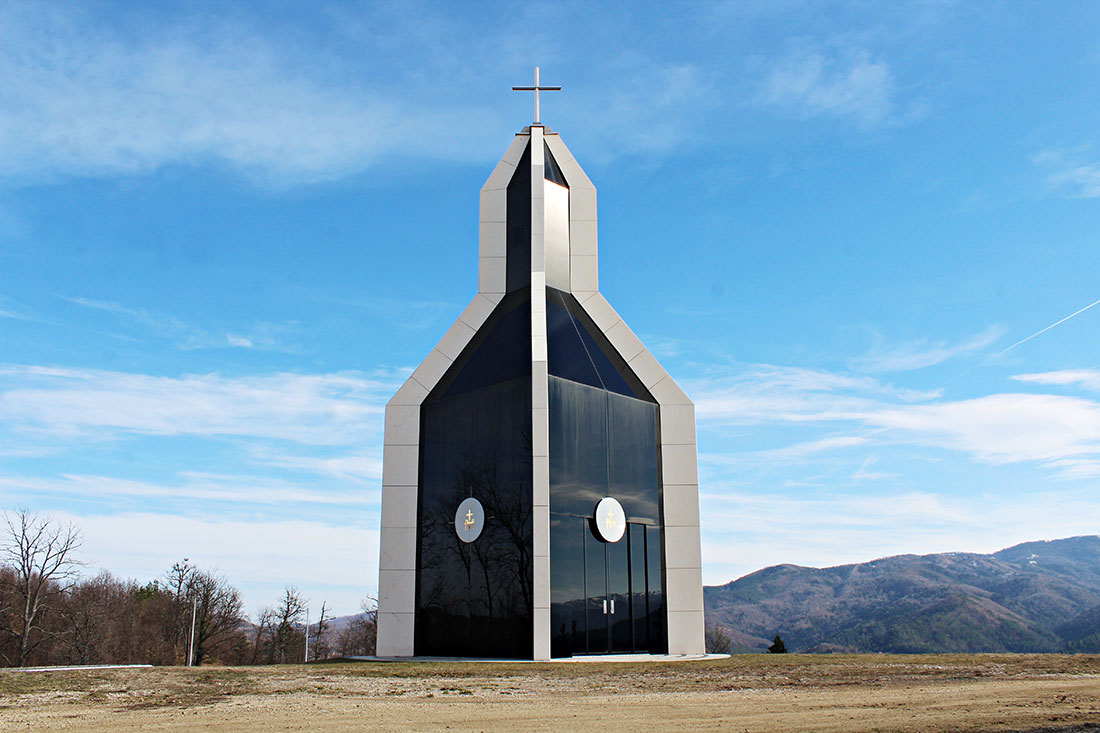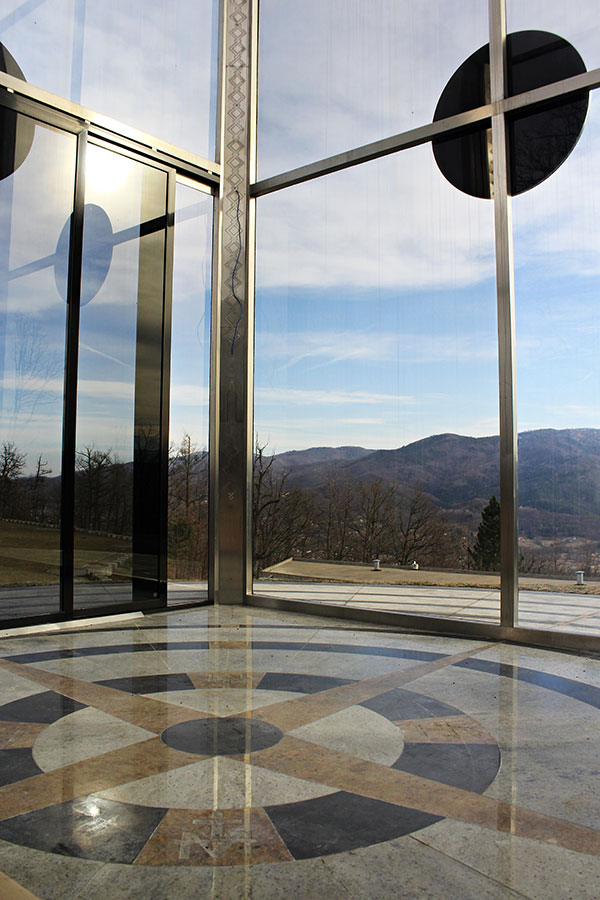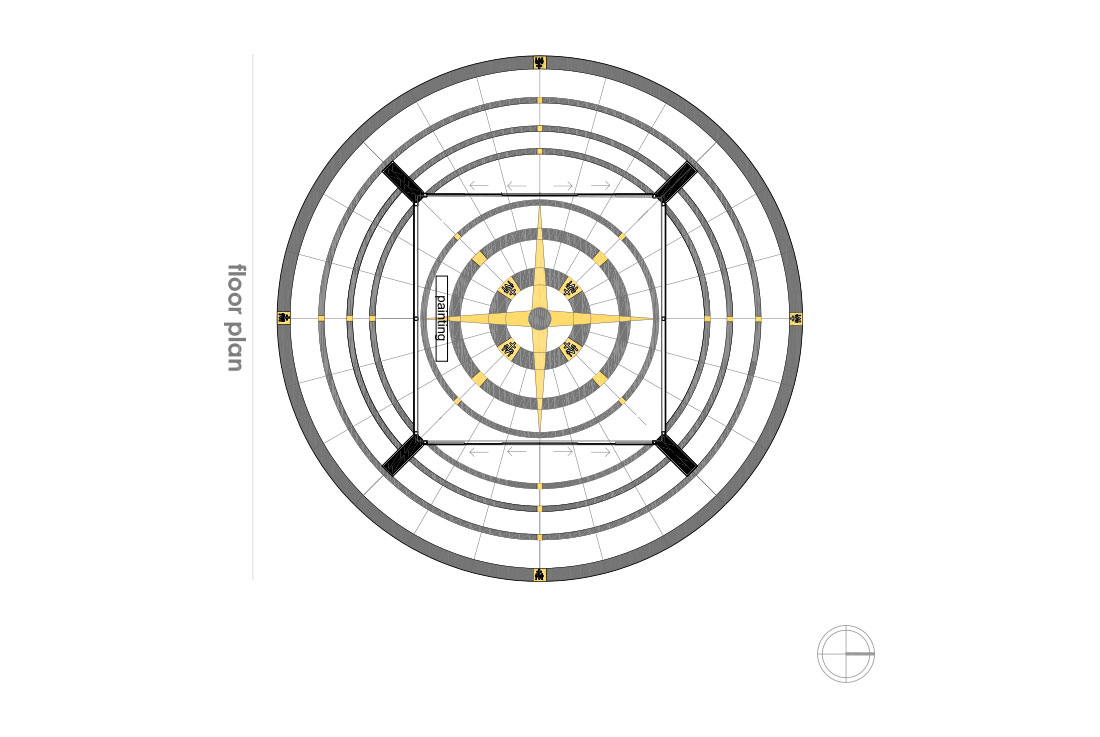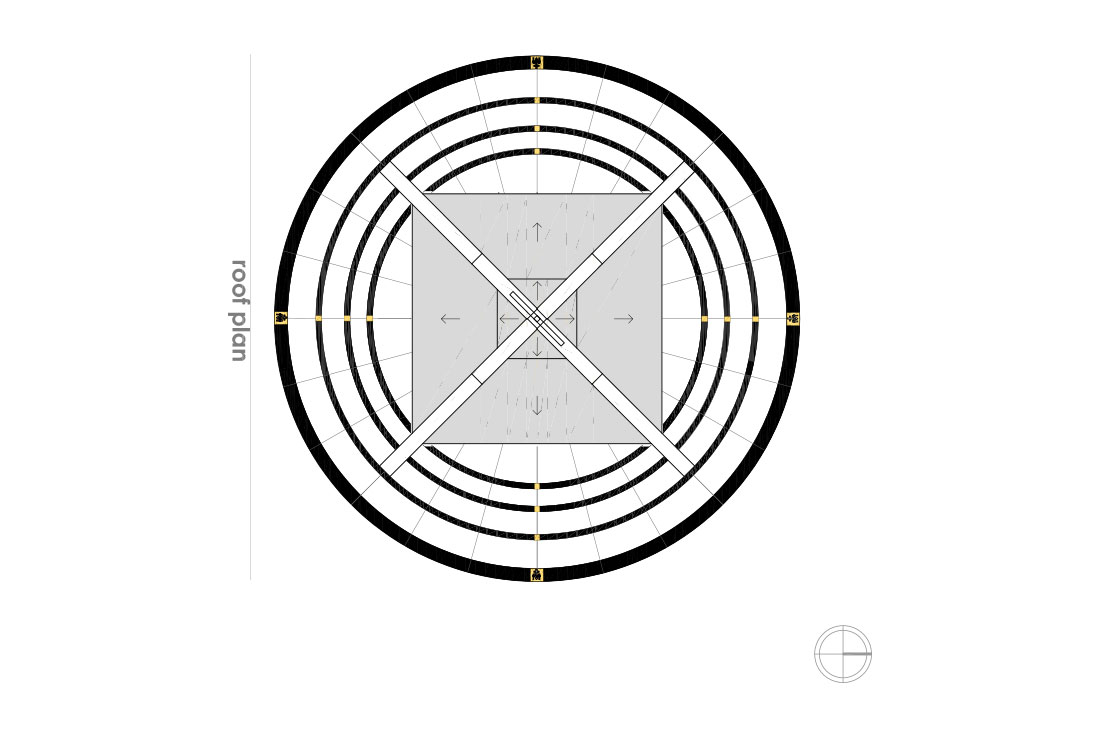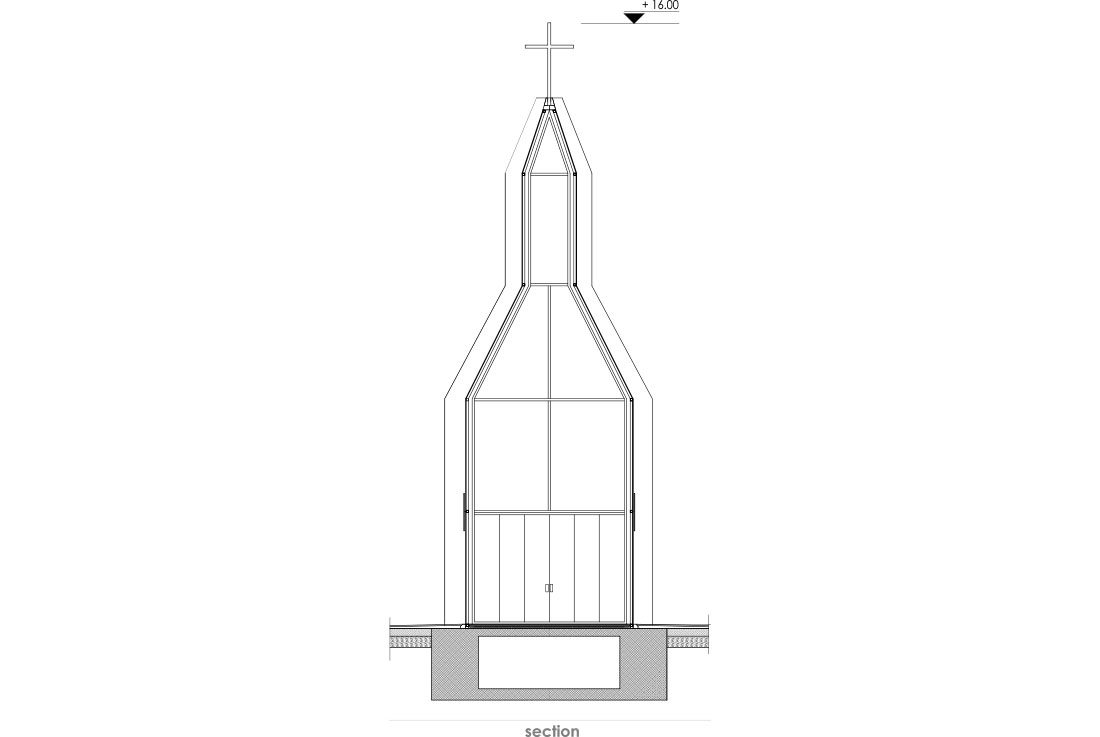 Credits
Authors
Novi dom; Juro Pranjić, Ana Bosankić
Client
Vrhbosna archdiocese, Parish Komušina
Photos
Novi dom; Ana Bosankić
Year of completion
2014
Location
Kondžilo sanctuary in Komušina, Bosnia and Herzegovina
Total area
20 m2
Project Partners
Cosić Promex d.o.o., Metalcrom d.o.o., Marbostone d.o.o.
Related posts
Powered by