The main concept in developing the interior design at "Sharena Sol" is based on three main points – clean design, comfort of habitation and providing the maximum natural environment. Here the food is the main focus, and the surrounding space is calm and submissive to the scent and the colors it carries. In the design development, serious consideration is given to the acoustic characteristics of the materials, as well as to the possibility of providing a variety of plants that contribute to both a better acoustic environment and also fresh and cozy atmosphere.
The main design elements are developed on the principle of contrast – Perforated acoustic panels and Dark metal elements, which clearly and categorically highlight the simplicity and cleanness of the interior. The reference to an industrial spirit is a logical approach defined by the location and the main users of the site. In this interior there is nothing spare and decorative. The emphasis is only on the elements that have to be highlighted. The used materials are count on fingers, but the final result brings the feeling of entirety and overall integrity.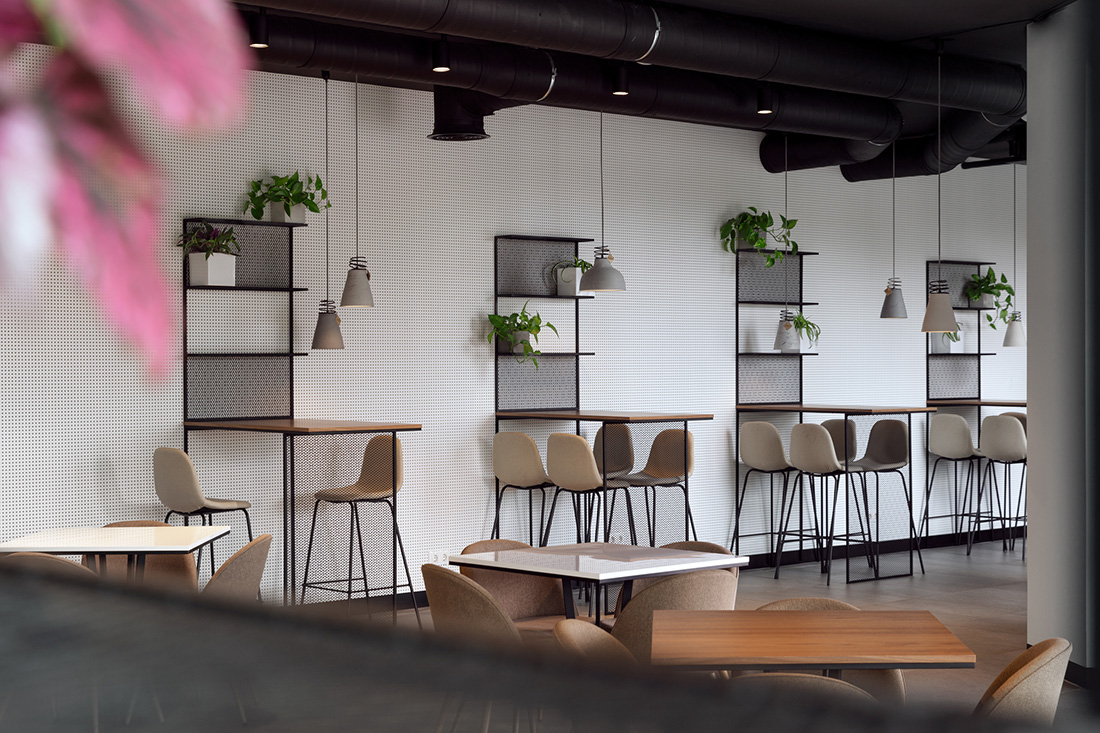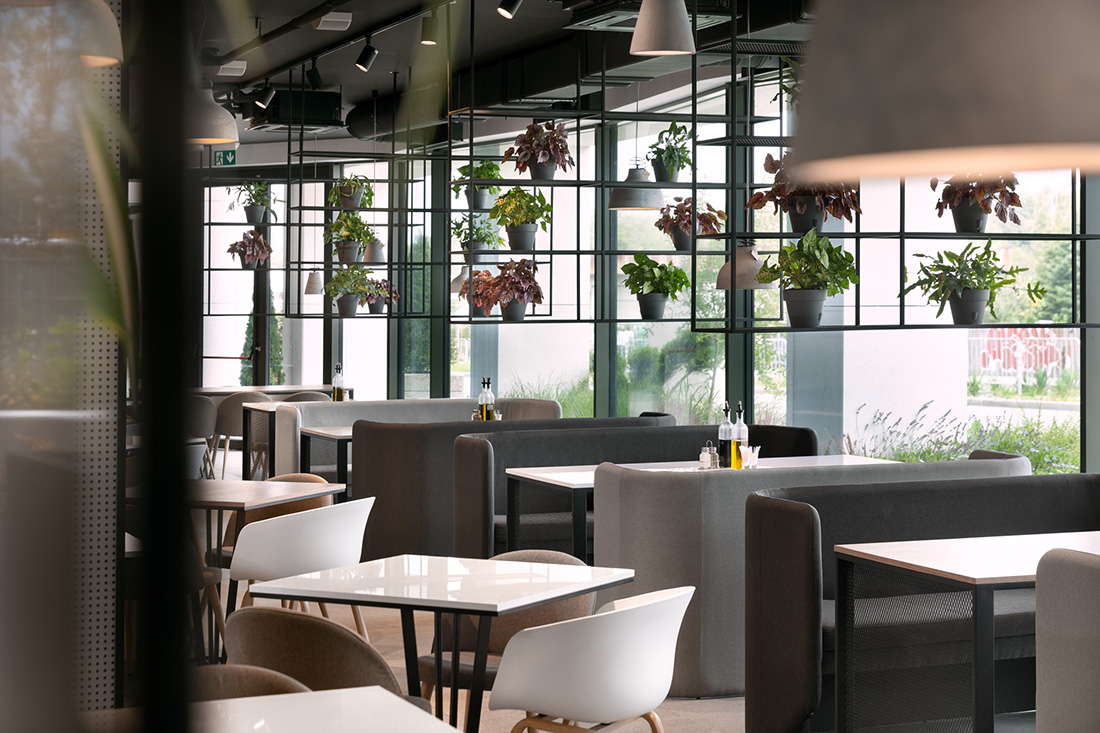 What makes this project one-of-a-kind?
Given the location and the turbulent development of the area in which it is located, the impact that this project has on the surrounding area is definite. It becomes the center of attraction for all those working in the building and in the vicinity. This, in turn, creates the much needed vibrancy and life around the building and its surroundings. Food is the thing that has always united people, creating preconditions for contacts and pleasant emotions. And what is better than the combination of "delicious" and aesthetically durable environment.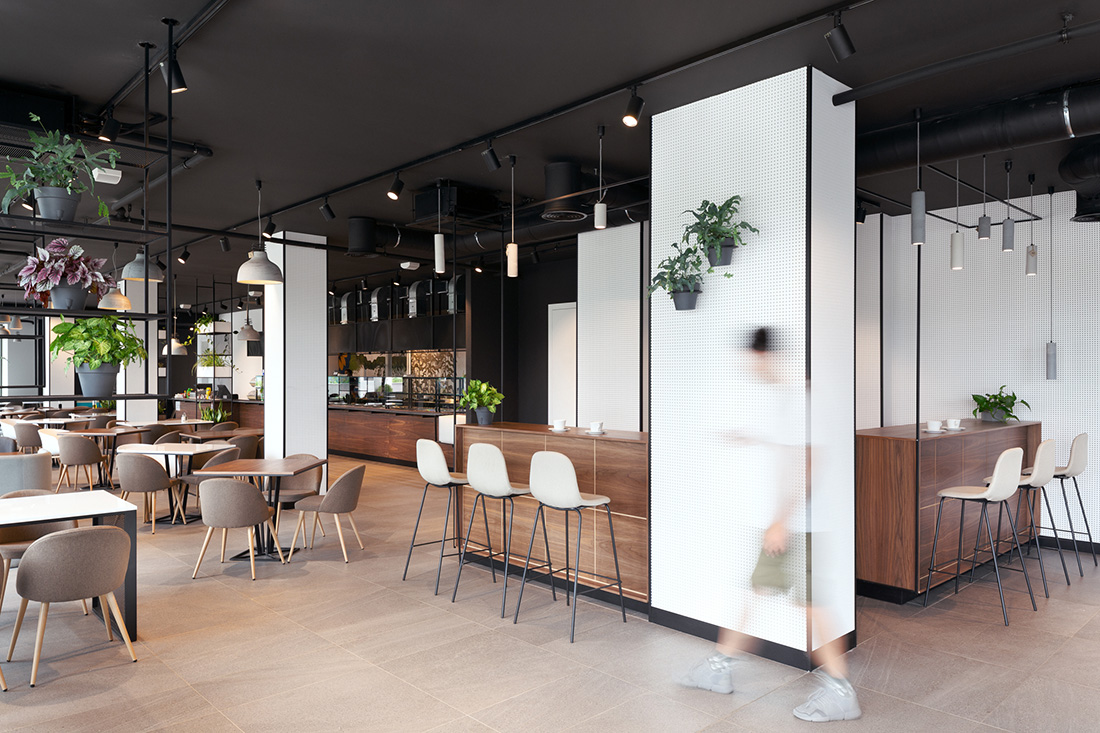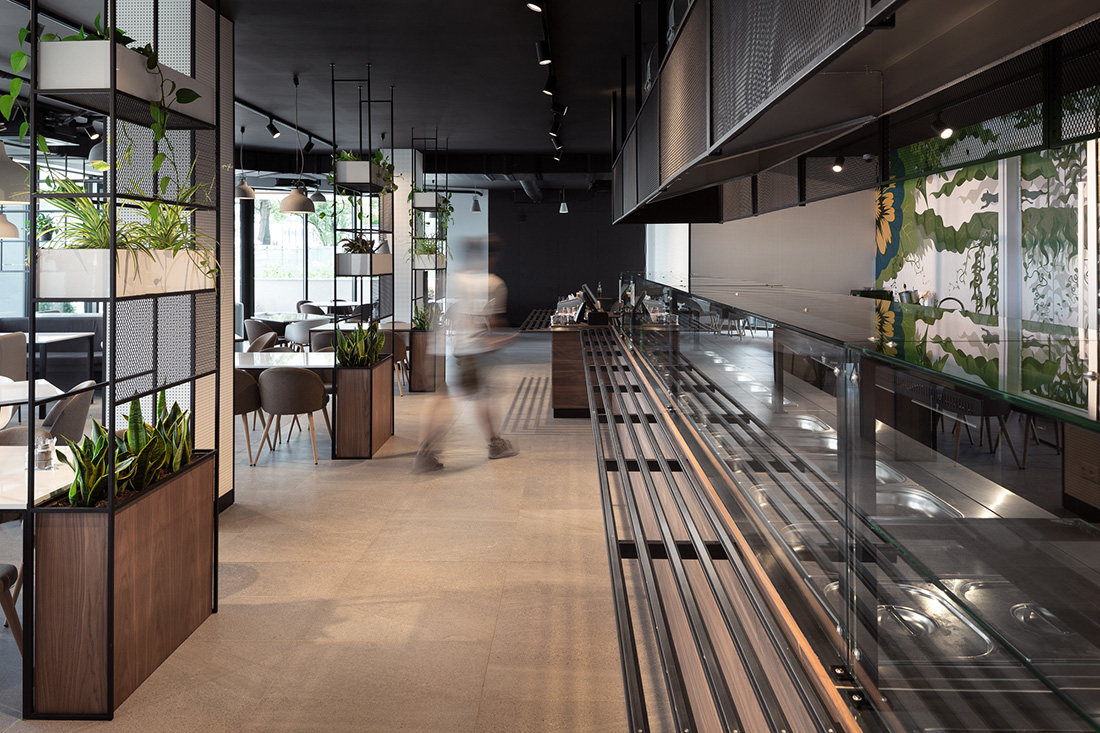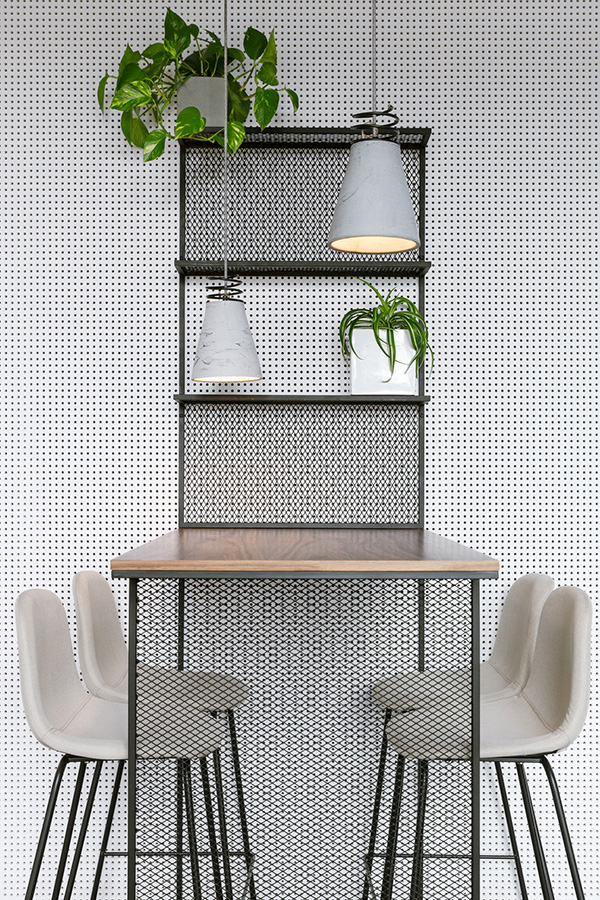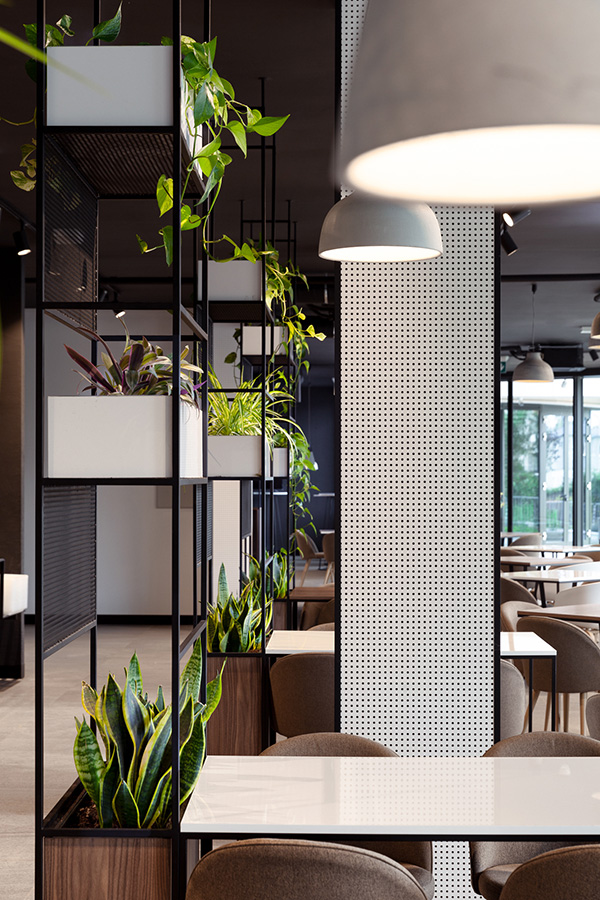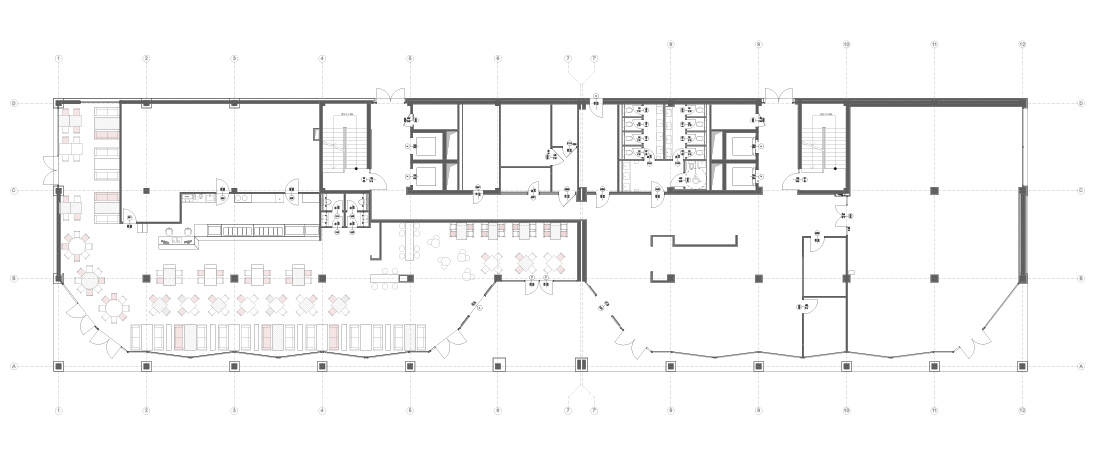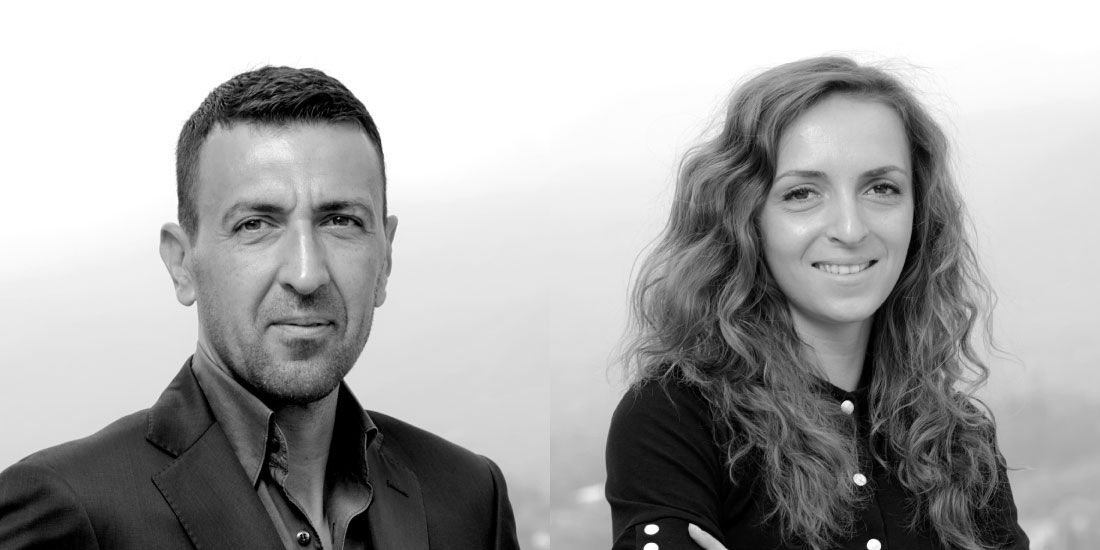 About the authors
SGI was formed in 2008 as part of the International expansion program and the result of a partnership arrangement between of Stephen George and Partners est. 1970 and K&D Architects est. 1995.
Since 2008 SGI has become one of the leading Architectural practices in the Central Eastern European region, delivering firsts in different sectors and winning multiple awards along the way. In 2019 SGI opens a new chapter in its development, retaining a strategic partnership with our colleagues in the UK, but gaining the flexibility to choose our markets and our future direction by becoming an autonomous operation. Our team in Sofia is around 50 Architects and Engineers. Our award-winning teams are highly versatile, providing an exceptional level of expertise in masterplanning, design and delivery.
We are known for our quality, reliability and integrity. We respond rapidly to client requirements, applying technical expertise and commercial realism to resolve complex issues effectively and we produce well-designed, innovative and deliverable buildings.
FILE
Authors: Stephen George International – Bulgaria; Tihomir Kazakov, Vyara Zapreva, Antonela Karapandzheva
Client: FairPlay International JSC (FPI)
Photos: Minko Minev
Location: Sofia, Bulgaria
Year: 2018
Area: 450 m2
Text provided by the authors of the project.