The main guide to creating the new business premises of Art Rebel 9 was the desire of the investor for an open plan where communication would be easier while ensuring enough peace and intimacy for employees. The main feature – the floating sound and visual barrier provides just that.
The floor plan is organized according to the employees' needs and the specificity of their workflow. Daylight is hindering their working process, so the main workspace is placed in the central part of the floor plan, while smaller managers' offices, service spaces and the meeting room are allocated on the perimeter. The space is connected all the way from the highlighted entrance through the staircase with a "yellow thread" of elements, which appears in the central part as a 50 metres long light, which winds over employees' spaces and allows the visitor's view to wonder throughout the space.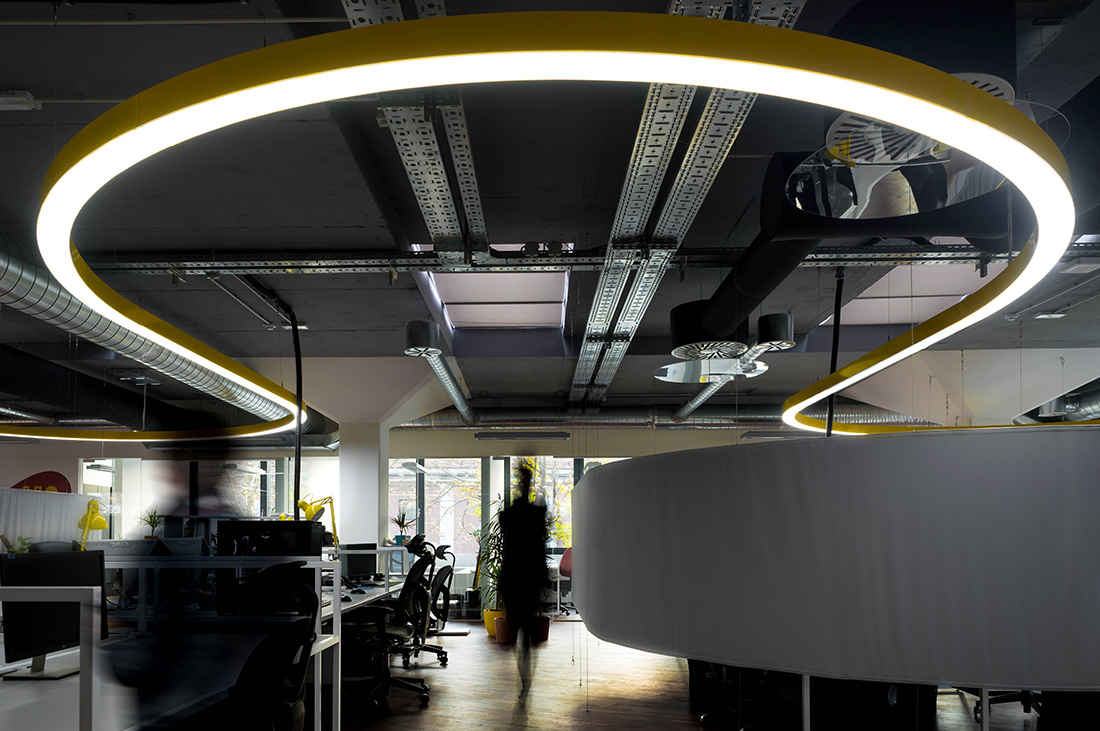 Flexible installations on the ceiling, mobile work places and joint green and colourful »lounge« spaces allow adjustments to the needs of the company. They transform from common spaces, labs to test new technologies, showroom and back to work places. The final playful image of the office thus represents an innovative and creative vision of the company.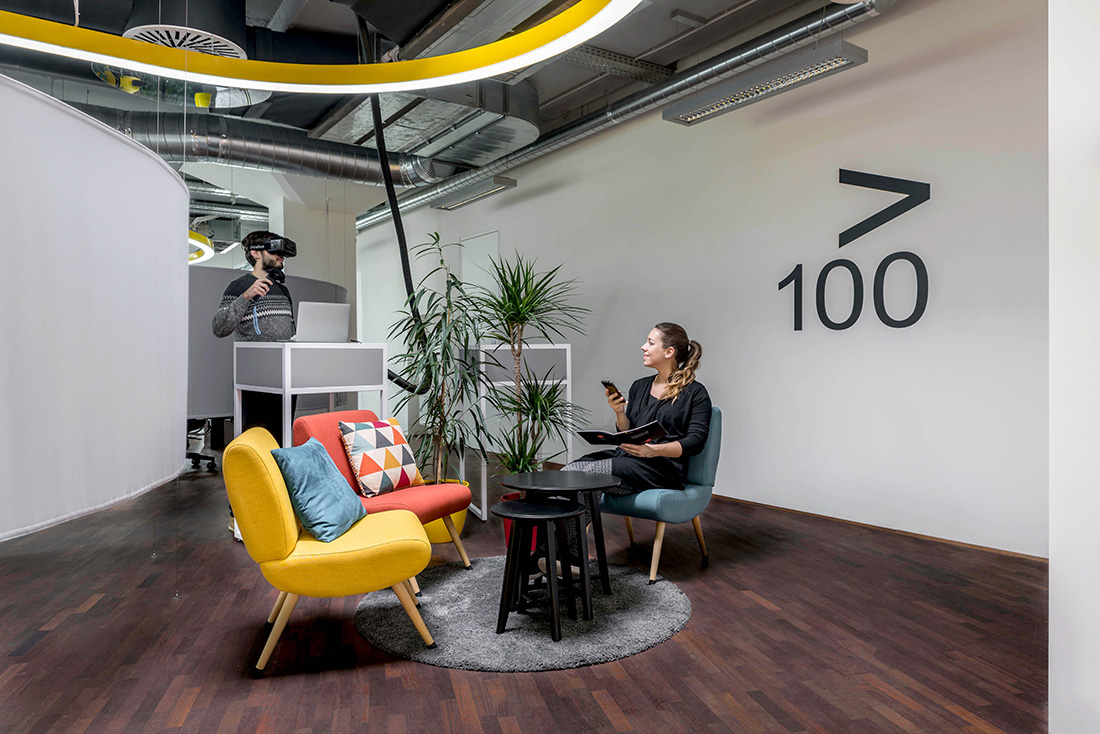 What makes this project one-of-a-kind?
The project introduces a unique feature – a floating sound and visual barrier which offers privacy in each and every single work place while still offering a feeling of an open and creative space that perfectly embodies the client's character.
The journey through the space from the yellow frame at the entrance and onwards through the yellow staircase is finalized with a one-piece light feature that visually connects the space together and allows the visitor's view to wonder through the entire space without interrupting the workflow of the staff.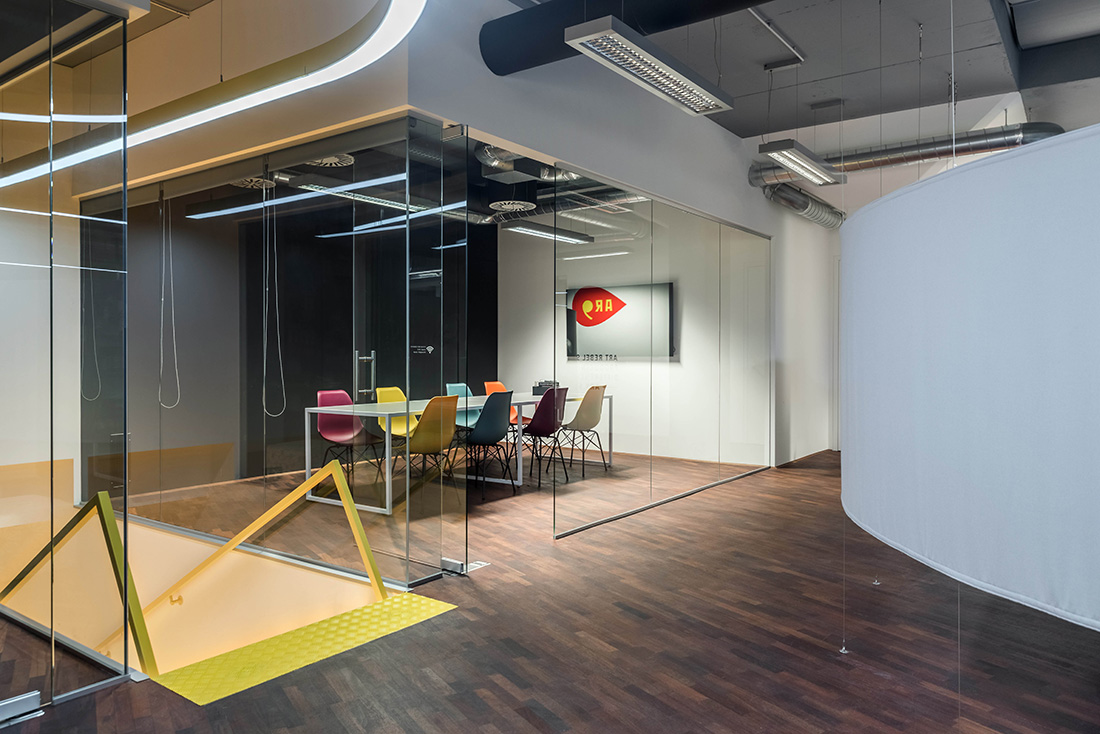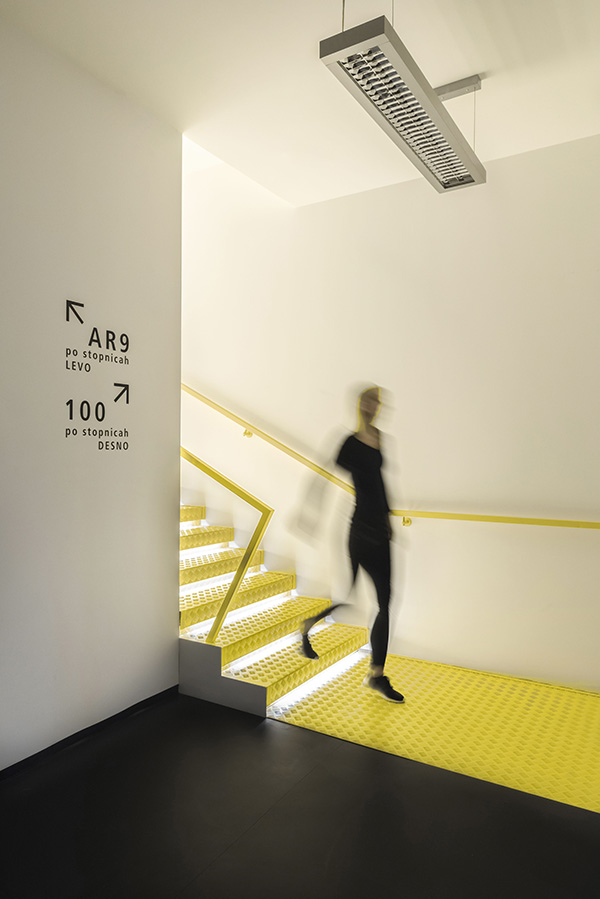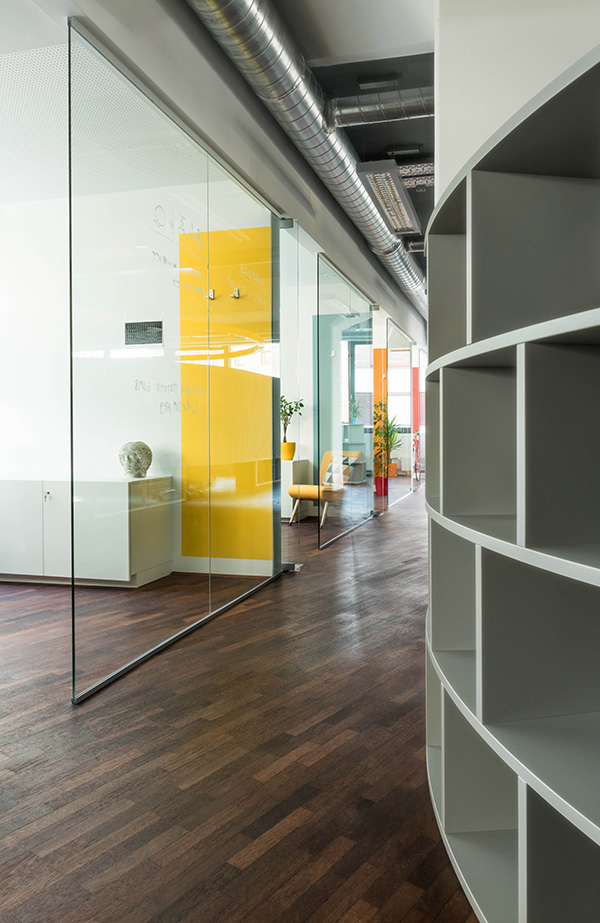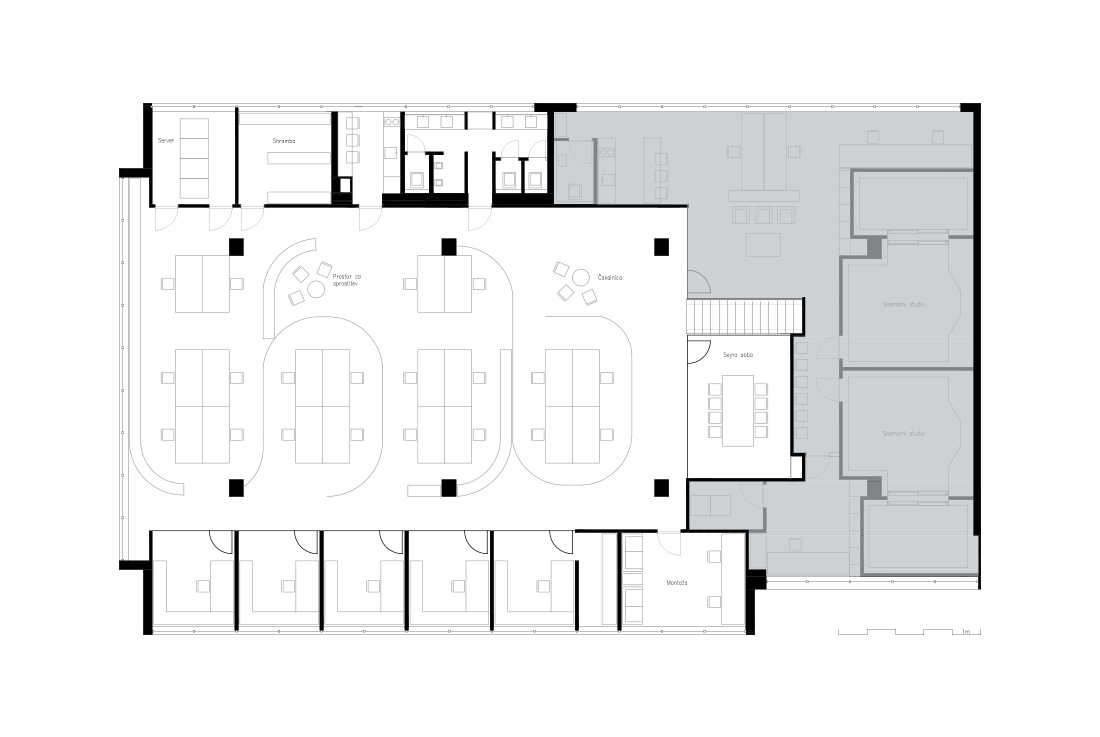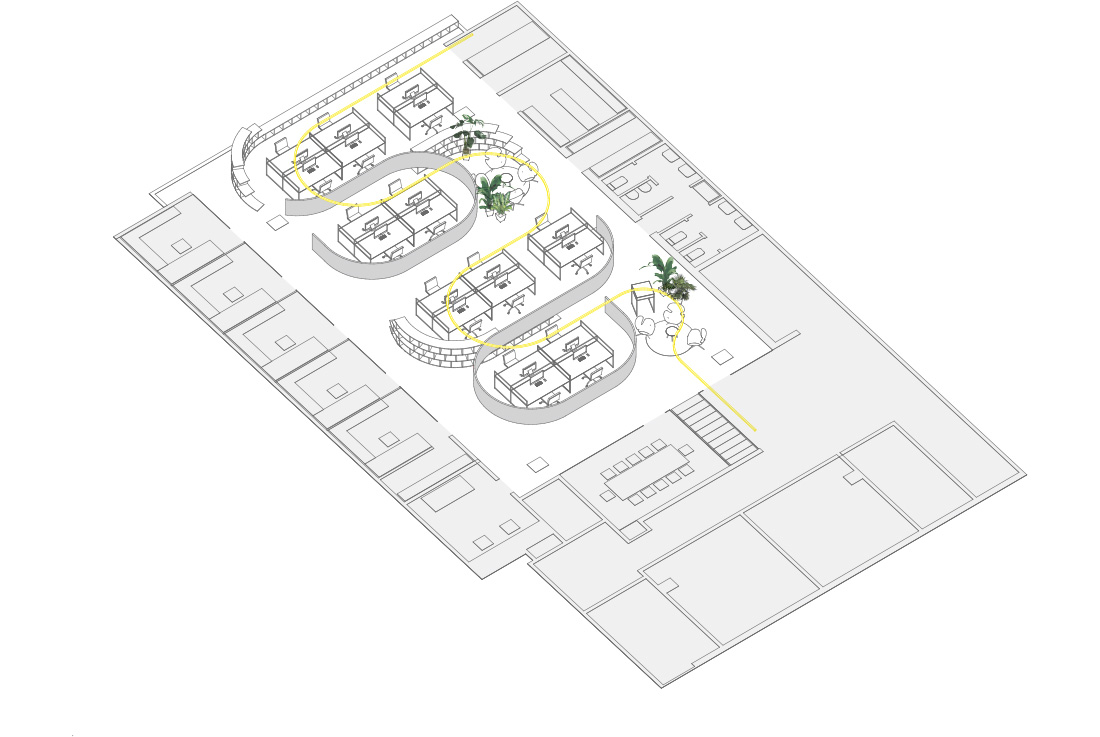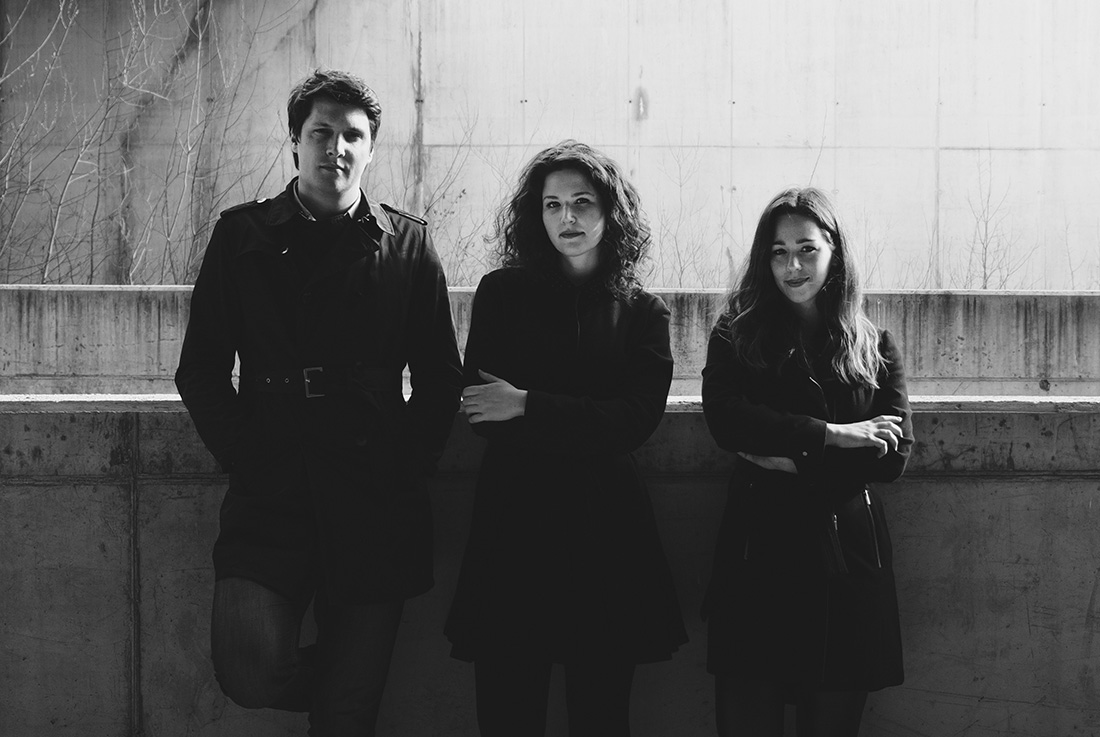 About the authors
Idea:list studio is a small collective of happy people creating happy spaces.
The architectural studio based in Ljubljana Slovenia was founded by Urban Pahor, Urša Kres and Tina Begović in the year of 2015. The studio's field of activity ranges from architecture, interior design, graphic design and design of exhibition spaces. Idea:lists believe that space is more than just a physical and design element. The latter is rather treated as a base for new stories, unforgettable experiences and pleasant feelings, created by the aesthetics and atmosphere of space. The studio approaches each project individually starting by researching both the inherent qualities of the location and the client's needs therefore each project aims to synchronize the existing character of the space with the one of the client's to create a harmonious whole using distinct interventions that act as a functional and visual feature.
FILE
Authors: idea:list studio; Urban Pahor, Tina Begović, Urša Kres
Client: Art Rebel 9 d.o.o.
Photos: Blaž Gutman
Year of completion: 2017
Location: Ljubljana, Slovenia
Total area: 553 m2
Text provided by the authors of the project.