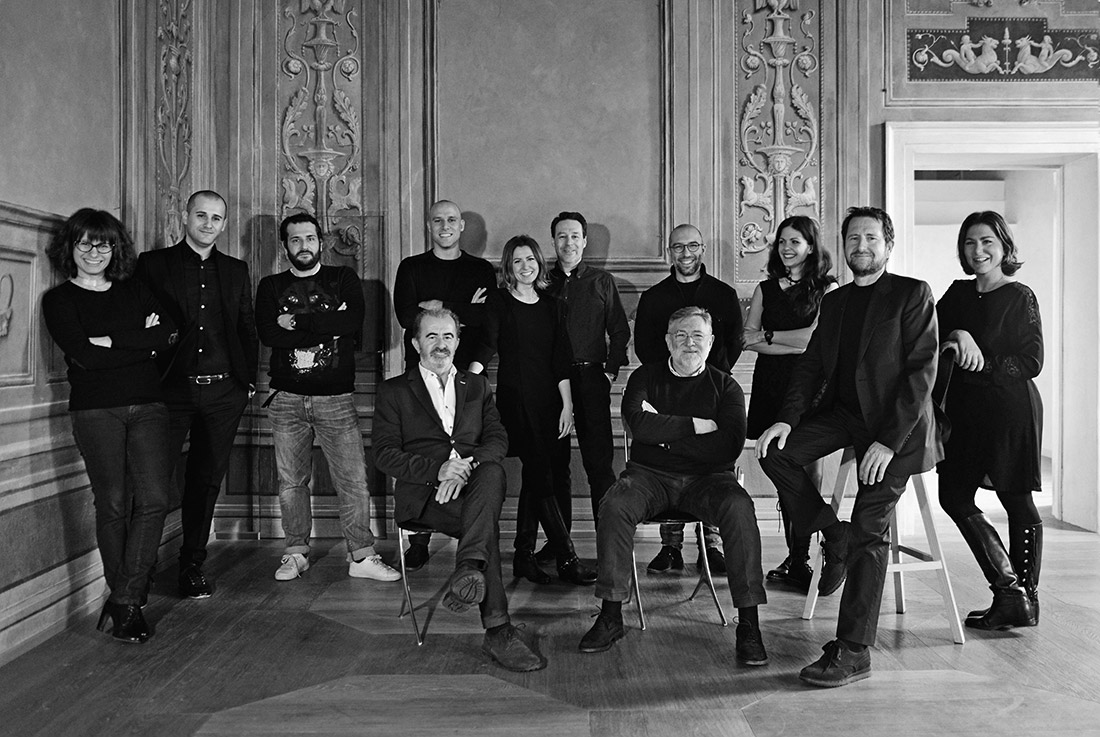 Mario Mazzer Architects
Studio
Mario Mazzer Architects, founded in 1980 by architect Mario Mazzer, operates in the fields of INDUSTRIAL PRODUCT DESIGN, ARCHITECTURE (hotels, retail spaces, residences, exhibitions, hospitals, headquarters, and more...), ART DIRECTION AND STRATEGY CONSULTING.
Led by Mario Mazzer, the practice combines a range of expertise with a tailored approach, establishing a stylistic code and a visual identity that are clearly and instantly recognizable.
The practice's work is inspired by a sense of rigor and is characterized by a regard to detail, coherence and elegance with particular attention to proportion and harmony.
Each project starts by building an empathic connection with the user to think of space and objects in relation to peolple.
Mario Mazzer Architects has been awarded numerous prizes both in Product Design and Architecture and has worked with the most important Italian and international design companies, including Bonaldo, Cappellini, Flexform, Flou, Kenzo Home, Magis, Manital, Minotti Cucine, Poliform, Rossi di Albizzate, Zanotta, and more.
MMA projects have been published on the most important national and international magazines including: AD Italy, AD France, AD Germany, DDN Design Diffusion, Domus, Elle Decor, Frame, Interni, Intramuros, Ottagono Riabita, Wallpaper, RUM, Vogue Casa and more.
Mario Mazzer has been the Creative Director of Magis, Martex, Jesse, Varaschin.
Mazzer is a member of ADI (Associazione per il Disegno Industriale) and BEDA (Bureau of European Design Associations), his works have been exposed in museums and design expositions and in 2004 he has been included in "The Design encyclopedia" of MoMA New York.
He contributes to the architectural and design cultural debate giving talks at countless cultural events all over the world.
| Award / project | Year |
| --- | --- |
| YOUNG AND DESIGN AWARD/ Rita chair for Zanotta | 1991 |
| INTERNATIONAL GRANDESIGN AWARD/ Flasheye and Flashband | 1999 |
| ADI DESIGN INDEX/ Flasheye and Flashband | 1999 |
| ADI DESIGN INDEX/ Oblò kitchen for Cappellini | 2004 |
| GOOD DESIGN AWARD/ Ola executive desk for Martex | 2009 |
| ADI DESIGN INDEX/ Ola executive desk for Martex | 2009 |
| ADI DESIGN INDEX/ Shan awning for Shadelab | 2009 |
| PRAGOINTERIER NEW DESIGN AWARD/ Ola executive desk for Martex | 2009 |
| RED DOT DESIGN AWARD/ Ola executive desk for Martex | 2010 |
| RED DOT DESIGN AWARD/ Tube fireplace for Acquaefuoco | 2010 |
| RED DOT DESIGN AWARD/ Shan awning for Shadelab | 2010 |
| GOOD DESIGN AWARD/ Babel bookcase for Bonaldo | 2010 |
| GOOD DESIGN AWARD/ Alamaro handle for Manital | 2011 |
| GOOD DESIGN AWARD/ Tola kitchen for Minotti | 2011 |
| WORLD ARCHITECTURE AWARD/ Homes headquarters | 2011 |
| RED DOT DESIGN AWARD/ Ilios awning for Shadelab | 2012 |
| IIDA/ Kyo Elm executive desk for Martex | 2012 |
| IF PRODUCT DESIGN AWARD/ Aire awning for Shadelab | 2013 |
| RED DOT DESIGN AWARD/ Otto handle for Manital | 2013 |
| RED DOT DESIGN AWARD/ Flat handle for Manital | 2013 |
| GOOD DESIGN AWARD/ Flute remote control for Mastermotion | 2013 |
| IF PRODUCT DESIGN AWARD/ Flute remote control for Mastermotion | 2014 |
| RED DOT DESIGN AWARD / Flute remote control for Mastermotion | 2014 |
| GOOD DESIGN AWARD/ Yuki awning for Shadelab | 2014 |
| GOOD DESIGN AWARD/ Saturn handle for Manital | 2014 |
| AMERICAN ARCHITECTURE PRIZE/ Centro di medicina, Italy | 2016 |
| AMERICAN ARCHITECTURE PRIZE/ House in Moscow | 2016 |
| ARCHITIZER A+ AWARD/ Centro di medicina, Italy | 2016 |
| GOOD DESIGN AWARD/ Treppiè table for Senchuan | 2017 |
| GOOD DESIGN AWARD/ Slow chair for Senchuan | 2017 |
| RED DOT DESIGN AWARD/ Hygge handle for Manital | 2018 |
| BIG SEE PRODUCT DESIGN AWARD/ Hygge handle for Manital | 2019 |
| GOOD DESIGN AWARD/ Chirico lamp for Tronconi | 2019 |
| WAN World Architecture News Award/ category House of the year/ Villa Emma | 2019 |
| GOOD DESIGN AWARD/ Riquadro storage unit for Snaidero USA | 2019 |
| NYC x DESIGN AWARD/ Riquadro storage unit for Snaidero USA | 2020 |
| GOOD DESIGN AWARD/ NoHand handle for Manital | 2020 |
| FX DESIGN AWARD/ NoHand handle for Manital | 2020 |
| BEST OF YEAR AWARD/ Snaidero USA Flagship store NYC | 2020 |
| GERMAN DESIGN AWARD/ Posà handle for Haefele | 2020 |
| BIG SEE ARCHITECTURE AWARD/ Villa Emma | 2021 |

Awards