A multidisciplinary team for a diverse, digital and sustainable future. Mondi recently went through a rebranding, positioning itself as a leader in the paper and plastic packaging industry. It focused on sustainability, friendliness and openness, which all had to be communicated in the new space. It had to have a killer look but also be highly functional from an architectural perspective, while including fresh technology and interactivity. That's why a multidisciplinary team of experts was hired, with Responsive Spaces and Startaparat as the communication, project management and budget lead, responsible not only for creative solutions, but also for the production of the entire project. The result: the new office areas of Mondi's headquarters in Vienna, a spatial manifestation of the company's expertise and dedication to a diverse, digital and sustainable future. The slogan 'Sustainable by design: paper where possible, plastic when useful' was a leitmotiv of the entire project. Two focus areas of the headquarters building in Vienna were reinvented. First, the main lobby on the ground floor, where we redefined the whole space and redesigned the visitor experience to be in line with the company values and its new identity.
Second, the showroom space on the 17th floor, now a multipurpose space with three main focal points: the welcome desk, the main product presentation point and the lounge area. Awarded Mondi products are showcased on dedicated pedestals and in front of a large LED wall that enables partners and customers to view an interactive presentation. The highlight feature is a large installation made of different Mondi materials which have been arranged in a vertical DNA-like sculpture. By implementing green areas and using recycled materials, we materialised the company's focus on the importance of sustainability, the circular economy and waste reduction in the paper and packaging industry. The showroom on the 17th floor is dominated by a high-resolution digital wall serving as a brand image display, a presentation tool with keynotes, and an interactive product portfolio display. The wall can also be used as a backdrop and optimised for video and photoshoots. The content on the wall is managed by a highly customised app, made exclusively for this project.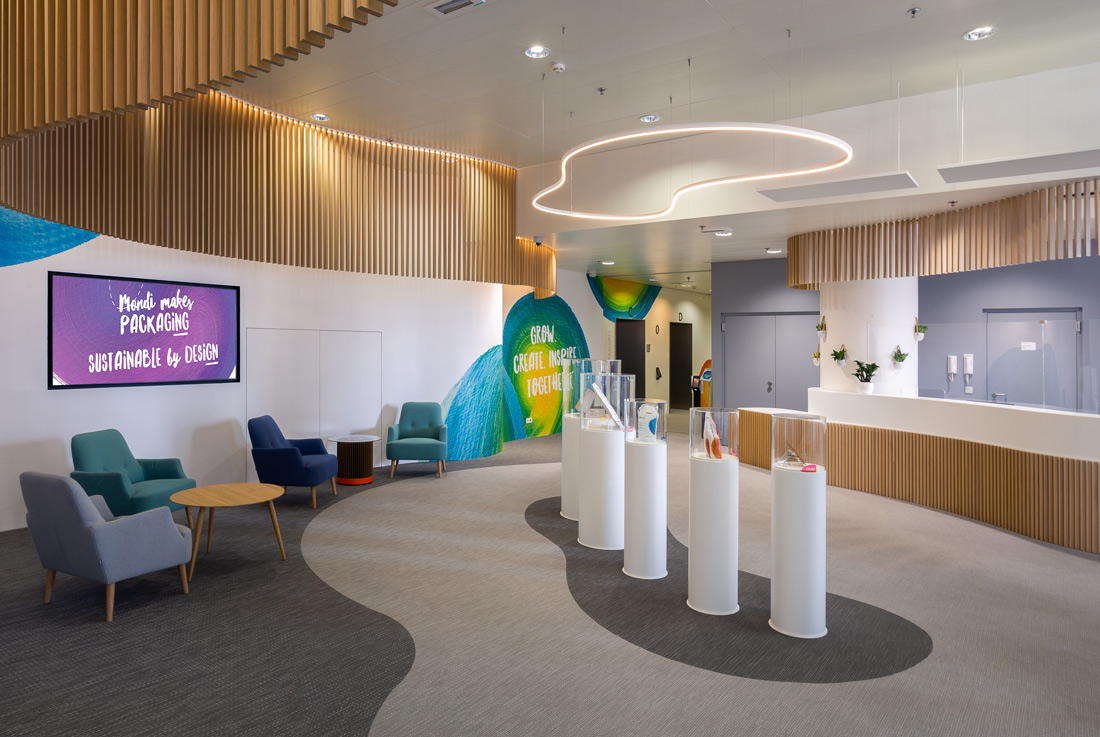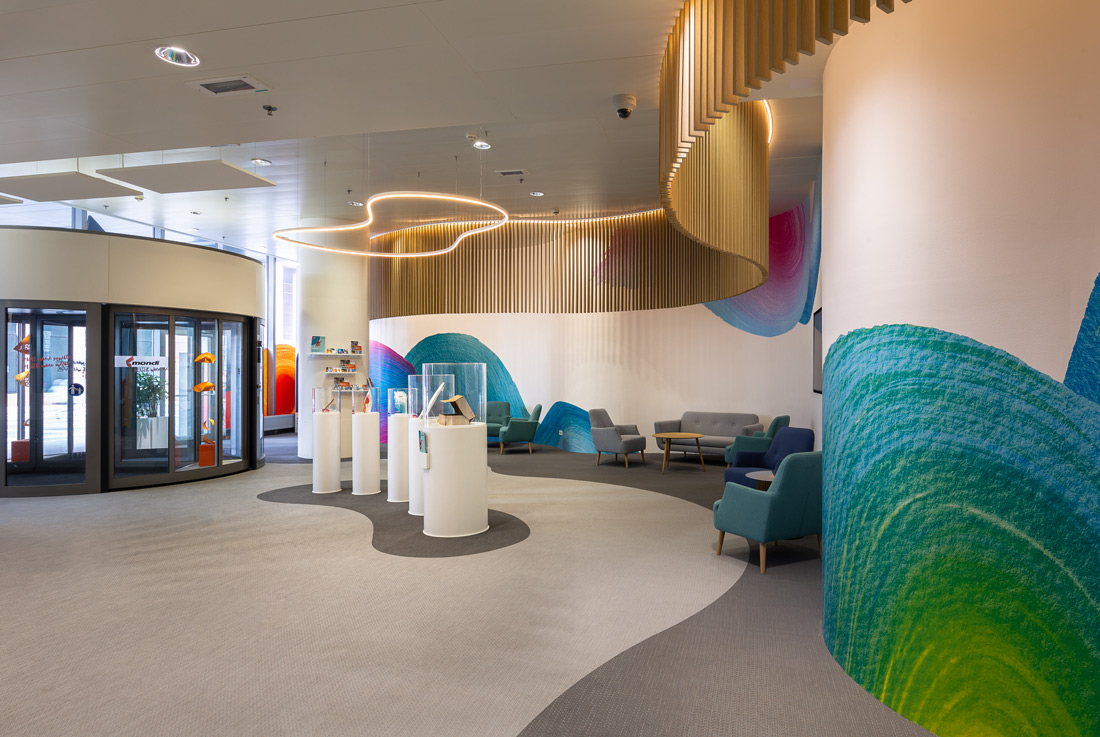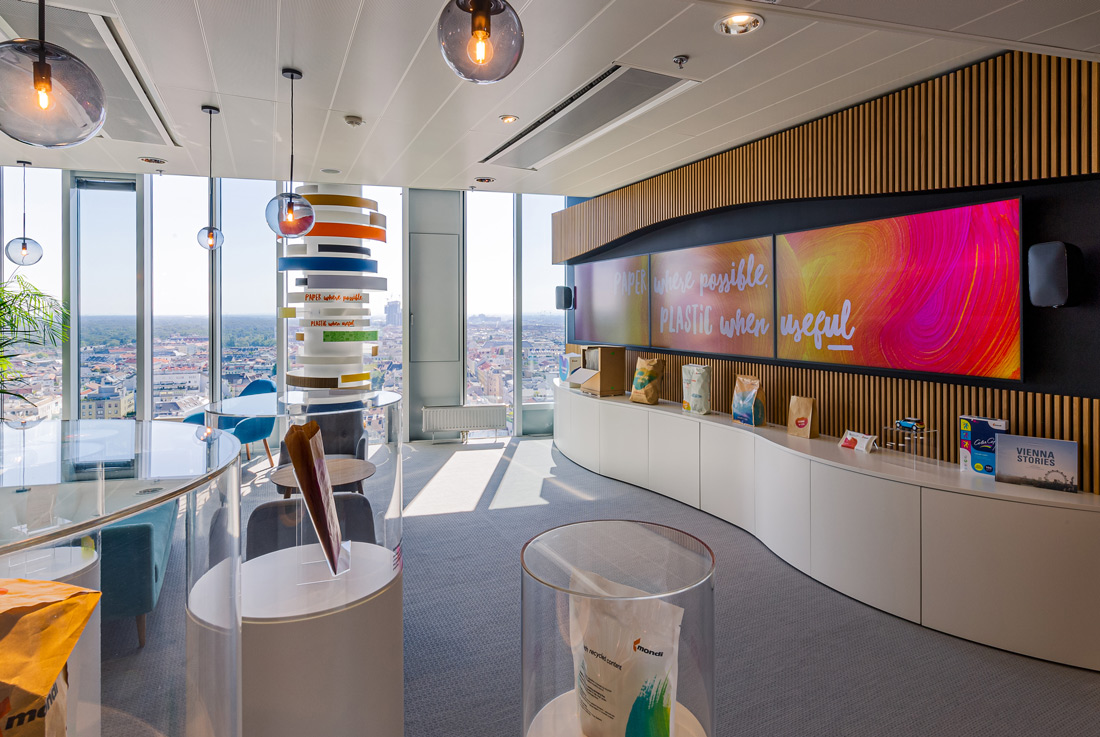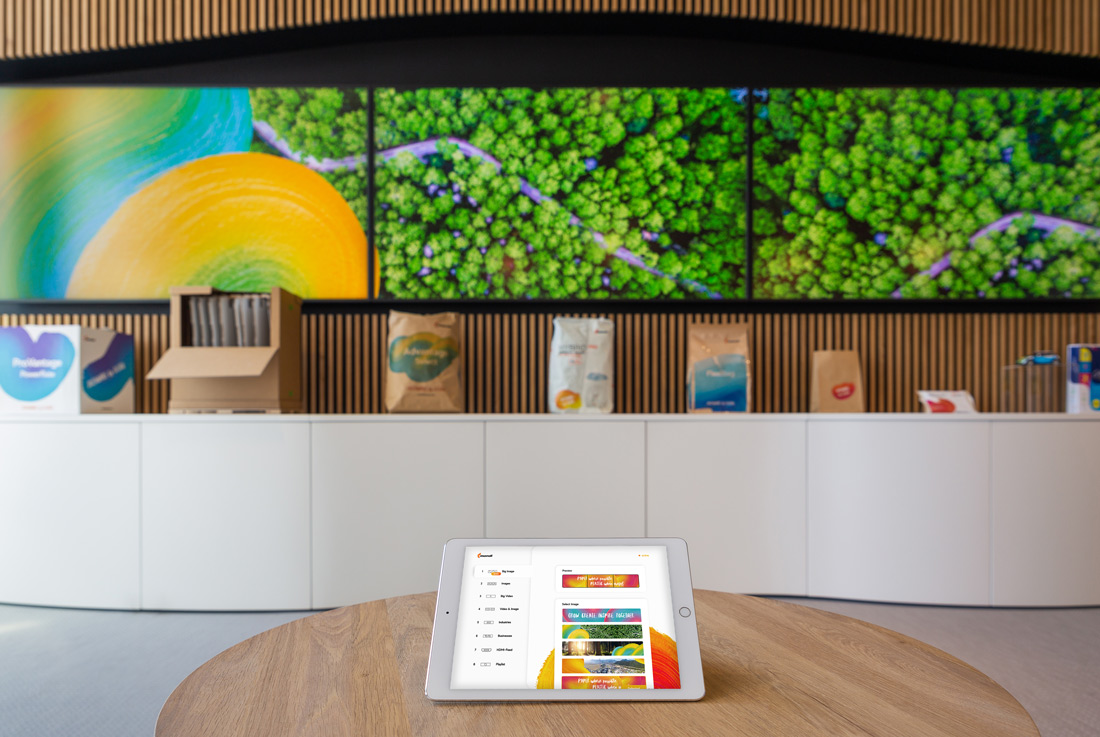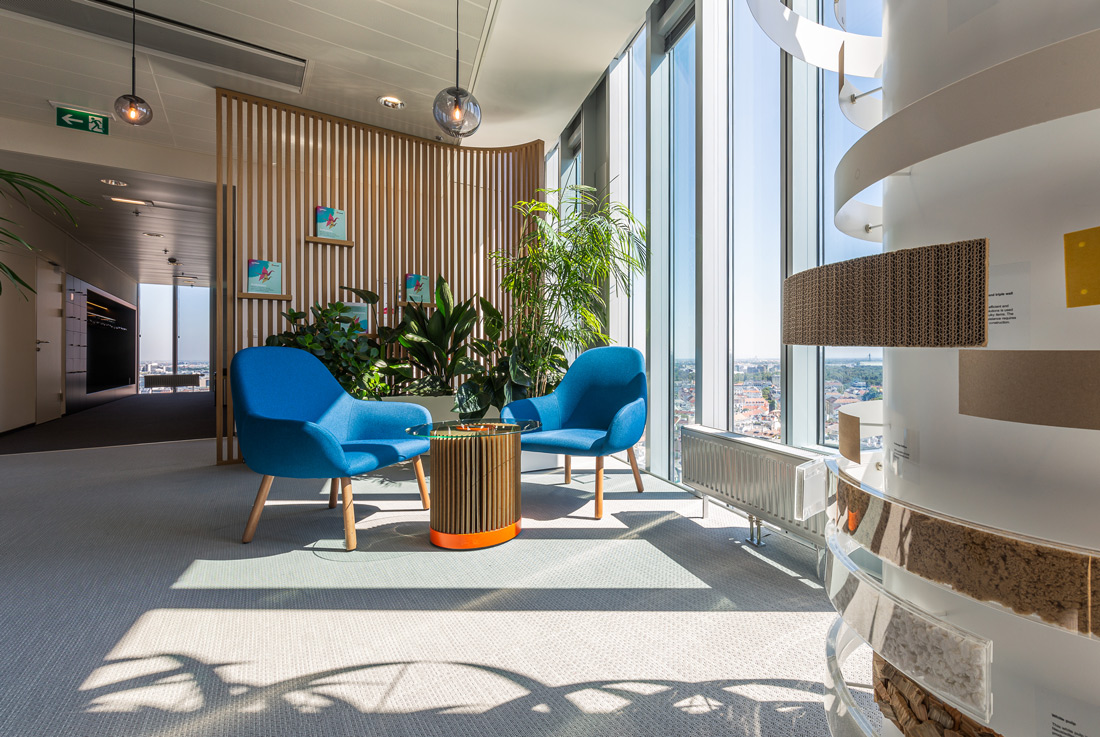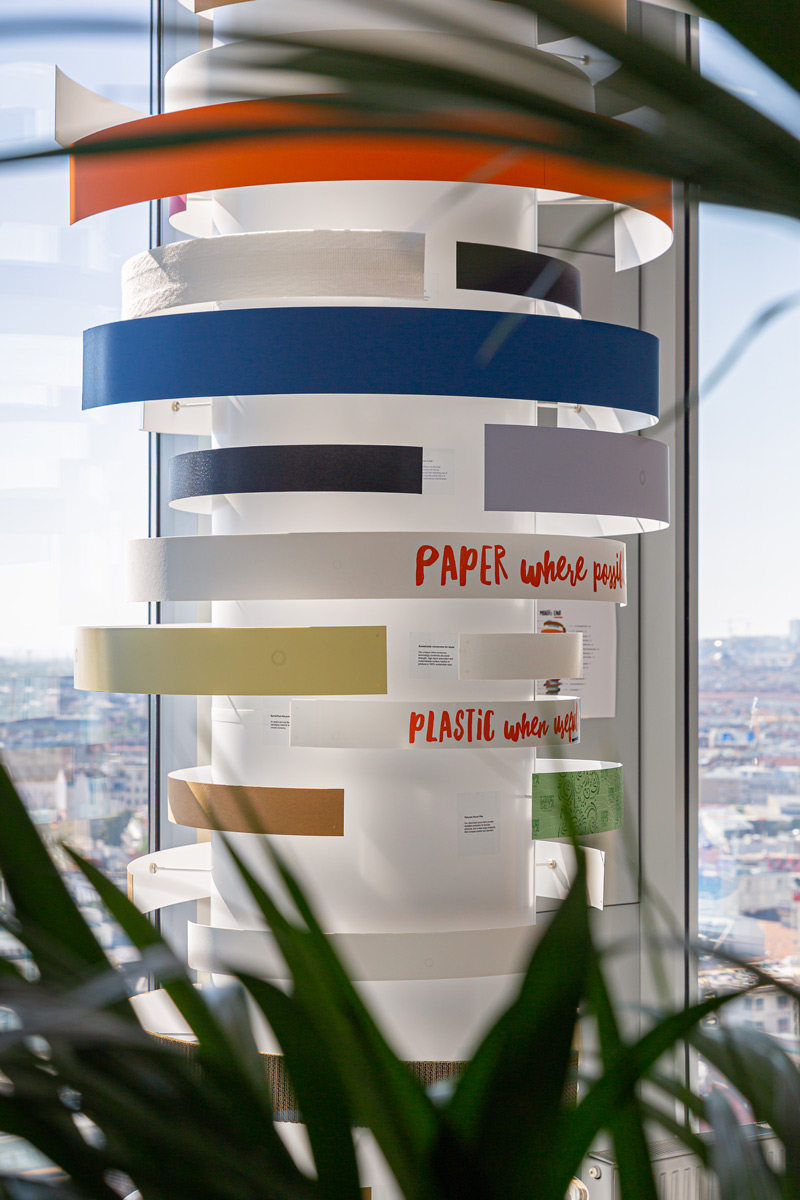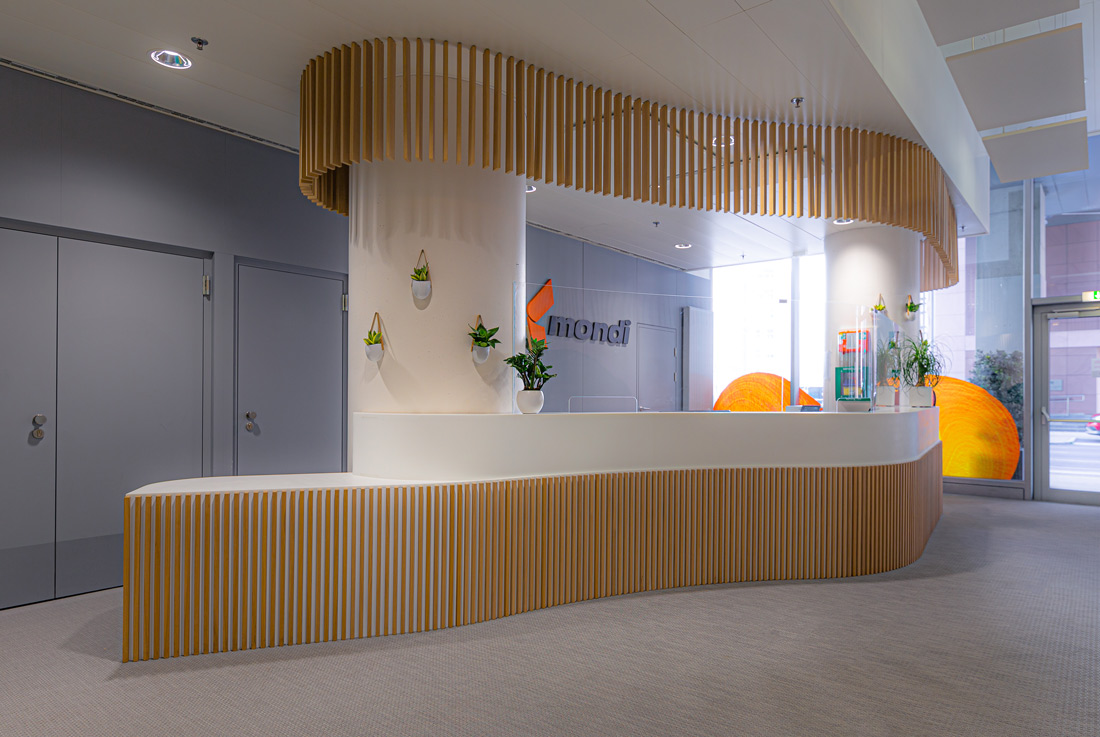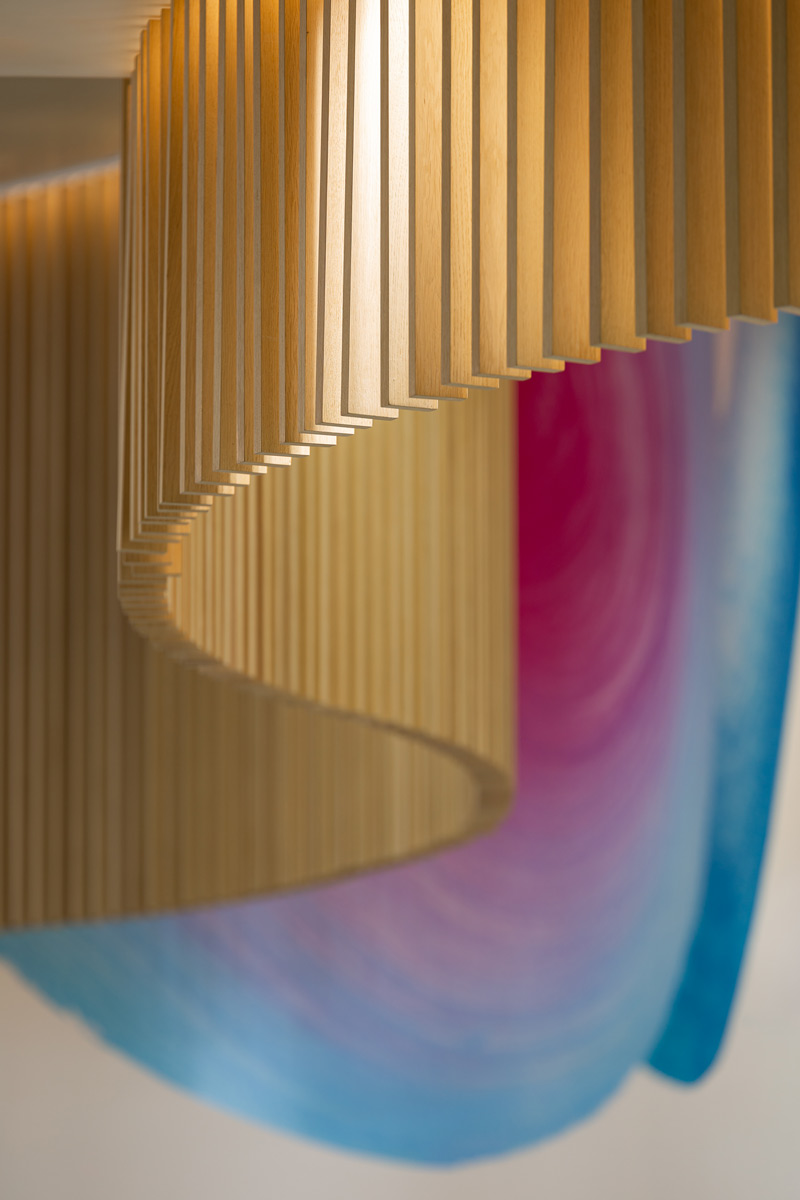 Credits
Interior
Brigada, Startaparat
Client
Mondi
Year of completion
2020
Location
Vienna, Austria
Total area
280 m2
Photos
Martin Sighart
Project Partners
Basileus d.o.o., Balboa d.o.o., A.R.-AREA d.o.o., H2 komunikacije d.o.o.
Related posts
Powered by