The surroundings of the building site exist of agriculturally used areas and the city center of St. Peter can be reached within five minutes by foot.
The requirement was to design a timeless residential house which had to be completely barrier-free. The house and garage are built on a concrete foundation. Except for two steel frames, the supporting structure consists exclusively of cross laminated timber panels. To create the feelings of warmth and comfort silver fir and oiled oak were used as materials for the vaulted ceiling.
To avoid monofunctional corridors built-in furniture was used to create different spaces without having to use actual walls.
The pantry and a closet function as a barrier between the private areas of the house such as the bathroom, bedroom and office space and the public areas consisting of an open kitchen, a dining area and a living room which have a direct access to the covered terrace and garden.
The design idea was to allow many different views to create a specific atmosphere for each area of the house.
The dematerialized ridge floods the room with daylight and serves as a sun trap in winter.
What makes this project one-of-a-kind?
The living space with its high vaulted ceiling is flooded by daylight from a skylight strip at the ridge of the roof. Surrounding the living space is a covered terrace with a depth of 3m and height of 2,4m that acts as an intermediate zone between the inside and the garden. Especially on the west side this terrace has created a very interesting and unusual area.
To minimize the separation between the inside and the outside floor-to-ceiling windows were used to create the effect of transparency.
One looks, so to speak, from the cave and from a distance at the garden, the intermediate zone is both an optical extension of the living space in winter and a shaded lounge area on warm days.
The design allows the changing weather conditions such as snow, rain and wind to create different atmospheres inside the living space while being perfectly protected at all times.
We are fascinated by this effect and it becomes obvious in this project that it is possible to generate very interesting spaces by using a somewhat unusual but not exaggerated geometry.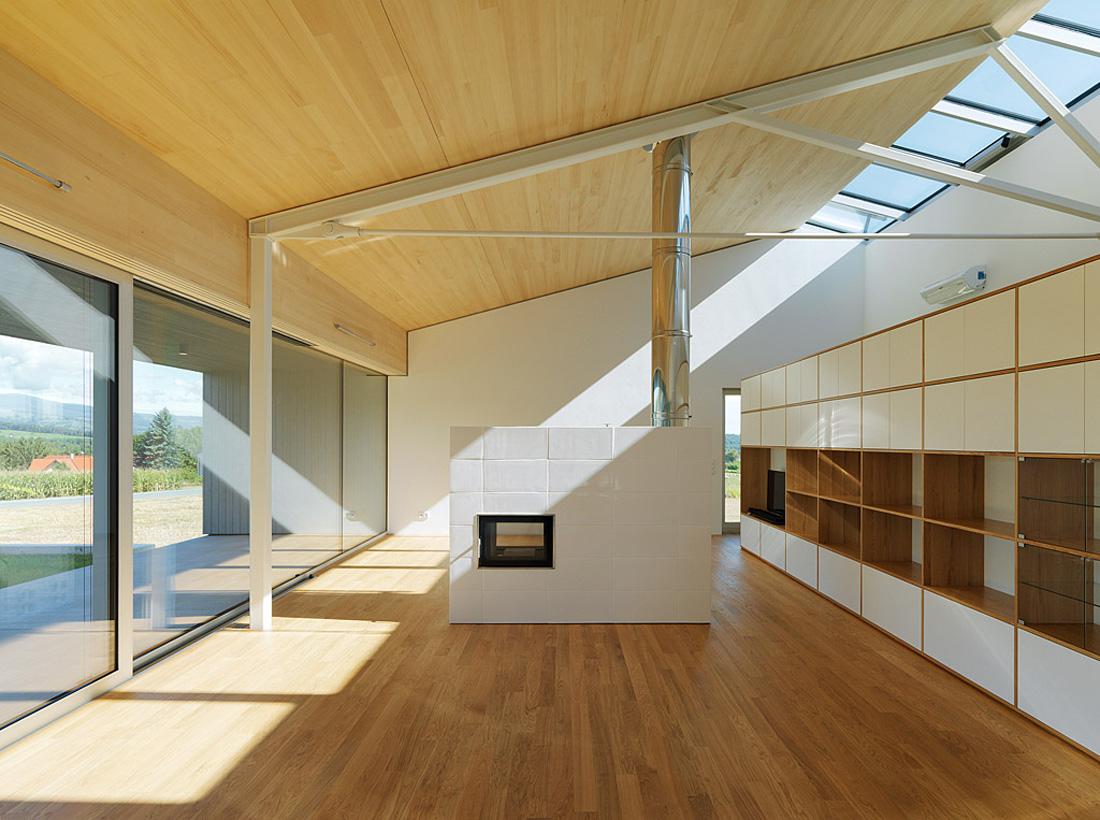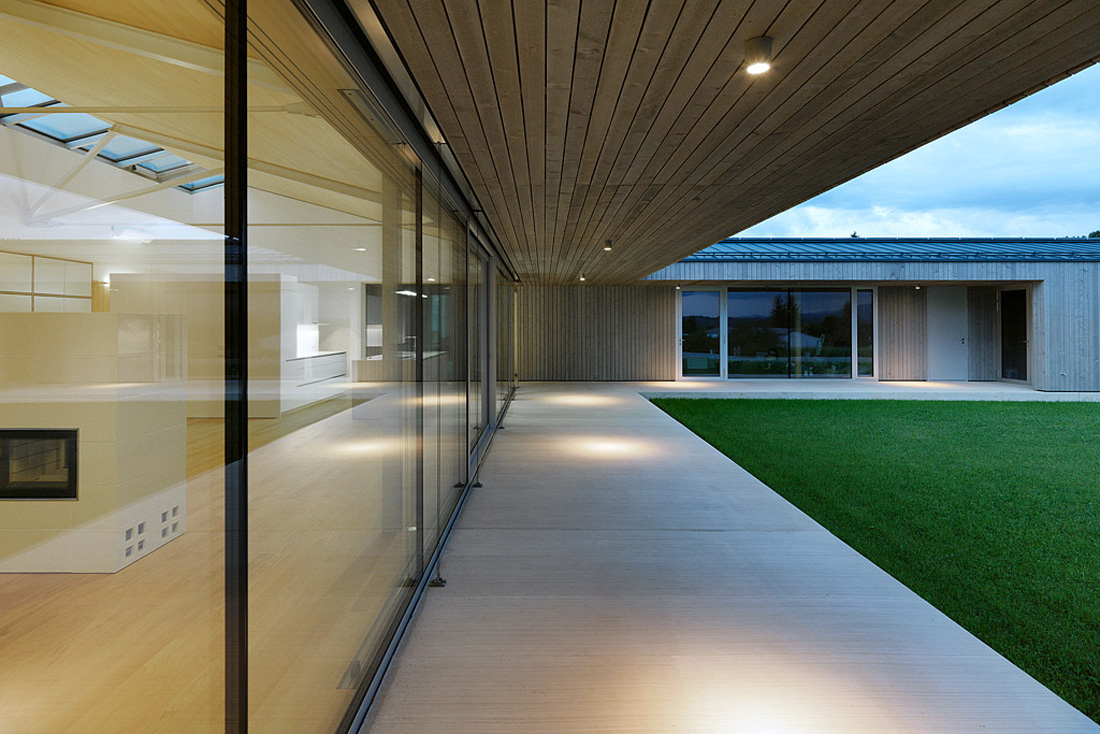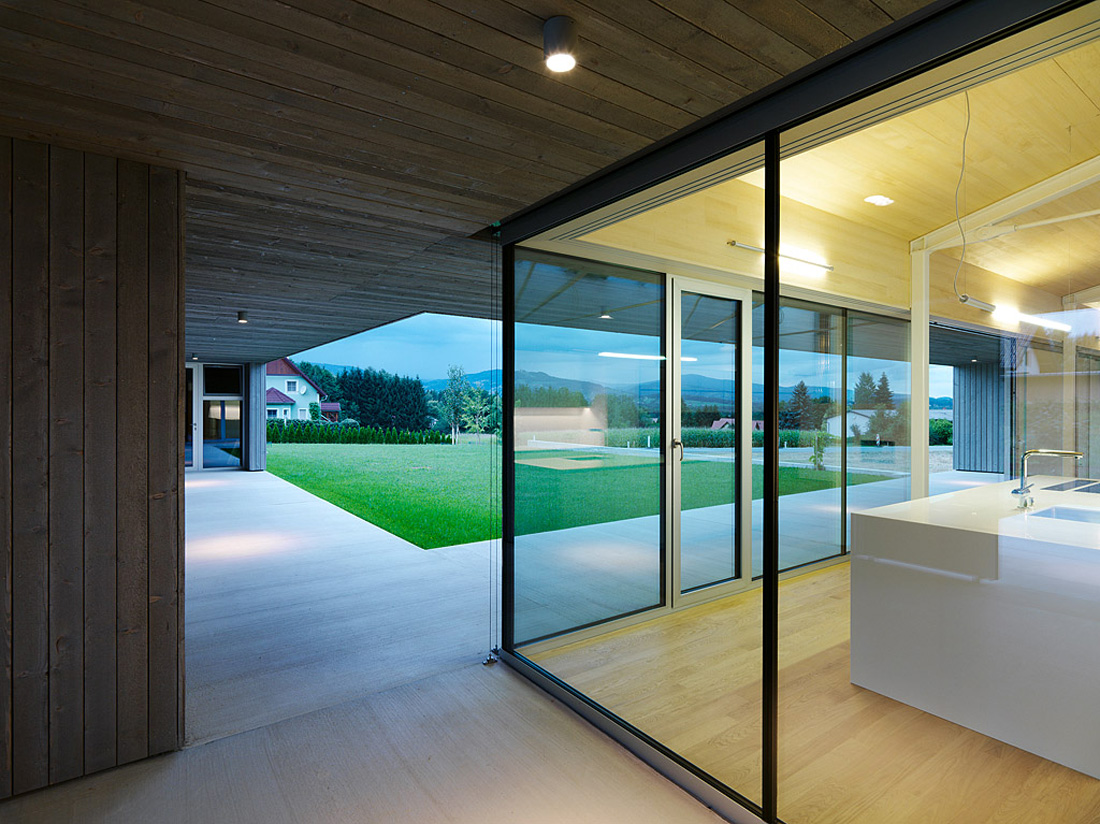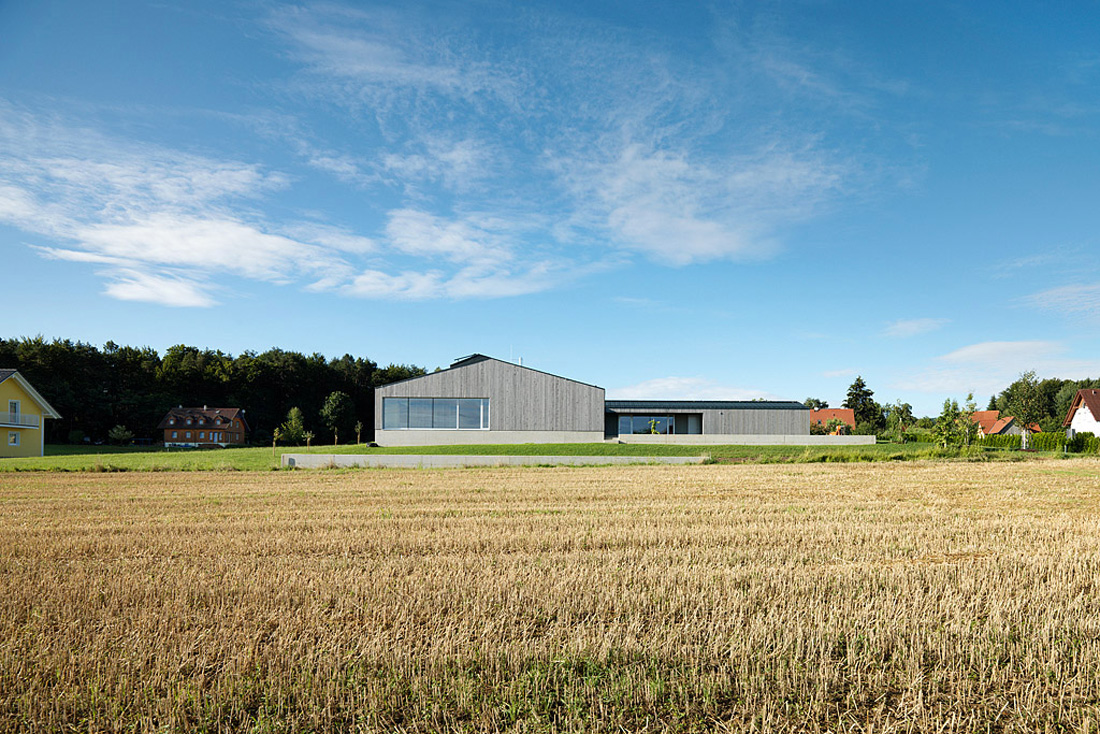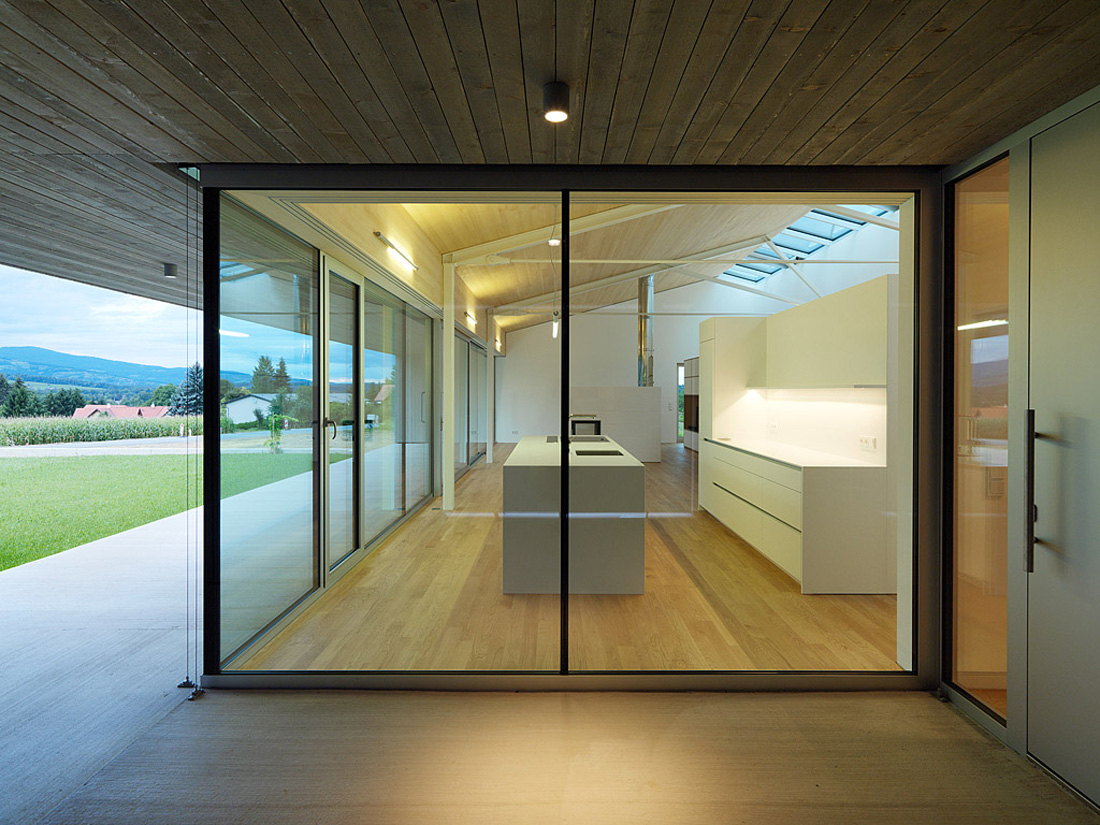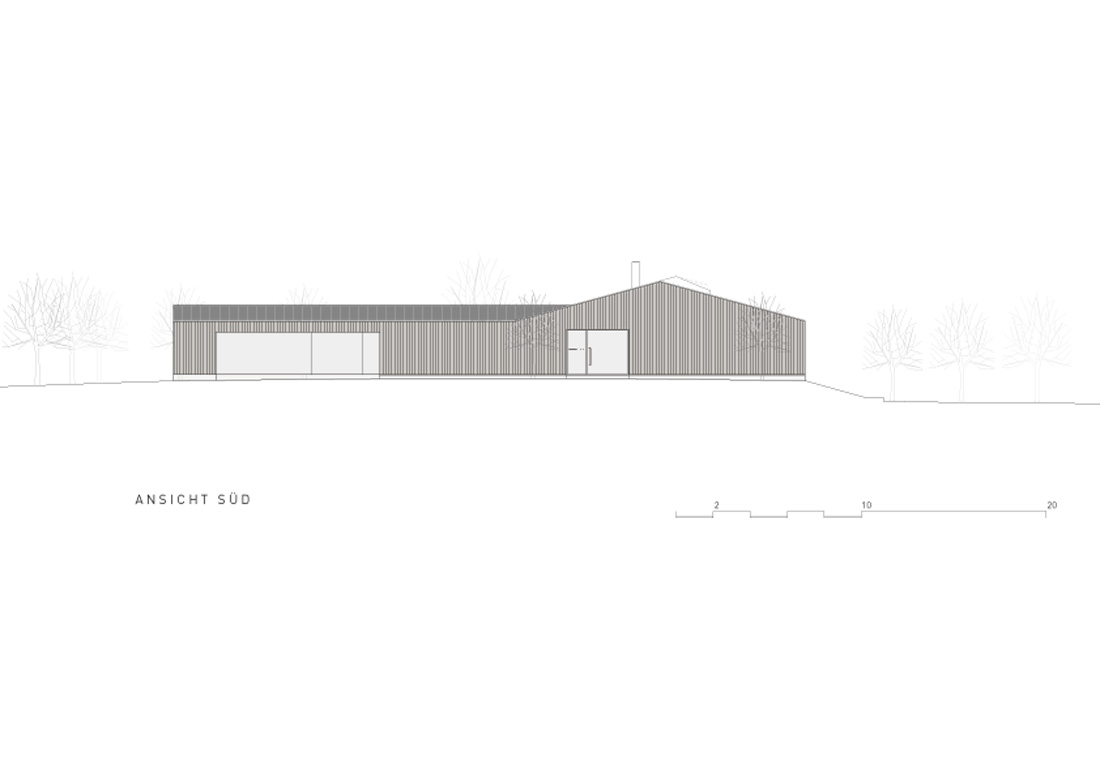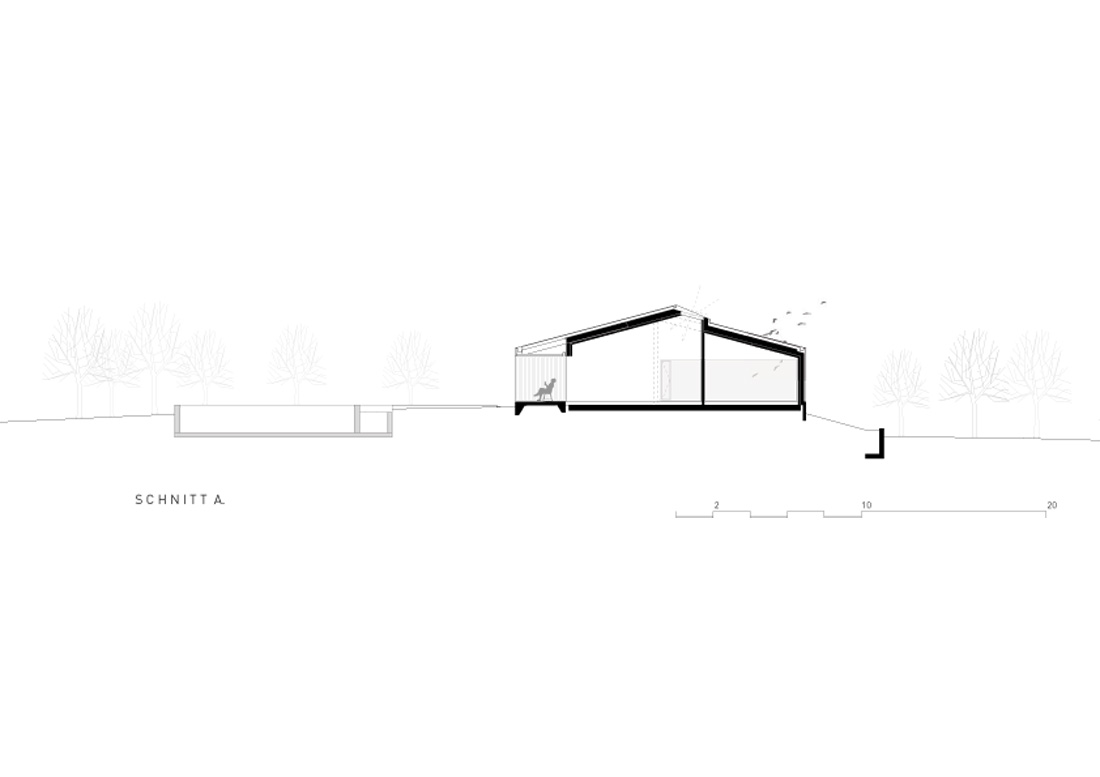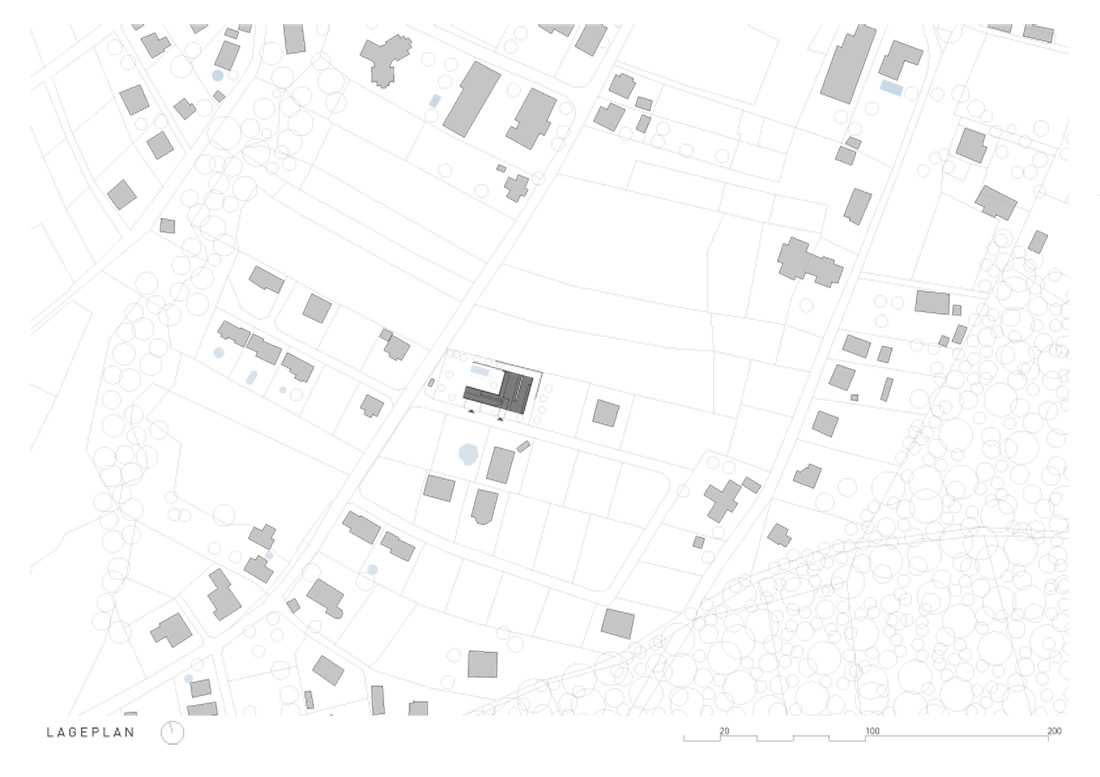 Credits
Architecture
ProjektCC zt gmbh, Harald Kloiber und Christian Tabernig
Client
Private
Main contractor for wood construction
Bau & Holz Posch GmbH
Year of completion
2015
Location
St. Peter im Sulmtal, Austria
Total area
Residential building 200 m2
Garage and outbilding 70 m2
Site area
1.575 m2

Photo
Paul Ott

Project Partners
Jr Consult, Klh Massivholz Gmbh, Prefa Aluminiumprodukte Gmbh, Tischlerei Alois Galli, Wallner, Öfen U. Fliesen Ges.m.b.h., Parkett Waltl, Schüco, Alukönigstahl Gmbh
Related posts
Powered by