A SUCCESSFUL TRANSFORMATION – REINCARNATION IN ARCHITECTURE
The existing building on the subject lot was reconstructed after the previous war for purpose of a wedding salon and attached to the old hotel building. That building however was endangering the embankment – an important landmark in Orašje. At our urging, investor Živković (Maxi firm) demolished the clumsy compound and consciously lost 200 m2, however got an independent building to be redesigned into a hotel. The existing building construction was adjusted to the new purpose. The contours of the building and existing first two floors gained new purpose, with one additional floor. Limit is an inspiration – we are guided by this motto in all our reconstruction projects. Yes, that is a job for an architect too – to make an advantage from the flaw. It takes a lot of knowledge, but it is also more about sensibility to make recognizable spaces in today's world of "spectacle". Blinded by pictures of architecture of spectacle we do not see, it is not in our frequency, that what is sincere. Overly irritated by this schizophrenic time we do not react if it is not on extreme impulse. This hotel represents a self-restrained architecture in the river belt of Sava, which floods heavily. Concept of a small hotel with 16 rooms, restaurant in the ground floor and multifunctional hall in the basement is the need of this city. This is the beginning of the river tourism, it brings people back to the river Sava as an determination of life. On summer the riverside will be organized as swimming area with temporary objects, swimming pool on river, mobile bathrooms and other facilities, and it will become recognizible place of the region.
A STRANDED SHIP – story told many times, even the Great Corbusier has told us to learn from ships. The view to river Sava is meditative and whole north facade is predetermined to it. Intimacy in rooms and terraces is secured with dynamically formed aluminium battens. Closeness of the river and consequent high humidity air directed the design of facade in aluminium and Alucobond panels. Interior is designed led by this idea of ship design. The idea is to fix as much as necessary, round the edges to be safe. Furniture is made out of teak in combination with painted MDF panels. Whiteness and teak are characteristic elements in designing ship equipment. Toilets are made in combination of big ceramic tiles and teak. Fabric gives feminine look to the hotel room and in this case it is made for the needs of a hotel on the river. It was important to make an atmosphere similar to ship's ambient and feeling of sailing on the river, since the views from rooms and the restaurant are meditative. This stationary ship already became a symbol of this small town and we are looking forward for it to shine in its full capacity in the summer time.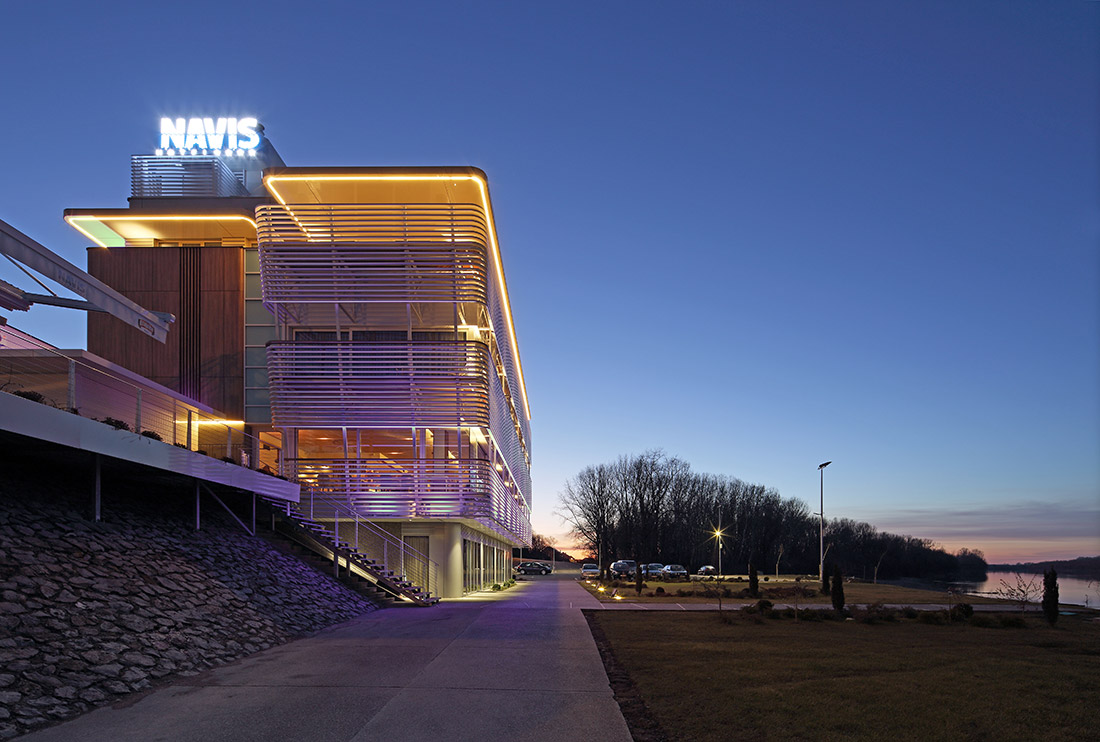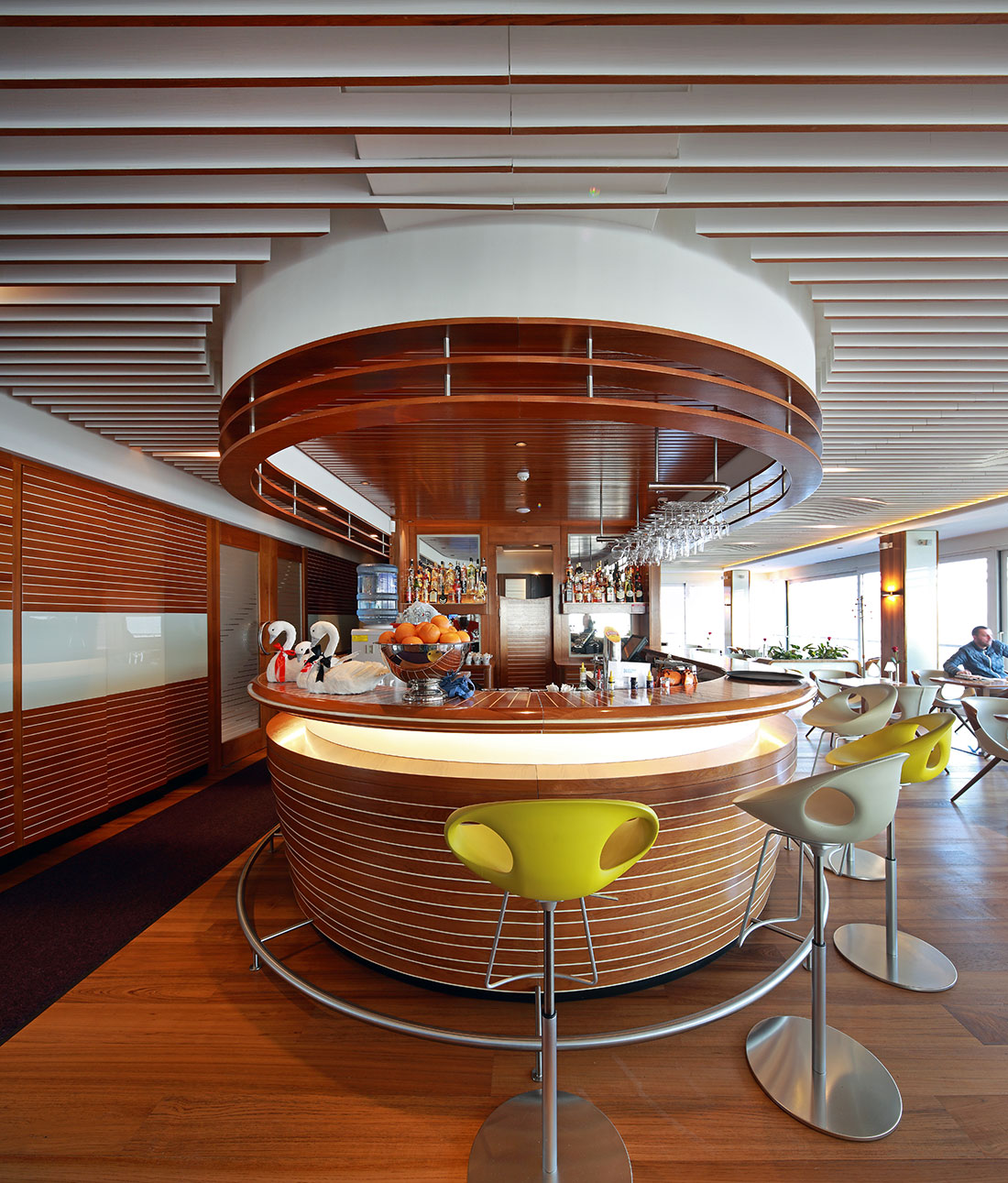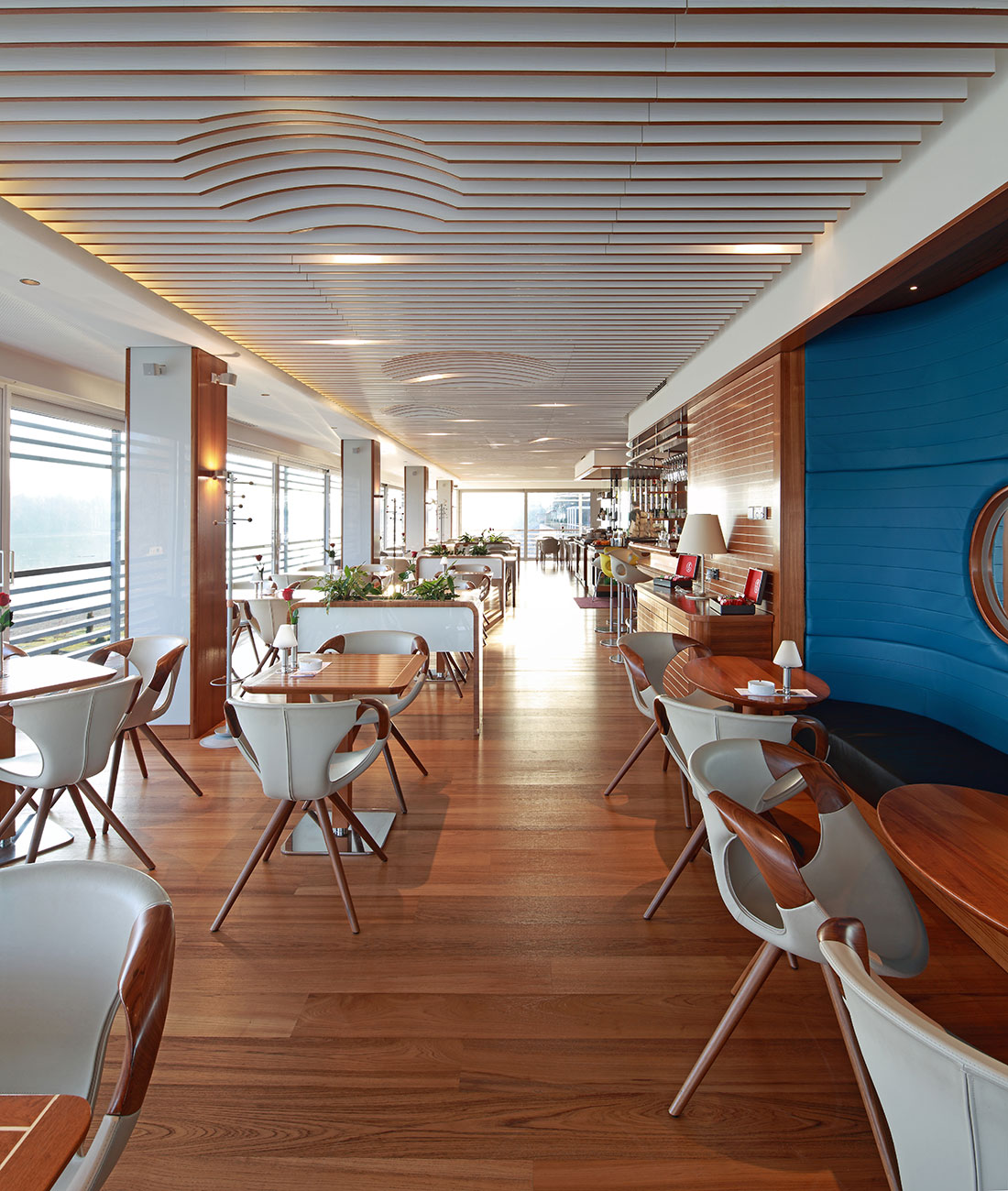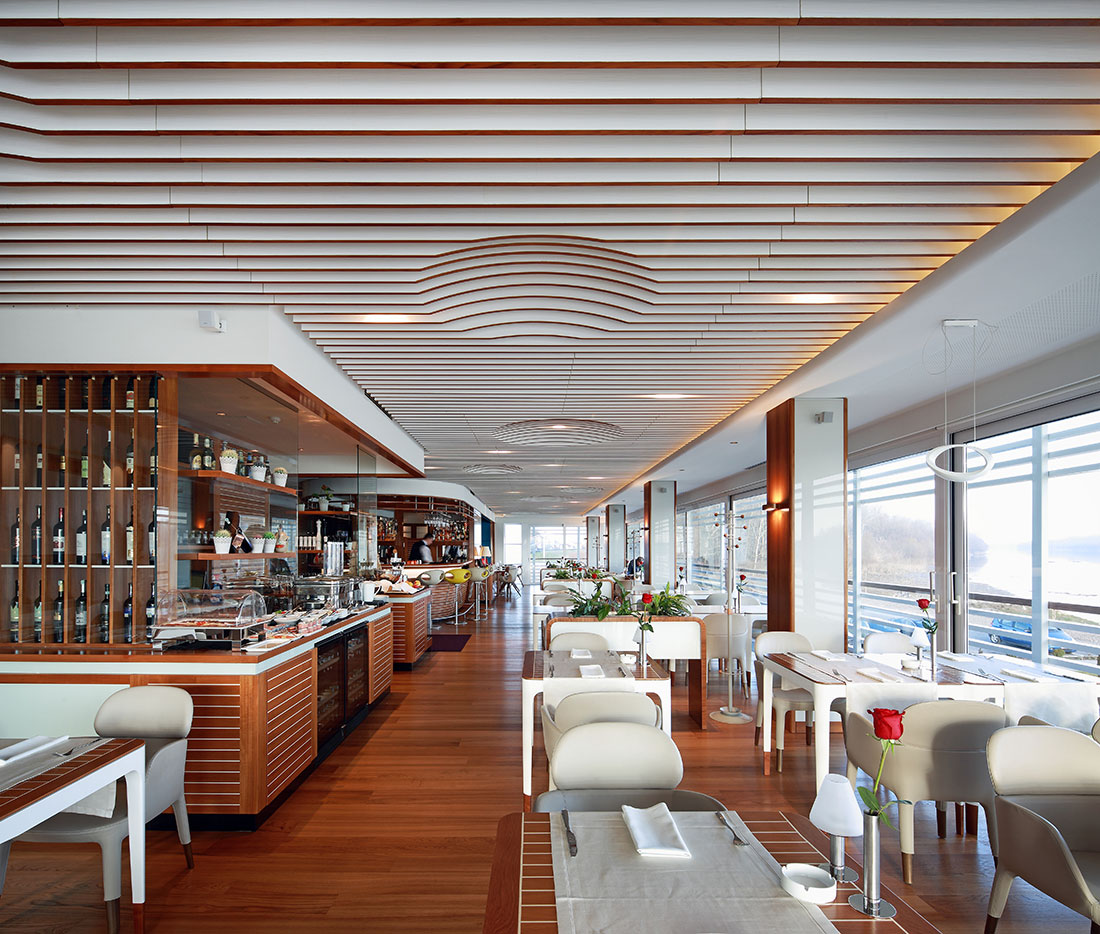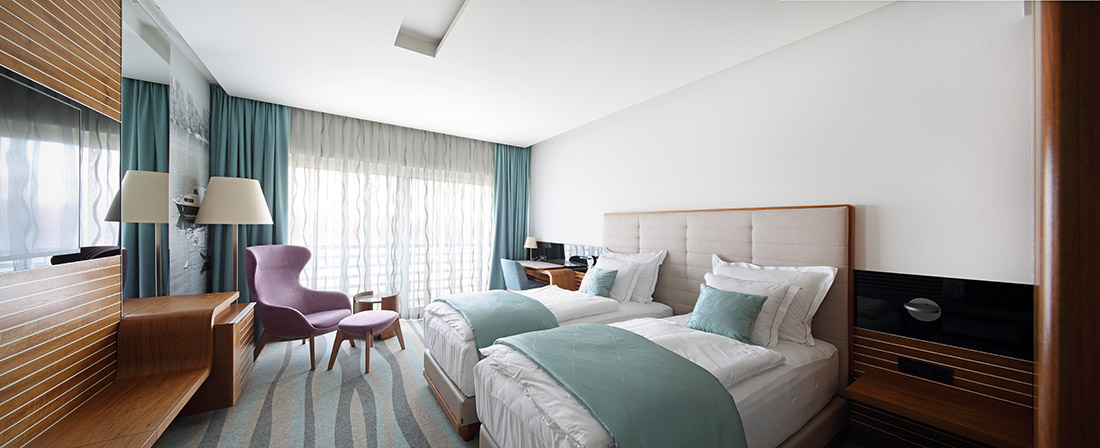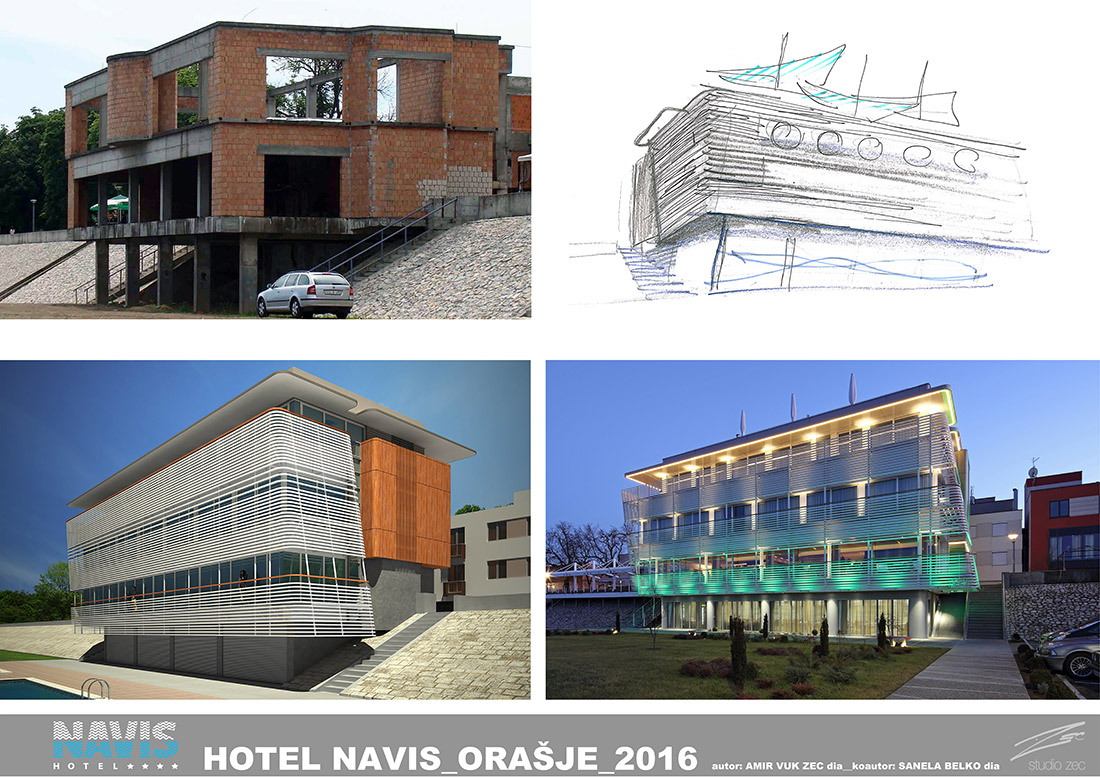 Credits
Authors
Studio Zec d.o.o. Sarajevo; author Amir Vuk Zec, co-author Sanela Belko
Investor/Owner
MAXI Orašje
Photos
Anida Krečo
Year of completion
2016
Location
Orašje, Bosnia and Herzegovina
Total area
1200 m2
Site area
2500 m2
Project Partners
Širbegović Inženjering d.o.o. Gračanica, Deling d.o.o. Tuzla, E.I.invest d.o.o. Sarajevo, Herceg d.o.o. Srebrenik, Kettal furniture, Dedon GmbH, Artemide lighting, Rattan Sedia doo, Alucobond, Trespa, Schüco, Ancona Group Ltd, Lux-Co d.o.o. Olovo, Ideja do.o. Sarajevo, Florim, ThyssenKrupp AG, EGE carpets, Pedrali, Tonon, Grohe, Villeroy & Boch, Artemide lighting, Delta light
Related posts
Powered by