"For Hotel Bühelwirt, we took every opportunity to react to the very specific location and its surroundings. Starting with the design and its significant mountain-facing oriel windows, everything adapts to the unique place and landscape. The building materials are as regional as the craftsmen who worked on the project. Not only does the wood for the smooth larch floors come from the surrounding woodland – we were also taking advantage of the nearby mine, adding copper stone fragments as an aggregate for the wall plaster used in the hotel rooms. Furthermore, the guest finds individually designed copper lamps and fine curtains sourced from the local loden manufactory, strengthening the regional value and topping off a careful selection of complementing materials altogether. The result is a homely and calming atmosphere.
Hotel Bühelwirt is a timeless and unique building that will age beautifully by developing its own patina."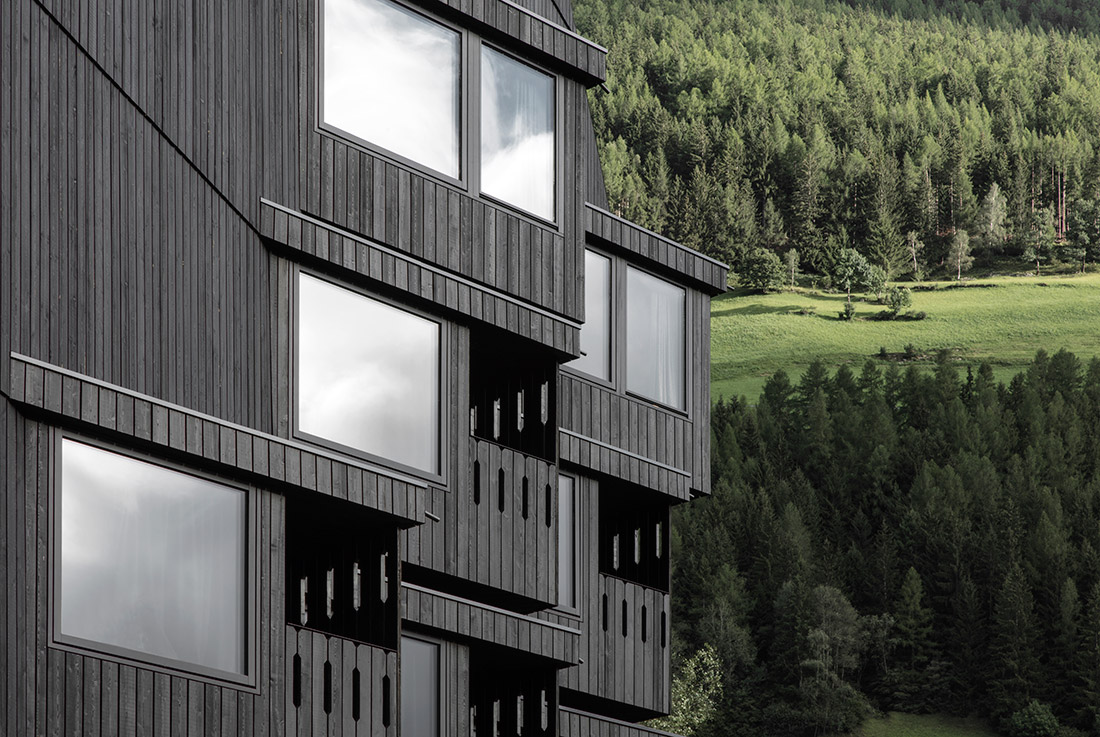 The traditional hiking hotel is located on the "Bühel", a small elevation right next to the village church, at 1200m above sea level. In order not to limit the existing structure in usage, view and exposure to the sun – the extension was positioned to the north. All together twenty rooms, a restaurant and a wellness area were positioned over six storeys and are characterized by a deep, asymmetrical saddle roof and diagonally protruding bay windows, which reacts on local climatic conditions.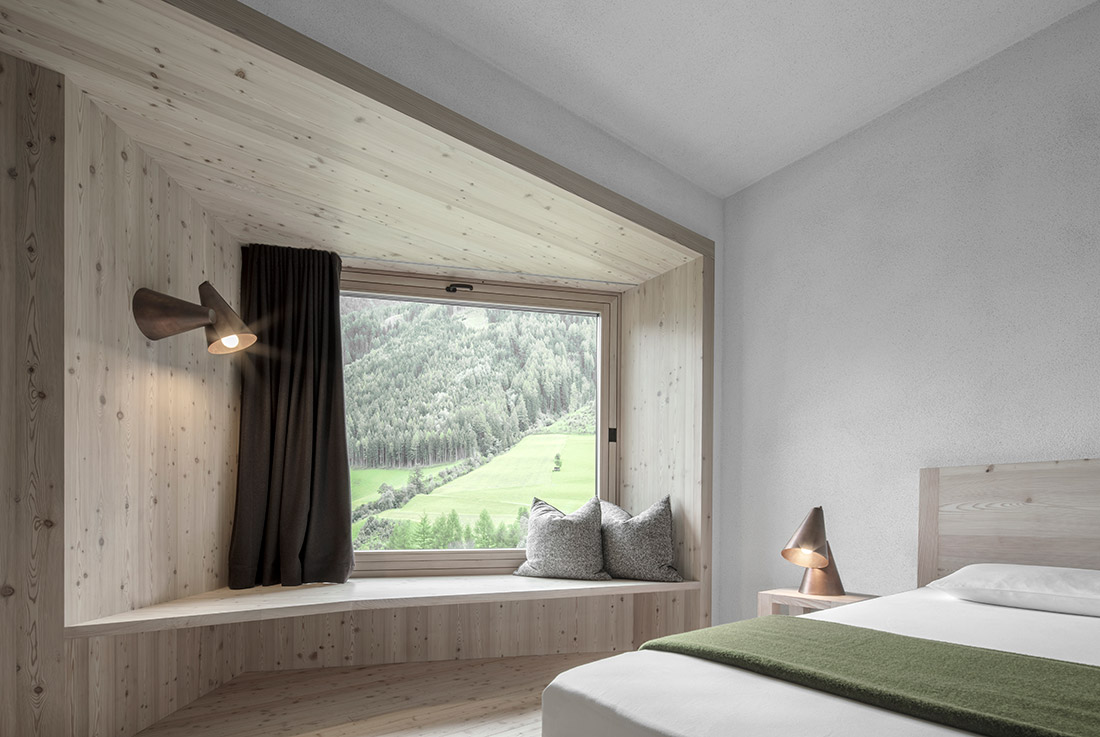 The green color shade of the blackened wooden facade is influenced by the dark-green, or often black forest tinge, which seem to blend nature and topography with the building. All rooms are reduced on the essential, their view is orientated to the mountains. Characteristic elements of the local building typology were translated and interpreted. The larch wood from the surrounding forests provides a sense of comfort.The slighty rough surface of the plaster reflects the colors of the mountain world through the additions from the nearby copper mine and makes the interior a familiar place.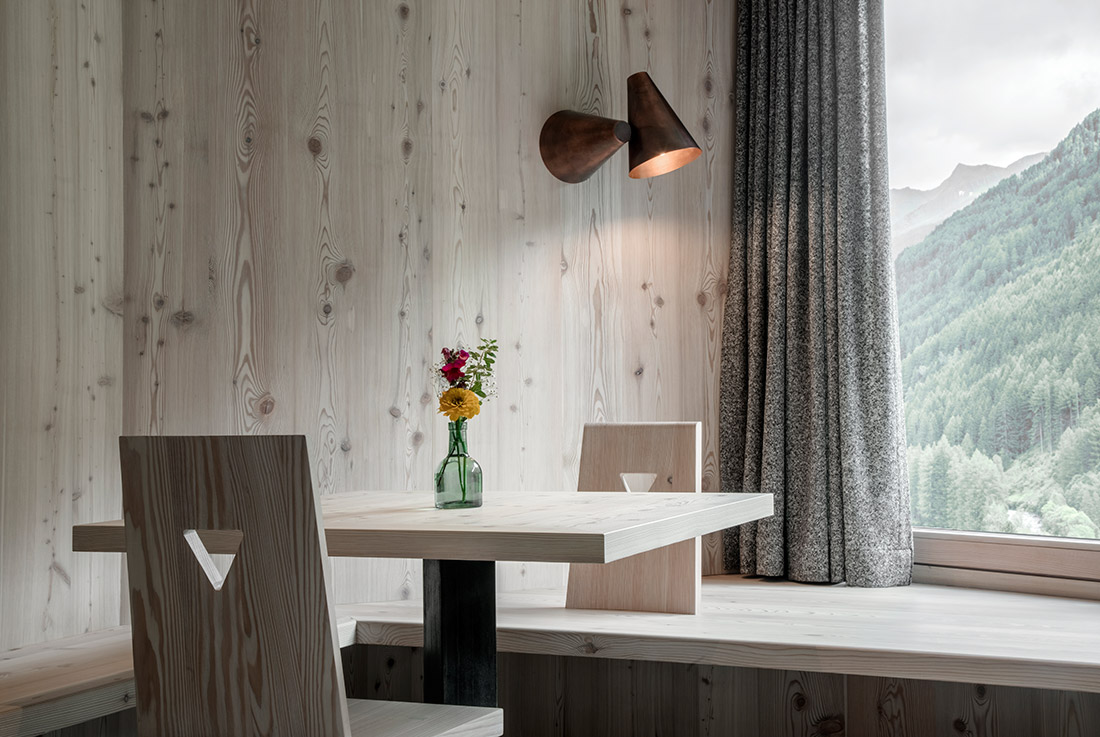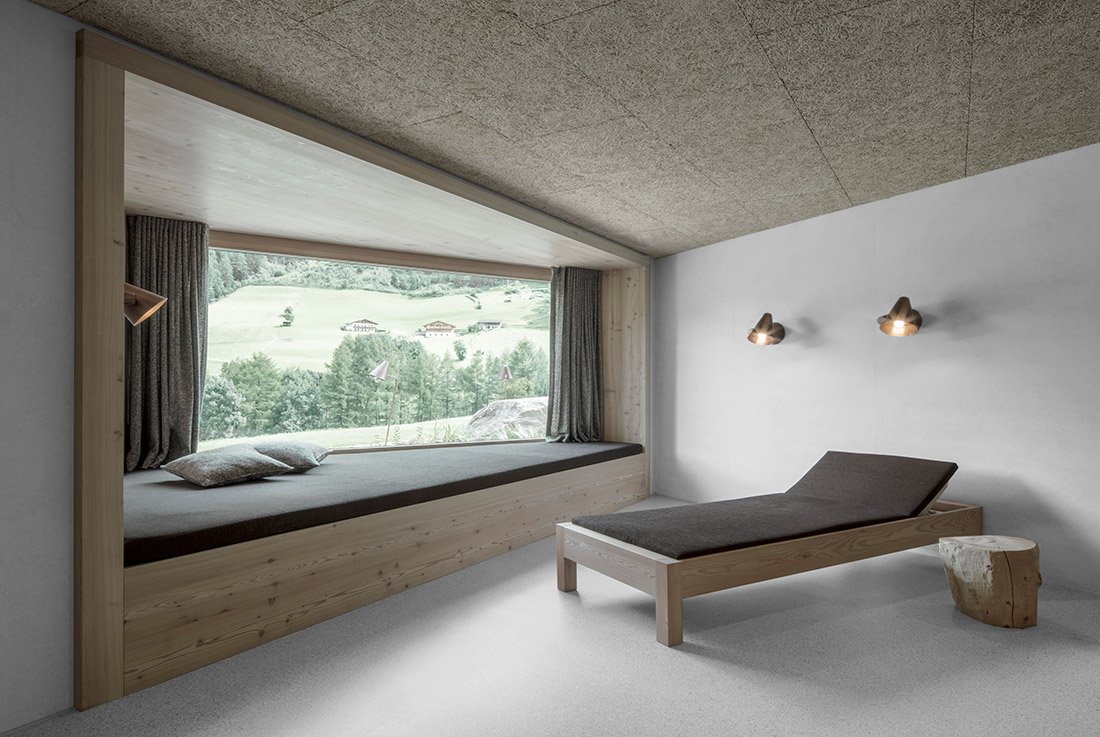 The lamps were hand-crafted in pure copper and the complementary curtains from the local loden factory create a strong regional focus. Special selected and local produced materials generate a familiar and cozy atmosphere.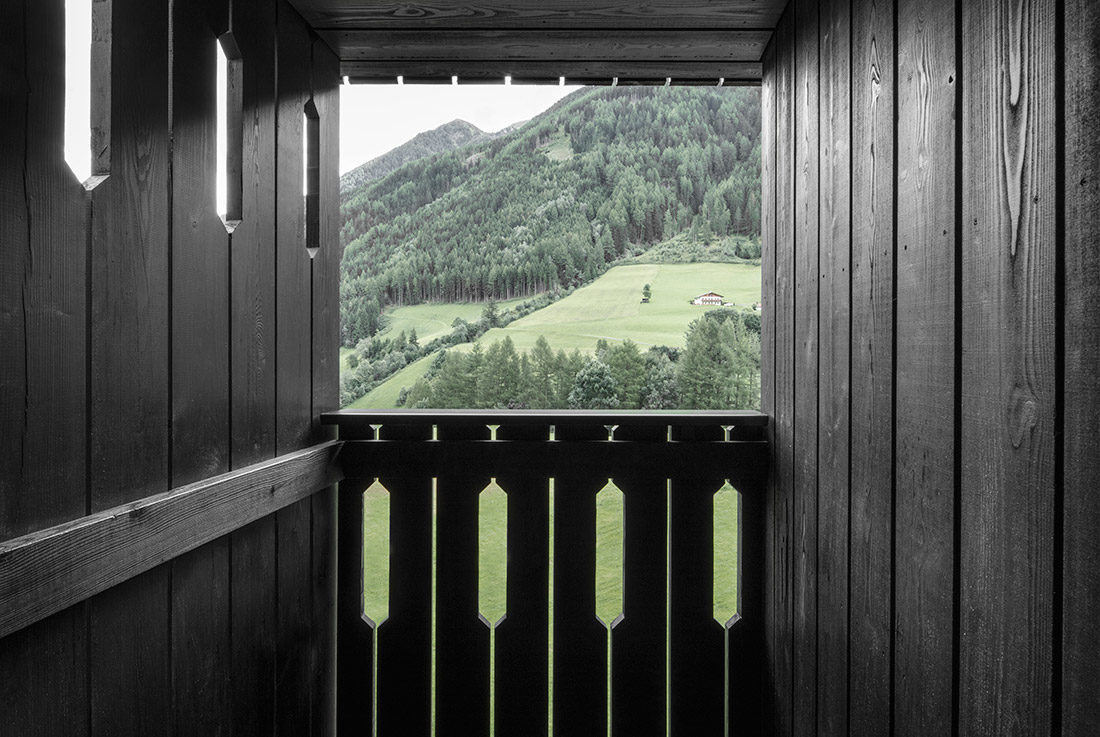 Pedevilla Architects was founded in 2005 by brothers Alexander and Armin Pedevilla in the city of Bruneck. Their architectural language always implements the imminent alpine scenery of South Tyrol, which is characterised by harsh climatic conditions, steep mountainsides and the impressive panorama of the Alps. With their works, the office established a conception and understanding where modern regional architecture achieves a whole new significance. It settles in the context of traditional art of construction and contemporary reinterpretation, of genuine craftsmanship and deliberate revival, but most of all the context of materiality and their appropriate eligibility. Since its existence, the office made an imprint in the national and international alpine-architecture scene and is meanwhile counted as one of the renowned offices in Italy. Works were awarded and published internationally, as well as being featured in numerous architecture exhibitions.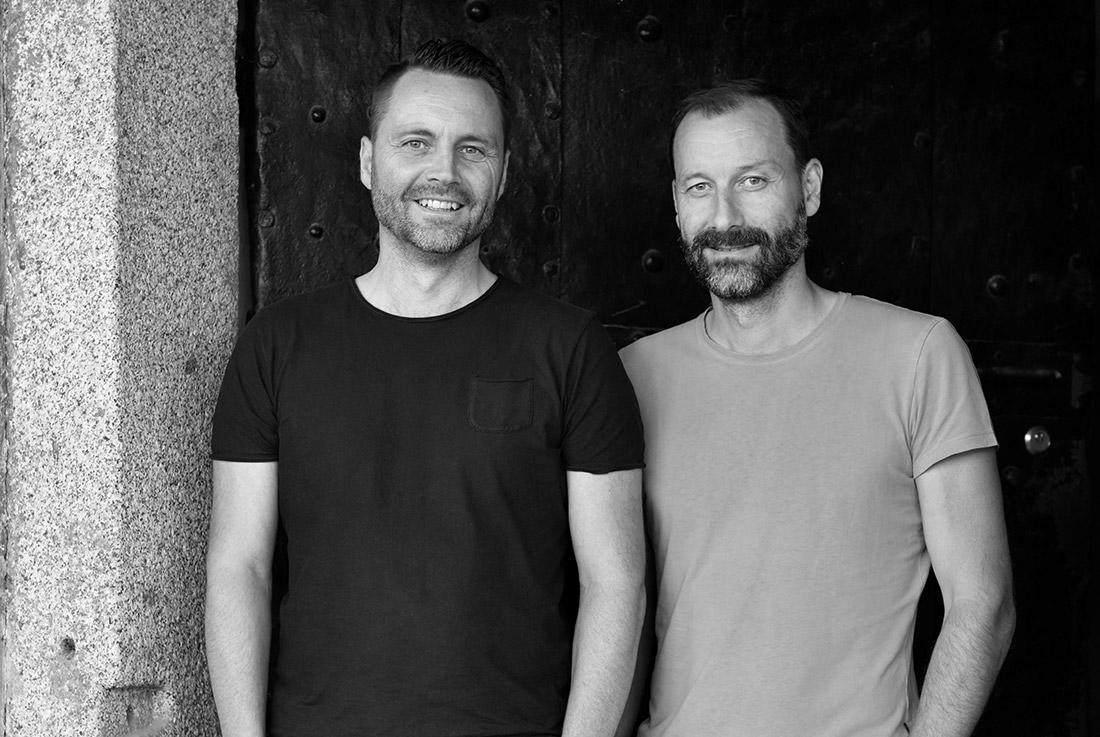 HOTEL BÜHELWIRT
Authors: Pedevilla Architects
Clients: Michaela + Matthias Haller
Photos: Gustav Willeit
Year of completion: 2017
Location: St. Jakob, Italy
Total area: 1.700 m2