Inspiration: Georgi Florov's work represents a significant part of IVAN ASEN 22 conceptual project "1,5 km of…", a visual story about our attempts to perceive and interpret distances, achieved by means of expression of conceptual fashion, video and space installation. An elastic band, with its pliability and variable dimensions, provokes the association of thoughts.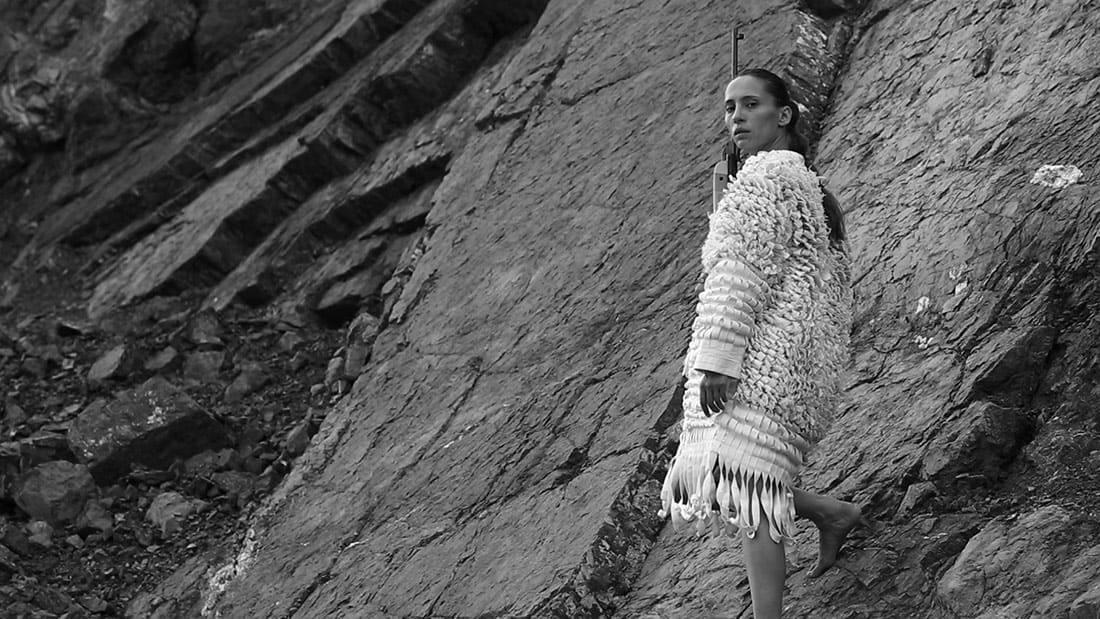 Georgi Florov belongs to these outstanding artists who, while having studied abroad, bring their knowledge and expertise back to Bulgaria and thus help to develop a unique and strong young designers' "scene" with its recognizable signature modern style.
As designer, he succeeds in both freelance design for fashion brands, graphic design and in experimenting with his own textile structures. He is one of the best conceptually thinking and working designers in Bulgaria, combining his innovative ideas with a perfect, high quality elaboration. His designer's signature is clear, purist, even severe, but combined with feminine detailing, sophisticated shapes and a strong intellectual basis his designs are built upon.
Before focusing on design, Georgi Florov studied Law at Sofia University. Deciding that design was a better outlet for his temperament, he studied Fashion Design at the New Bulgarian University, Sofia, graduating in 2008. In 2010, Georgi won a one-year scholarship to study in Milan at the Instituto Europeo di Design. A year later he earned an internship in the style office at Neil Barrett – a renowned brand in menswear design. During Georgi's stay in Italy he slowly but surely decided to develop and built a brand under his own name, according to his particular perceptions of female beauty and aesthetics.
For two consecutive years Georgi was a finalist in the prestigious Italian Mittelmoda Competition, and was also selected as a finalist in the Prêt-à-Porter category of the international contest for young designers, Golden Needle, Lodz, Poland. In 2011 Georgi was among the six finalists for the Italian contest Made in Cardato, and a year later he was a finalist in Max Mara Group's competition for Young Designers.
FILE
Collection or creation: 1,5km of…THOUGHTS
Brand: Georgi Florov / IVAN ASEN 22 conceptual designers' platform
Designer and / or studio: Georgi Florov / IVAN ASEN 22 conceptual designers' platform
Photography: Boryana Pandova
Materials and techniques: 1,5km of elastic, material manipulation, handmade
Year of production: 2016
Designer's country of origin: Bulgaria
Country of brand origin: Bulgaria
Check out the BIG SEE event here: Business & Design 180°