Dimitrov Ltd. is one of the biggest Bulgarian manufacturers of men's fashion. In addition to working with major European brands such as Hugo Boss, Armani, Zegna, Dimitrov Ltd. aims to impose on the European and world market its own brand – Desizo Monni.
In order to expand the production capacity and develop its own brand, a new production facility and a new administrative office building were built in Pleven.
The designed by A&A Architects office building aims to create suitable creative and working atmosphere for employees, to contribute to the company's development and present it worthy to the world fashion industry. The building includes 4 above-ground floors and 1 underground floor. On the ground floor there is a central reception area, a waiting area and a showroom for exhibiting the brand's fashion collections.
Above the ground floor there are three office floors, conference halls and rlaxation areas. The management offices are located on the third office floor. The underground floor is a parking lot. In the eastern part of the building an atrium passes through the entire height of the building. The access to the office floors is through open-to-atrium balconies where the relaxation areas are located.
The exterior image of the building is strictly geometric and minimalistic – a clear glass prism, broken only by the L-shaped canopy made of dark metal at the entrance. As a counterpoint to the minimalist exterior, the interior of the building impresses with the rich space of the atrium and the dynamic volumes of the balconies.
The human scale is leading in shaping the workspaces and large-format triple glazing glass panels give unobstructed views of the surrounding greenery. Five materials are used in the interior: exposed concrete, glass, aluminum. The vertical core of the elevator is made of exposed concrete as well as the structural columns and beams. Natural wood paneling is used in certain places. The fifth "material" is the natural vegetation. In addition to the balconies and relaxation areas on the floors, it is also actively present in the central area of the atrium, where a composition of prismatic volumes combines landscaping, the visitors' waiting area and a water area.
The ambition of the corporate office building in Pleven is to take a place among the best examples of corporate buildings in the world fashion industry and to add another Bulgarian city to the architectural map of the world.
Text provided by the architects.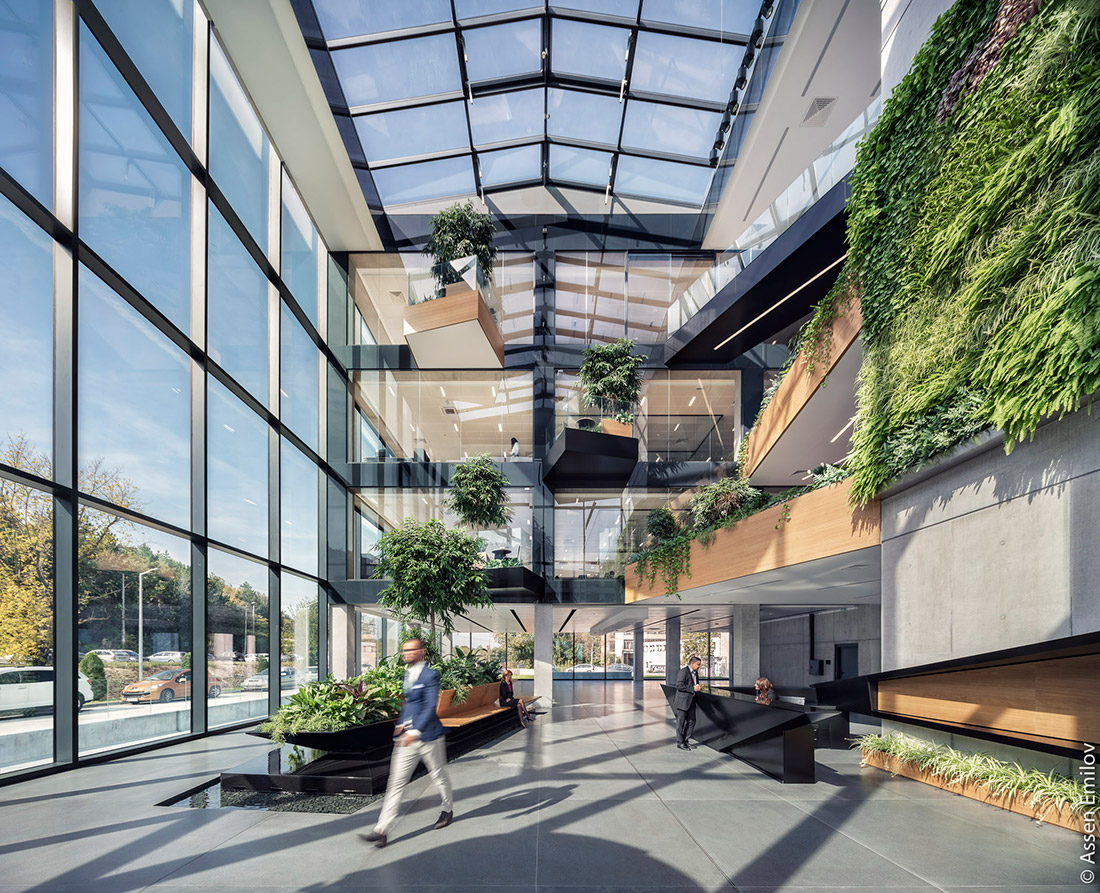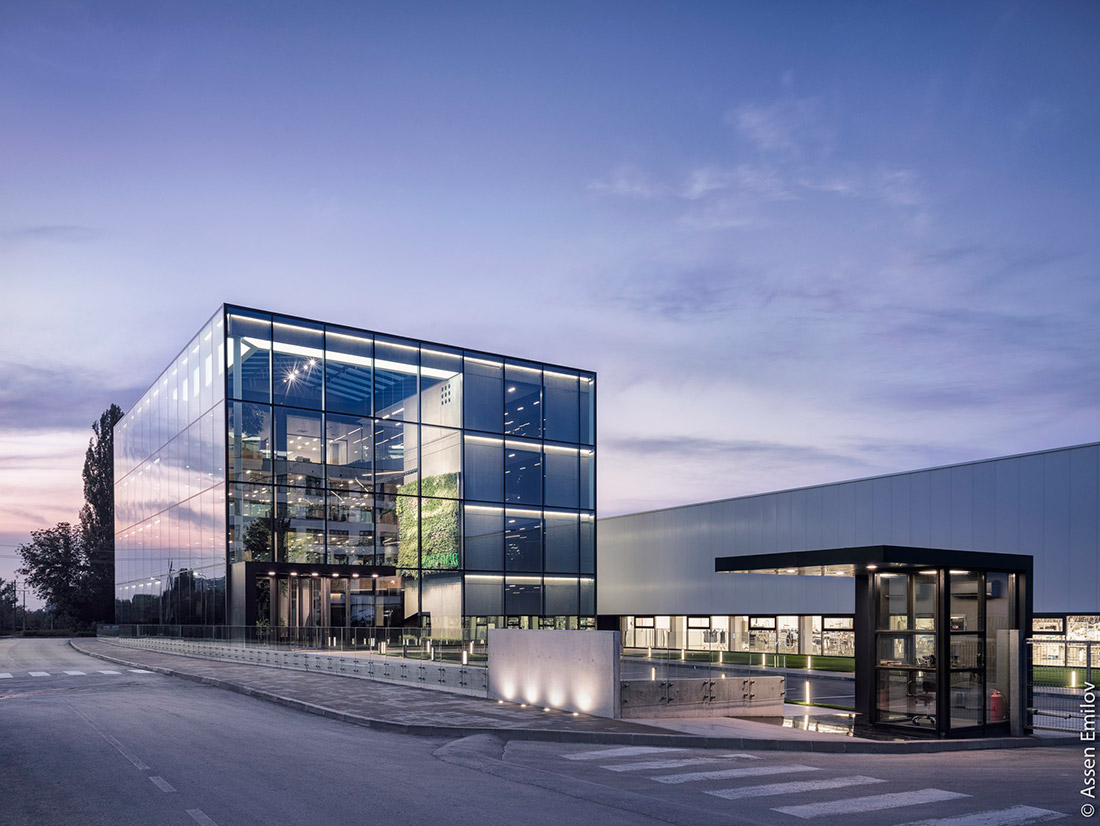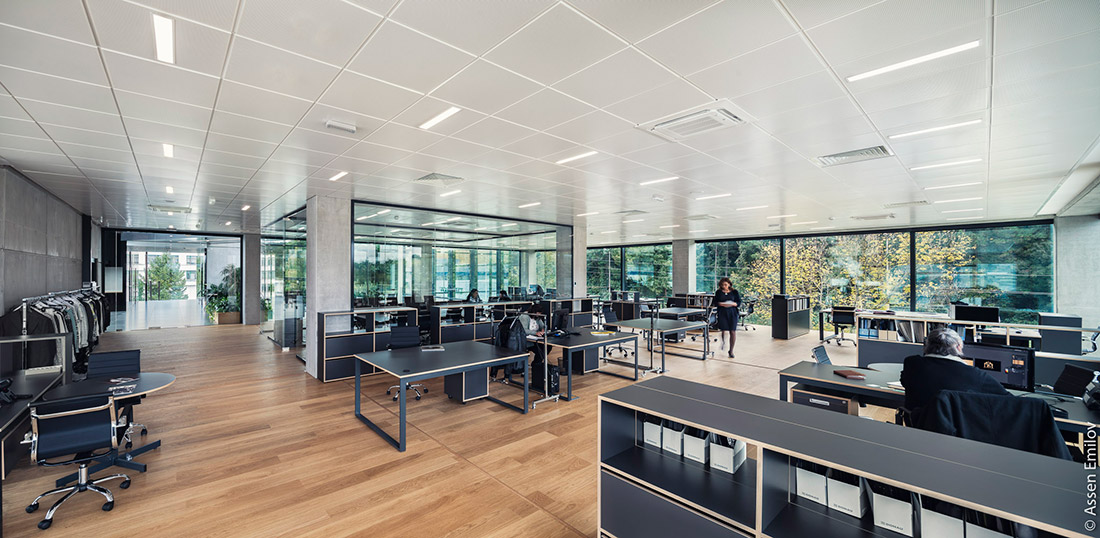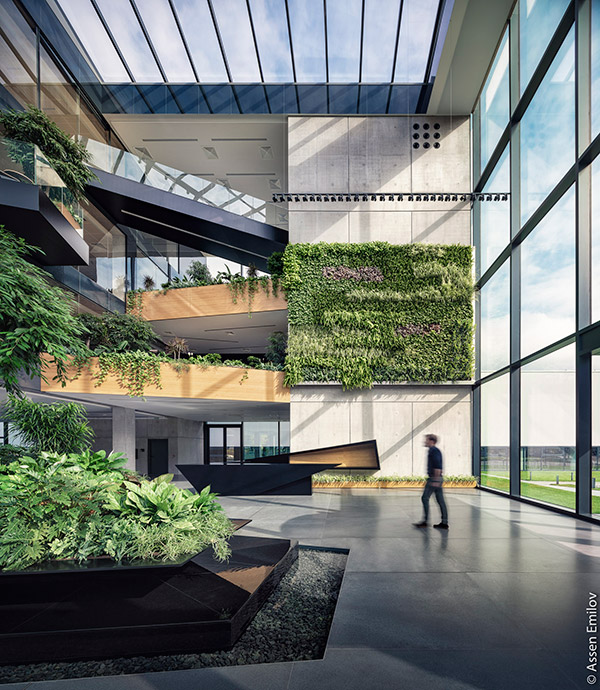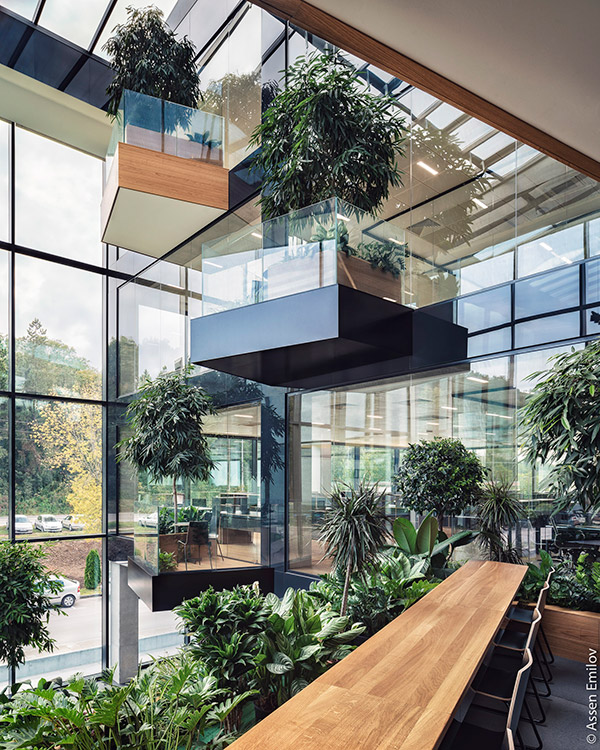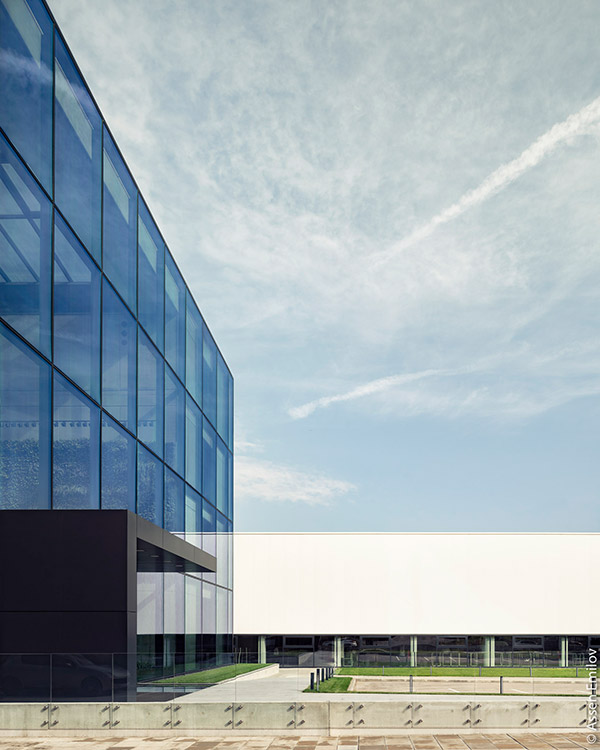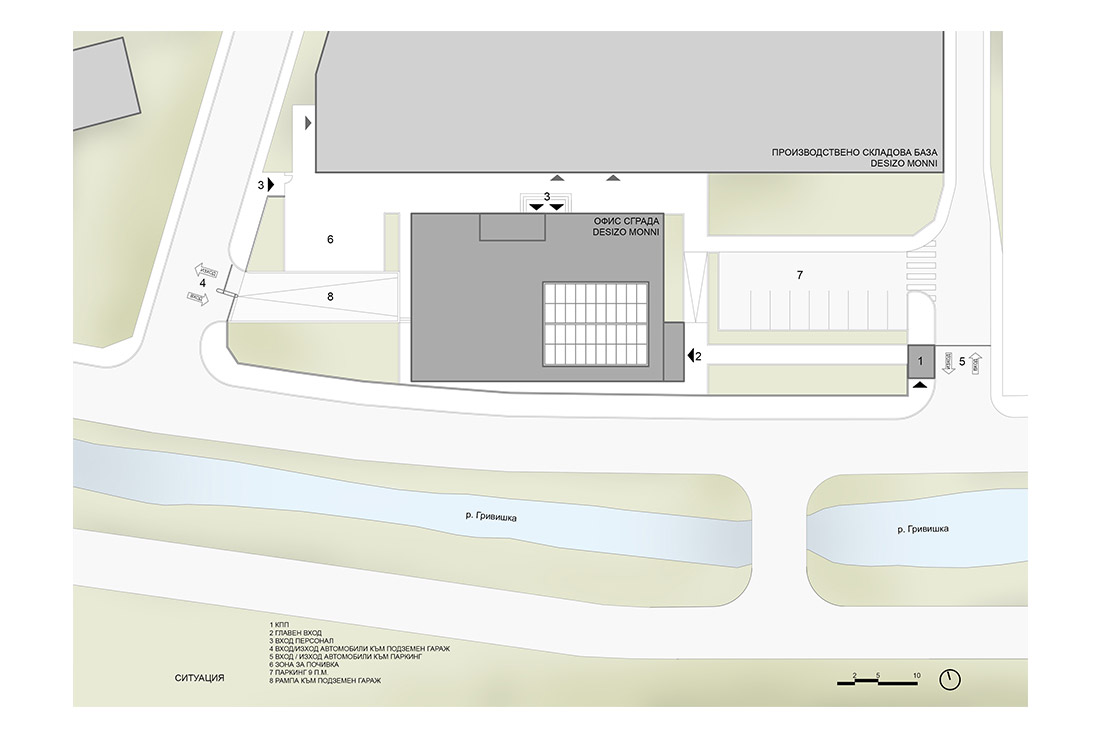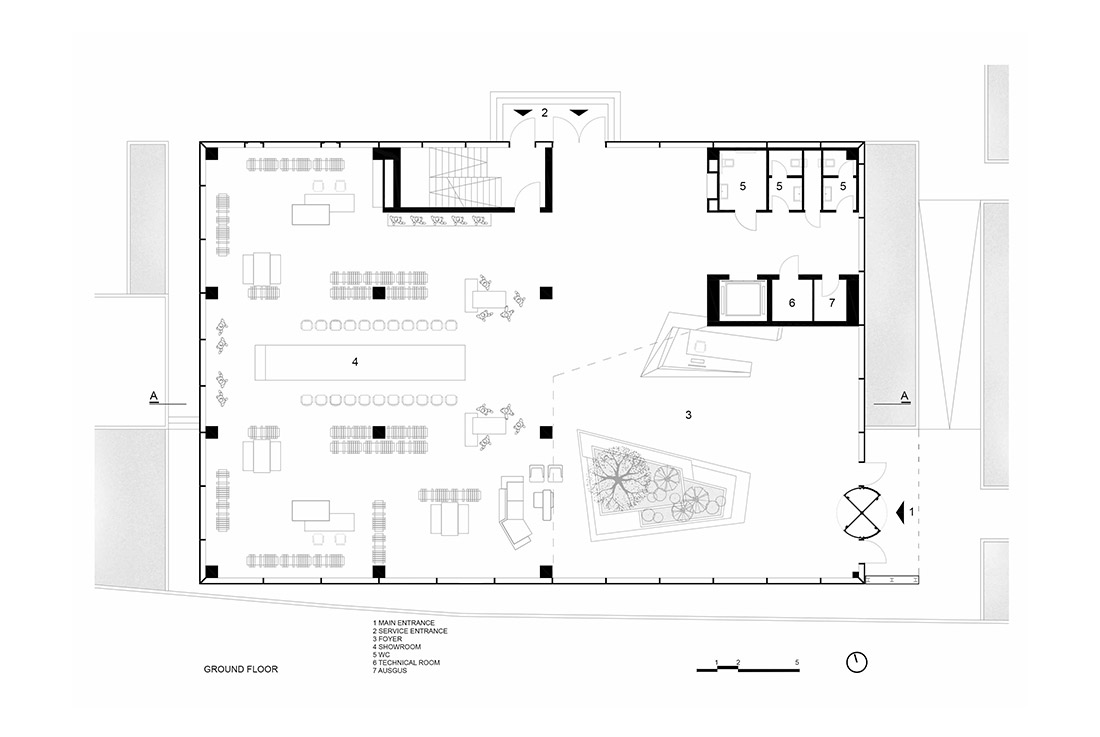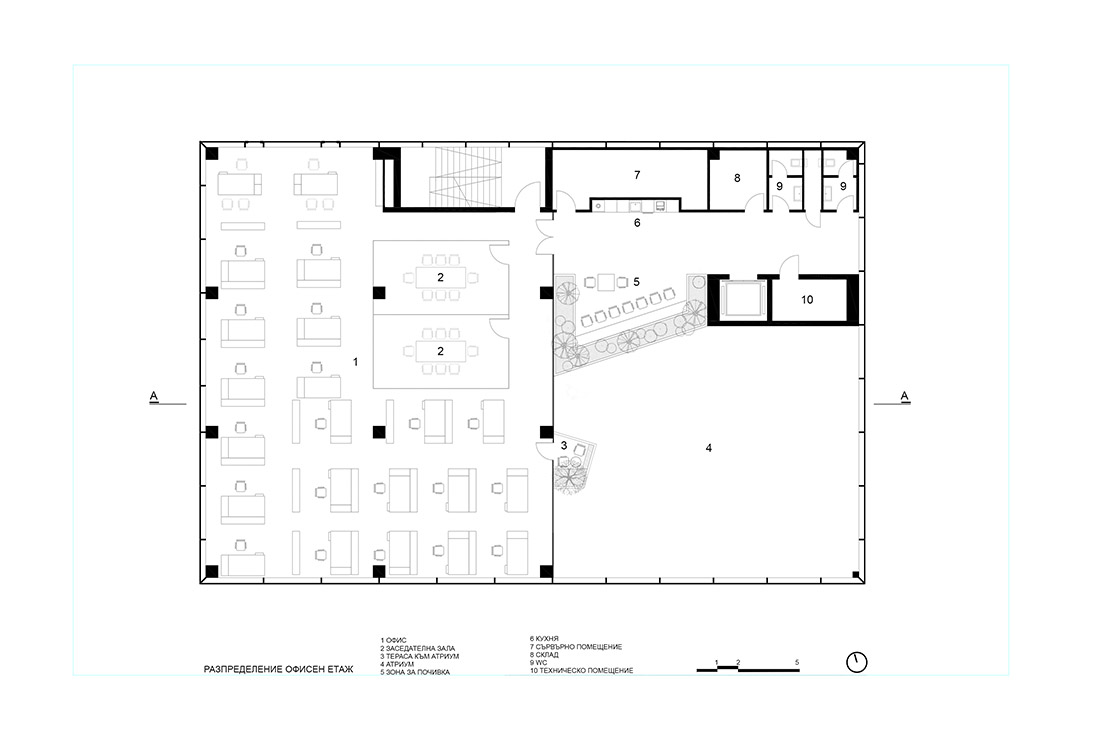 Credits
Architecture
A&A Architects
Client
Dimitrov Ltd.
Year of completion
2017-2018
Location
Pleven, Bulgaria
Total area
2 840 m2
Photos
Assen Emilov
Project Partners
OK Atelier s.r.o., MALANG s.r.o.
Related posts
Powered by