Five vacation houses sharing the same basement (garage) are developed autonomously around a common courtyard in the upper levels. In this way, the roofs of each unit have different shapes that blend with the landscape, remodeling and completing it.
The challenge is to find new proportions and relations with the existing, becoming part of the context and contributing with the construction of the place.
The compound is placed on a hillside and develops following the existing topography, stopping where the perimeter walls find the existing contour lines of the hill: architecture goes along with landscape. The buildings face the street on one side and the courtyard on the other, shaping this element both as an external space as an intimate and protected place immersed in nature.
Traditional materials such as wood and stone have been chosen: quarter logs for the facades and natural stone for the basement. a wooden brise-soleil casts ever changing shadows on the interior, acting on the perception of time and space through the seasons.
Openings on vertical and horizontal planes of the building envelope frame unexpected views of the landscape and provide a dynamic light and shadow play on the five house volumes.
What makes this project one-of-a-kind?
According to the traditional houses of the surroundings, traditional materials such as stone and wood are chosen: natural stone for the basement and quarter trunks for the facade. the complex is located on a slope and, adapting to the topography, stops where the perimeter walls meet the existing contour lines.
The architecture follows the landscape, develops and grows with it until it becomes a whole with the environment, a place of rest in nature.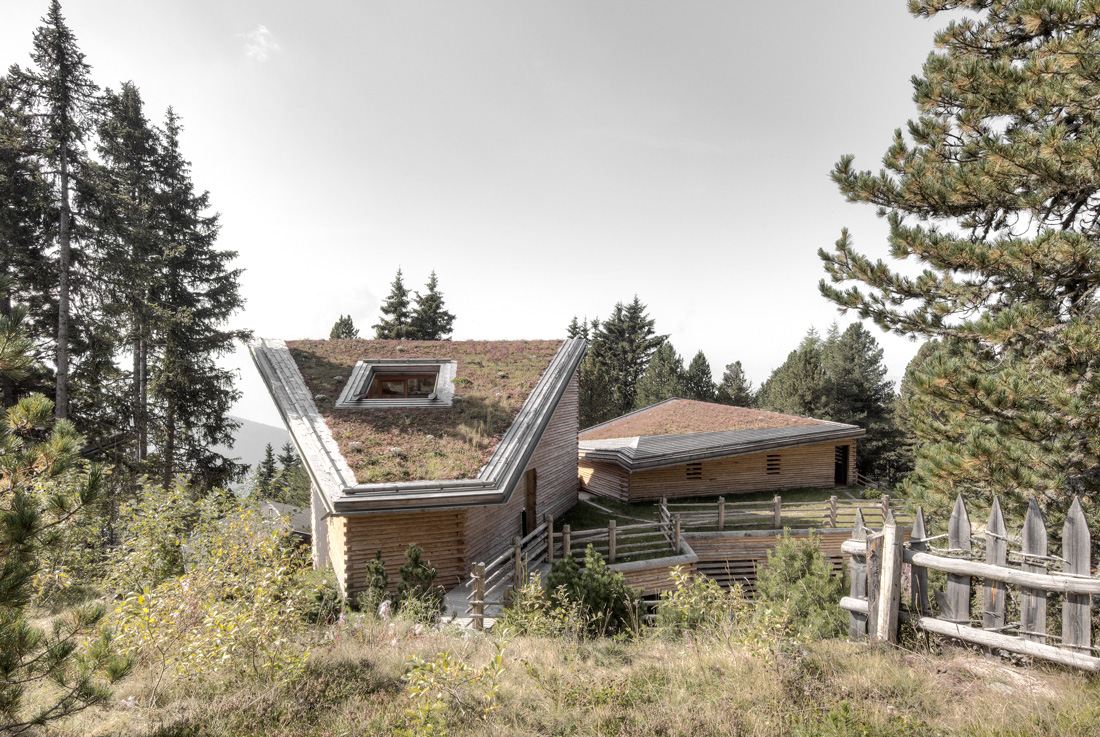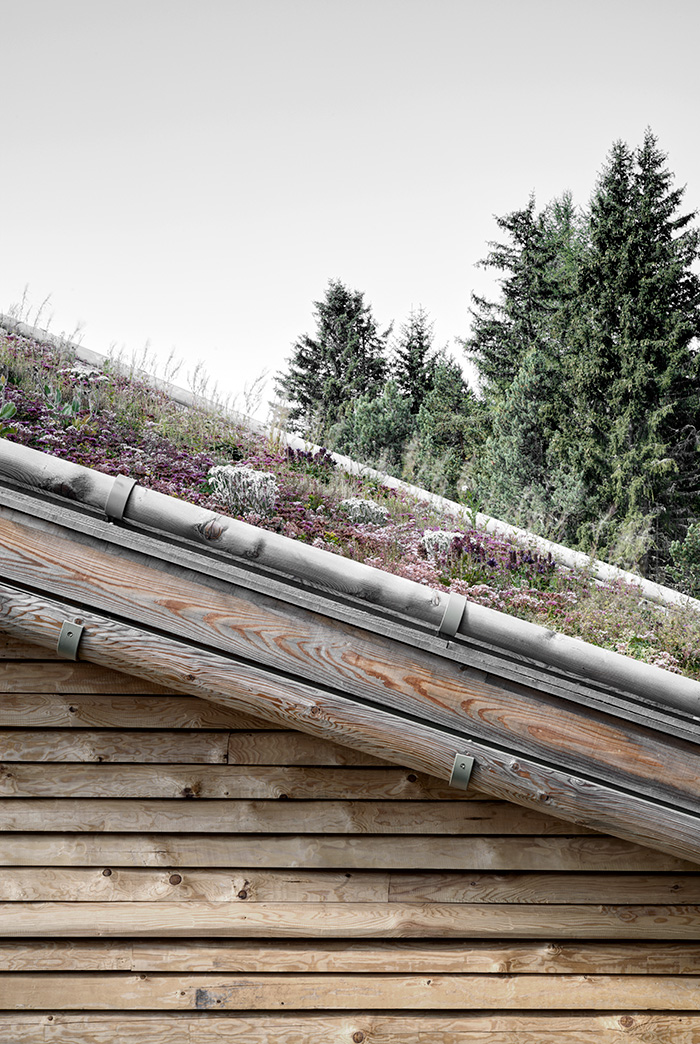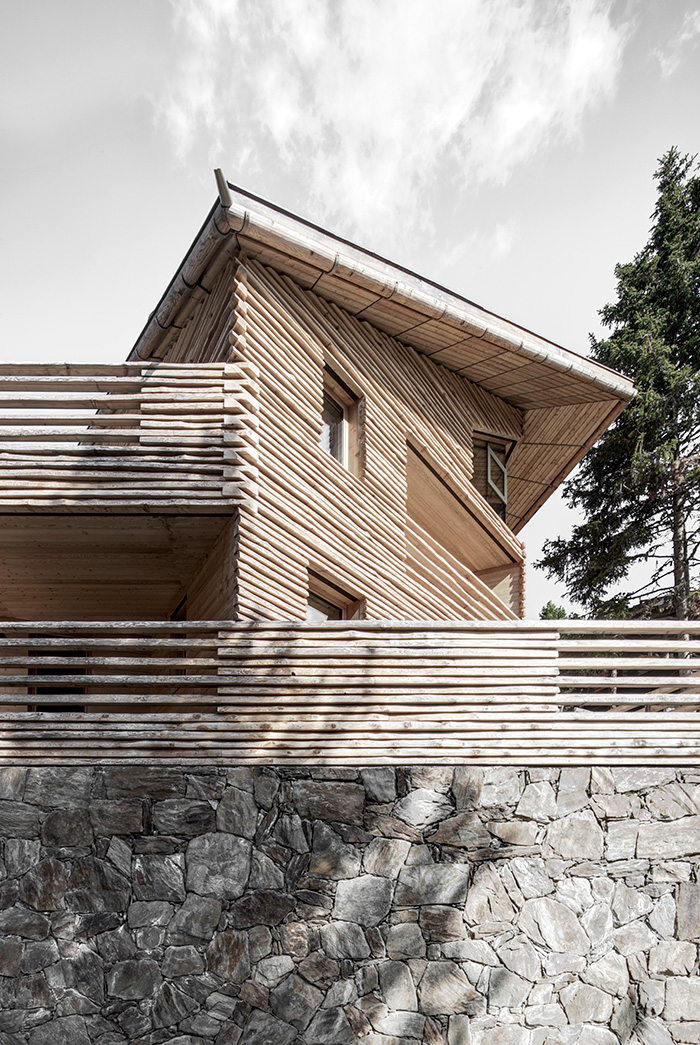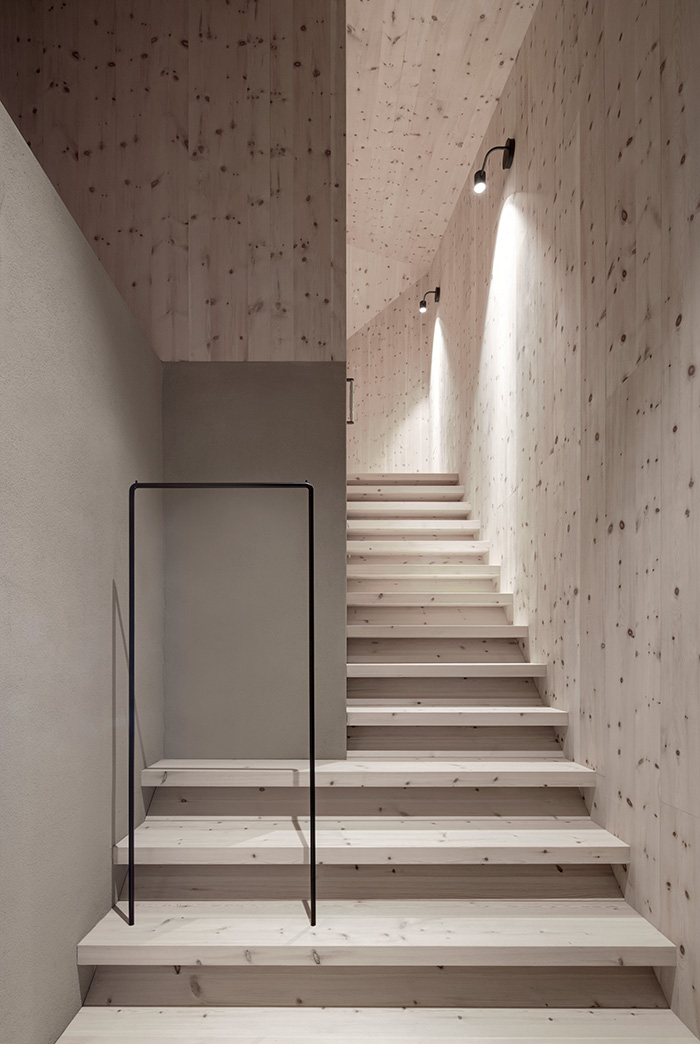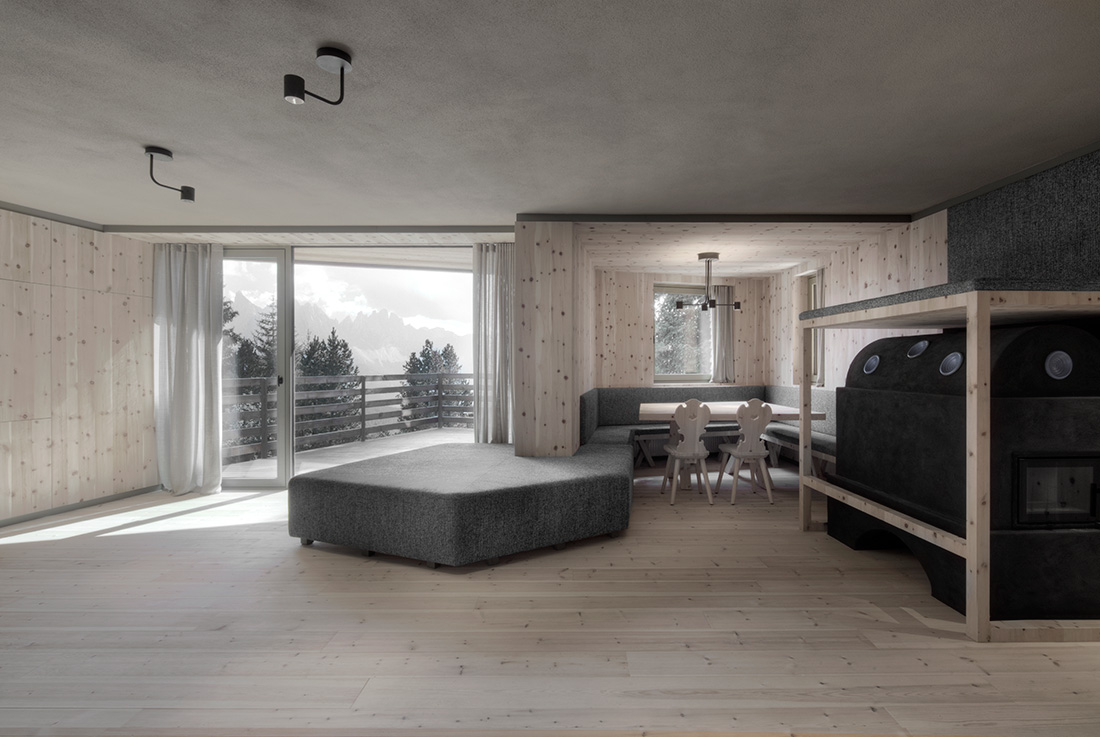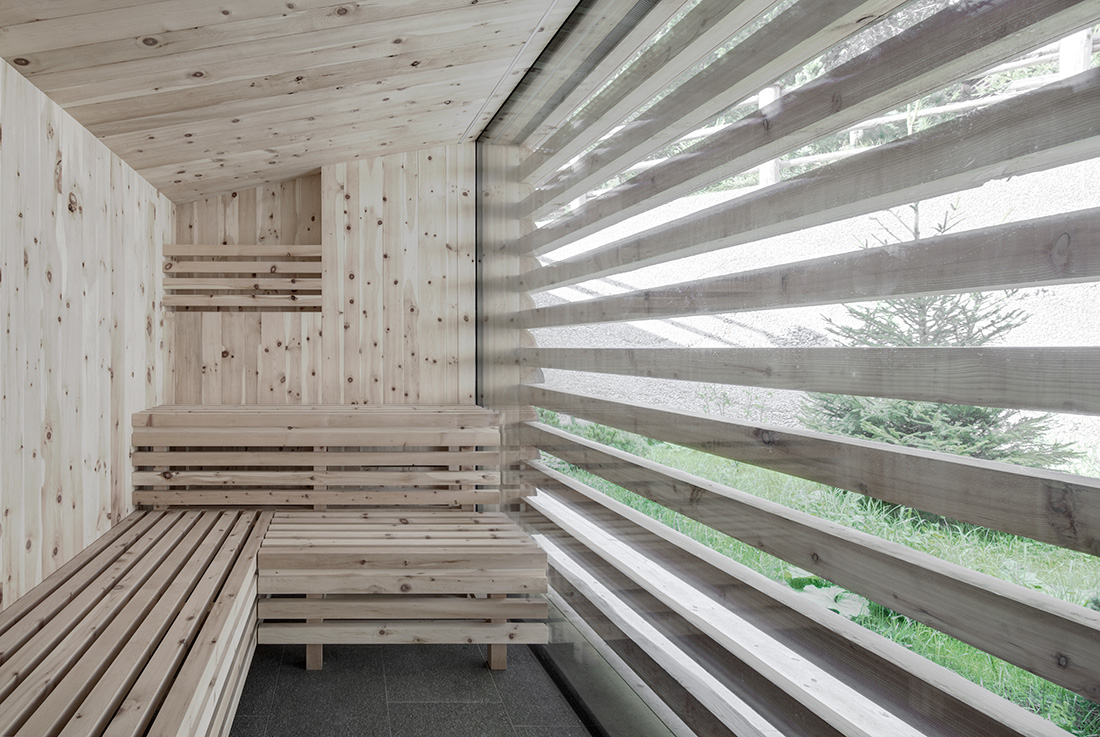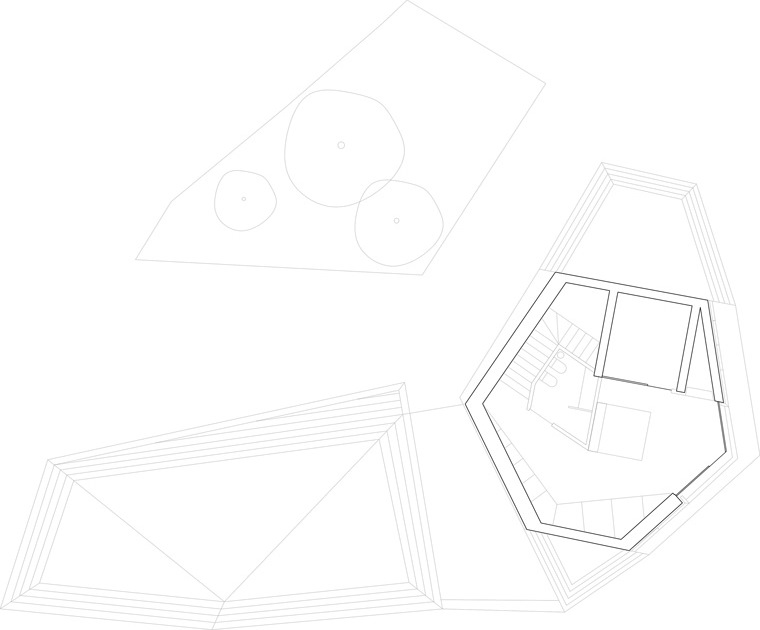 About authors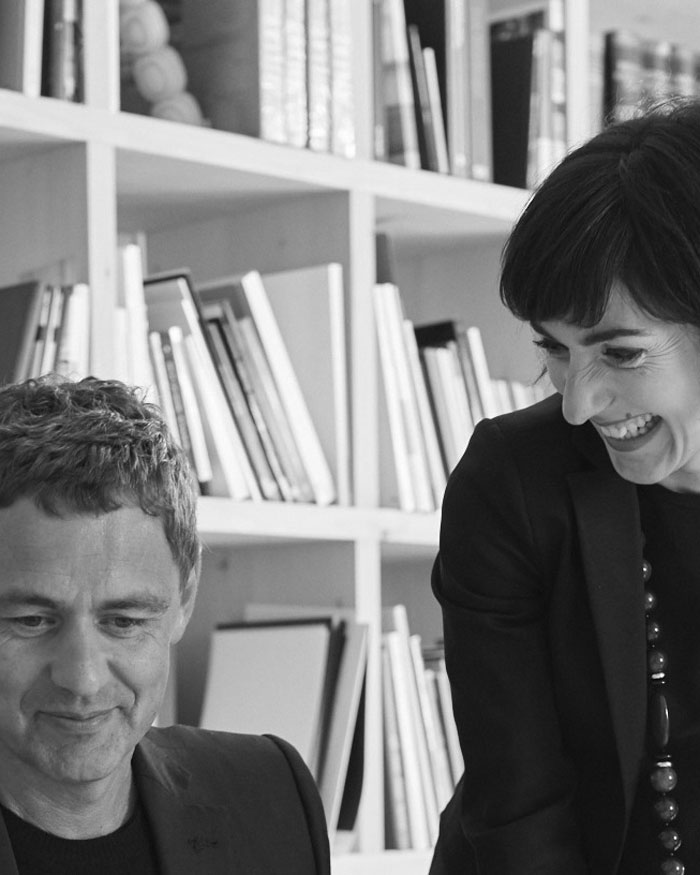 Bergmeisterwolf is a design and architecture studio based in Brixen and Rosenheim that offers answers to contextual and spatial requests through an intense dialogue with its clients and the academic research. The studio was established by Gerd Bergmeister and Michaela Wolf who work in close collaboration with architects, artists and a network of professionals from different fields. Bergmeisterwolf works include architecture and interior design in hospitality, residential, cultural and commercial buildings, both private and public at different scales.
FILE
authors: Bergmeisterwolf architekten with a Saggio architecture
Client: Markus Sader
Photos: Gustav Willeit
Location: Plose, Italy
Year of completion: 2017
Total area: 615 m²