The white interior installation for the international trade fair BAU 2019 in Munich was a result of an invited competition. The exhibitor wanted a space to discover all new products with mock-ups and built-up systems for building envelopes.
We decided to follow up the empty canvas rule of art galleries to bring out the essence of all samples, but on the other hand, we also wanted to create a neutral white installation that has a meaning that can be explored.
A busy schedule of random visitors, group and individual presentations, business meetings that required seating areas, auxiliary areas of kitchen and storage in just 63 m², seemed to be a hectic program.
The idea was to create a clean, open plan with rich VR experience which allows the fluctuation of visitors.
The whole construction of facade envelope was lifted to showcase a ventilated facade system and a panel wall solution in human size. From the outside, we build a metal mass that represents a focal point in the exhibition hall, and on the inside, we create a calmer, introverted ambient. For the whole installation, we use just white colour, except for the tree that is a focal point of the interior.
For the whole week, visitors had filled the streets with hustle and bustle and the atrium was an oasis where people could stop for a minute.
Visitors had mostly gathered around the extensively long desk that ends with the birch incorporated in the furniture. The whole space is completely fluent and airy. The only obstacles are two laminated glass walls that are laser subsurface engraved with names of cities where the company has at least one building. The LED light is incorporated in the fixing detail on the top and at the bottom, so the engraving shines and gives an ambient atmosphere with a soft division from the crowded street.
The tree in the centre represents closeness to nature and the sustainability of all products that the client is very proud of.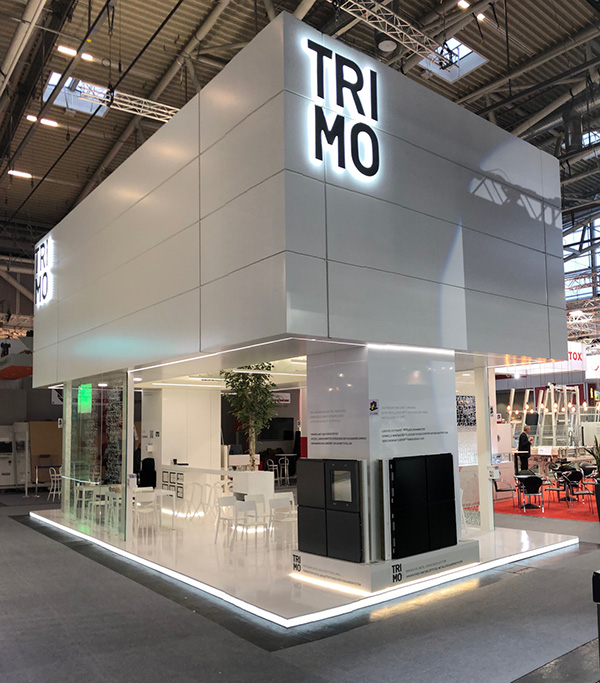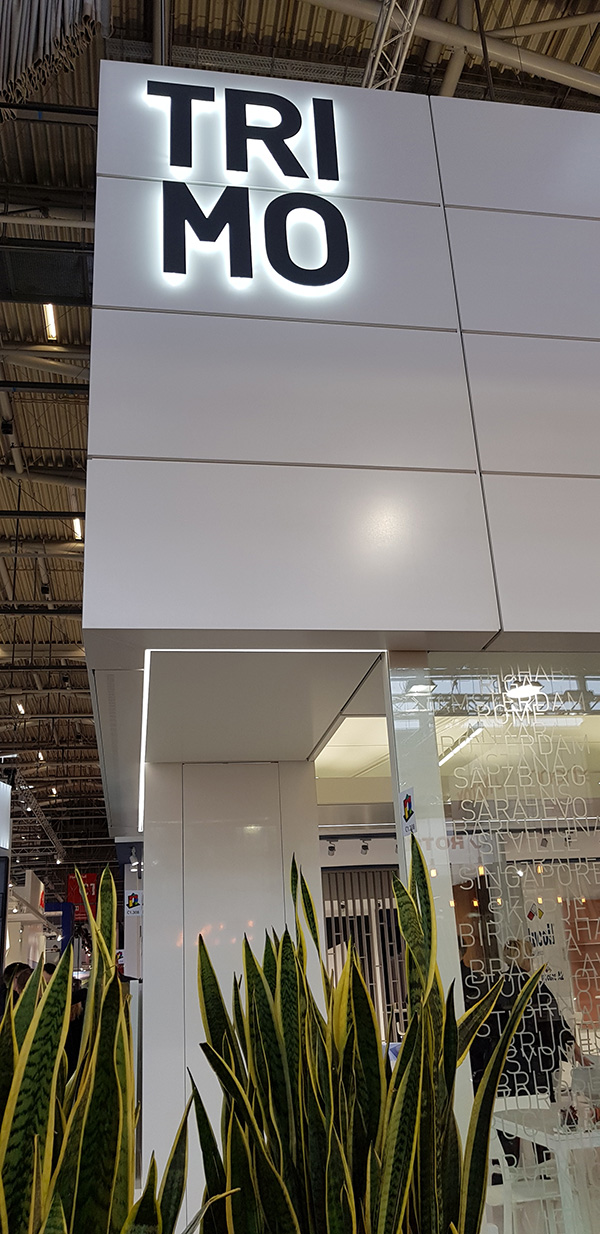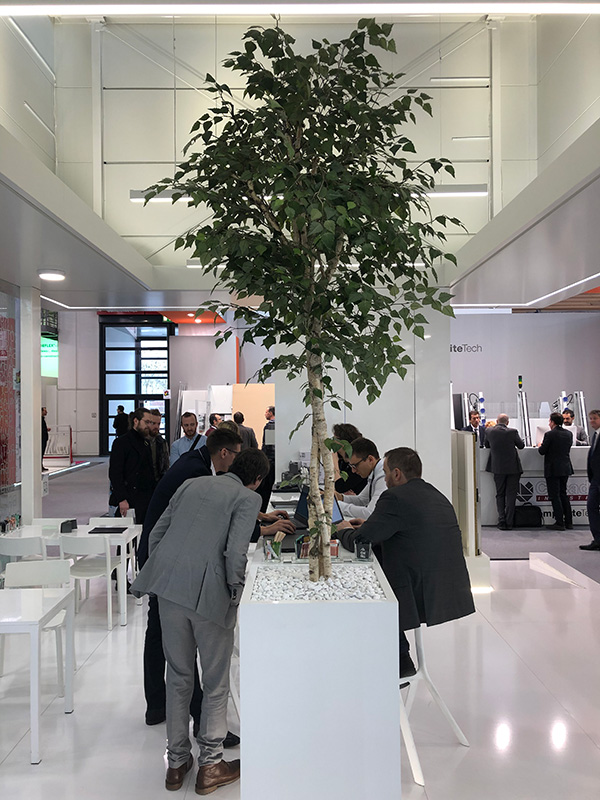 Credits
Architecture
Authors: Mojca Šavnik, Špela Lokar
Collaborators: Tomaž Medved, Matej Jereb, Jaka Prelec, Domen Kukenberger, Anton Zupančič, Marko Jagodič, Tanja Blatnik
Client
Trimo, architectural solutions, d.o.o.
Year of completion
2019
Location
Munich, Germany
Total area
63 m2
Photos
Patrick Patz
Related posts
Powered by