The project is developed and realized through series of design workshops conducted at University of Belgrade – Faculty of Architecture with the participation of the following students: Aleksandra Banjac, Ana Toljic, Sonja Rajic, Jelena Tasic, Milica Milosevic, Aleksandra Kresoja, Zorana Zlatovic, Kristina Vukovic, Milica Vostic, DJurDjica Savkovic, Aleksandra Lekic, Monika Jelic, Jelena Mirkovic, Tijana Pajovic, Emilija Sajic, Snezana Jevremovic, Tamara Kenic, Filip Janicevic, Katarina Rakovic, Jovan Kovacevic, Jovan Ristic, Jelena Markovic, Sara Antov, Minja Radenkovic, Fedor Juric, Tamara Nesic, Katarina Dekic, Magdalena Maslacevic, Adam Sunturlic, Sara Jevericic, and Marija Pantovic; and help from the following teaching asisitants: Milutin Cerovic, Nemanja Kordic i Vladan Stevovic.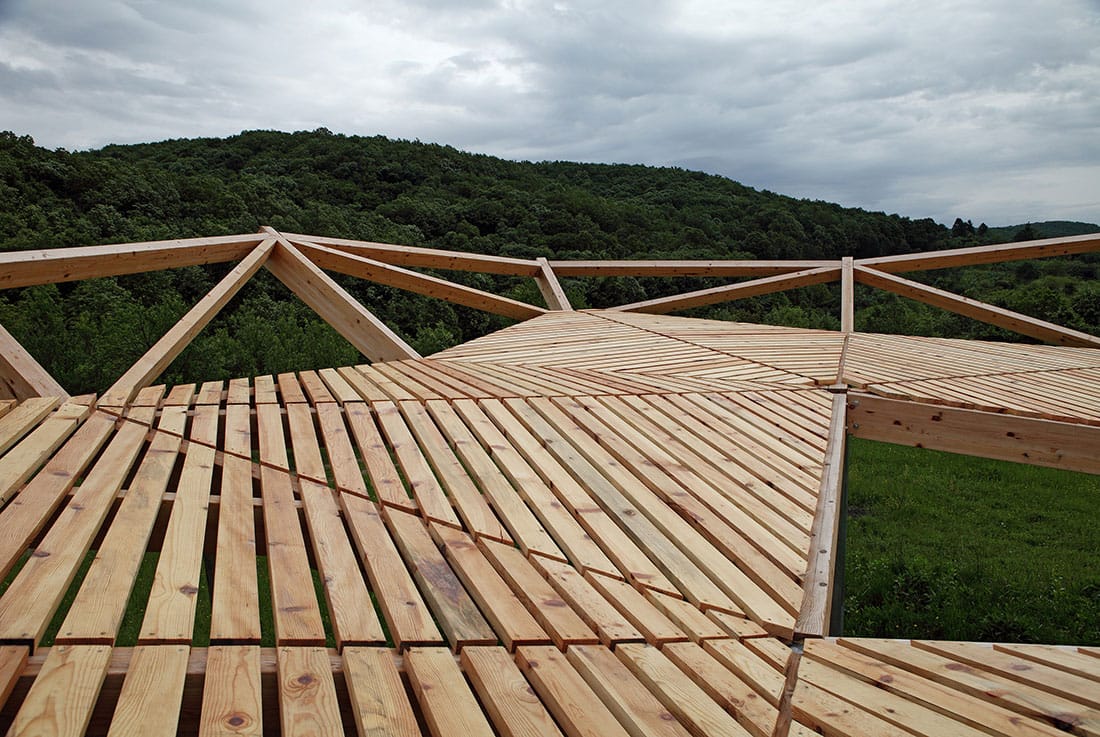 The following construction companies have graciously supported the project: Probanat, Priramida, Gomid, Sika, and Gir.
The Platter Pavilion collectively designed and built by 4of7 Architecture and students from University of Belgrade – Faculty of Architecture is a result of the specific educational framework based on practical inquiry into the converging relationship between formerly distinct operations, scales and actors of the architectural workflow. The main purpose of this initiative is to a provide students with a deeper and more creative understanding of the digital fabrication process by taking them through a full cycle of the building project: from inception to completion of the Pavilion. At the same time, central to the design intent was the relationship between two different scales: one belonging to the building and the other to the surrounding landscape.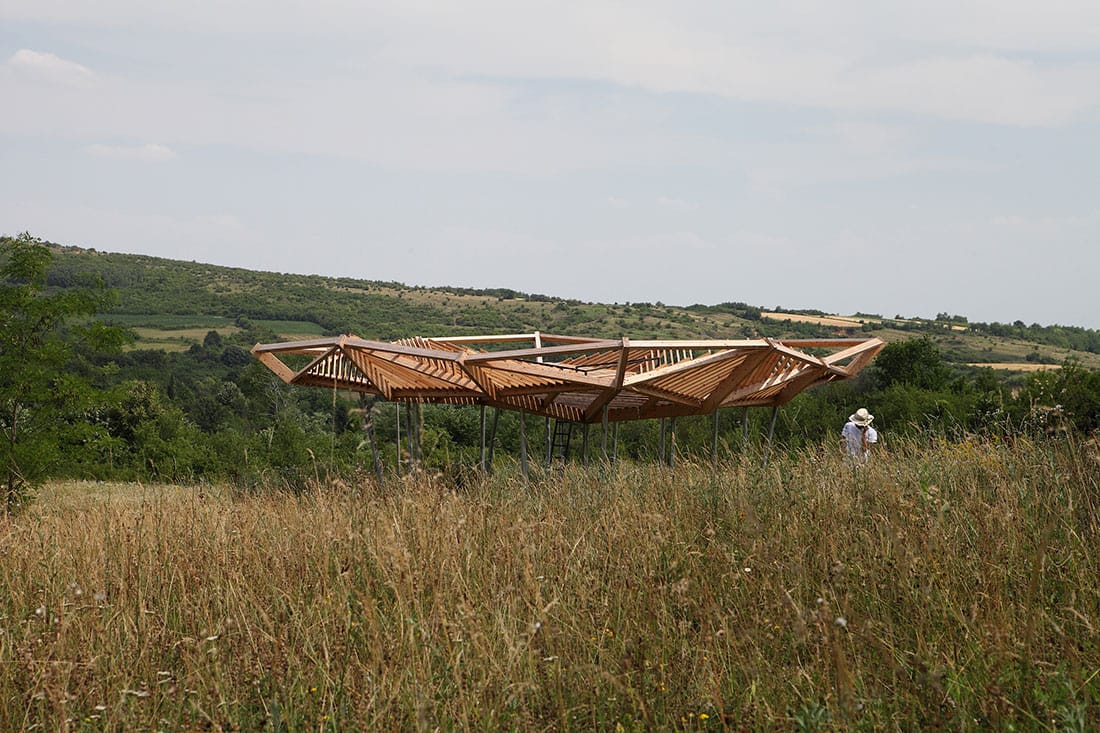 The foremost goal of the proposed curriculum is to examine the convergence between design and making operations enabled by digital fabrication. Students were entrusted with the actual construction of the pavilion, in addition to their customary design exercise. Although building a full-scale model or pavilion is a very costly and time consuming undertaking, such endeavours are increasingly taking place at many architecture schools precisely because of the pressing need to probe the relationship between digitally-based processes for design and construction. The actual outcome of this educational curriculum was a timber platform providing views of the natural environment. Its floorplan measures approximately 100m2 and it is held by steel columns at a height of 3 meters above ground.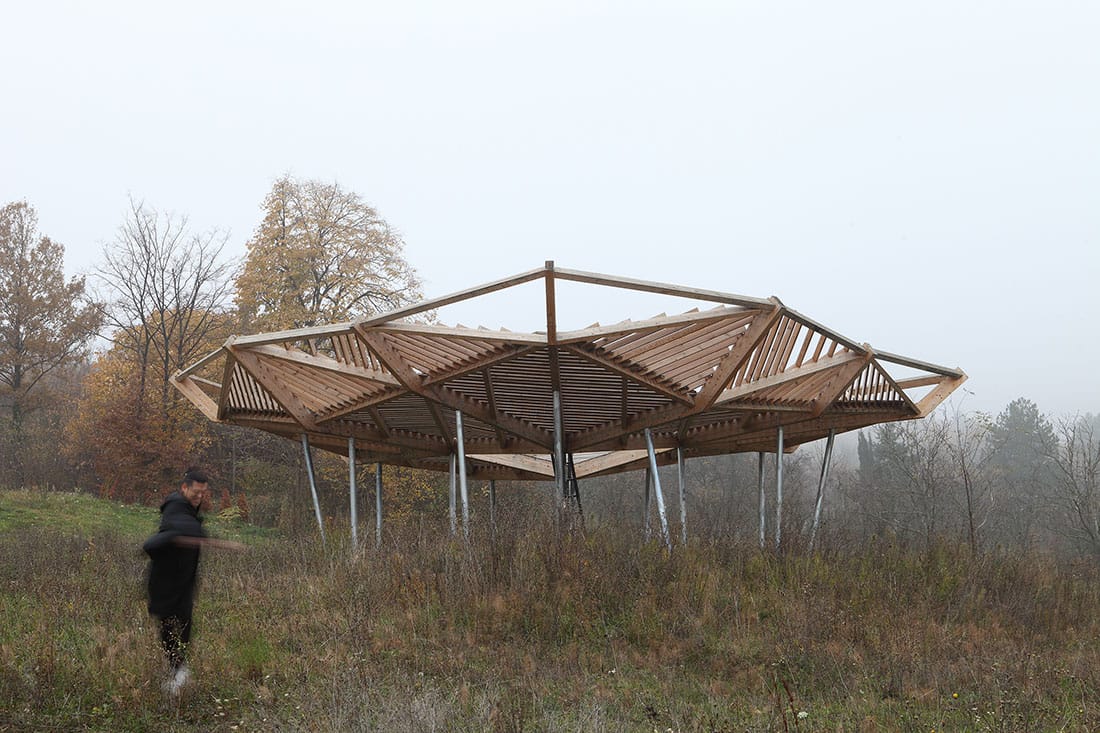 The construction process, involving parallel operations carried out both on and off site, was coordinated using the digital model. Laminated timber trusses were produced in the workshop and sized in segments to be handled manually on site. Each piece was cut and predrilled using CNC machinery. The floor planks were laid out after the parametric study of spacing and alignment in relation to amount of material used and shadow effects created.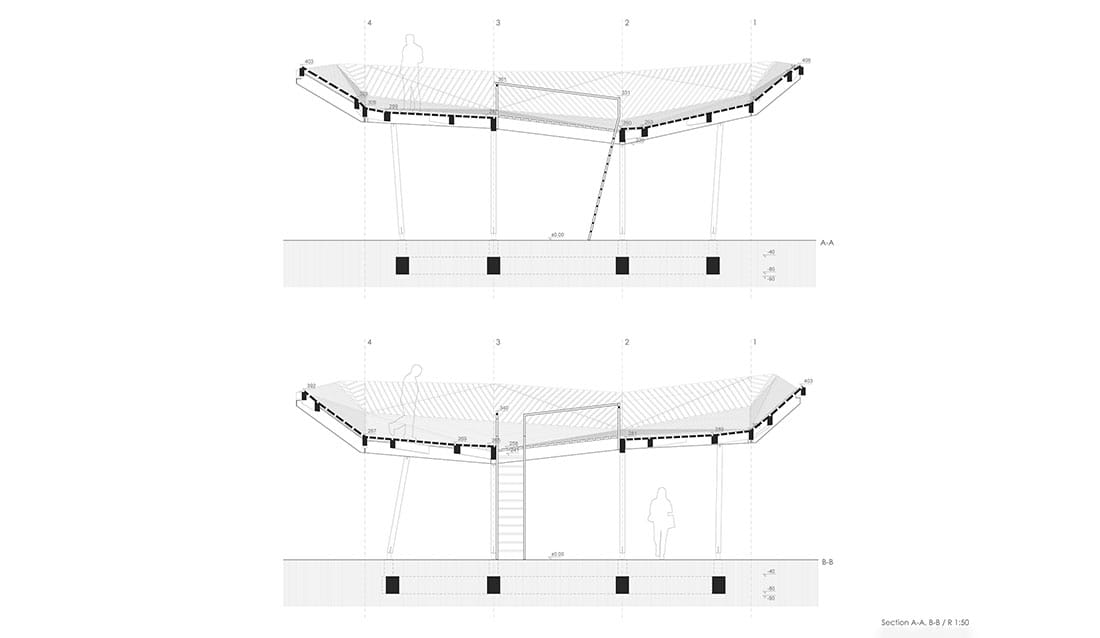 FILE
Architecure: 4of7 Architecture; Djordje Stojanovic, Milan Katic
Photographs: Ana Kostic
Year of completion: 2017
Location: Ležimir, Serbia
Other participants: Vladimir Pavlovic, Danilo Dangubic (design consultants), Cedomir Andric, Krstan Laketic (timber structure), Nenad Srebro, Milovan Djuric (steel structure).
Check out the BIG SEE event here: Interiors 180° / Big See Awards / Month of Design 2018