For generations, the nursing home Santa Katharina has been a haven for people in need of care from all over Tyrol. However, since only double rooms were available in the existing home, the "Nursing Homes of the Barmherzige Schwestern Innsbruck GmbH" decided to operate an extension we planned in the northwest of the existing building.
CONCEPT
The basic idea was to develop a building that meets the requirements and needs of the residents and can help you to make your everyday life easier. The one-story, monolithic-looking new building stands freely on the green lawn and impresses with its minimalist clarity. 33 equivalent single rooms were created, which are located around a spacious courtyard. The atrium is accessible from every room and allows the building to breathe from the inside out and invites you to linger. In addition, a central entrance hall was created that connects the new and old wing. A day café was also created here to serve as a new meeting place for residents and their families. Administration has also moved to this central area.
COLOR CONCEPT AND MATERIALIZATION
A strict color concept runs through the entire building. Both inside and on the facade, the color scheme was kept strictly tone on tone and coordinated. The play with different surfaces and the combination of harmonious colors create a pleasant atmosphere for every resident, visitor and employee. The use of native woods further underlines this impression.
What makes this project one-of-a-kind?
The integration of the new building into the existing structure and the consideration for all its residents. The restrained single-storey structure results in absolute equality in the whole building. A common inner courtyard enlivens the building from the inside out and creates a freedom of movement.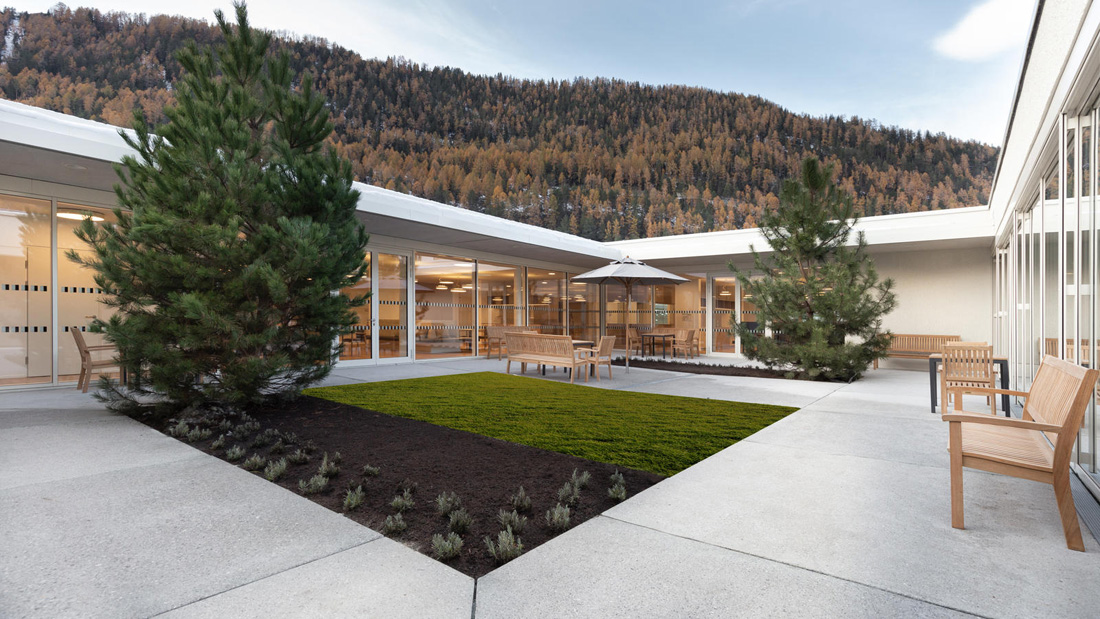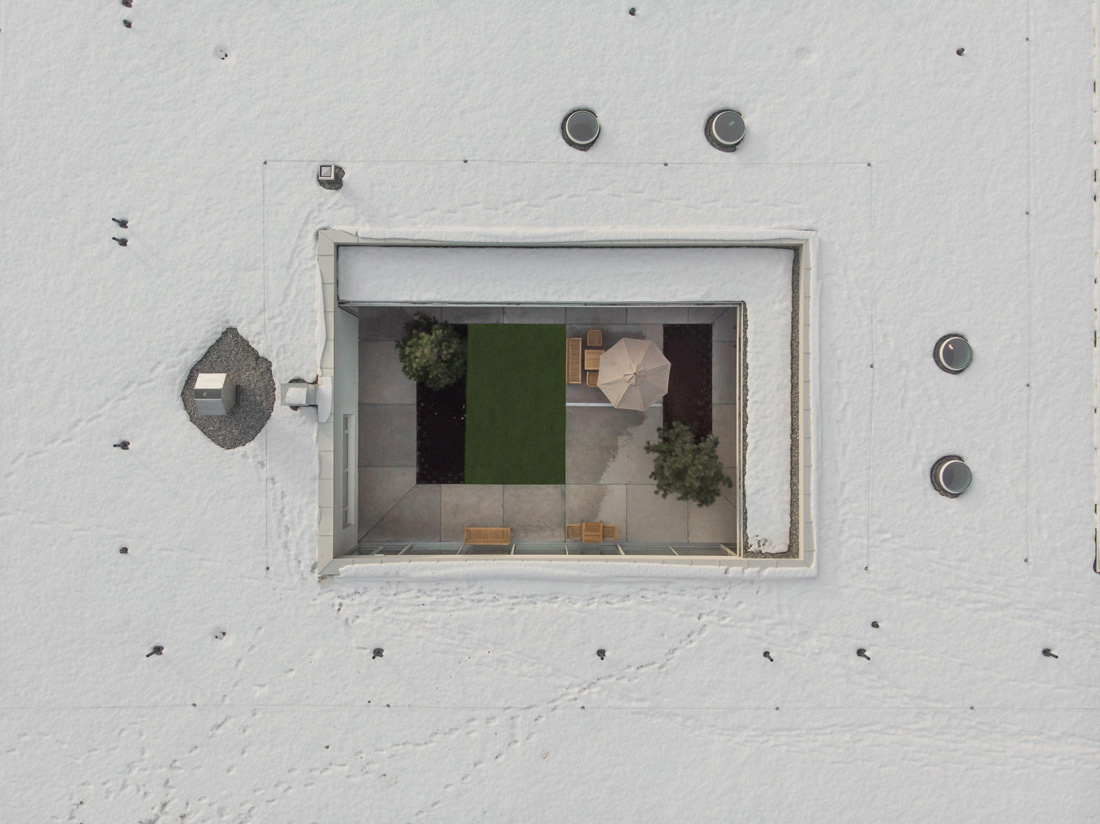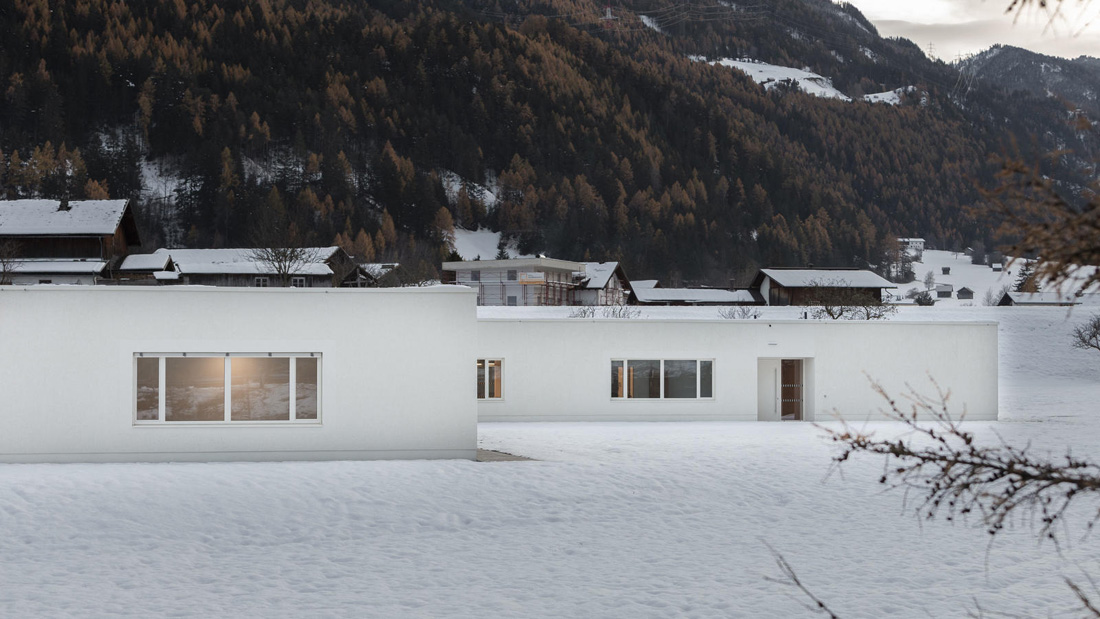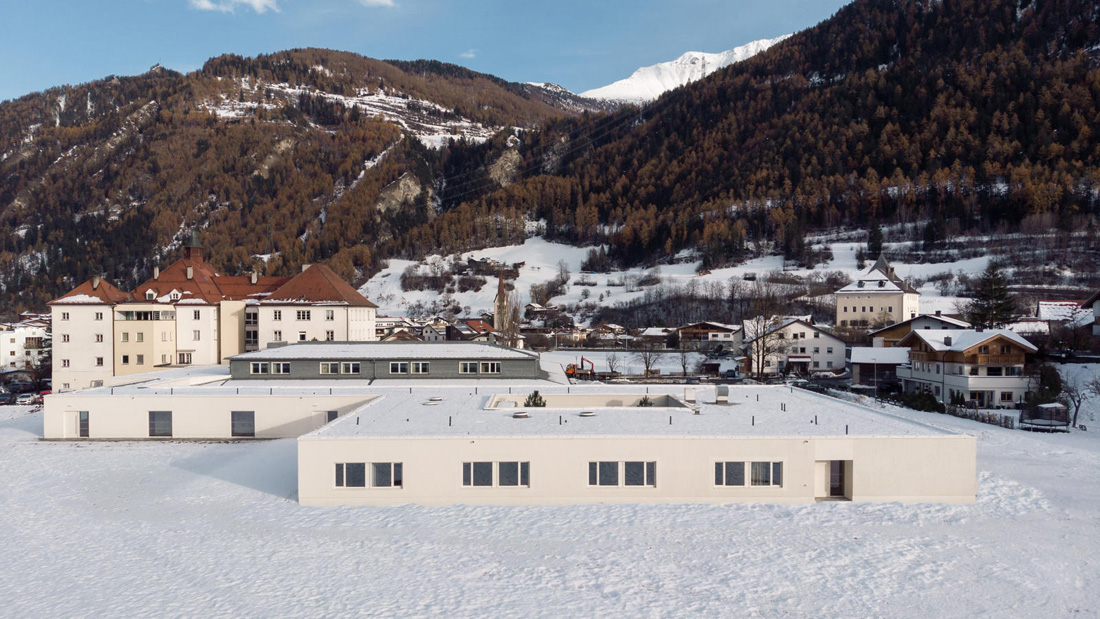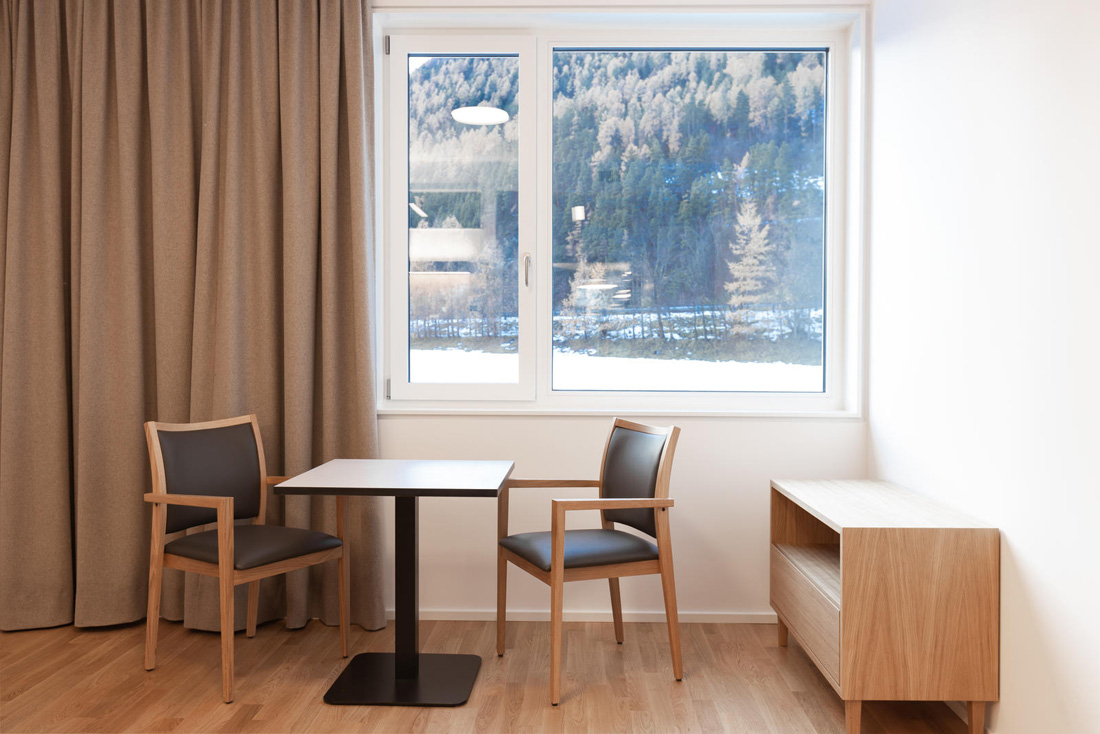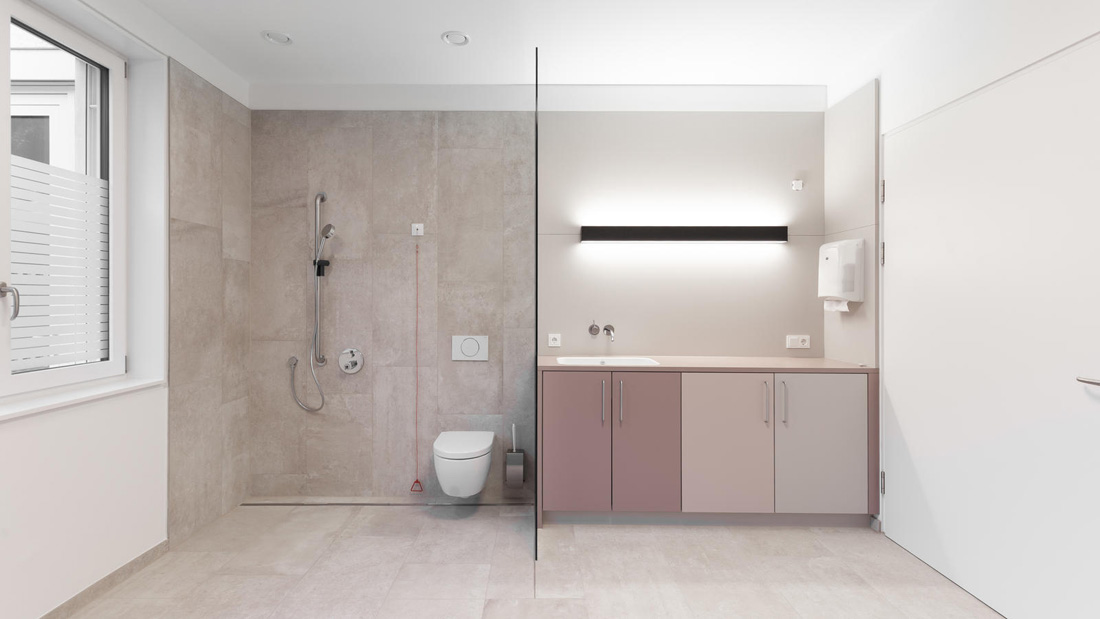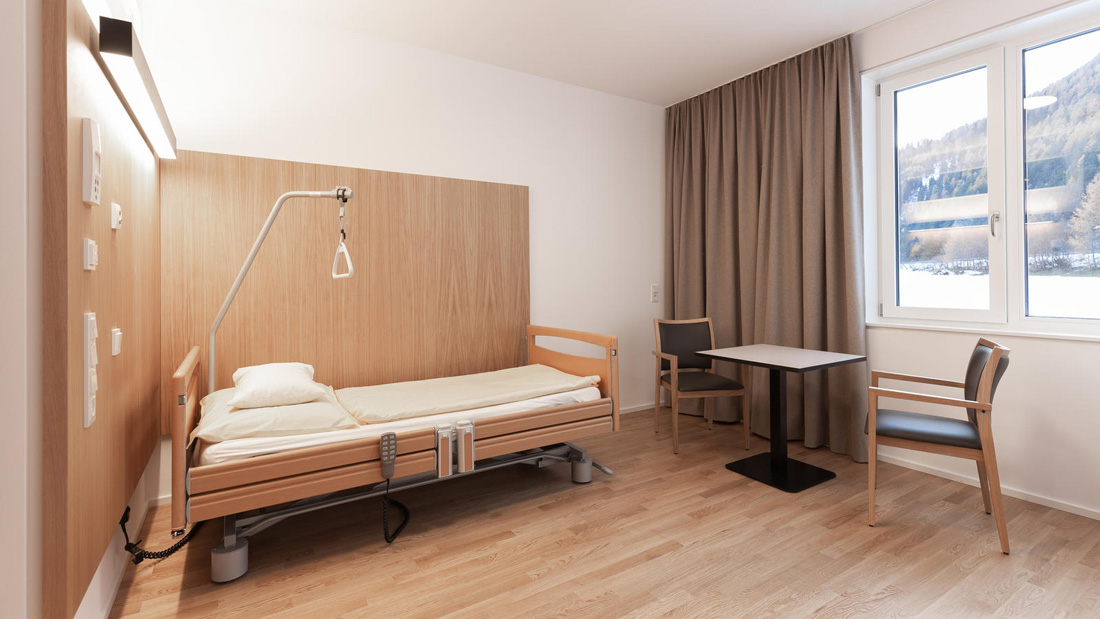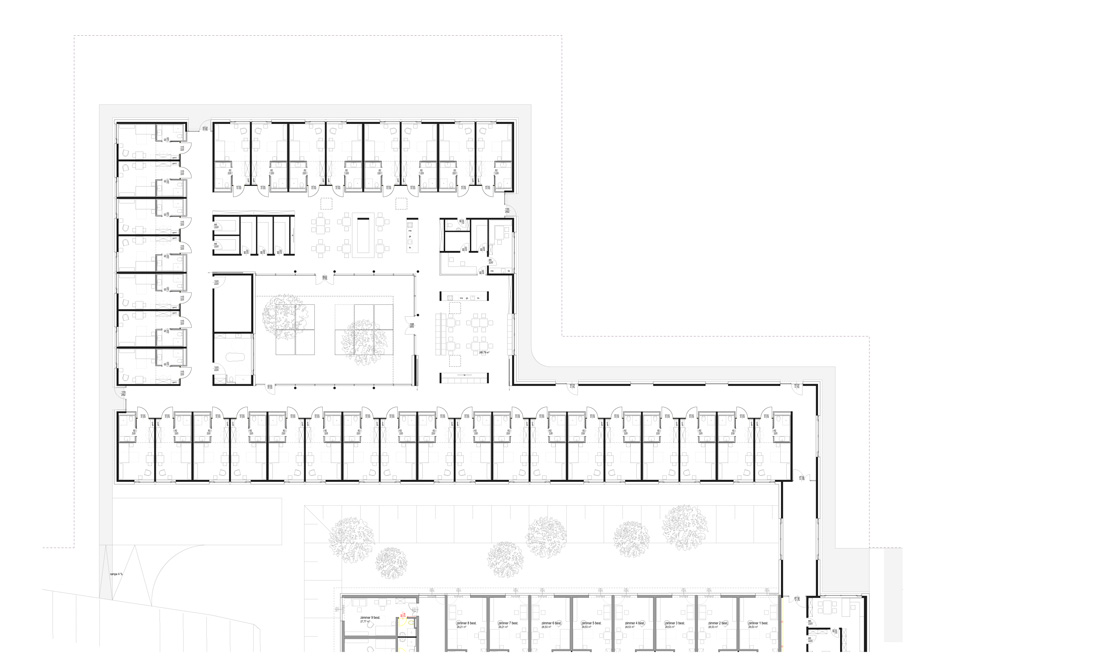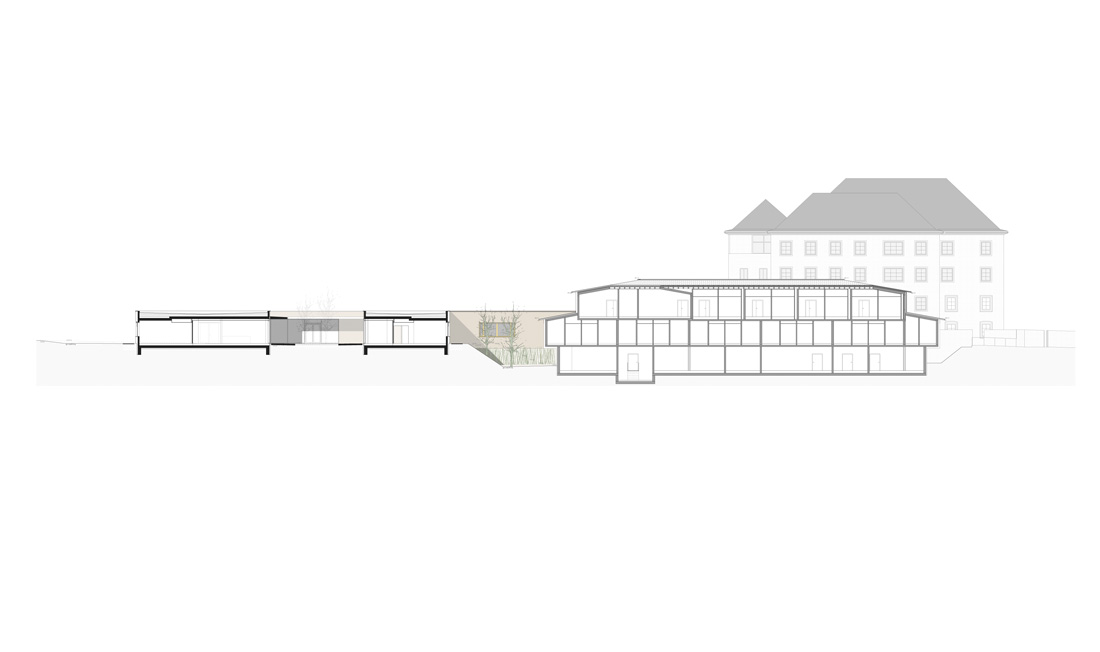 Credits
Architecture
ROECK Architekten
Client
Alten- und Pflegeheime der Barmherzigen
Year of completion
2019
Location
Ried im Oberinntal, Tirol, Austria
Total area
2.600 m2
Photos
Rossner Dominik
Project Partners
Lochner Baucontrol, Bauphysik Dr. Scherpke, Brandschutz Thaler, Grund und Boden Geotechnik GmbH, Baumeister Christoph Gigele, a+t architektur tragwerksplanung DI Martin Schindl, Moser & Partner Ingenieurbüro GmbH, Büro Kofler ZT GmbH, ARGE HEIM SANTA KATHARINA Fröschl AG & CO. KG + Hilti & Jehle GmbH, Johann Huter & Söhne, Polzinger GmbH, Peneder Bau-Elemente GmbH, Elektrotechnik Günther Handle GmbH, KPS – Ötztal Putzgesellschaft m.b.H., M. Pardeller GmbH, M. Zottler Tischlerei GmbH, Jenewein Fliesen GmbH, KPS – Ötztal Putzgesellschaft m.b.H., ARGE HEIM SANTA KATHARINA Luzian Bouvier + Franz Bouvier, Malerei Heidinger e.U., H. Ploberger GmbH, FAWO GmbH, Zebisch Trockenbau GmbH, KPS – Ötztal Putzgesellschaft m.b.H., Handle Robert Zimmerei GesmbH
Related posts
Powered by