GRUENE ERDE has specialized on designing and producing products that are driven by a most ecological, sustainable thinking and business practice – all that with a close look on socially fair trading and material chains of re-growing resources.
We answer in designing an entire ecosystem. A systems design approach that introduces breathing into buildings. A sensual and atmospheric space that is literally breathing in oxygen originating from its vegetated courtyards. Plant-performance providing fresh clean air and oxygen to breathe, while cooling all spaces and fully substituting conventional climate machines. A design that is 98,5% petroleum free and powered by renewable energy from 100% on-site resources. The end of air-conditioning as we know it and a beginning for a new kind of co-habitation on our planet Earth.
Like inverted clearings in a forest, the interior landscape of the new GRÜNE ERDE headquarters is structured by thirteen patios allowing daylight to impact our way we sensually experience our daily working and living environment.  Here, individual plant communities of nine Austrian living forest ecotopes provide oxygen and microclimate, sensual experiences and great comfort, for people, flora and fauna to thrive. A sequence of breathing spaces has been created, whose richly planted climatic courtyards provide air with a scent of forest. Wooden columns then standing freely as if in a forest, high wooden ceilings, the changing play of light, sometimes confined, sometimes wide and open, constantly changing visual references.
A walk through the Gruene Erde interiors is reminiscent of a walk through the forest, providing impressions that don't need to be analyzed in a great way, but that simply come about, that you feel and enjoy.
What makes this project one-of-a-kind?
The distinguished BIGSEE Award is about inspiration. And we are keen to inspire a larger audience with one possible future: it is plant-based, petroleum-free, socially just and ecologically sound. It is about living and connecting to fellow humans and to our alive environment — to rethink given standards in design, material use, energy usage and bio-climatic design of large structures. How can we think it all together? We suggest one possible answer with this plant-based project. A project where an eco-innovation company and our explorative ecological aims matched for a 'proof of concept'.
At the Breathing Headquarters of Gruene Erde, for the first time world-wide, large-scale "climatic and atmospheric plant performance" is being applied for the climate, ventilation and cooling concept, based on our concept for the Austrian Pavilion 2015 in Milan. In 13 courtyards the forest plant-communities are unfolding their climatic and atmospheric "plant-performance". They are creating a microclimate, provide natural, living light and provide air and fresh oxygen for the entire building ventilation – substituting all mechanical climate machines!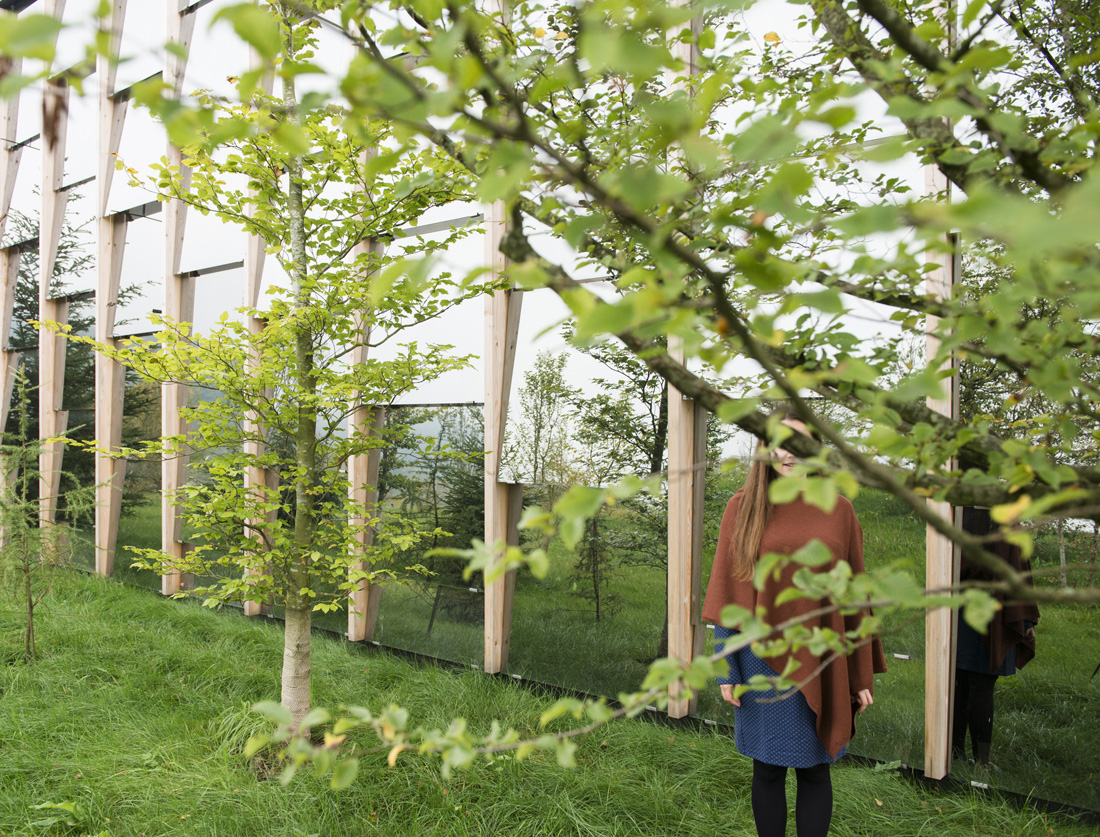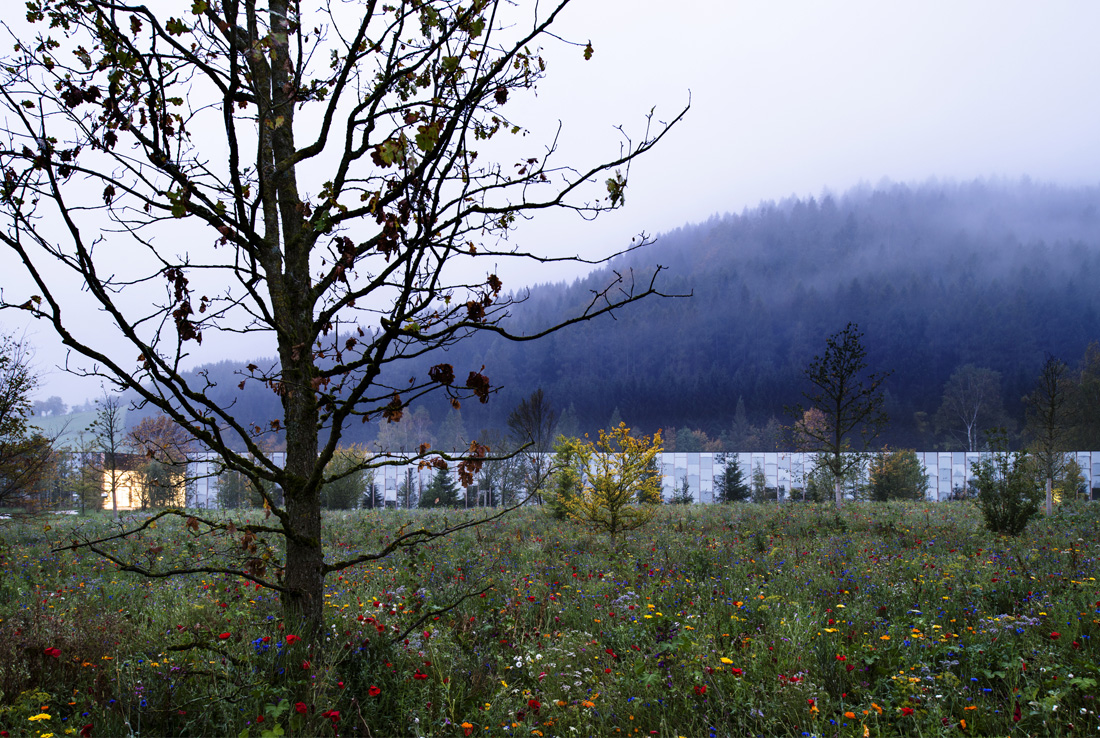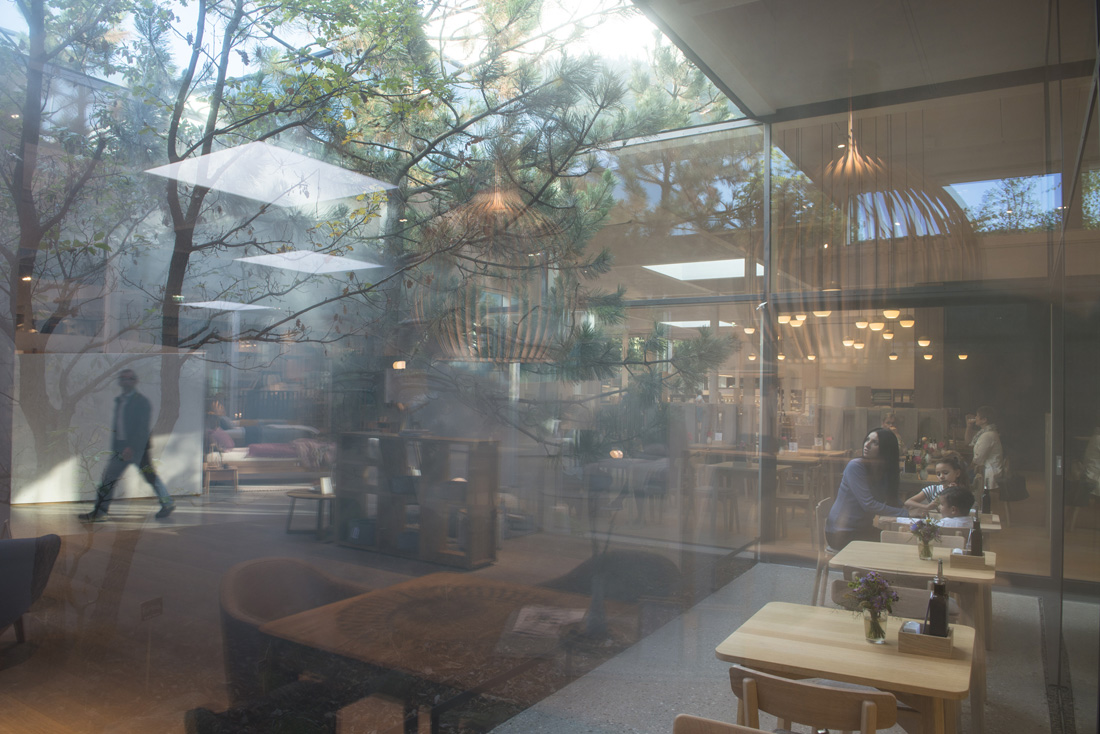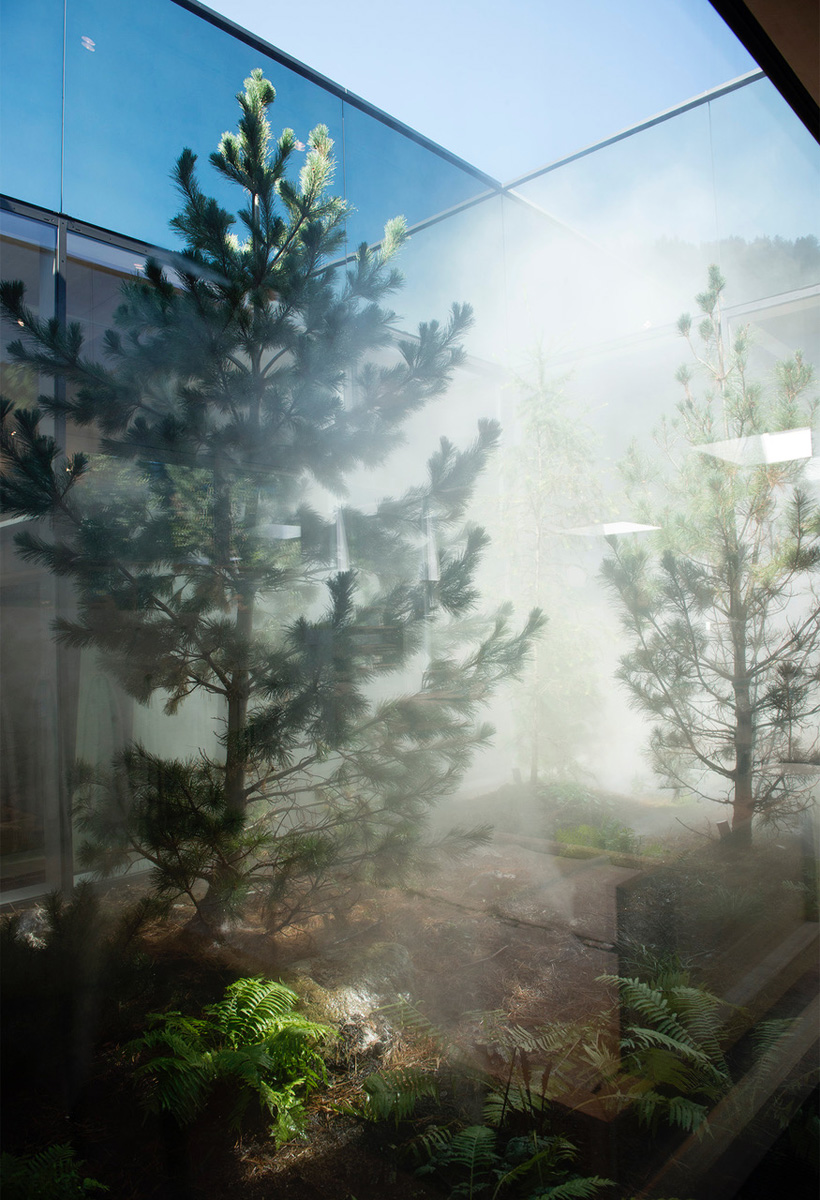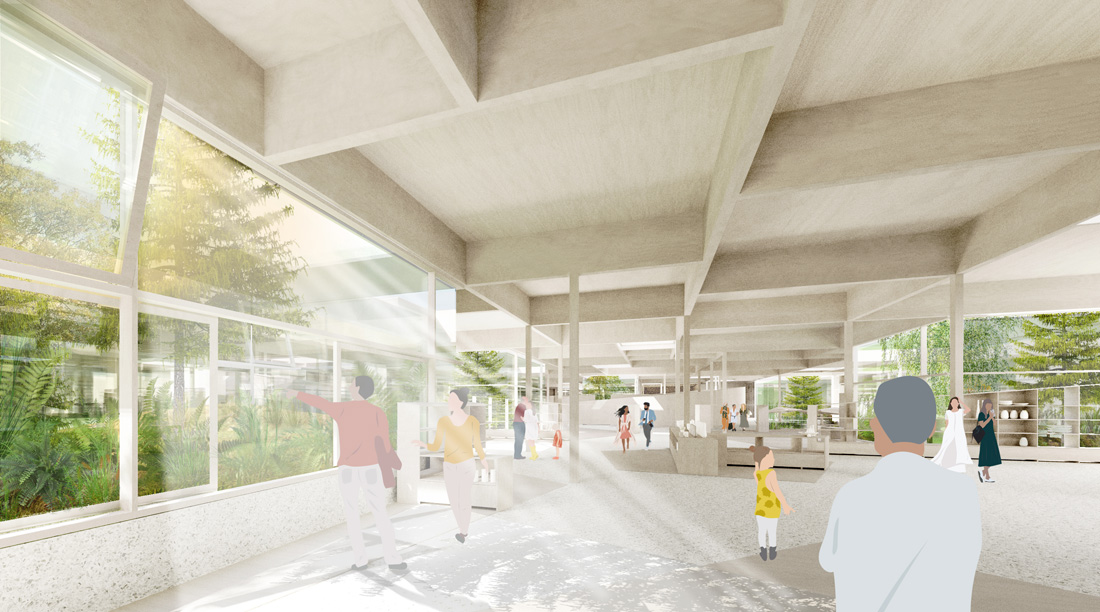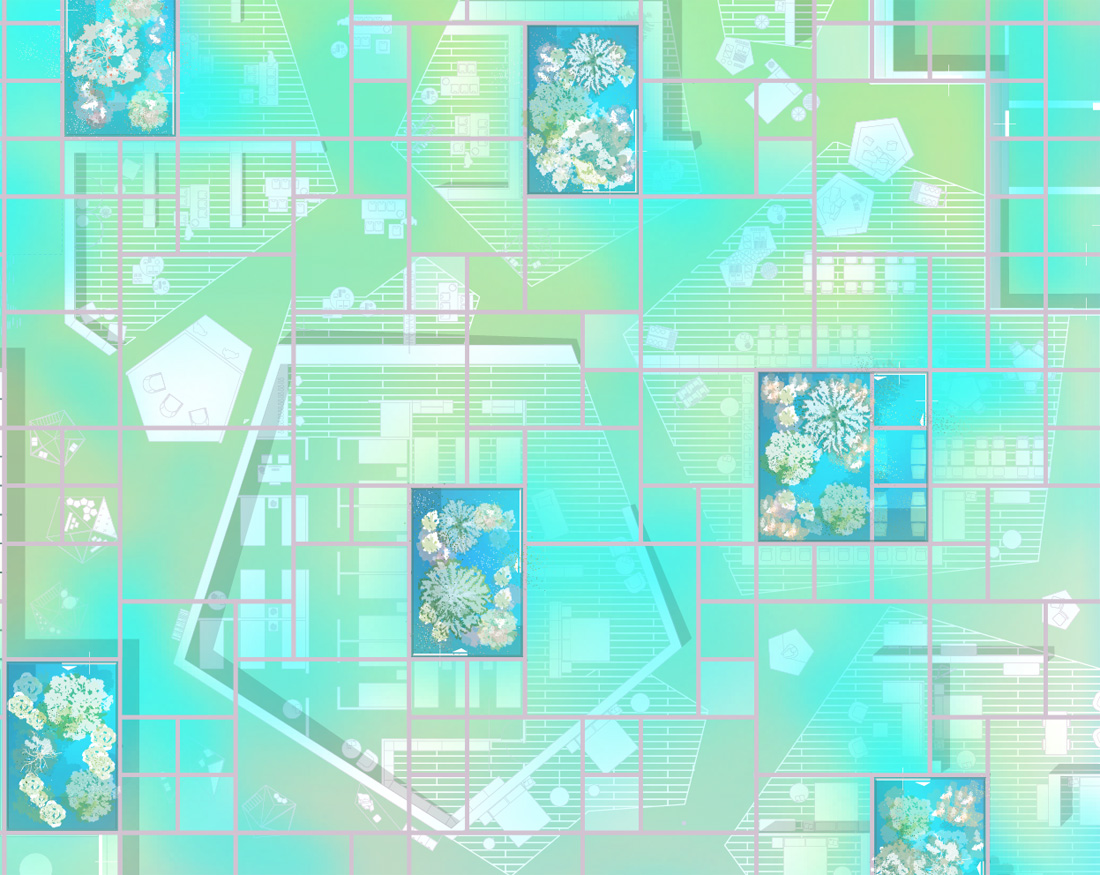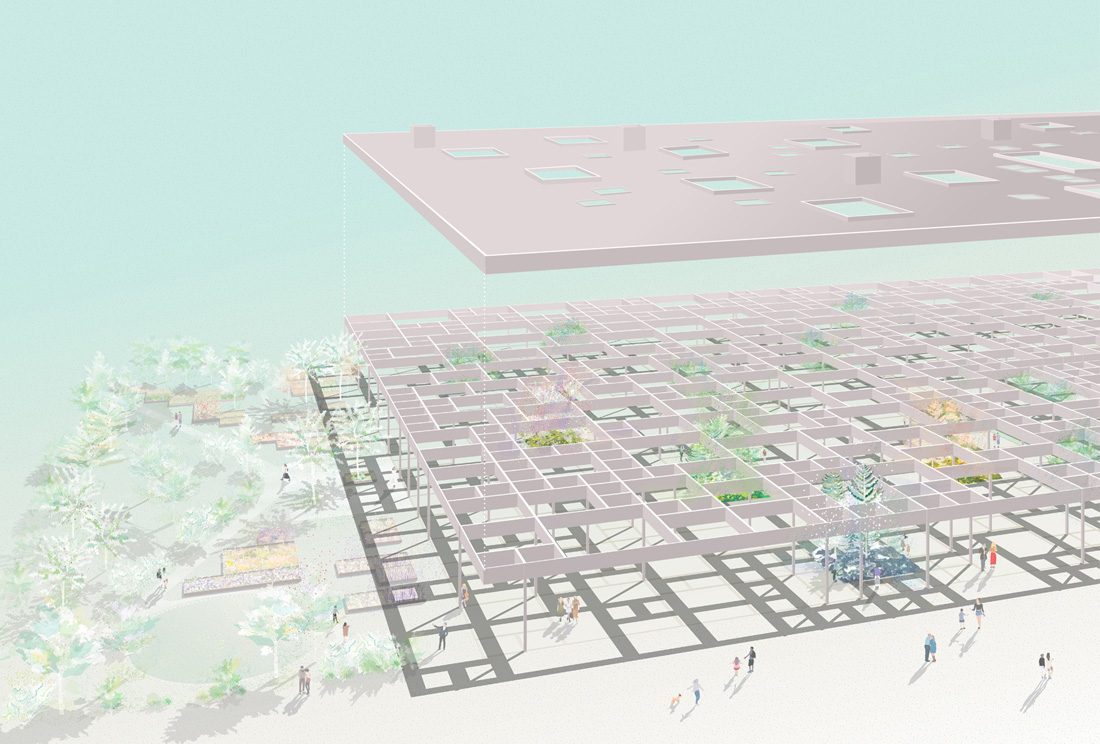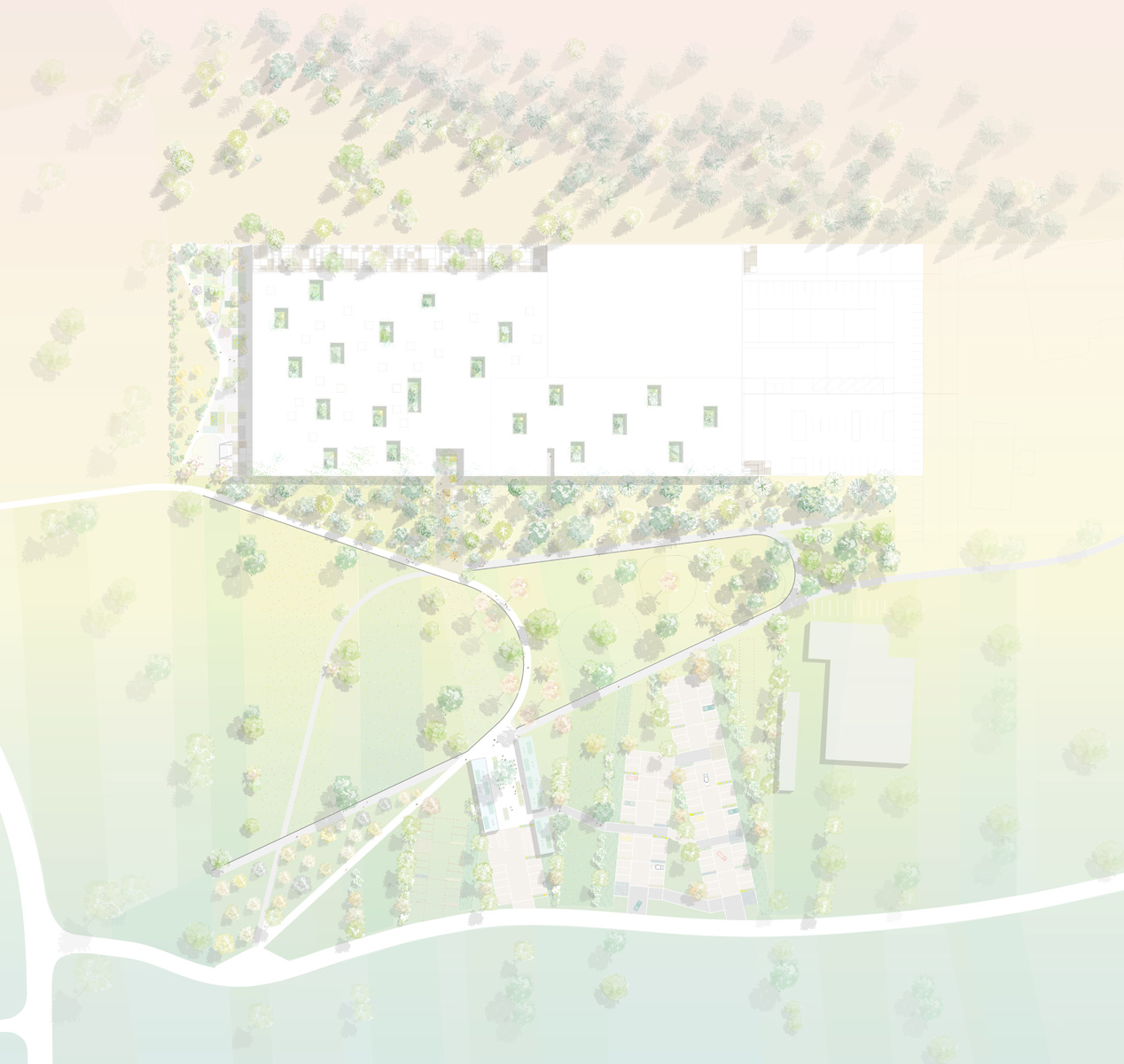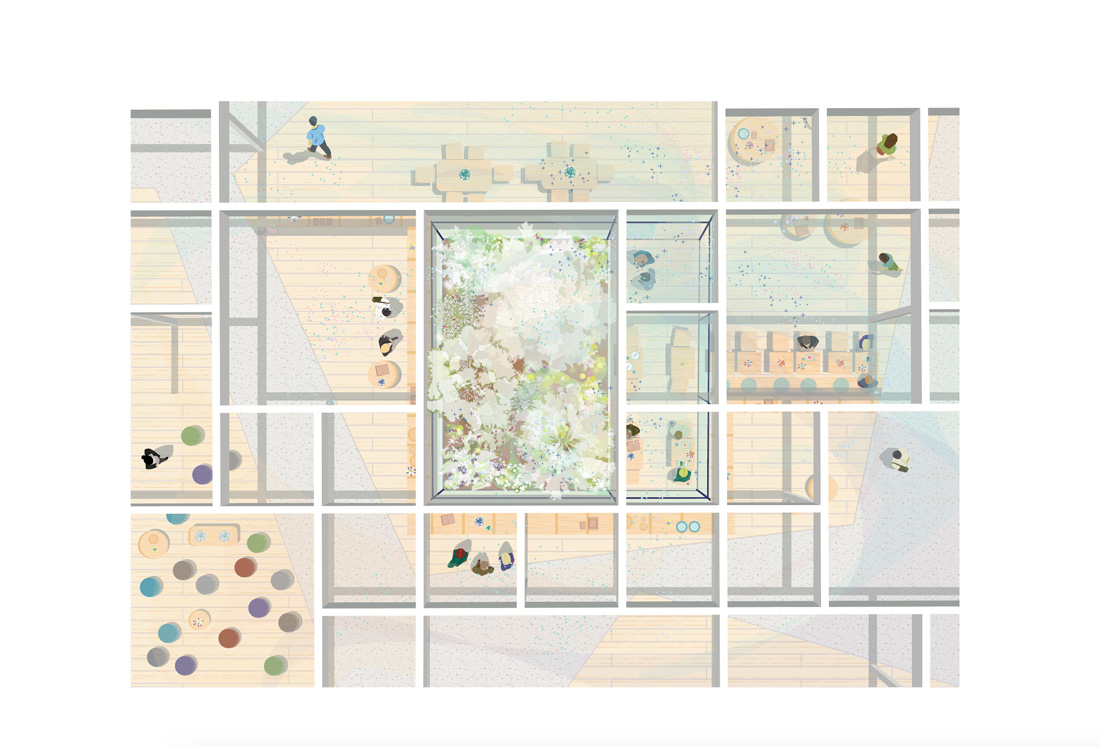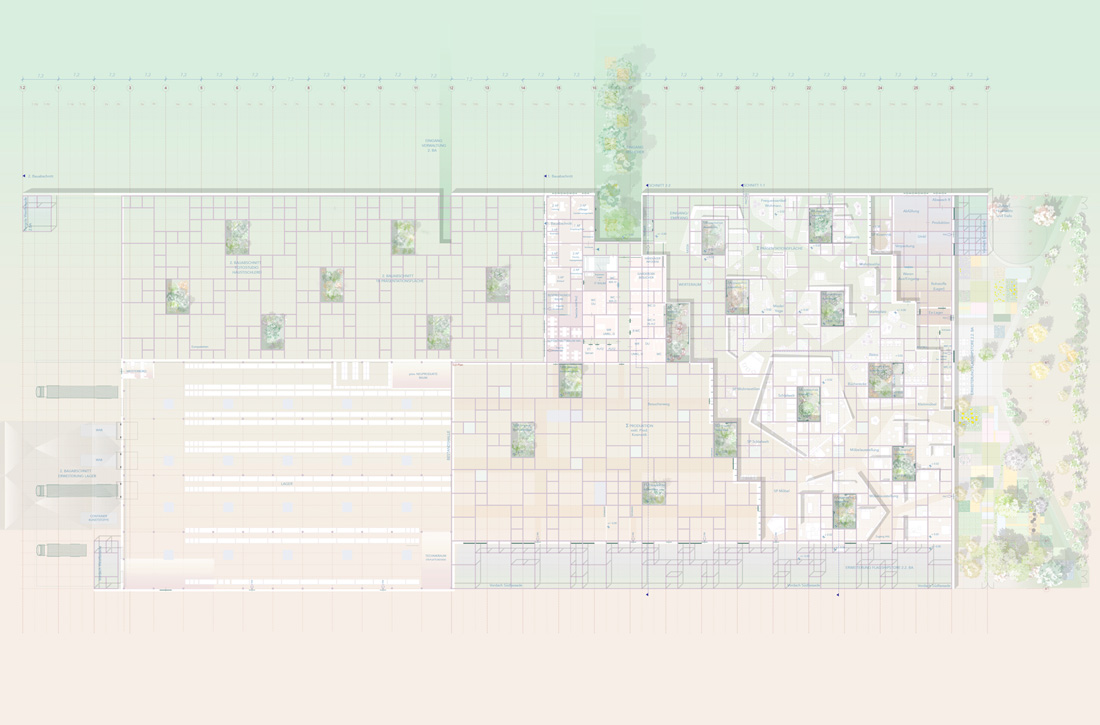 Credits
Conception, design, detailed design and artistic construction supervison
terrain: integral designs BDA  Munich / Graz; Klaus K. Loenhart, Katharina Hengel, Claudia Pittino, Clara Hamann, Maria Fellinger, Kathi Zull, Zoe Yan Zou, Paul Frick
Construction documentation, detailed design and construction management
ARKADE GmbH; Klaus Landerl, Gabriel Trinkl, Manfred Leitgeb
Landscape design
terrain: integral designs BDA  Munich / Graz; Klaus K. Loenhart, Katharina Hengel, Claudia Pittino, Zoe Yan Zou, Ondrej Hanuz
Climate engineering
Transsolar KlimaEngineering; Wolfgang Kessling, Dietmar Geiselmann, Daniel Kiehlmann
Structural conception
terrain: integral designs BDA Munich / Graz; Klaus K. Loenhart, Paul Frick
Main contractor for wood construction
Obermayr Holzkonstruktionen GmbH
Client
Gruene Erde GmbH
Year of completion
2019
Location
Pettenbach, Upper Austria, Austria
Total area
9.800 m2
Site area
105.000 m2
Site area
105.000 m2

Photo
Terrain/Jan Schünke

Project Partners
TB Freudenthaler GmbH St. Florian, Vedder Lichtmanagement München, Lehner Josef e.U. Amstetten, Obermayr Holzkonstruktionen GmbH Schwanenstadt, Elektro Kremsmair GmbH Ried im Traunkreis, Ing. Dietmar Waser GmbH Kirchdorf, Kupfmüller Bau GmbH&CoKG Pfarrkirchen, Luckeneder GmbH Scharnstein, Fussboden Pammer e.U., St. Johann am Wimberg, Ökoplant GmbH Wels
Related posts
Powered by