At first, on this project we set out to determine the company's profile and the needs of the employees, the end users of the spaces. We found out that over the past 17 years they have built their organization around a simple philosophy:" Focusing on helping people succeed (people who work for the company, the people who engage with them and the clients). Along with investing in long term customer relationships, Endava recognized the importance of providing rewarding and challenging careers for people and, by doing so, has established itself as the employer of choice for the best and brightest engineers." The traditional service desk model, built around low-cost staff and volume services has become obsolete.
Due to the dynamics of the team, the size of the office space (around 9000 sqm) and the connections we were trying to create, we changed our usual approach of office design. At least on a high level, the main idea was to replace the usual office design with a more urban approach. What if we designed an office space using urban design strategies, making connections between people and places, nature and built fabric? The design concept uses city design and the idea of cities in general for creating areas where people cohabitate, come together and share things in quick and easy manner. Instead of having a main hallway, there's a large 'avenue' running from end to end. The reception acts as a sort of 'town square'. Glass paneled meeting rooms are similar with the places you can usually find on a big street – shops , parks , concert hall, library , restaurants , coffee points etc. The design of the office supports interaction by moving around and having people connect in casual, natural ways.
Every support space such as reception, meeting rooms, training rooms, relax rooms, sports rooms, cafeteria, music room, Zen room have an urban correspondent such as: town square, cafe and restaurant with terrace, theatre, cinema, different stores, parking places (on a vertical plan), kindergarten, library, workshop, metro station, planetarium, recording studio, Japanese garden. The open office is designed as a general city scape as a connection between the support spaces. We used graffiti walls, decorative walls, greenery, pipes, light signs for this purpose. Each floor has its own color, to make the orientation easier. In fact, one of the main idea of the project was how to help the end user to proper knowledge the surroundings.
The materials we have used are usual for the office space but with an urban twist. The LVT in the reception area is designed like the stone slabs of a square, we used acoustic panels shaping trees and plants, the wallpaper on the columns is custom made city maps, the carpet we have used is shaping sidewalks, wet asphalt or stone slabs. In the reception area, the stretched ceiling enlightens interior space in a minimalist and graphic manner, imitating the sky.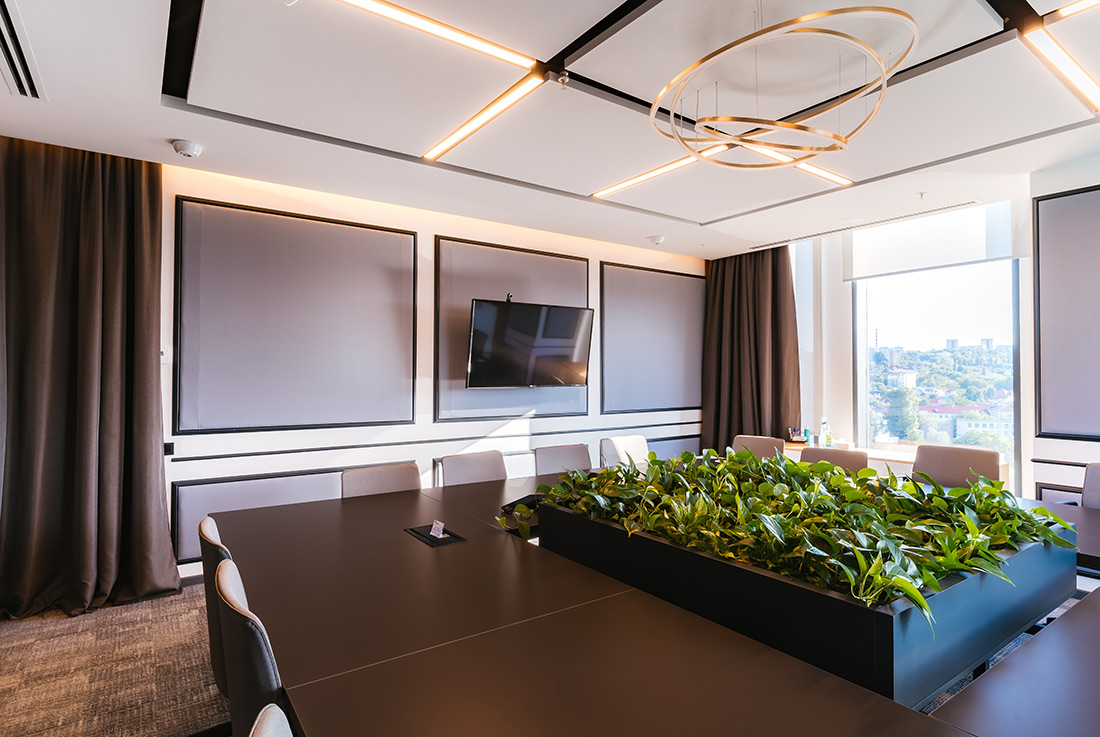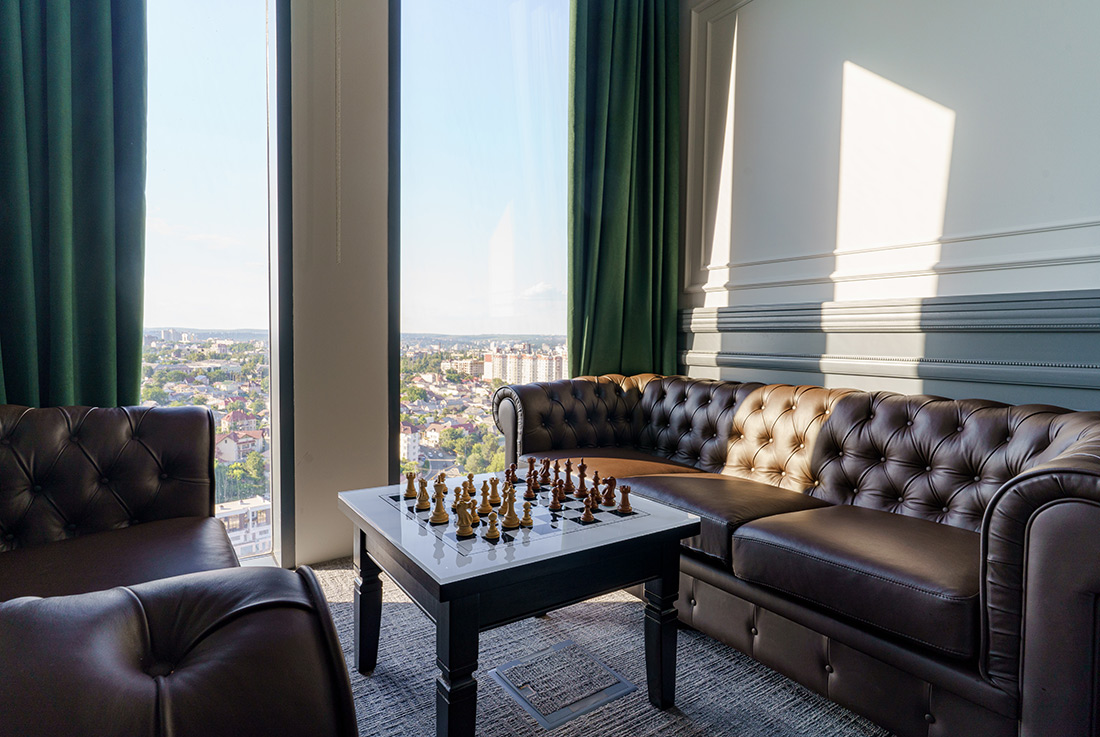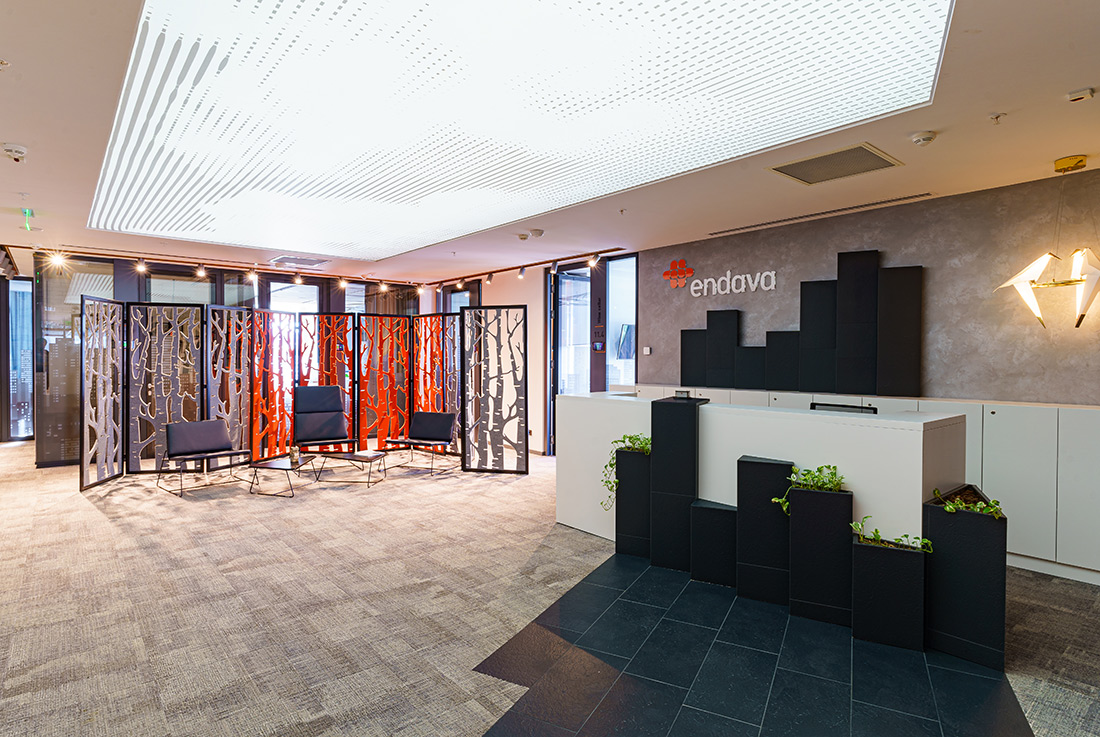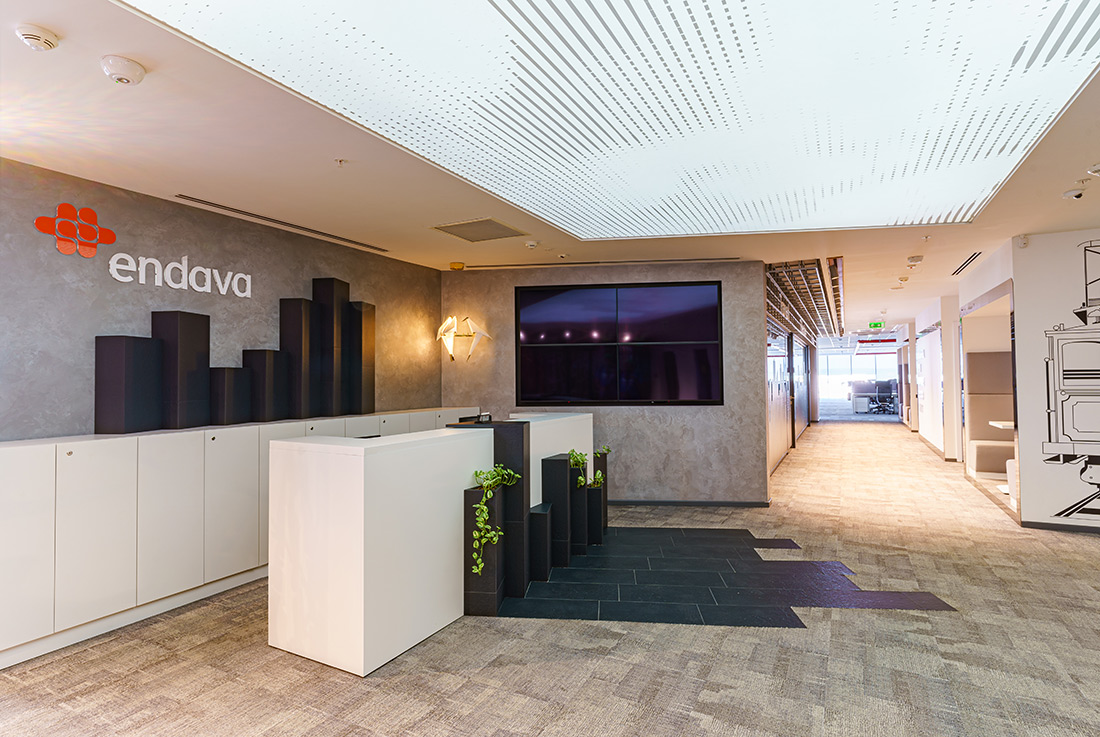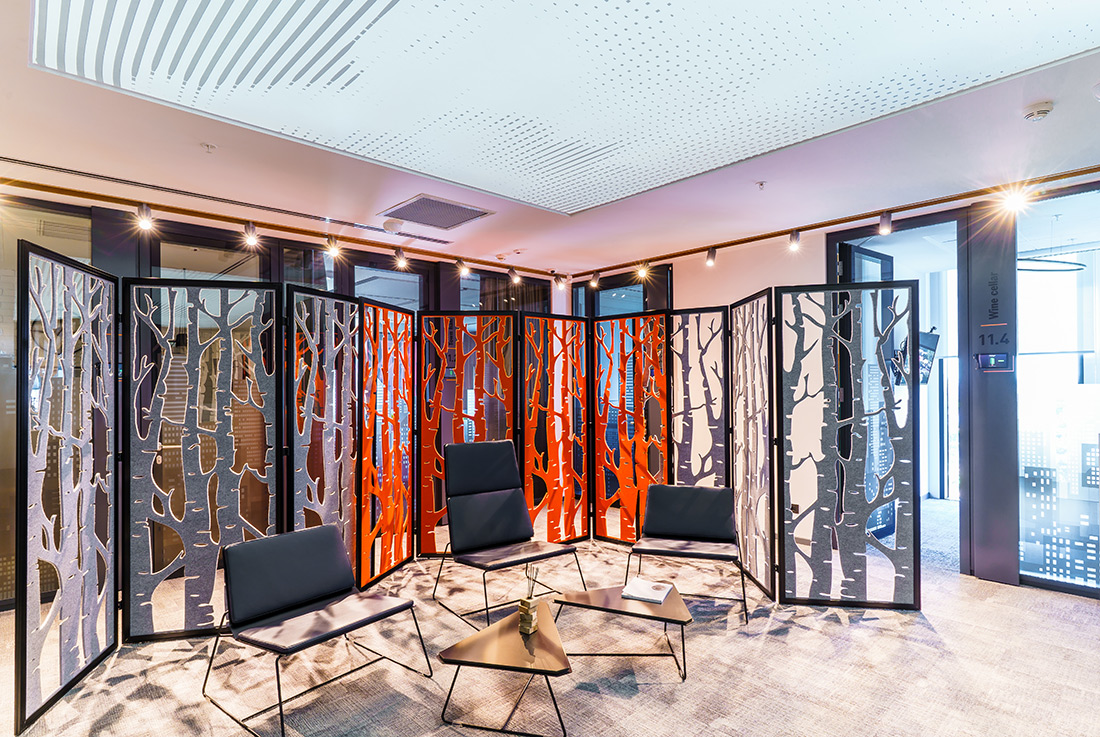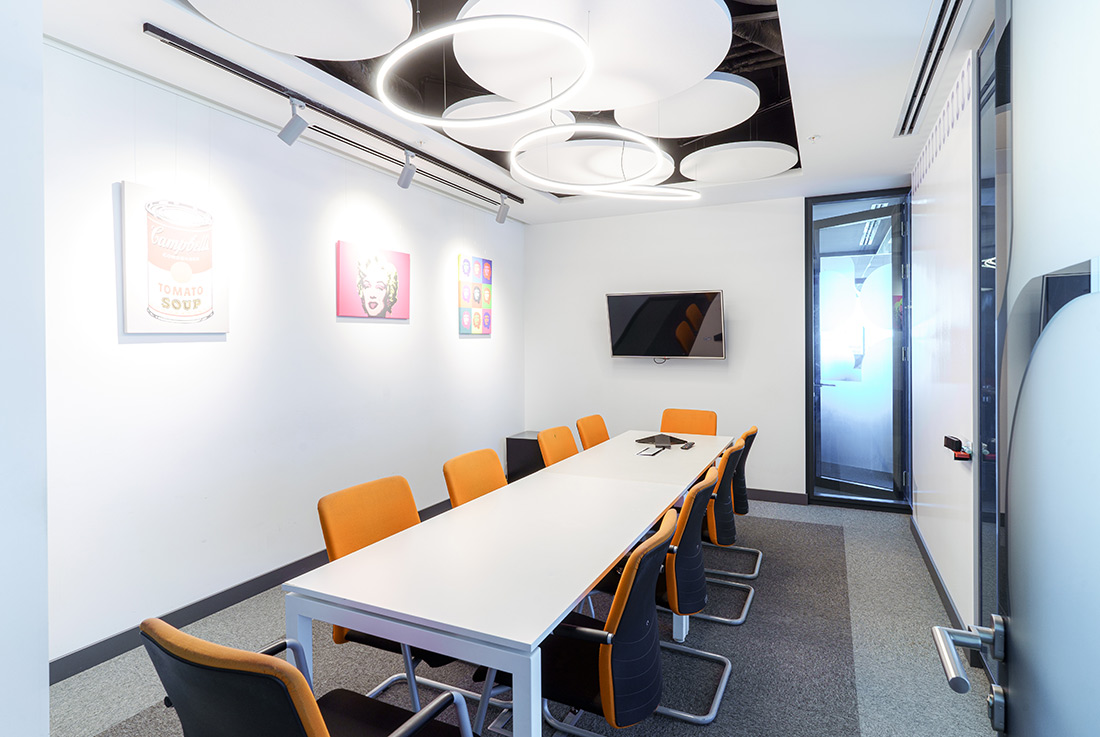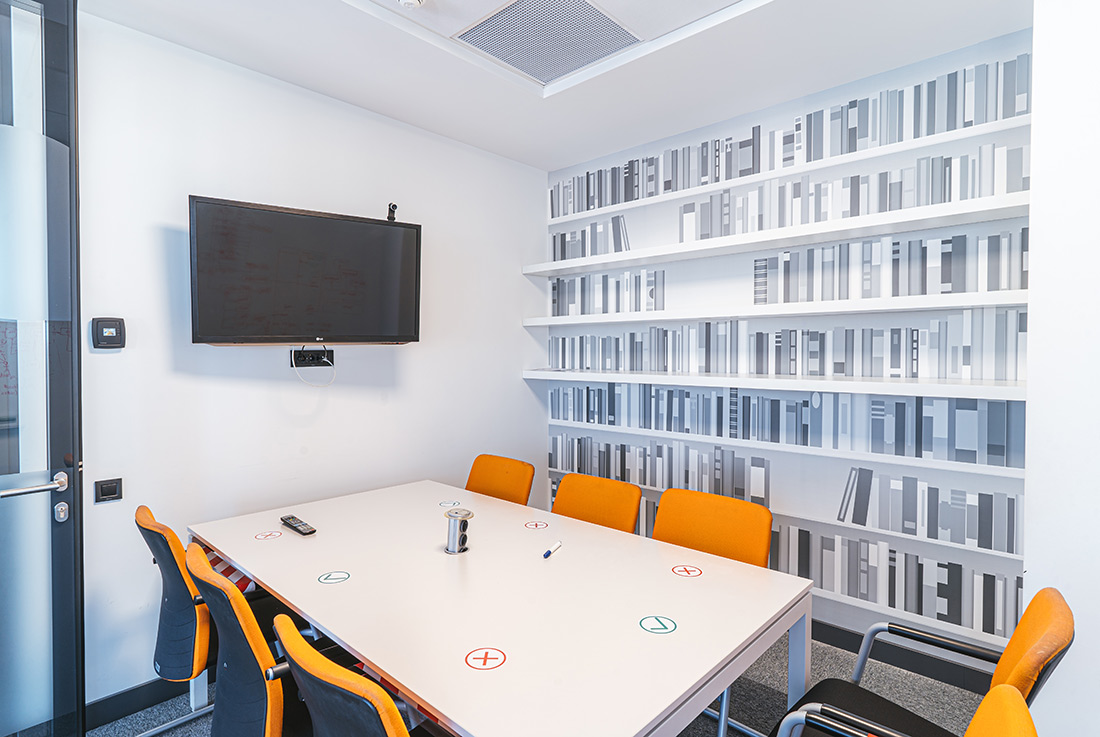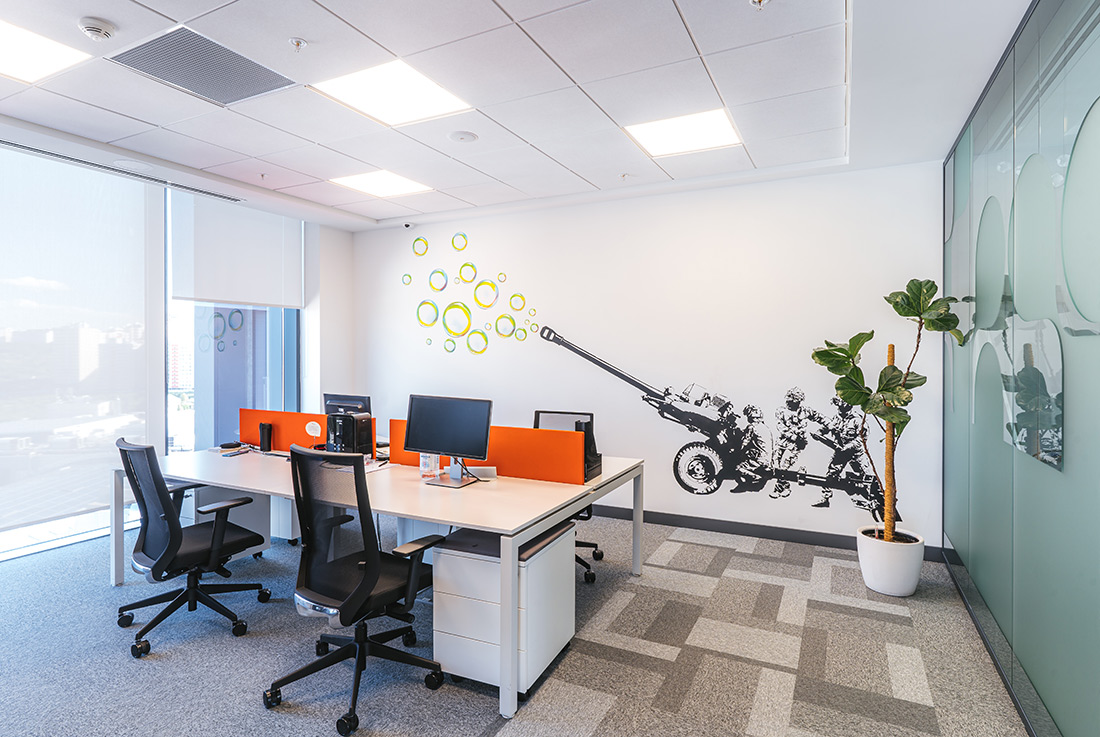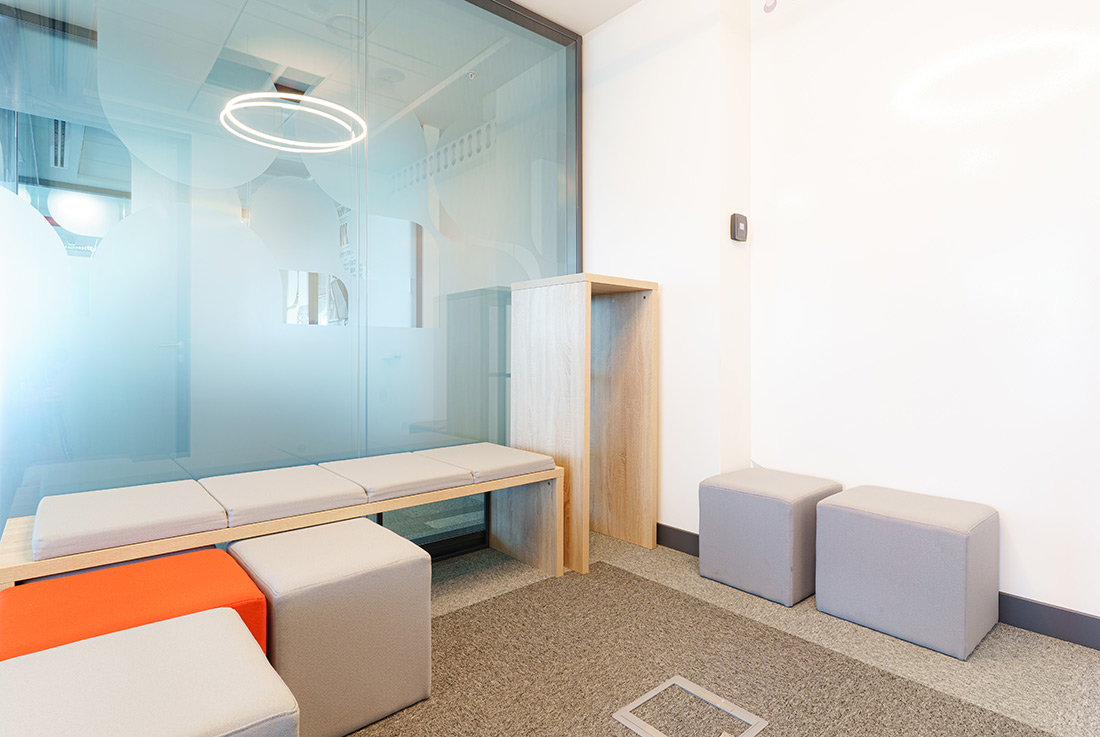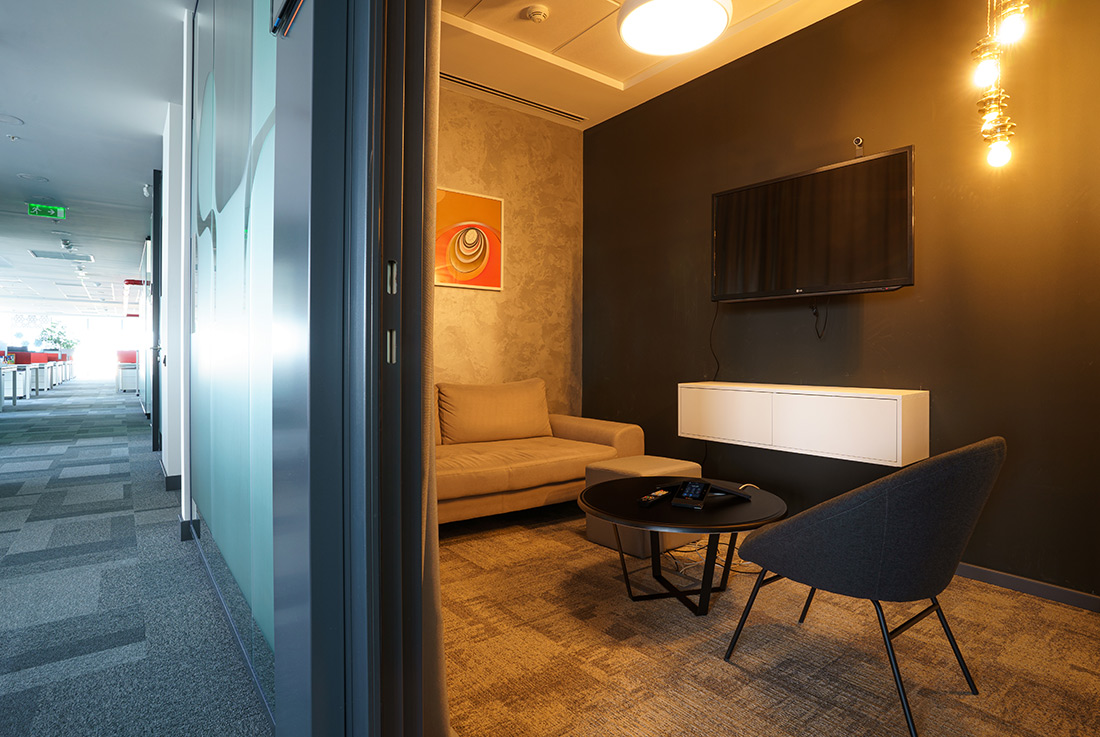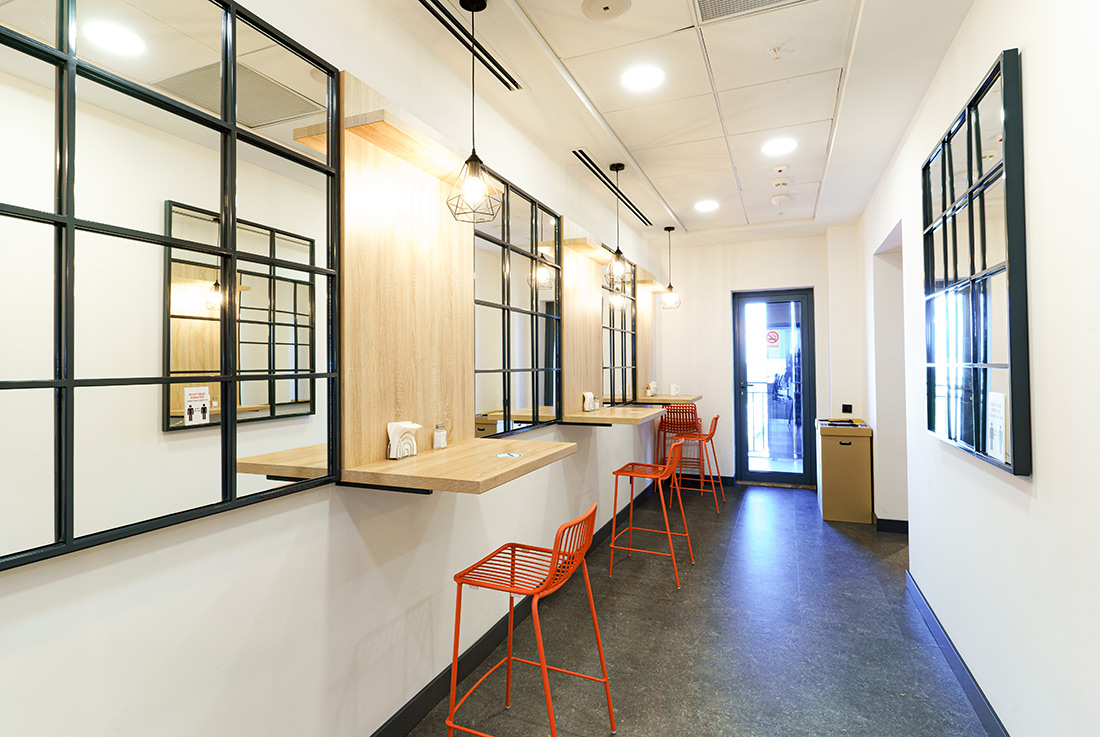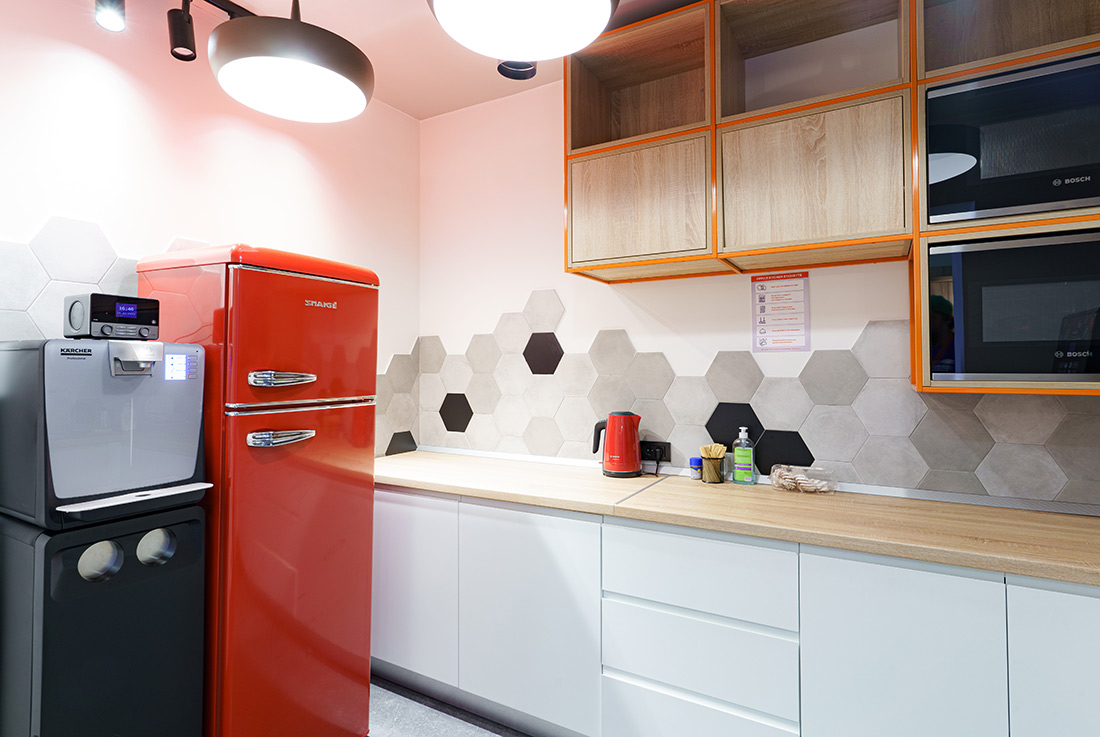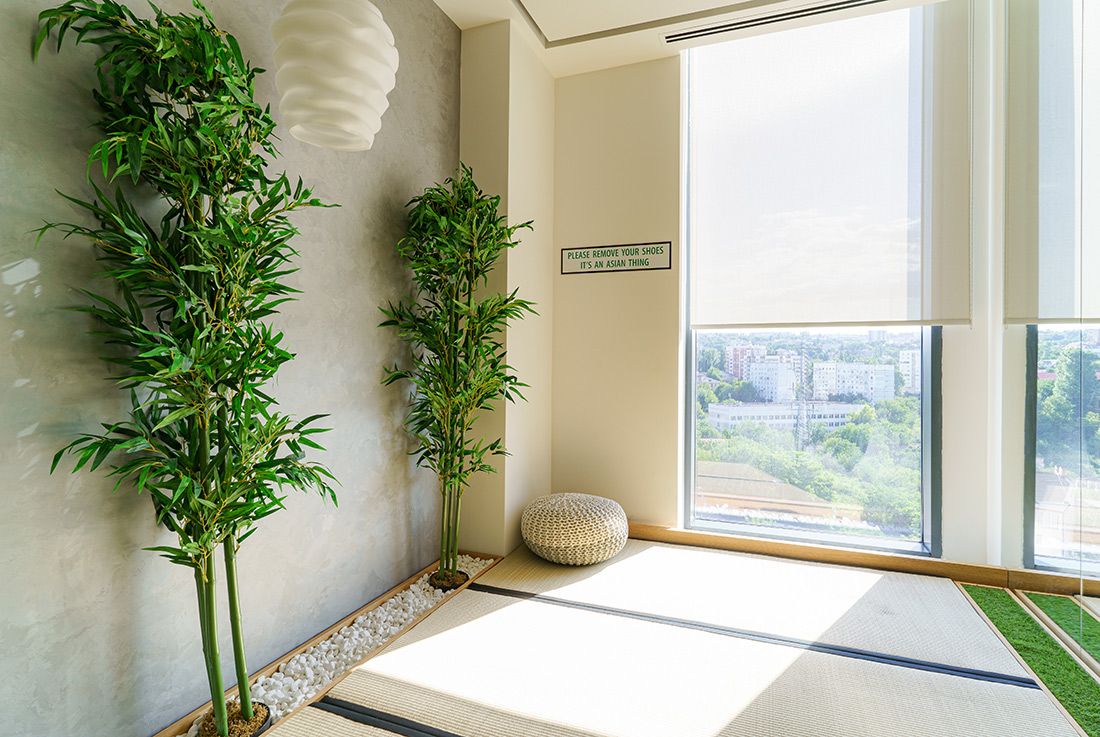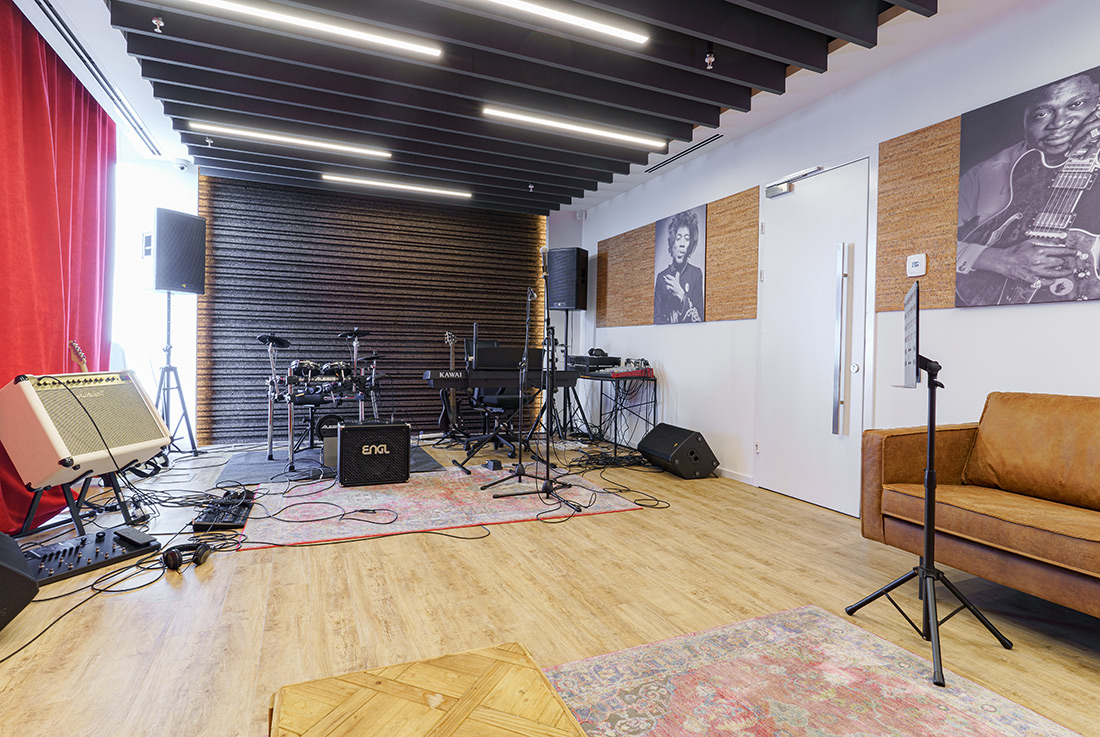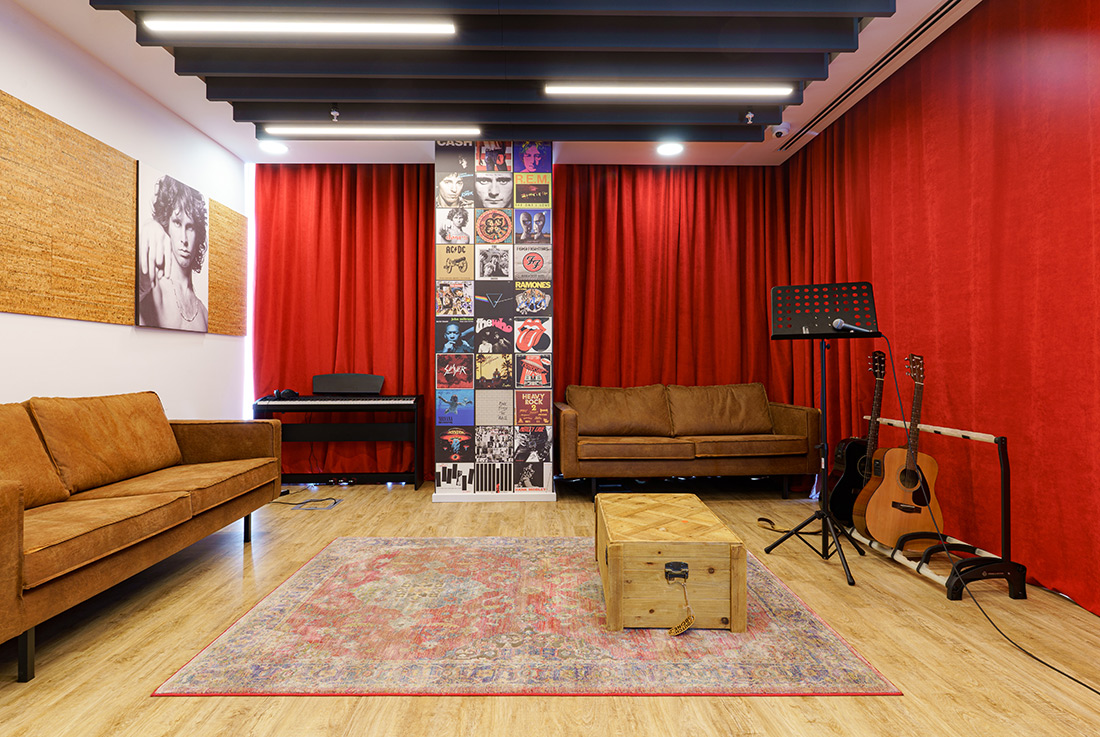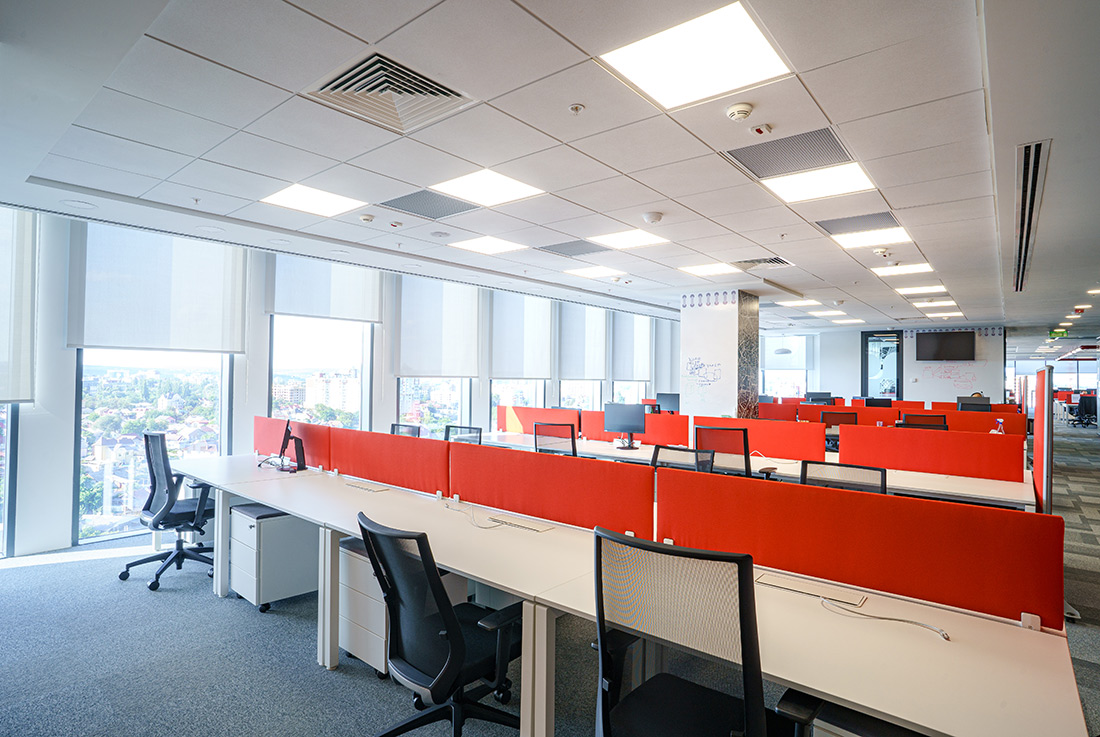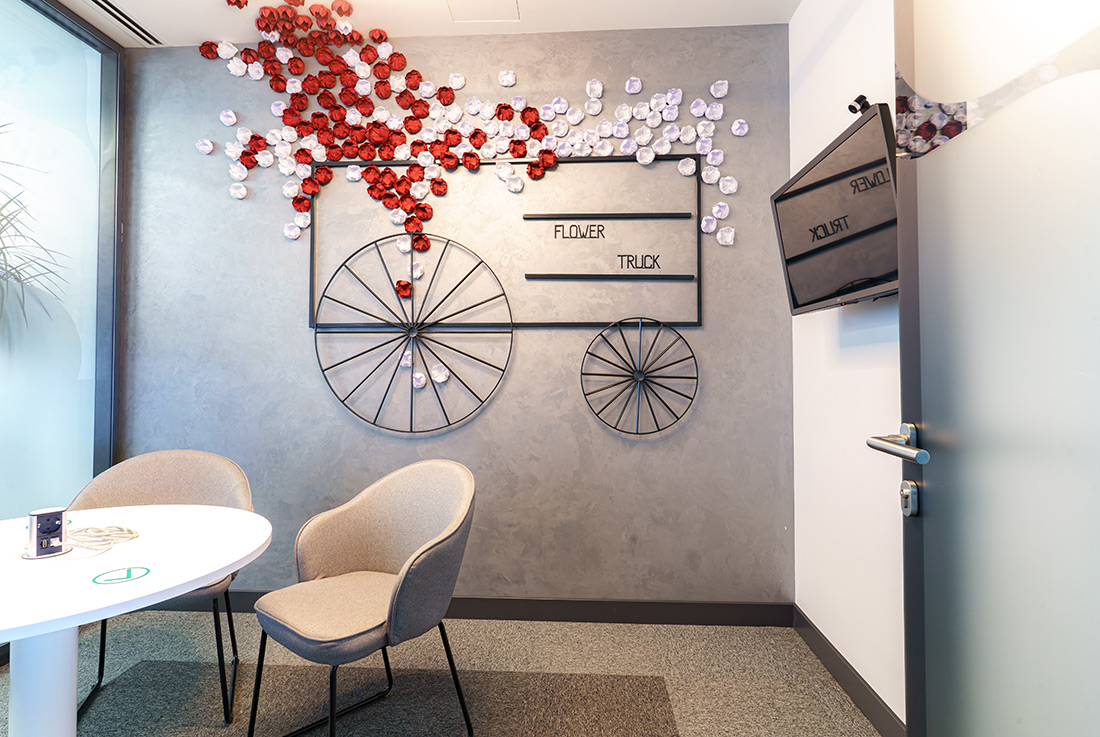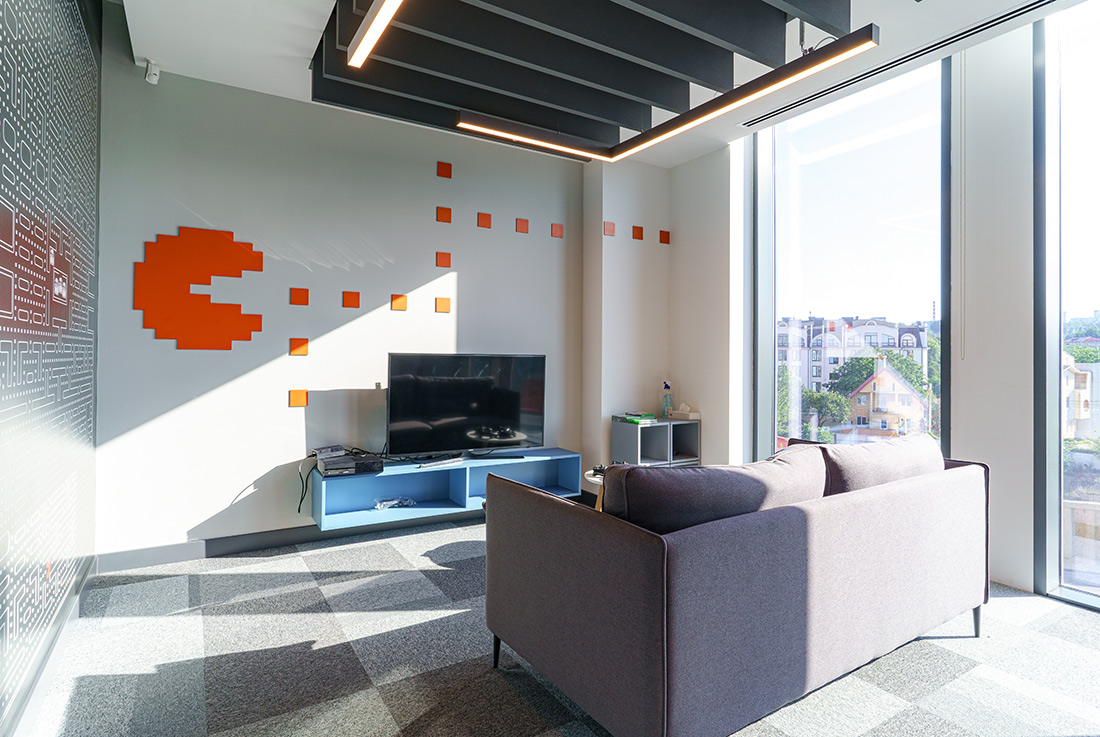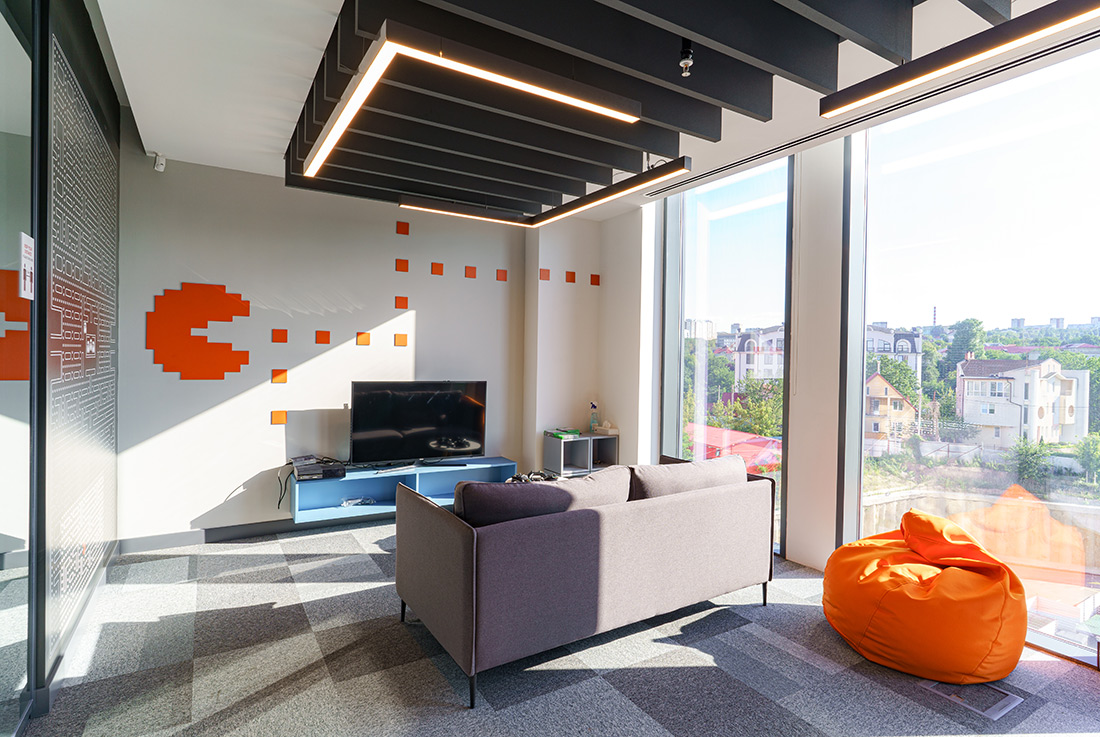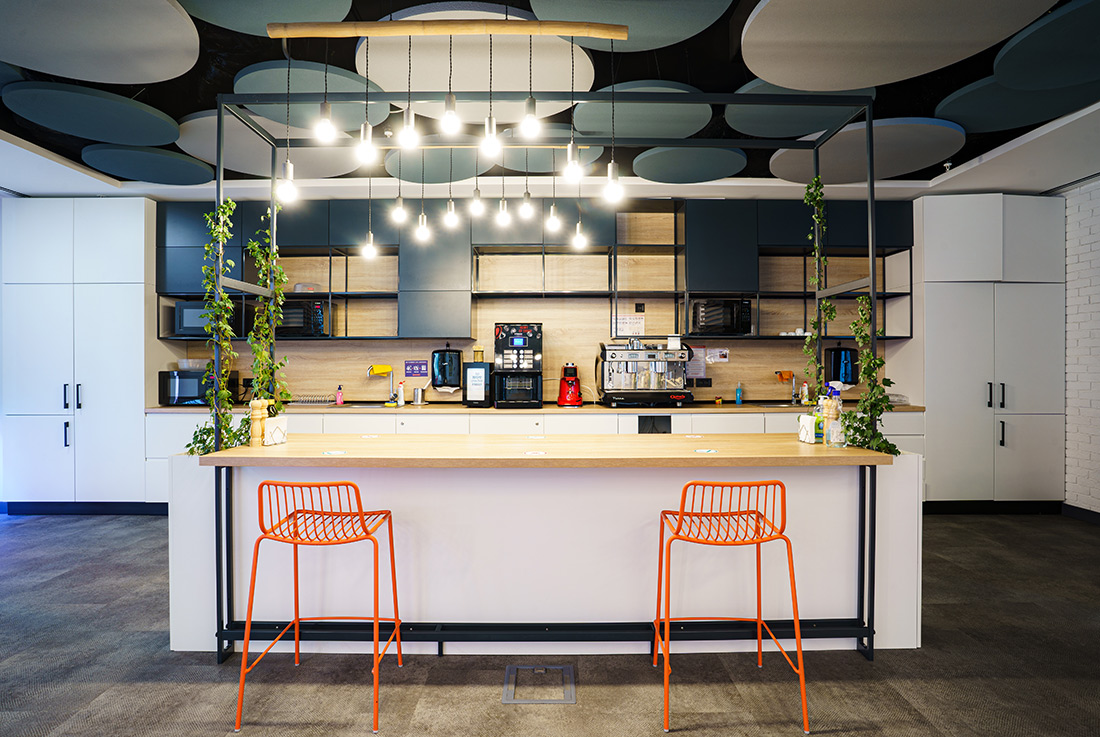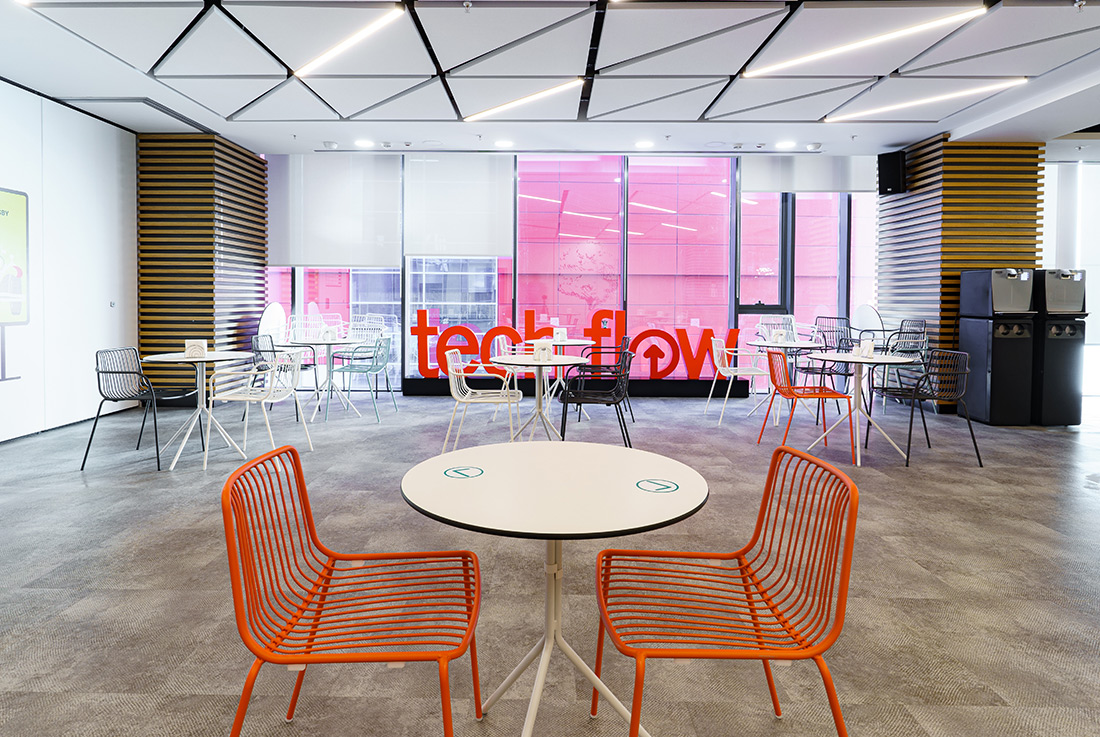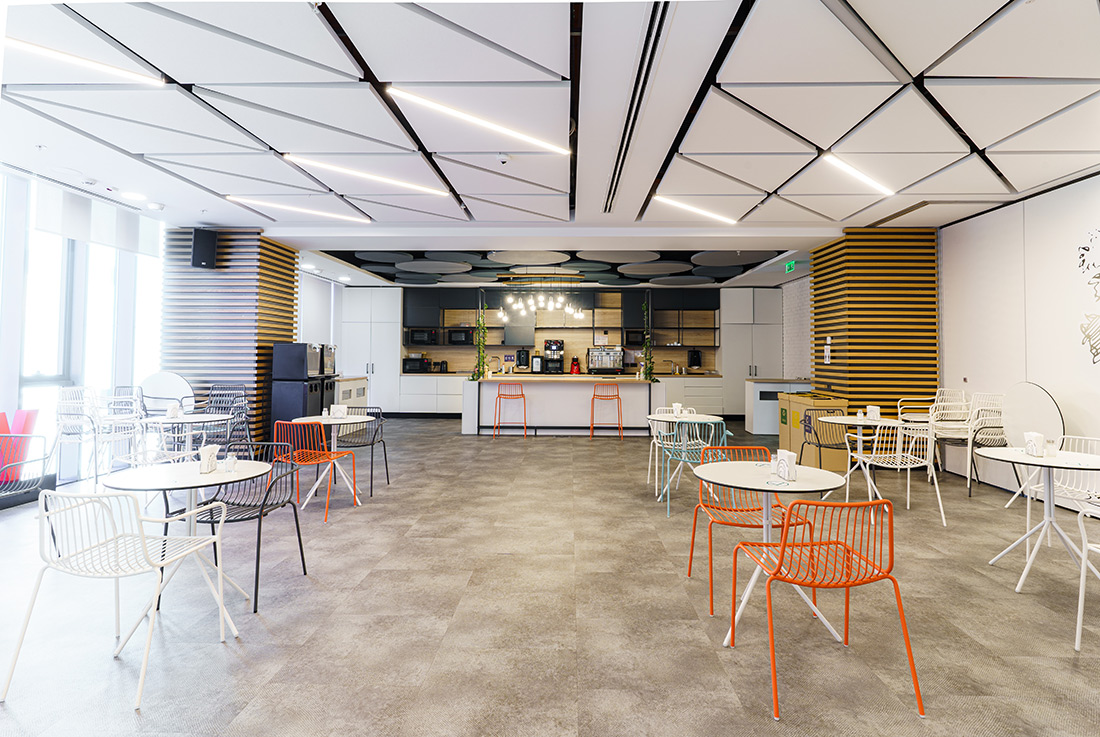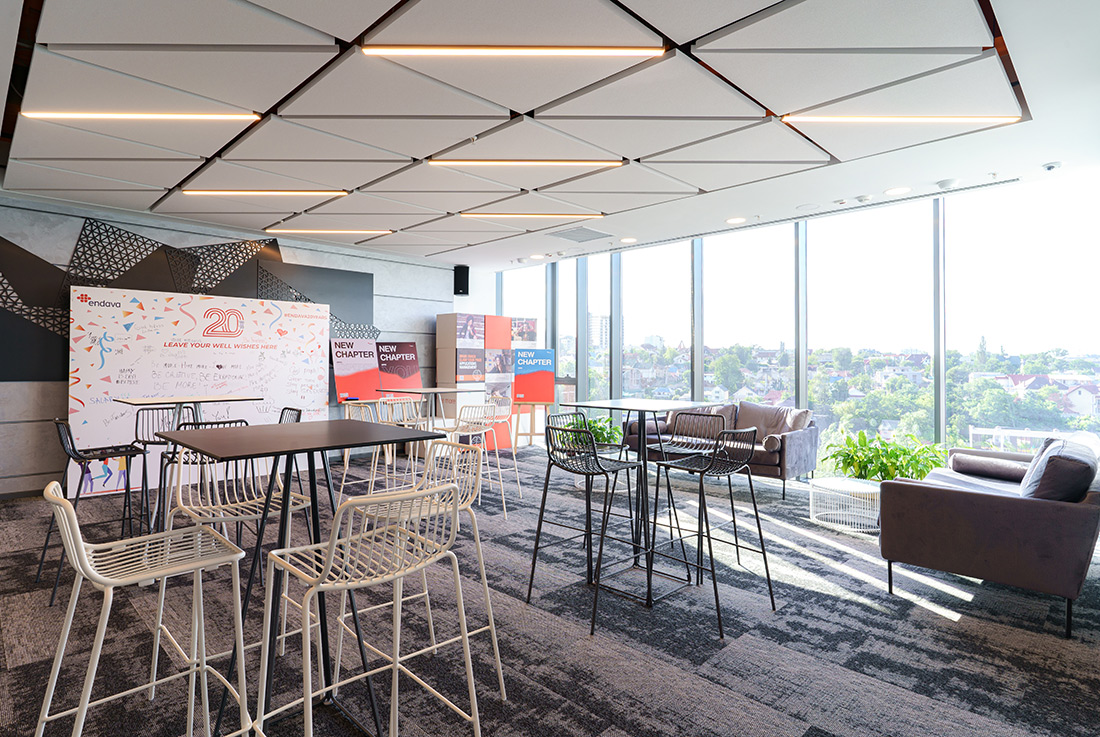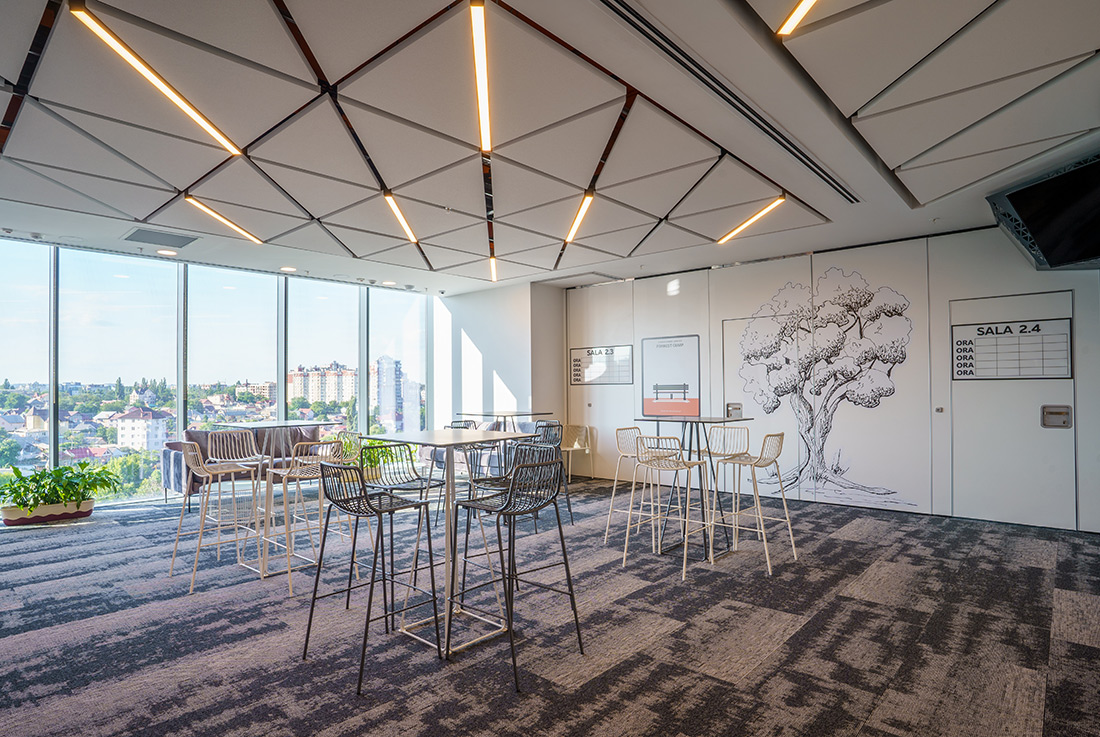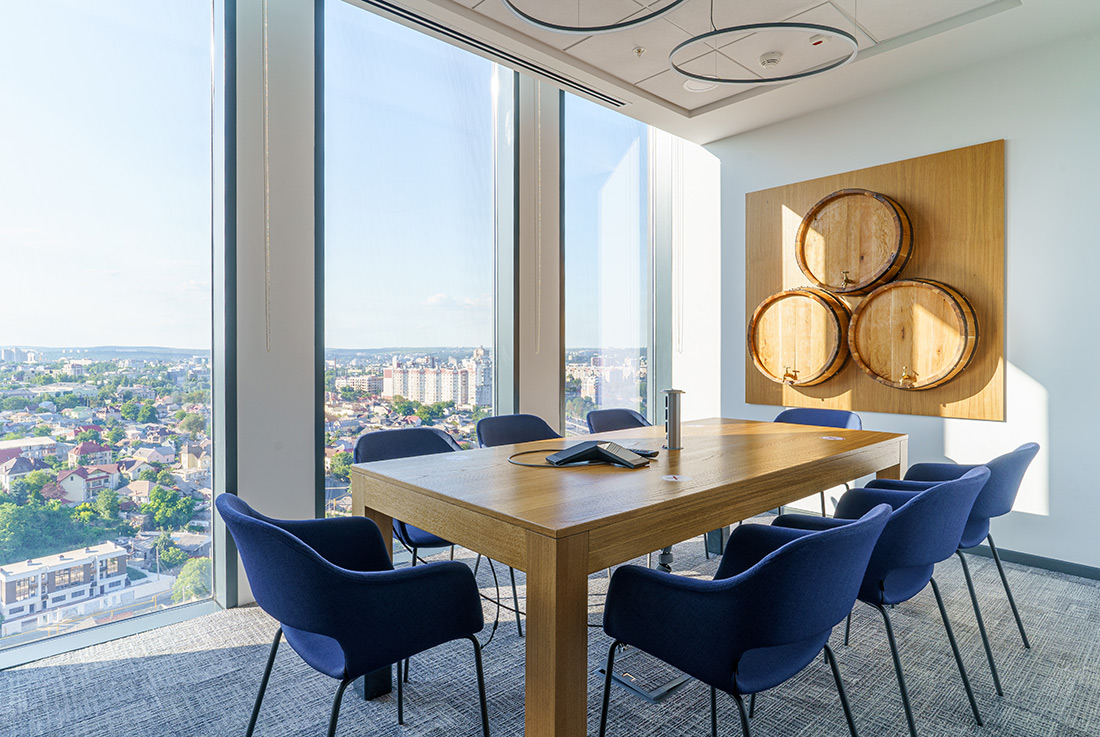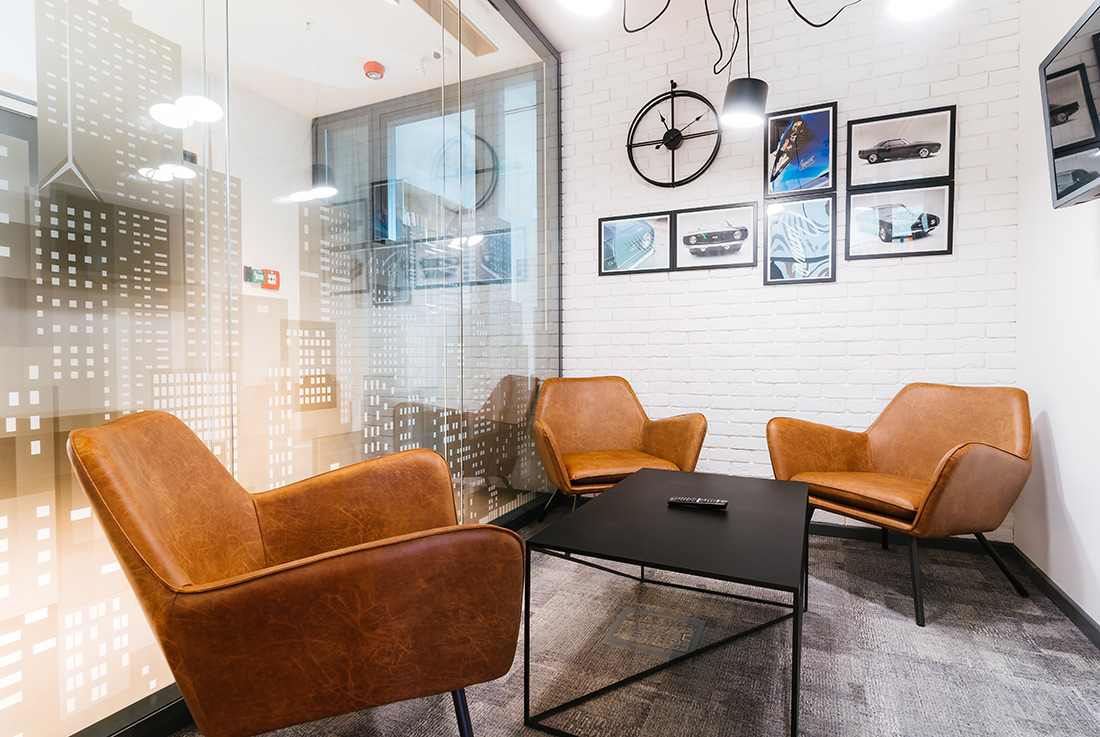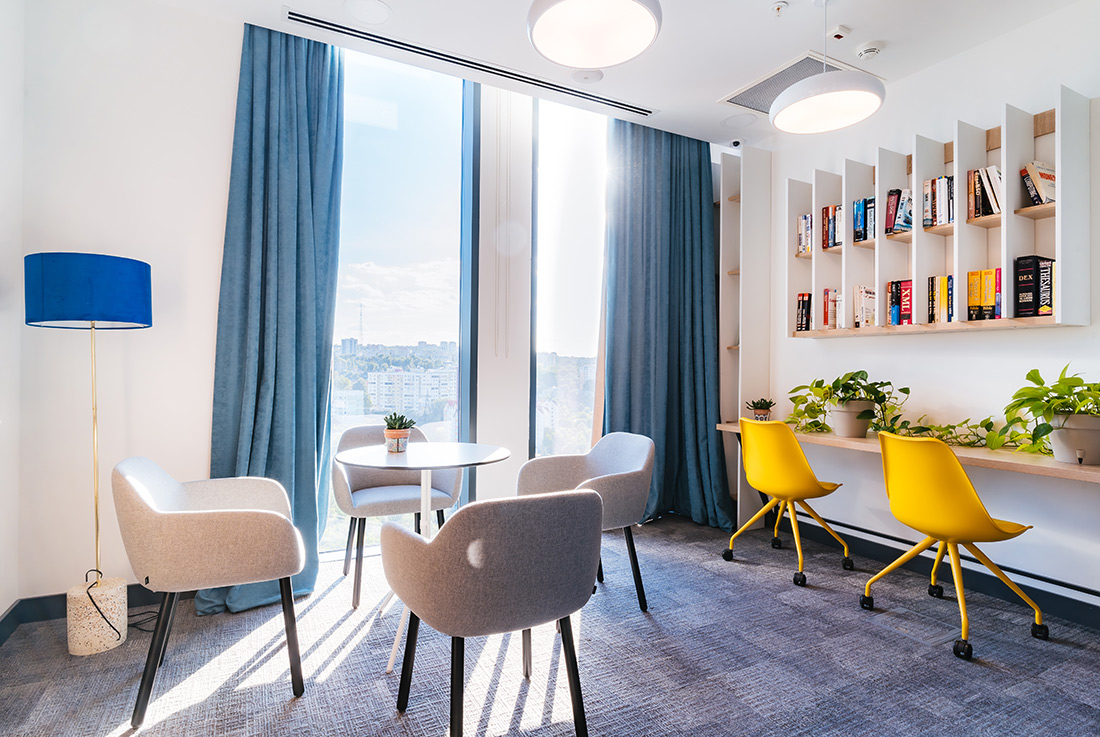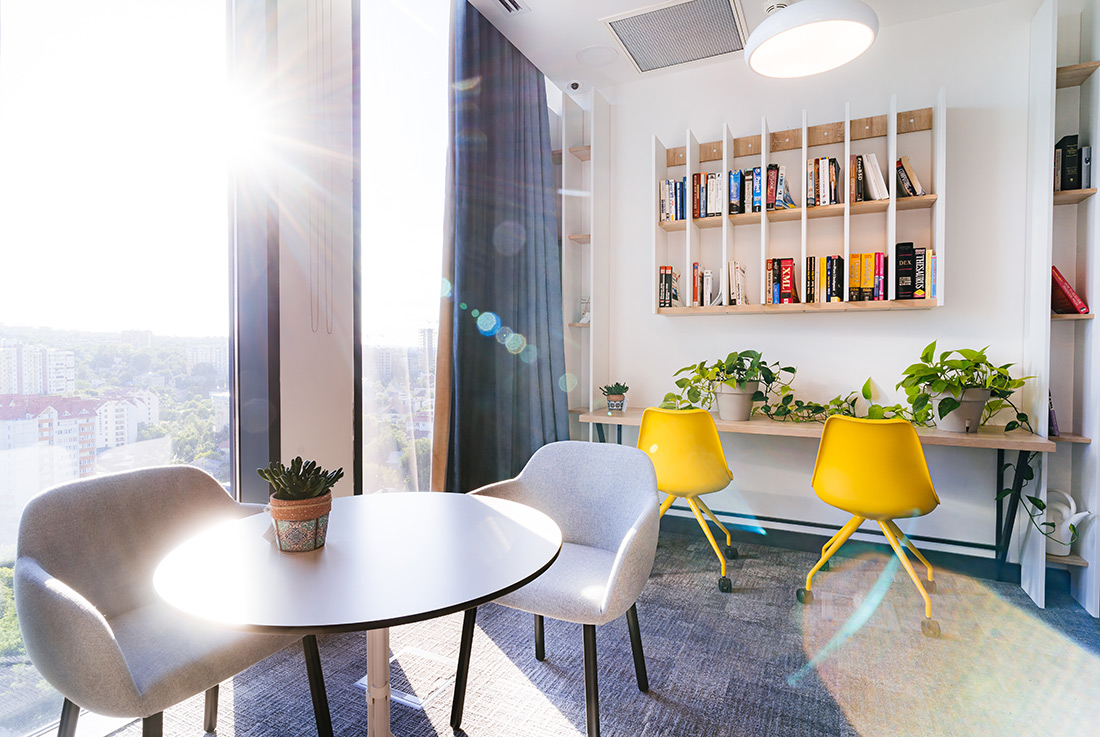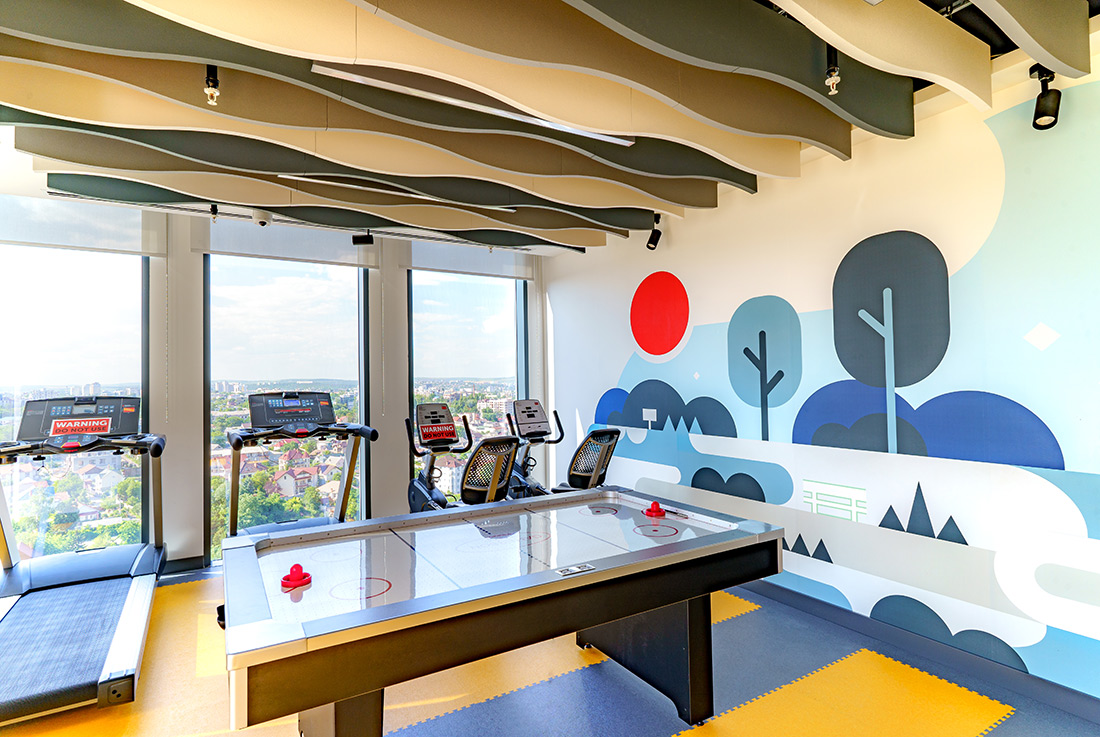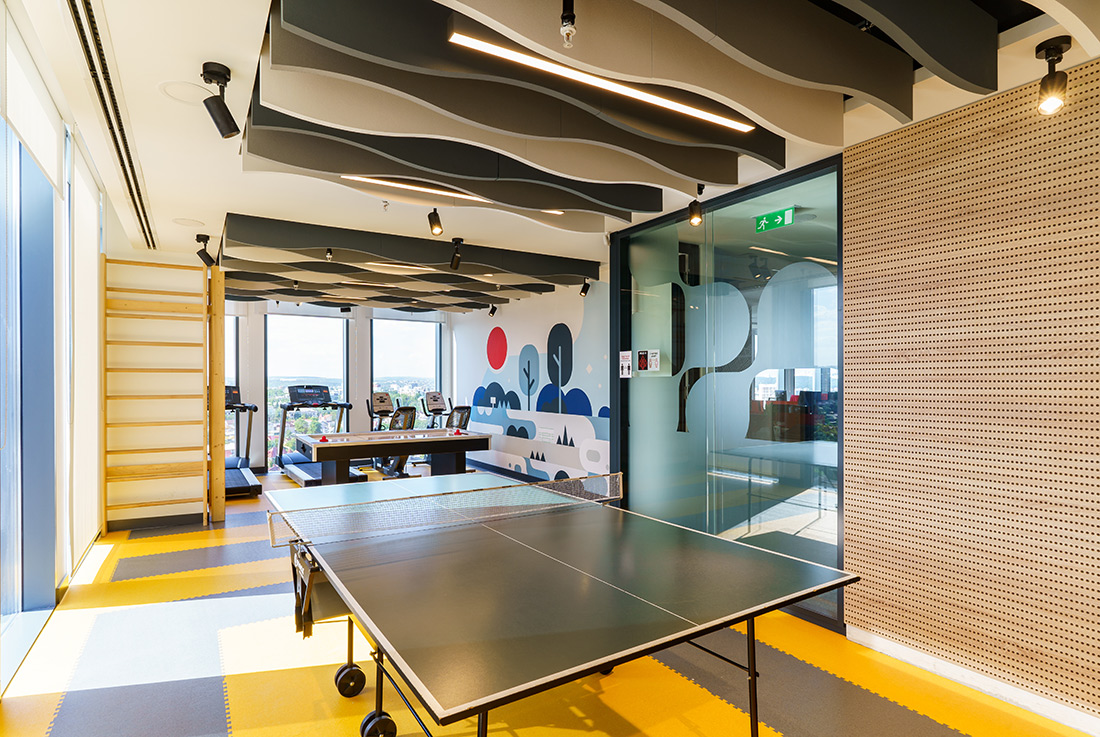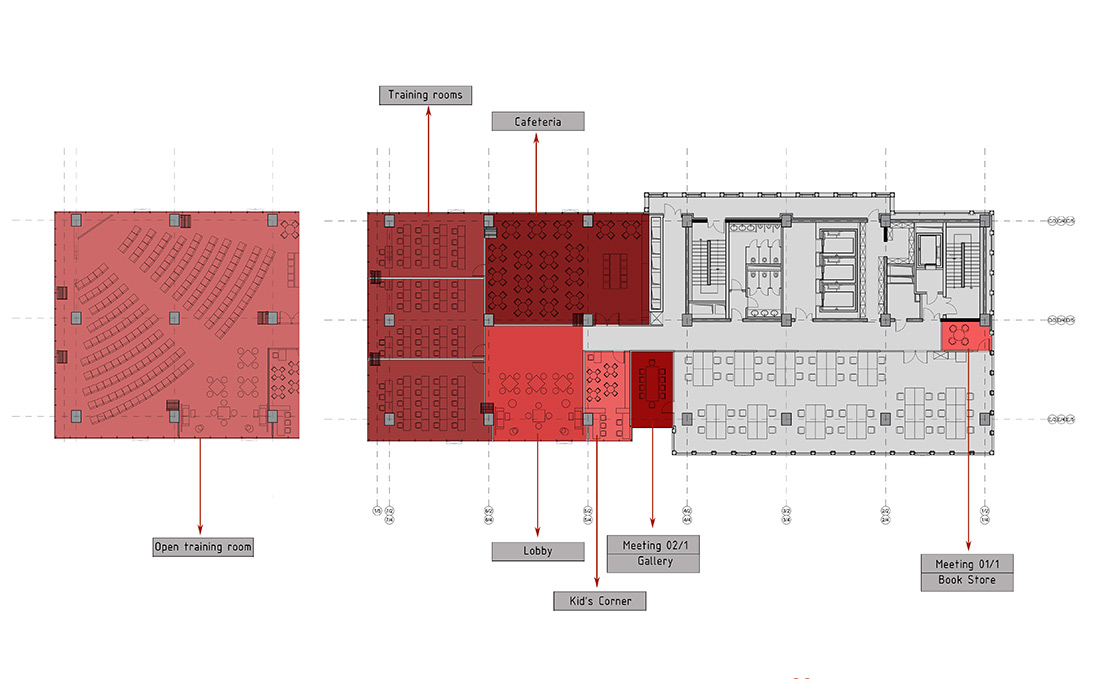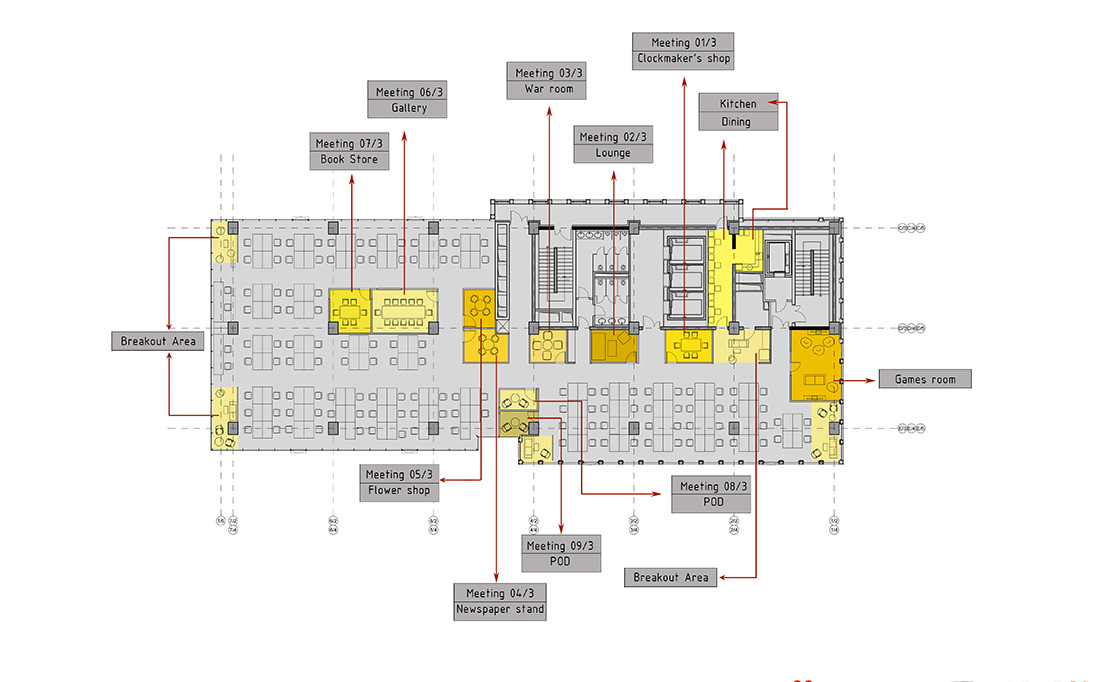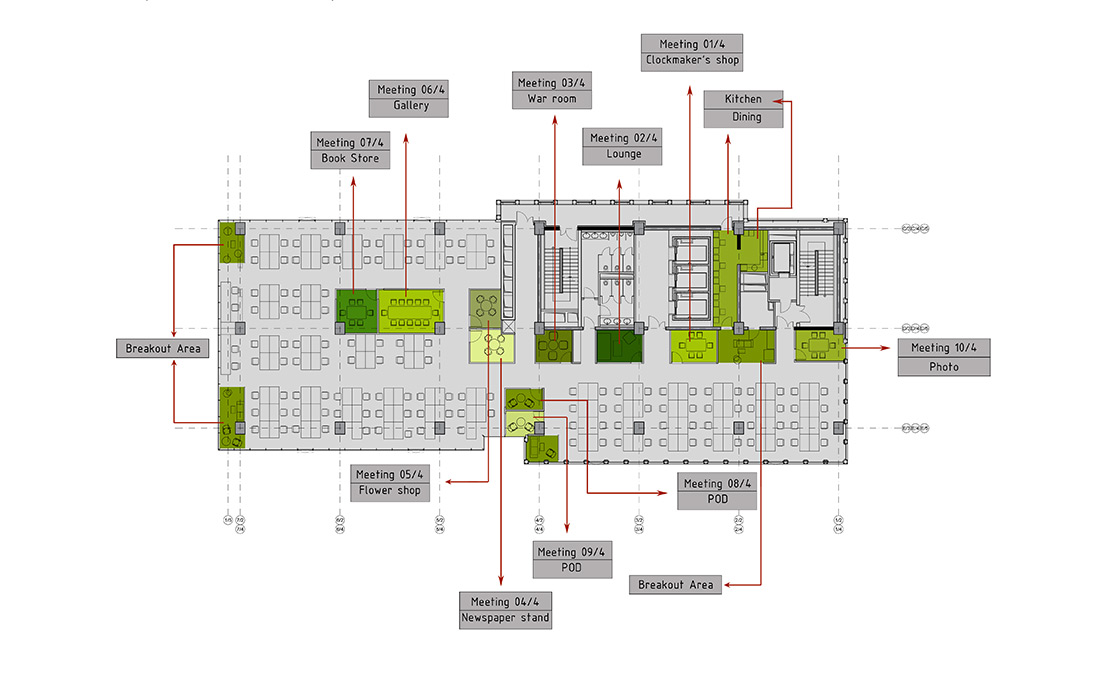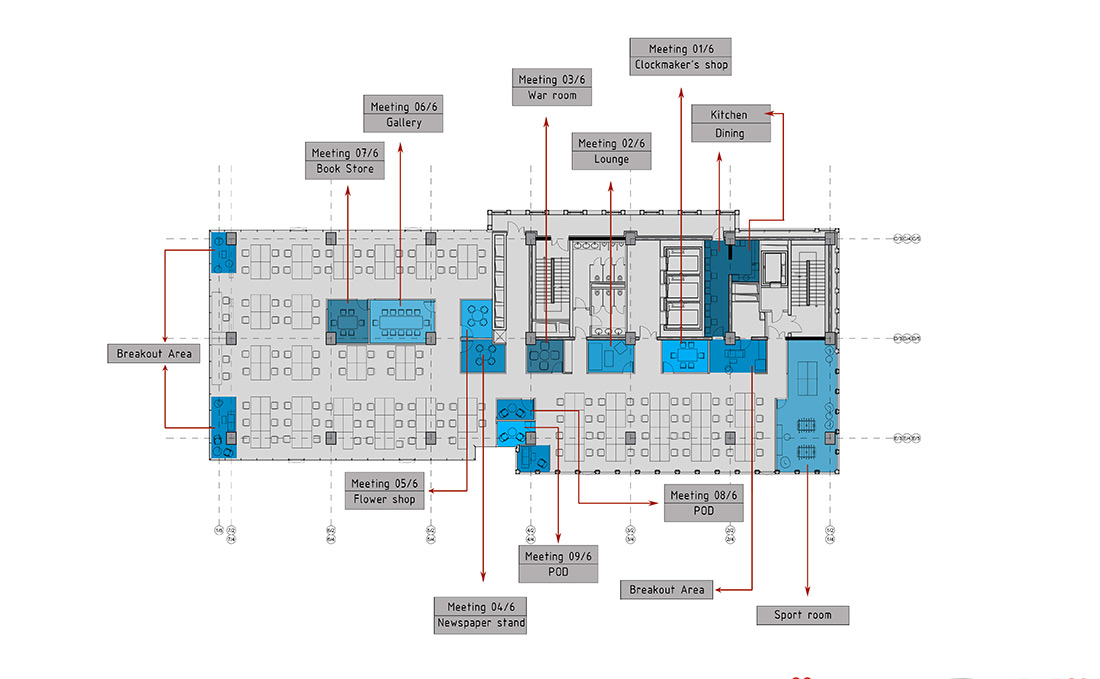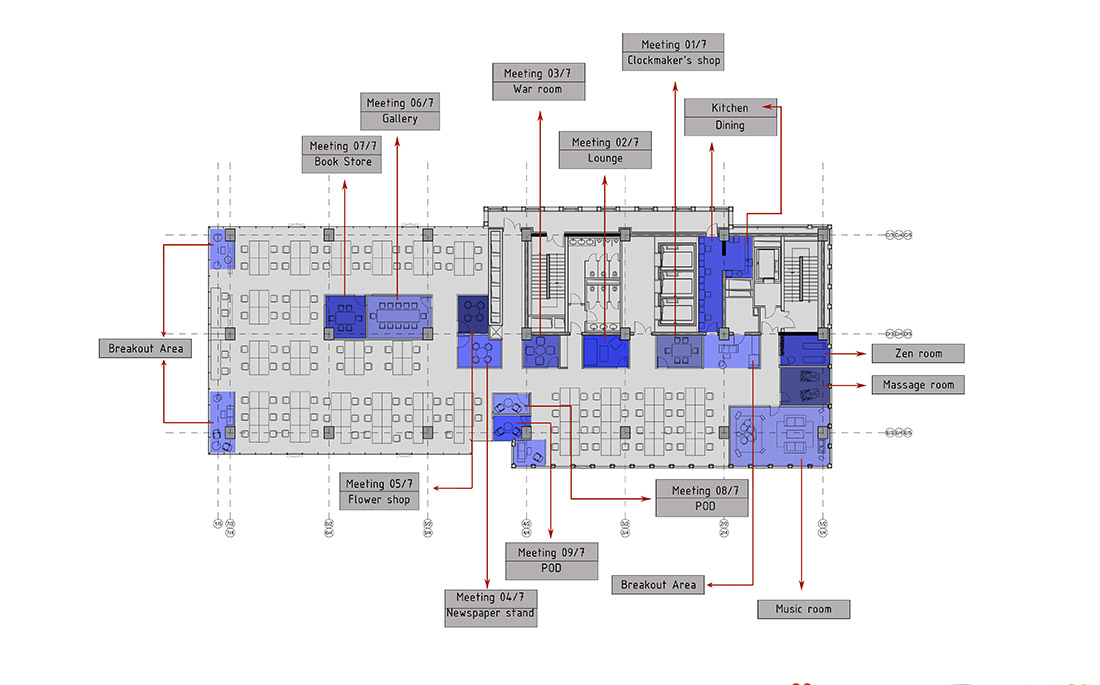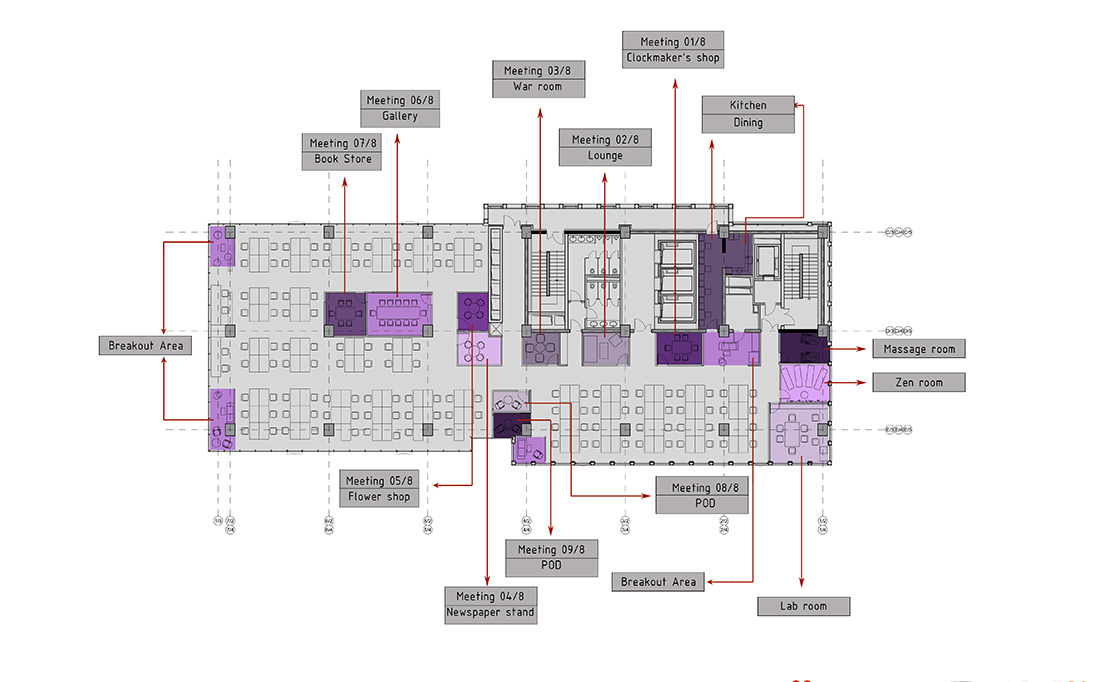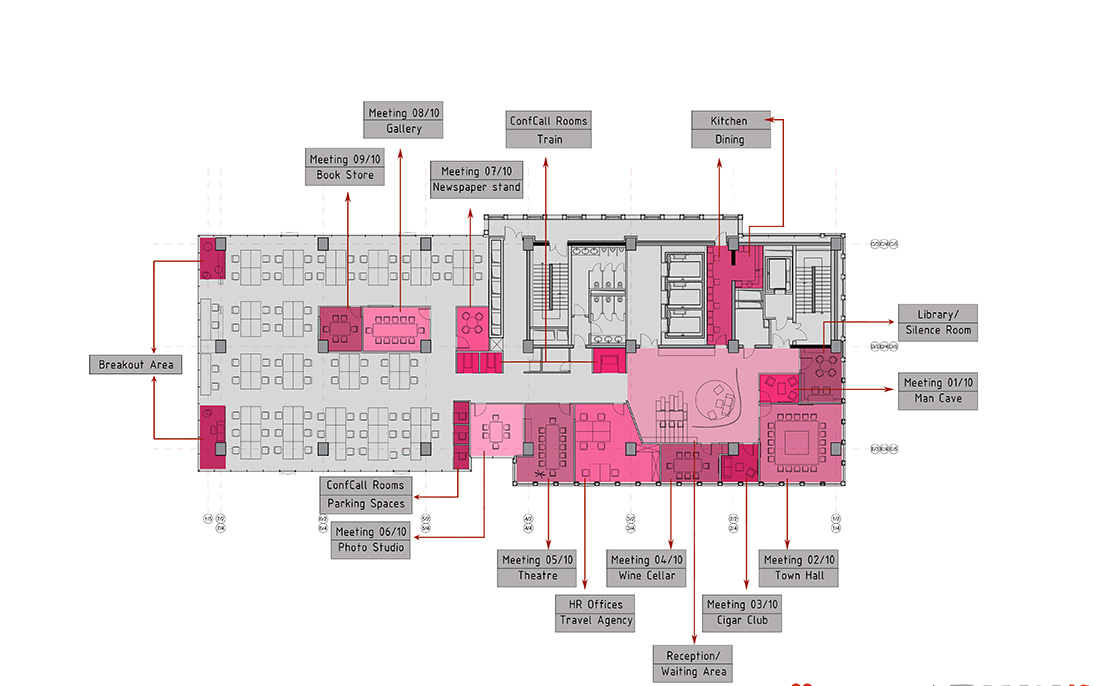 Credits
Interior
Manole Zece; Adriana Frunza, Alexandru Csomos, Diana Miulescu, Bogdan Romee
Client
ENDAVA Moldova
Year of completion
2020
Location
Chisinau, Republic of Moldova
Total area
8.850 m2
Photos
Alex Bred
Project Partners
Summa , Samas Office , Forma 5 , Origamic, Colors
Related posts
Powered by