Obrenovac is a small town near Belgrade. As Belgrade has developed very fast, Obrenovac recently became suburban Belgrade's municipality.
The Obrenovac First Elementary School is the first established school in Belgrade, almost 200 years old. During the two centuries pupils of this school had no adequate indoor space for physical education and sports activities.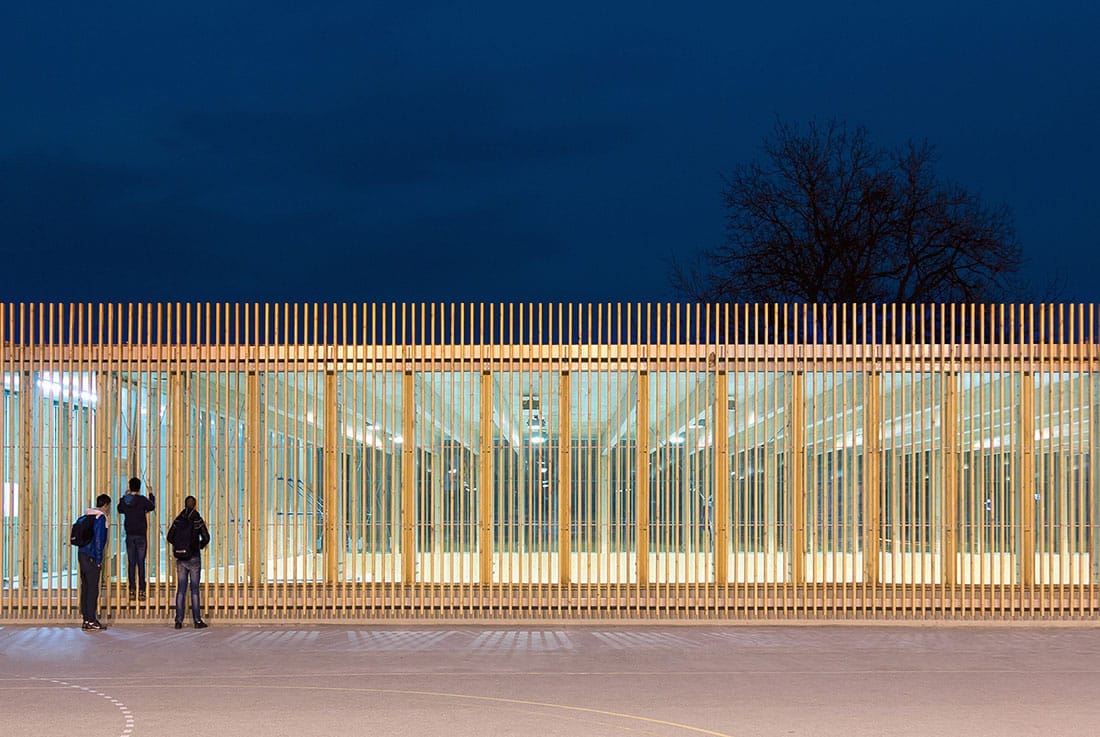 According to urban concept, made by local planers, surface area of new sports hall was supposed to cover almost the whole school yard and its height would overtop surrounding buildings from 19th century and Church behind it.
The Client's request was that school sports hall serves not only for the pupils of this school but also for training and competition of youth basketball and volleyball teams, and to provide recreation possibilities for local community. This is why sports hall had to reach FIBA (International Basketball Federation) standards.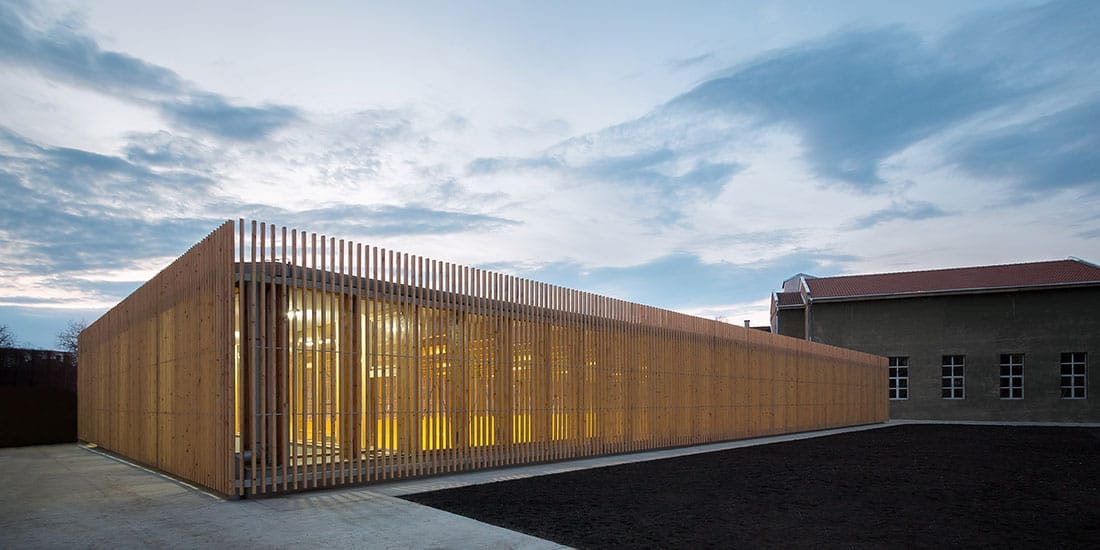 As Obrenovac Municipality is close to the river Sava banks, it is under the influence of the underground water. This was the crucial technical problem which had to be resolved from the first preliminary design phase. Through design process, the solution for these challenges has been successfully found by designing the waterproof concrete hull, 5 meters deep in the ground, just few centimeters over the highest underground water level. This concept provided some kind of waterproof box, as boat sink, for all premises inside.
The whole volume of sports hall is two thirds sunken under the ground level. Underground area contains sports pitch but also small hall for ballet and gymnastic, all technical rooms, dressing rooms, showers, sanitary units and teacher's room which are fully covered with waterproof concrete slab and green garden roof on the level of schoolyard. This concept provides larger open area for children's outdoor activities. Sports pitch and the small hall are connected and therefore the small hall can be used as scene for multipurpose happenings such as concerts, amateur theatre plays or school celebrations. Only the hall's skylight – row of wooden columns, windows and light flat roof is above ground level.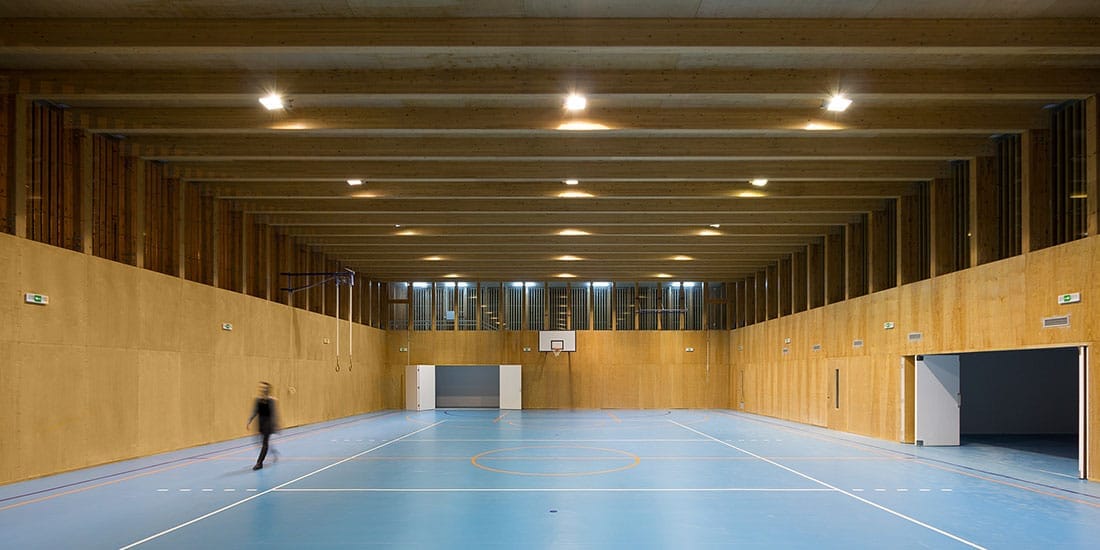 The glazed wooden skylight is surrounded with children's playgrounds and football and handball open courts, so the whole perimeter of glazed facade is covered with vertical wooden laths (bars) which protect the glass from ball hitting. The raw of "wooden matches" is a symbolic interpretation of wooden fences, typical for the villages in that part of Serbia. This rhythm of wooden bars also provides a dispersion of direct sunlight.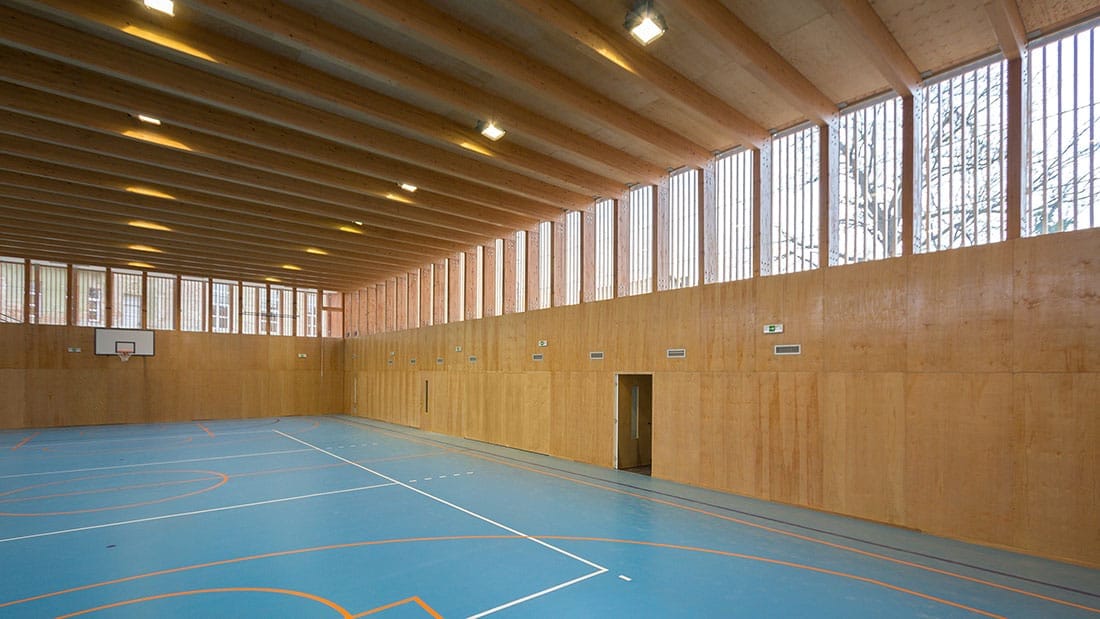 The hall has two independent entrances through open, but covered, staircases. The second additional entrance serves as fireproof exit and also provides a possibility to divide two sport teams, different school classes, girls and boys groups. The entrance closer to school building is supplied with mechanical platform for wheelchairs for persons with special needs.
From the very beginning the idea was to design low budget, energy efficient and sustainable building with no unnecessary details. The light wooden beams and columns are matching with cheapest common pine plywood which covers court walls and ceiling. This light materialization together with clear spatial organization brings to pupils warm and pleasant space.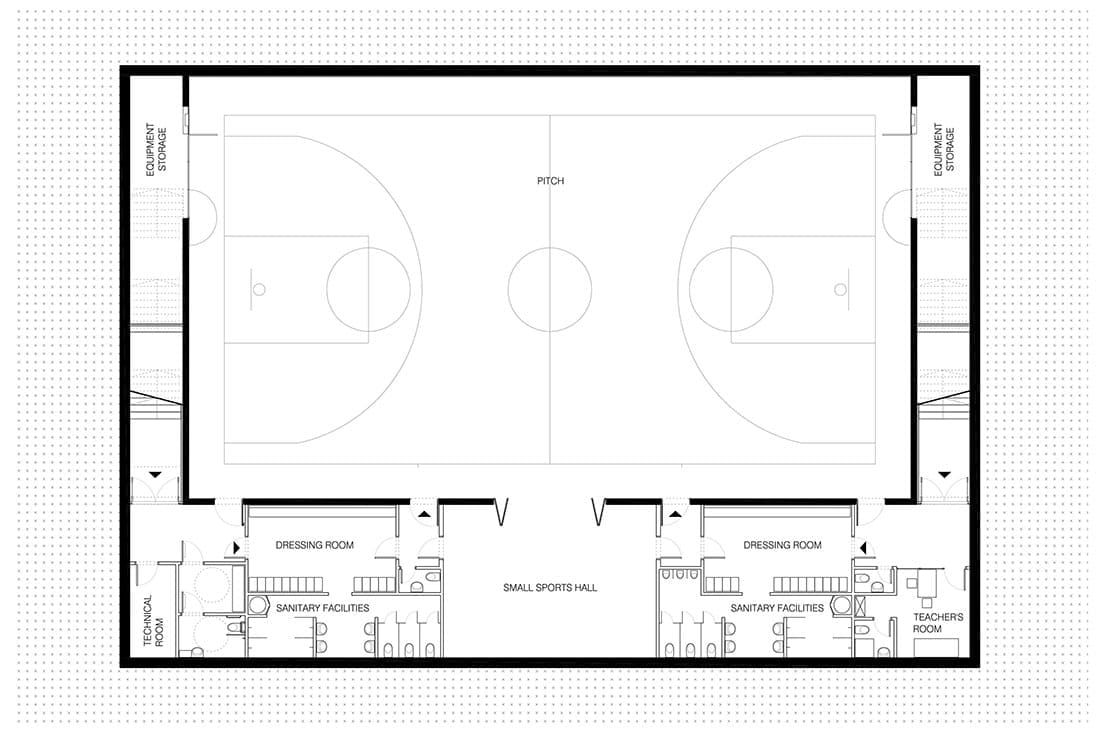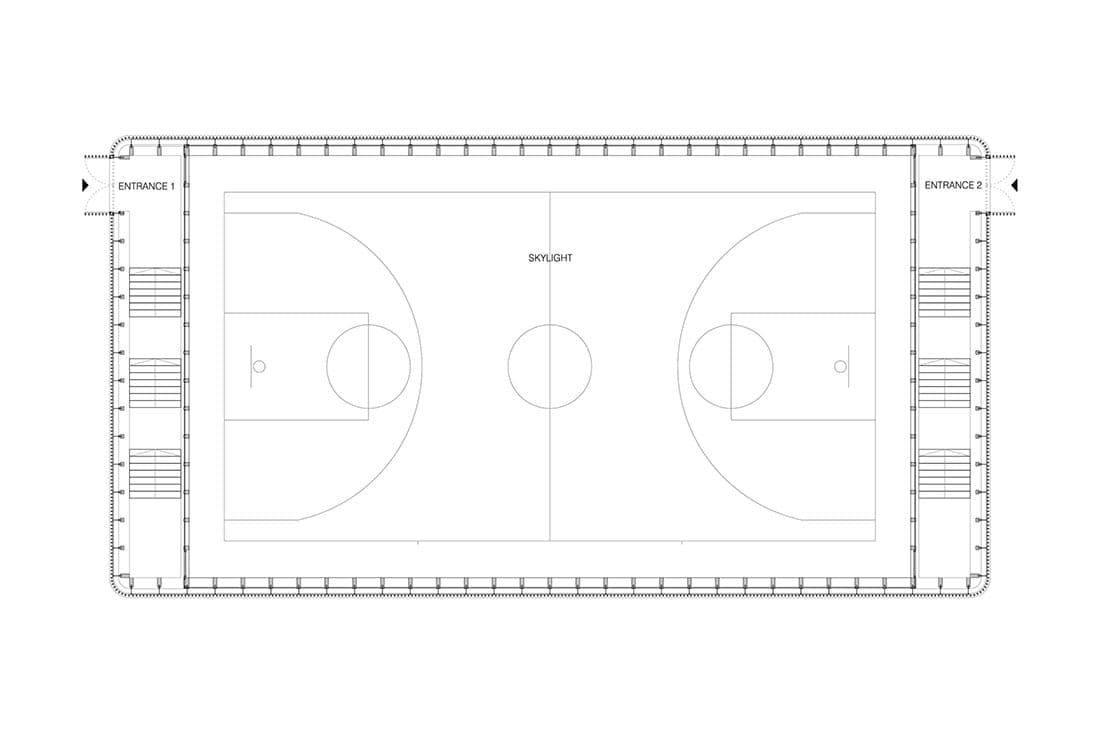 FILE
Architecture: Jovan Mitrović
Associates: Vuk Lukic, Milena Folić, Milos Milivojević, Aida Hadziahmetović
Photographs: Relja Ivanić
Year of completion: 2015
Main contractor: Ferbild d. o. o.
Location: Serbia
Check out the BIG SEE event here: Interiors 180° / Big See Awards / Month of Design 2018