The plot constitutes part of the wider hotel Caravia Beach property and is planted with palm and gum trees. The new complex of 49 junior suites, unfolds around a communal pool which underlines the 5 bungalows and the restaurant and connects with all the structured environment via a network of decks and platforms, creating channels that surround the individual spaces.
Our main preoccupation was to preserve as many trees as we could by integrating them into our design. The existence of a wetland in 500m distance from the plot, has been the reference for the wide swimming pool. The result is a sophisticated interweave of low buildings, water and vegetation.
In terms of a vertical reading of the area, room buildings are organized in two levels, ground floor and first floor, with the first providing direct access to the pool through the rooms' private courtyards. The architecture of the volumes is a re-interpretation of the simple Greek island-style cubic shaped architecture with few openings for courtyard access.
In terms of a horizontal reading of the rooms, the layout has a gradual transition from the private areas of the bathrooms to the main rooms, then to the courtyard and finally to the communal swimming pool. The rooms are separated by stone walls and their yards are shaded with wooden pergolas. The materials that dominate the room are the cement mortar in the bathroom, the white wood and the neutral gray colors.
The Suites and the restaurant are organically connected via a large outdoor pool and deck network, on the water.
The disadvantage of the lack of beach view on this part of the plot, became an advantage as the large swim-up pool substitutes the view and the sense of a beachfront location. Although the restaurant is situated on one side of the pool, privacy for the residents is provided by the pre-existing palm plantation by the pool and the deck network.
The restaurant becomes a reference point and the heart of the summer's resort around which the 5 bungalows unfold. It is designed with a modern and simple style, thus providing a setting of relaxation for the dining areas, bar and open kitchen.
Wood is used to underline the original exotic atmosphere created by the natural landscape, while the textiles participate in grey and natural tones enhancing the calmness and elegance of the restaurant areas. Wide use of stone wall constructions has been performed, built in the local traditional way with the local stone of the island. The cover of the pergolas is made of osier thin logs. The same material is used for the false ceiling with the artificial light from above creating a calm and cosy ambiance, integrating both indoor and outdoor.
The modern space is curated with an eclectic mix of furnishings and objects mostly custom made. The firm's concept, was to create a relaxed and sophisticated environment for the hotel's guests by blending minimalism with an elegant Mediterranean atmosphere.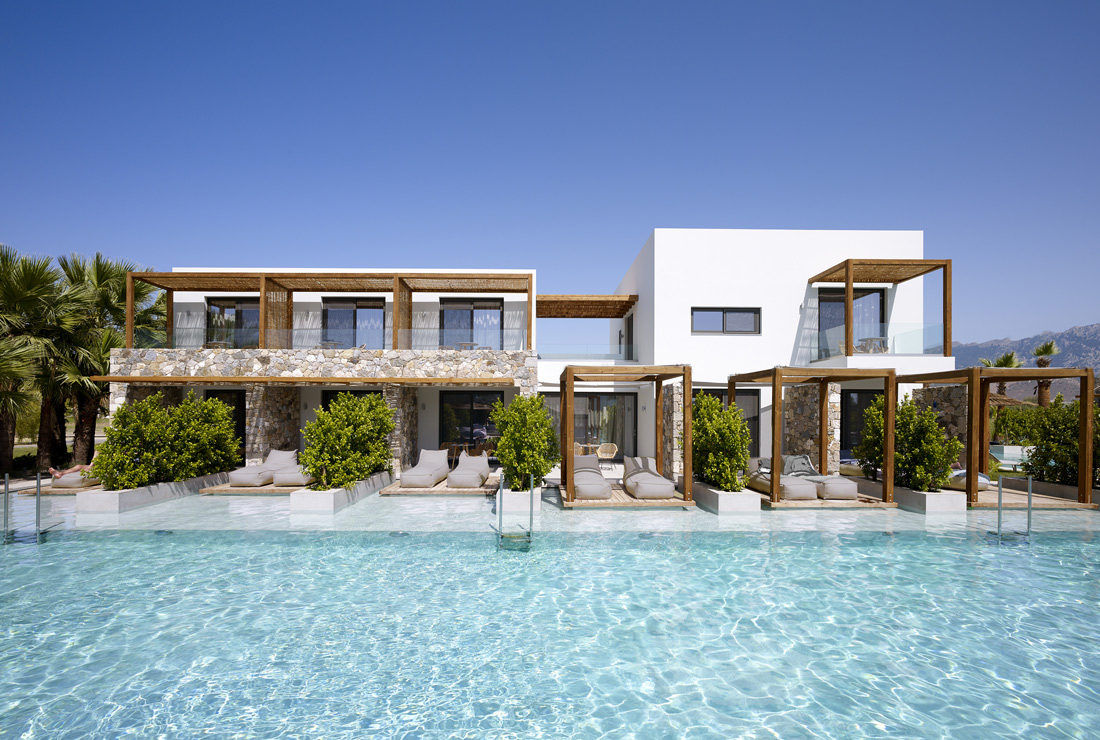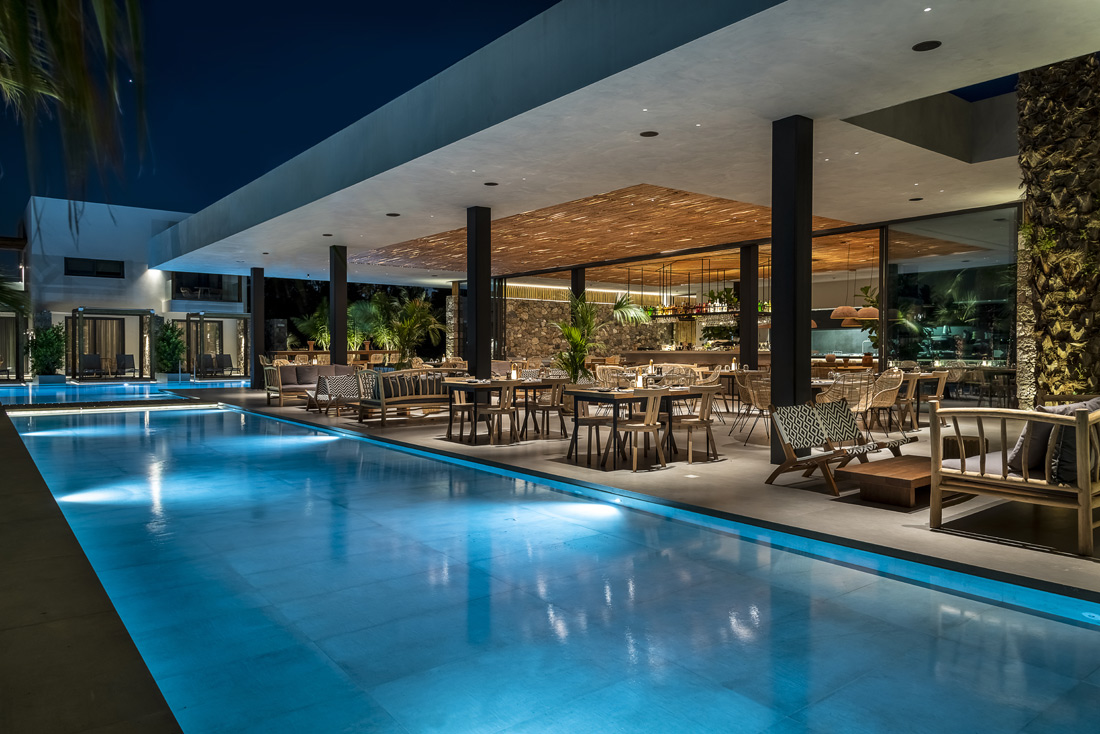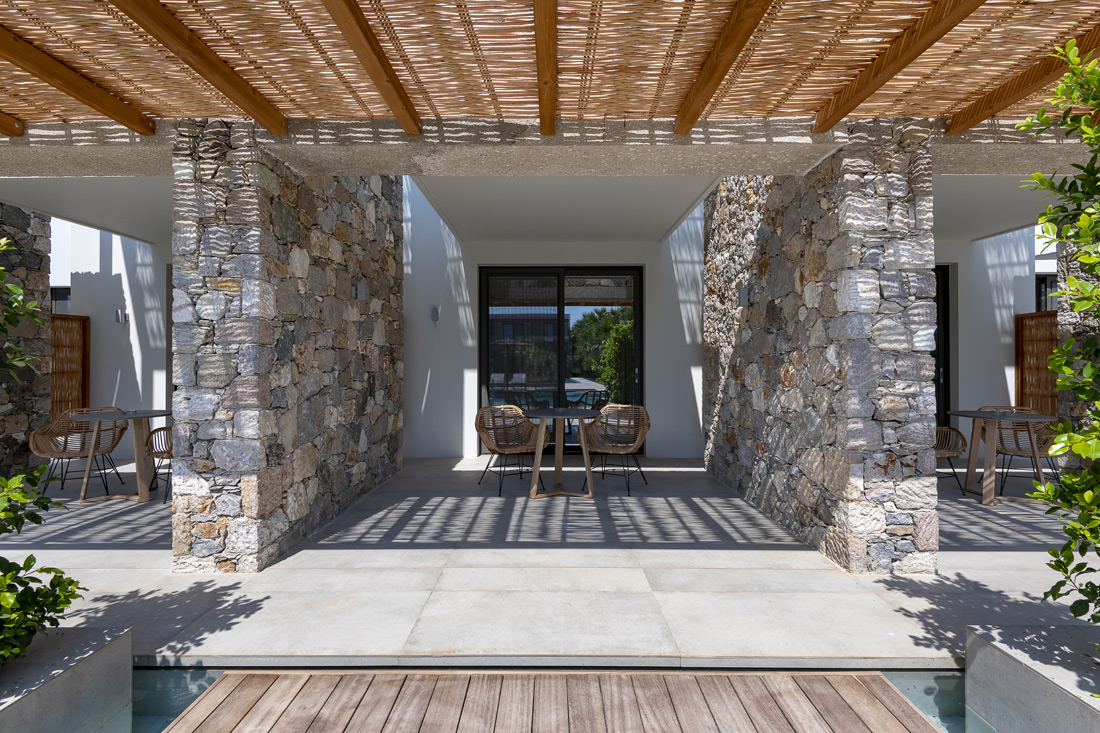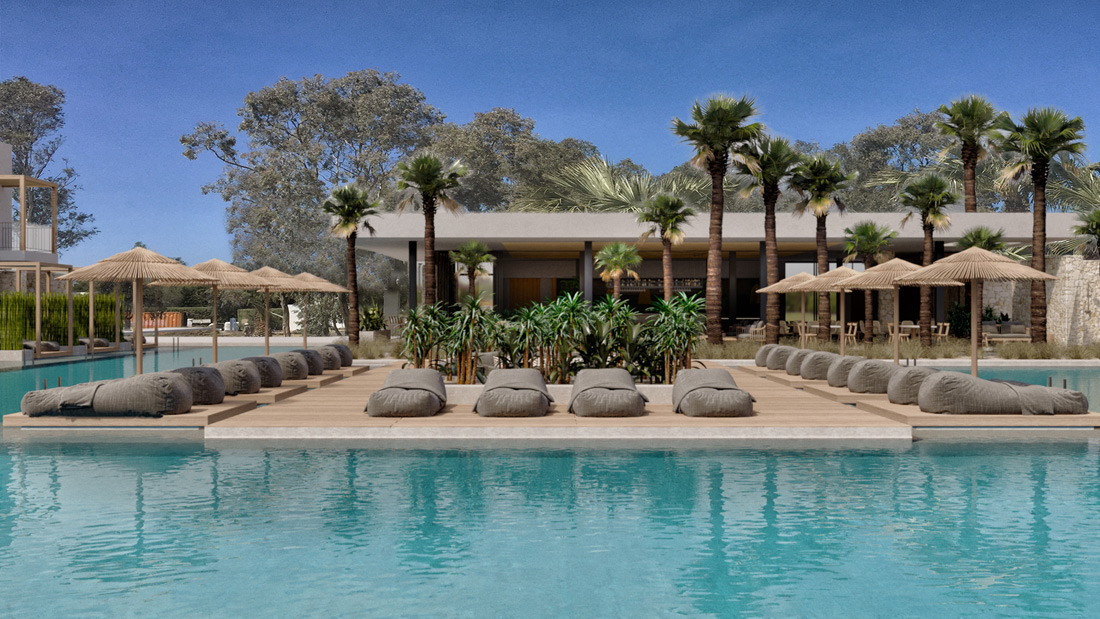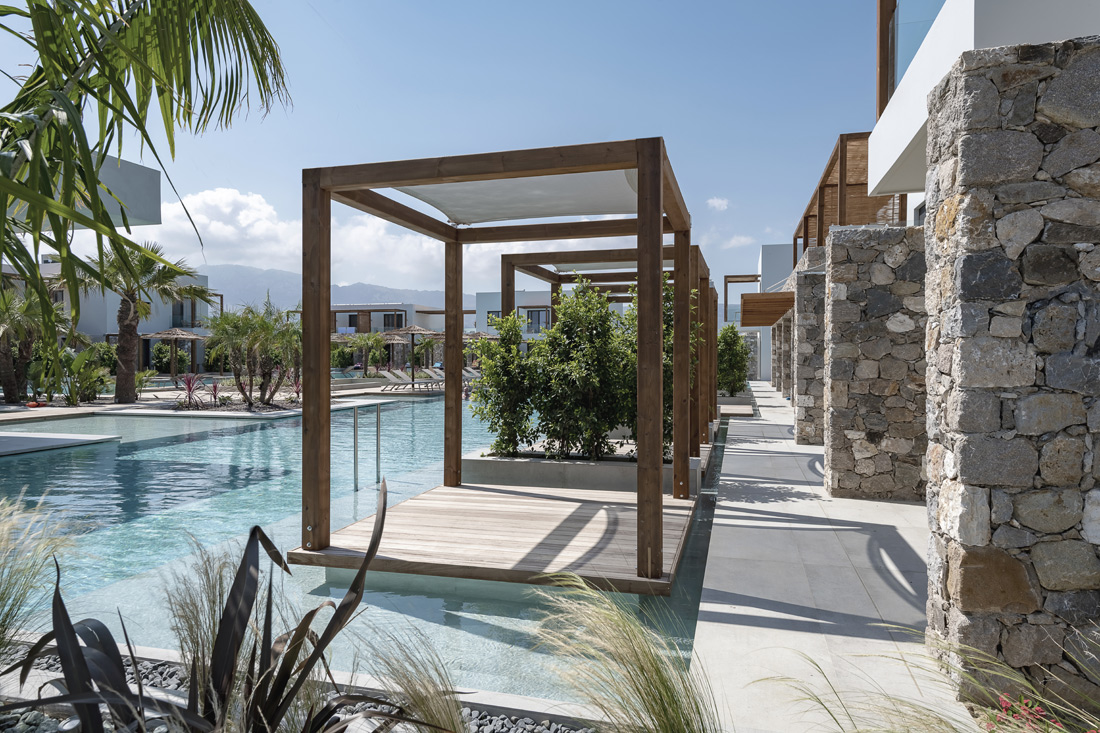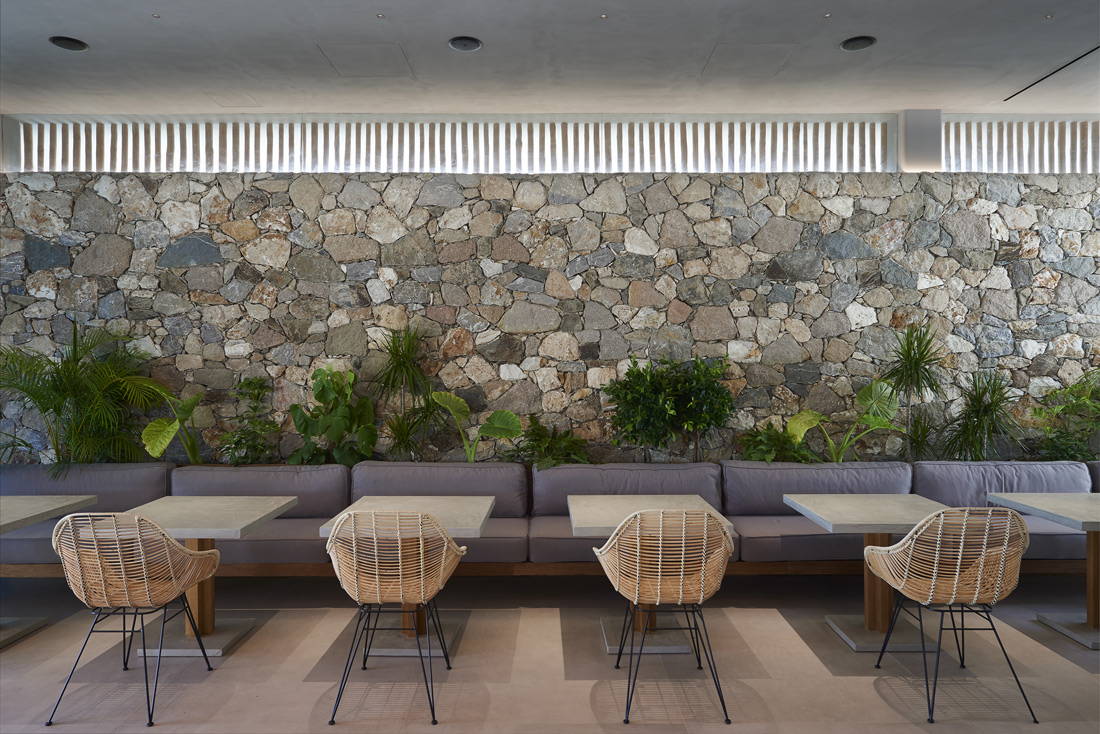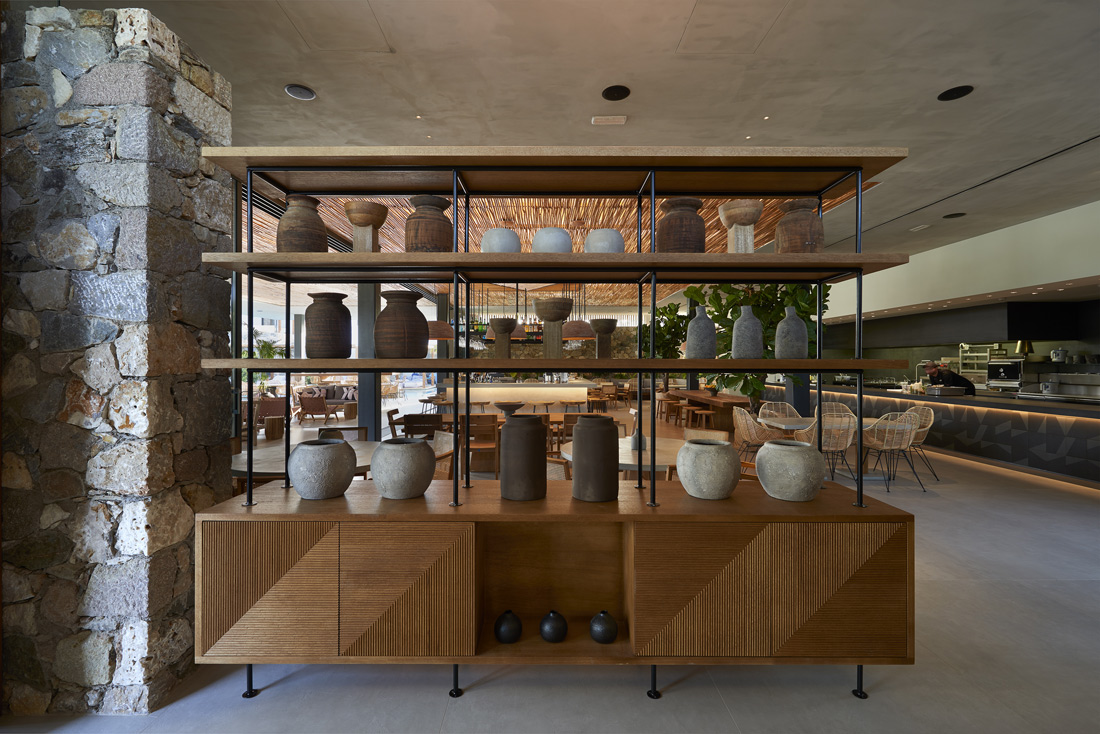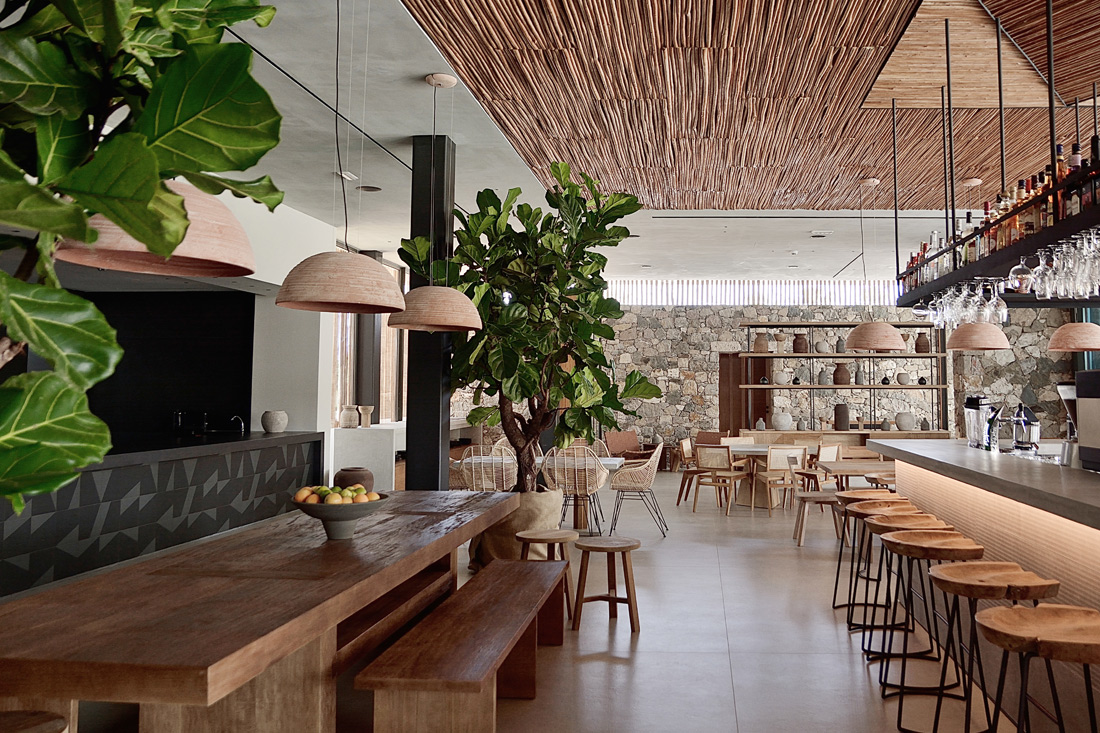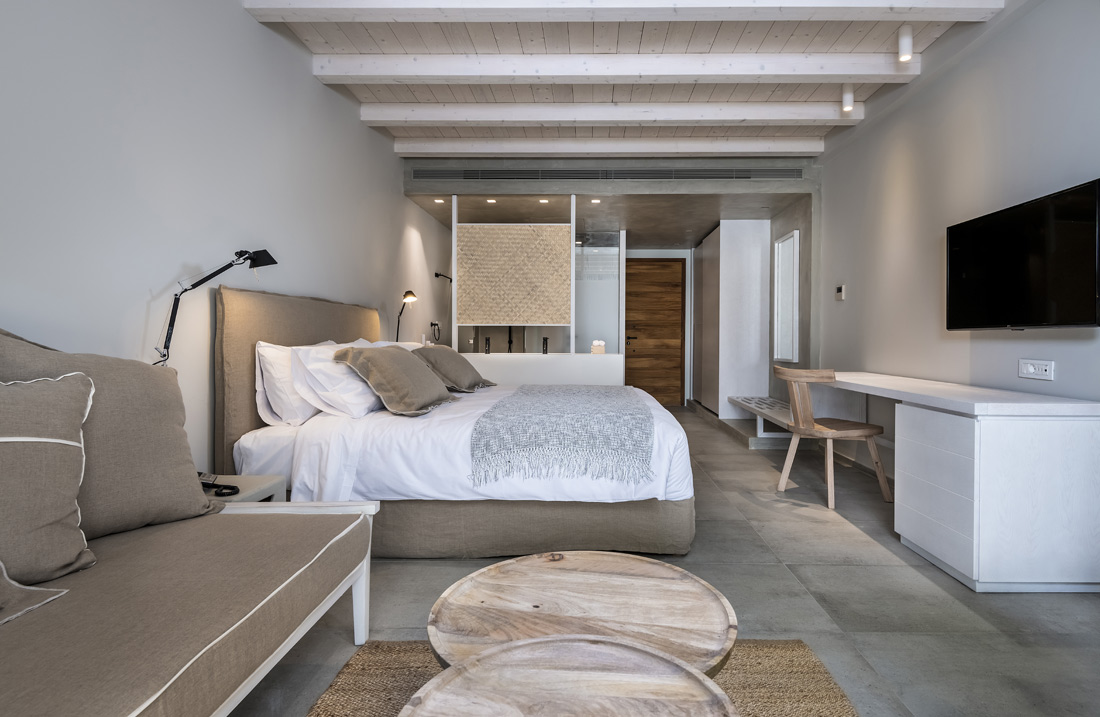 Credits
Architecture
Mastrominas Architecture
Client
Medi Tours Sa
Year of completion
2019
Location
Kos, Greece
Total area
3.000 m2
Site area
50.000 m2
Photos
Yiorgis Yerolympos, George Papapostolou, Nikitas Vogiatzis-Vokotopoulos
Project Partners
101 Copenhagen Gmbh, Gebruder Hepp, Golden Door, Lg Electronics Ae, Muubs A/S, Grandi Cuccine Greece, Alumil, Ariostea, Cielo, Fantini
Related posts
Powered by