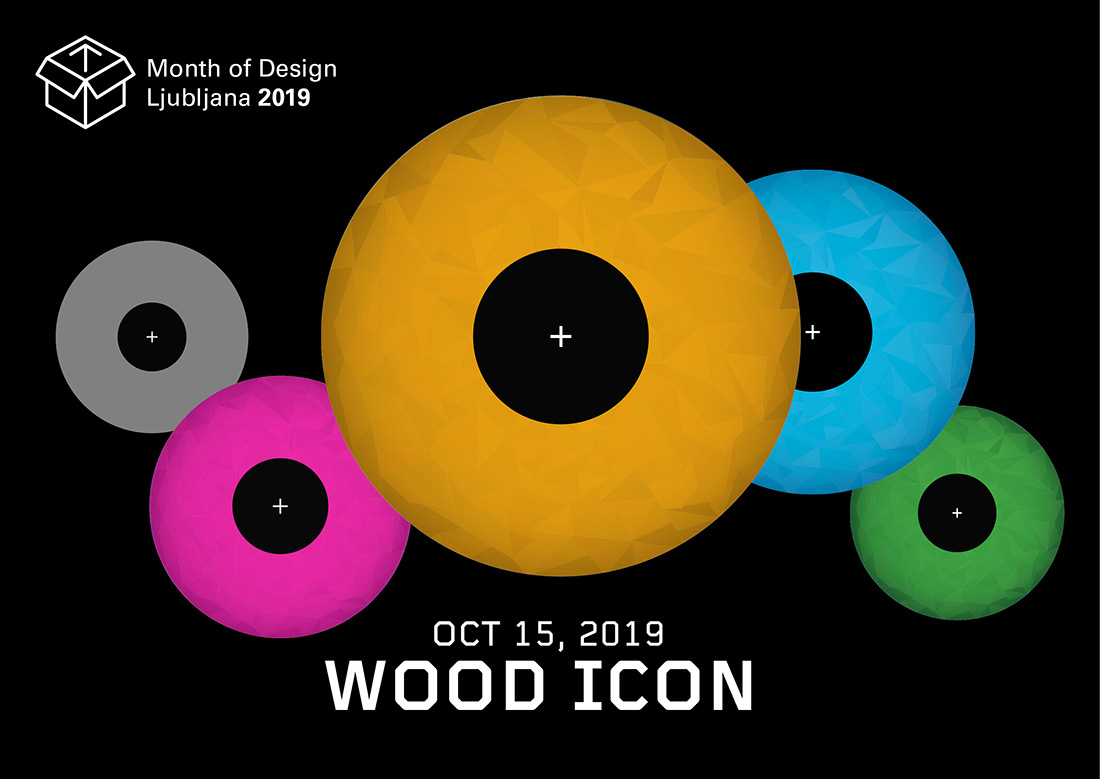 WOOD ICON
October 15, 2019
City of Design, Dunajska cesta 123, 1000 Ljubljana, Slovenia
Wooden icon is a festival intended for the promotion of use of wood, knowledge exchange within woodworking sector and proactive integration and connection of stakeholders within the wood chain.
TRADE SHOW WOOD ICON
It is one of the most important events for innovative woodworking in the region, with the aim of achieving greater competitiveness and economic efficiency of the industry. It is aimed at familiarizing woodworkers with novelties and solutions in the field of woodworking machines, technologies and innovative repromaterials and to present the offer of the woodworkers and furniture industry.
BRAND AND BRAINS 180˚ LECTURES
Experts on new materials and innovative technologies in wood processing.
BRAND AND BRAINS SHOW
Informal business meetings of owners and managers of companies with woodworkers on their exhibition space.
LECTURES WOOD 180˚
Wood 180 ° are presentations of Big SEE wood awarded and other outstanding projects in wood. Speakers are going to talk about the products that were created on the account of their own development strategies and they are also planning to present their development visions needed for successful business operations in the new world.
WOOD SHOW
Informal business meetings of woodworkers, designers, architects on their exhibition stands.
WOOD MATCH
Wood Match are individual business meetings for networking professionals in wood industry with purpose to efficiently exchange expert opinions and information and to make new business contacts. They are unique opportunity to acquaint woodworkers with new technologies and materials and to connect them with the architects and designers to make new projects together.
They enable establishing new business relationships and opportunities.
ROUND TABLE WOOD POLICIES
At the Round table Wood policies, representatives of various woodworking niches and representatives of forestry institutions and government will discuss the dilemmas of development of Slovenian woodworking sector. What kind of vision do we have, which strategies we use, how to measure their effects, what are examples of good practice, what are your recommendations for creating a successful wood policy?
BIG SEE VISIONARIES TALKS
BIG SEE WOOD VISIONARY AWARD is intended to reward exceptional personalities who enrich and inspire wood industry in the Southeast Europe. The award winners will be discussing the background of their life-paths, the forces of their creative passions, influences they have been affected by, personal values and challenges.
BIG SEE WOOD AWARDS AND EXHIBITION
BIG SEE WOOD AWARDS recognise and expose excellence in creative tourism from Southeast Europe in categories:
– Houses
– City and community
– Interior and furniture
– Small wooden products
Gala award giving ceremony with exhibition opening will be on October 16 2019.
FREE ENTRANCE ONLY WITH ONLINE REGISTRATION. REGULAR FEE AT THE ENTRANCE REGISTRATION DESK 7 EUR.
Free registration includes:
– Wood Trade Show
– Lectures Wood 180
– Round table Wood policies
– Big SEE Visionary talks
– Gala awards ceremony
By Registration I authorize the use of my personal data in accordance with the applicable Personal Data Protection Act and the General Data Protection Act (GDPR) and the Privacy Policy of the Zavod Big.