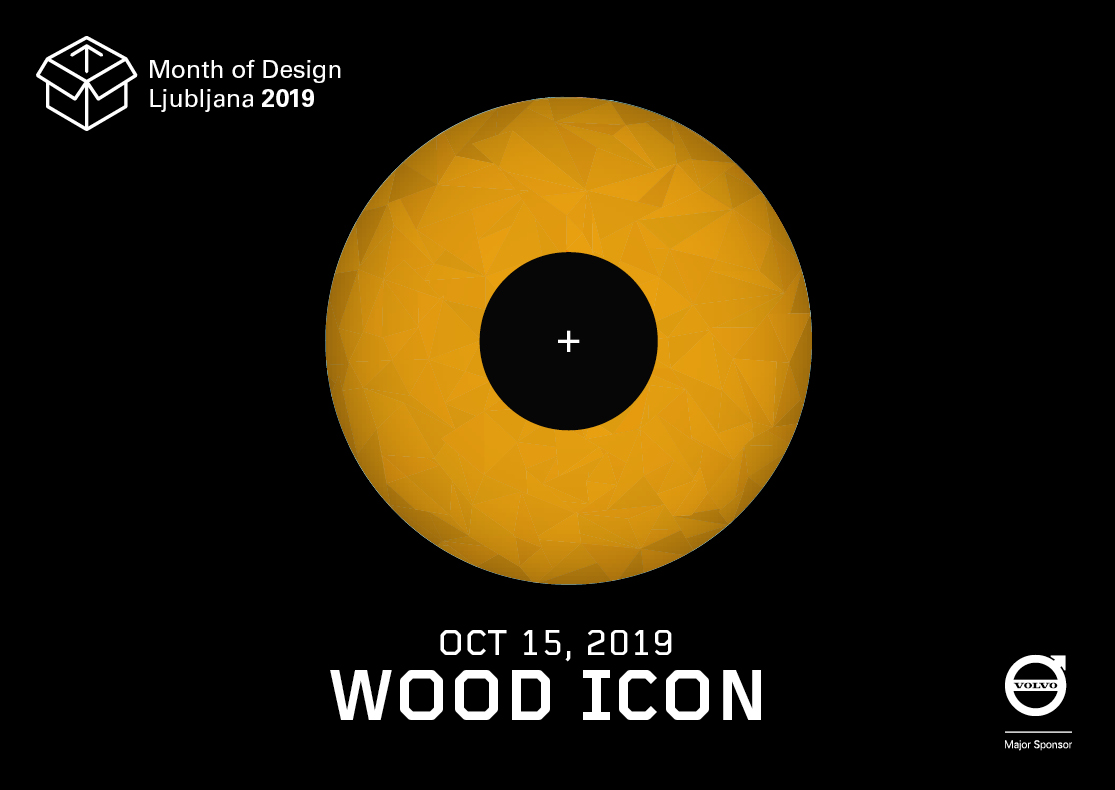 FESTIVAL WOOD ICON 2019
October 15, 2019
City of Design Slovenia, Dunajska cesta 123, 1000 Ljubljana, Slovenia
PROGRAMME
THE AWARDED PROJECT PRESENTATIONS AND THE AWARD GIVING CEREMONY: BIGSEE WOOD AWARD WINNERS IN CATEGORIES: HOUSES, CITY AND COMMUNITY, INTERIOR AND FURNITURES, SMALL WOODEN PRODUCTS
Keynote speaker: Ohran Nikšić, Zanat, BiH
Petr Andrýsek; Check Roots, The Czech Republic
Vitomir Vujović; Platforma Workshop, Montenegro
Mate Horvath; 4MS Design, Hungary
Norbert Szilagy and Lehel Karoly Kovacs, Hungary
Živa Voga and Saša Rojak; CliCques, Austria
Emir Salkić; Tochak, Bosnia and Hercegovina
Clarissa Lorenzato; Fleko, Italy
Michaela Maresch; Commod House, Austria
Jernej Mali; Atelje Mali, Slovenia
Stefano Gri and Piero Zucchi; GEZA Gri e Zucchi Architettura, Italy
Stefan Hitthaler; Architecture office Hitthaler, Italy
Tomislav Pavelić, Croatia
Gabriela Kaprálová; ASGK Design, The Czech Republic
Zuzana Ambrozova; ai5, The Czech Republic
Vedrana Škalić; Nunc, Croatia
Peter Reitmayr; Reitmayr architekten, Austria
Marija Lukić; Studio Synthesis Architecture&Design, Montenegro
Eszter Kaderják; Mome, Hungary
Horia Spirescu; Studio Act, Romania
Vitomir Vujović; Platforma Workshop, Montenegro
Robert Rons; Point arhitektura, design, inženiring, Slovenia
Nuša Završnik Šilec; Enota, Slovenia
Kateřina Kupcová – Pihávková; Chic by Pig, The Czech Republic
Cristina Curelea; SoLemn, Romania
Bogdan Rusu; Vatraa, Romania
Maša Vukmanović; Thinkobjects, Croatia
Jelena Mitov; Studio Modelart Architects, Serbia
Tamara Švonja, Serbia
Dea Beatovikj, North Macedonia
Ozge Caglayan; Ozge Caglayan Studio, Turkey
Mojca Gregorski; Kontra arhitekti, Slovenia
Blaž Habjanič, Slovenia
DIPSTOR®, Slovenija
Nina Tešanović, Sono arhitekti, Slovenia
Federica Toscanini; Giulio Iacchetti Industrial Design, Italy
Claudio Triassi; Bergmeisterwolf Architekten, Italy
Ivana Žalac; SKROZ, Croatia
Tomaš Jiraček; 440 Audio, The Czech Republic
Fabio Revetria, Lara Sappa; STUDIO OFFICINA82, Italy
Djordje Djukanović; STUDIO CHUDES, Serbia
Milan Panović; Craftka, Serbia
Christian Kroepfl, Nivoo table, Austria
Aleksandar Ugresic, HOOKL UND STOOL; Serbia
Helena Dařbujánová, DAD STUDIO, The Czech Republic
Studio Moste, Slovenia
FD: GORAZD TRUŠNOVEC; MEDTEM, ZAVOD ZA KULTURO IN NATURE, SLOVENIA
DEVELOPMENT PROJECTS (INTEGRATION, COMPLEXITY, ACROSS SECTOR APPROACHES)
Welcome Speech, Damjan Stanonik, State Secretary, Ministry of Agriculture, Forestry and Food, Slovenia
Prof. dr. Miha Humar: SRIP – Smart building and home with wood chain
Bogdan Božac, Project Demo DOM24h

 WOOD NICHES (FLEXIBILITY UNIQUENESS, MAXIMUM SERVICE)
Wooden houses: Wood buildings from Alpine space:

Martin Mutschlechner, Stadt : Labor – Architekten, Innsbruck, Austria
Arch. DI Karlheinz Boiger, Hohensinn Architektur ZT GmbH, Austria
Christina Thum, TRIPLE WOOD »Sustainable wood building culture in the EUSALP Region«
Nautical interiors:
Tim Kos, Mizarstvo Kos Bojan, Slovenia
Danijel Mihajlovič, J & J Design, Slovenia
Hotel interiors:
Andrej Jerina, Kolpa-Invest d.o.o.
Design furniture:
Vedrana Škalić, Nunc, Croatia
WOOD POLITICS AND STRATEGIES (ALPINE REGION VS. SEE REGION)
Wood politics and strategies:
Christina Thum, Ministry of economic affairs, labor and housing Baden-Württemberg, Germany
Višnja Košćak, Holzcluster Steiermark, Austria
Marijan Kavran, Croatian Wood Cluster, Croatia
Round table: Wood politics and strategies in Slovenia – Challenges and opportunities
Damjan Stanonik,State Secretary, Ministry of Agriculture, Forestry and Food, Slovenia
Danilo Anton Ranc, Director of Wood Industry Directorate, Ministry of Economic Development and Technology, Slovenia
Igor Milavec; The Chamber of Commerce and Industry of Slovenia and Wood Industry Cluster, Slovenia
Prof. dr. Miha Humar: Biotechnical Faculty in Ljubljana, Slovenia
Bogdan Božac, Marles Hiše d.o.o.
Andrej Jerina, Kolpa-Invest d.o.o.
dr. Jernej Markelj, architect
Moderator: Janko Rožič u. d. i. a.
BIGSEE WOOD AWARDS – GRAND PRIX AWARD CEREMONY AND EXHIBITION OPENING
Award giving ceremony
Exhibitions opening:
ARTPART – WOOD
Wooden soft and back by Circus per Month
Wood Sounds by August Braatz
Spicy colours by Vivo.