Tomaž Aupič, a former architecture student, has decided to change the world of sitting together with Sebastjan Štarkelj and Mateja Vrščaj. They have jointly designed an active chair that enables proper sitting posture. A special chair joint, which has been borrowed from industry, contributes to the fact that the chair is not placed in the upright position, and the user is required to balance the chair position by means of his own posture and movements. Tomaž Aupič is well aware of the fact that our health and well-being might become greatly affected by long days of sitting behind our desks, therefore he believes that our way of sitting must definitely be changed.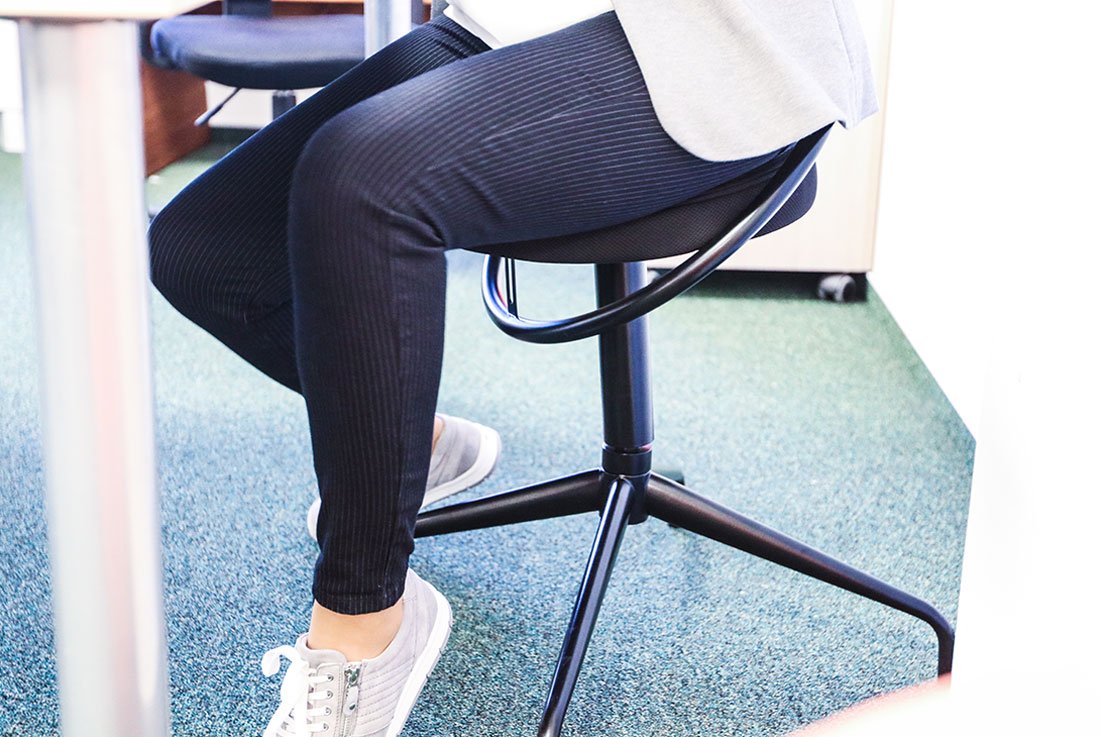 L.P: What were the beginnings of your active chair like?
T. Aupič: The concept of the Active Chair itself was initially patented and protected by an innovator Boris Pfeifer, but afterwards it was not launched onto the market for quite a long time. Mr Pfeifer met Sebastjan and Mateja in an entrepreneurial incubator, he presented them his idea of a chair joint that enables active sitting, and afterwards they started developing an active chair for children, Active chair KIDS, which is the only active chair for children aged over 2. They presented their first chair at the Ambient Expo in 2016, however, the product needed a few improvements. We met at the Expo as visitors and since we all come from Črnomelj, a town in the south of Slovenia, we established closer links and started our fruitful cooperation. We were encouraged to create an active chair for adults by the children's parents who had already been using our first chair.
L.P: What was the initial design idea and why has the chair been designed this way?
T. Aupič: The active chair is not about classical chair design, it is about specific superior movement functions. The chair has been designed according to the principle "form follows function". A great emphasis has been placed on the user's experience since we were testing and adjusting the product from the start. When working on the prototypes, we detected certain positive as well as negative features – from materials to form, positions of the rotating joint, and the form of the chair itself. All the chair details are hidden and minimalistic – which for me really represents a perfection in design. Due to the chair's movements there are many specific peculiarities related to the chair design, but the most important thing is that a person sitting on the chair feels good. This chair is not about the classical design perfection, it is about the experience of using it.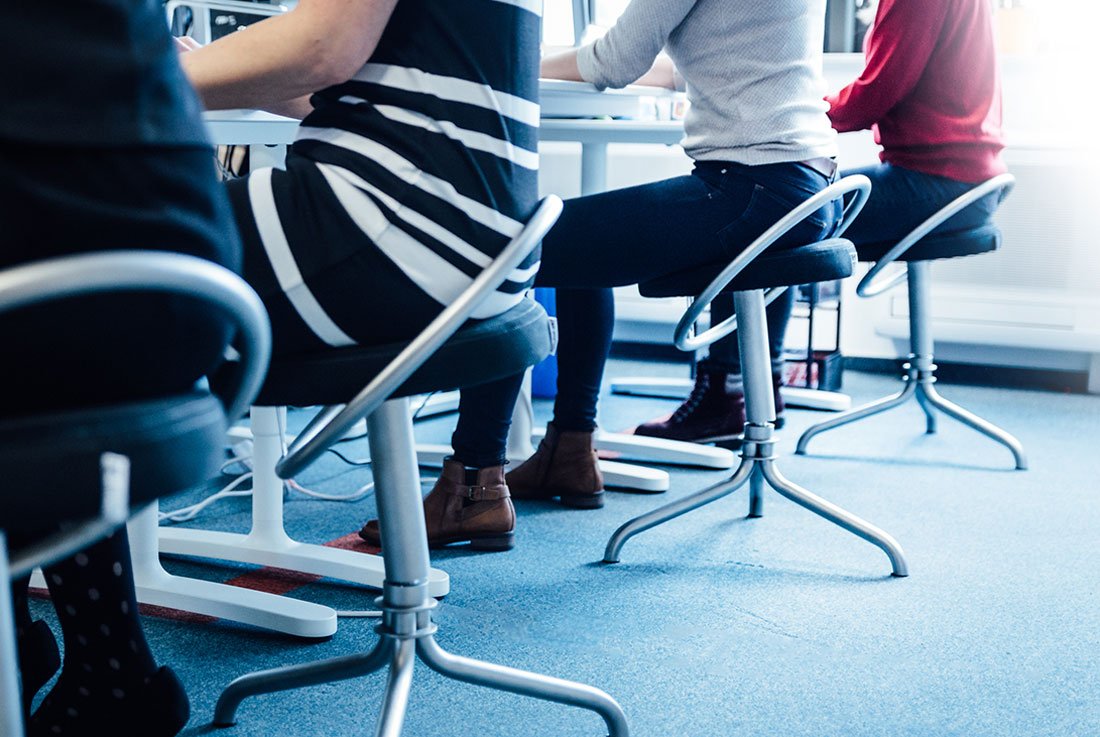 L.P: What is it that makes your chair different from the other active chairs on the market?
T. Aupič: Most other active chairs have a different position of a joint – in some cases the joint has been placed right under the seat or it can be found closer to the floor. In our case the joint has been placed in the middle, between the seat and floor. Such position has proved to be most optimal for appropriate sitting. The joint, which is a special peculiarity of this chair, enables natural breathing that is caused by a user himself. Other active chairs have a spring or rubber which has a characteristic of returning back to its initial position, the movement is stiffer and not so responsive. Contrary to many other active chairs, this chair also has an attractive design. When it comes to ergonomics, the appearance itself is usually of minor importance – most such products are made of plastic and are not really appealing to the eye. We were trying to design a chair that would combine both – ergonomics and aesthetics.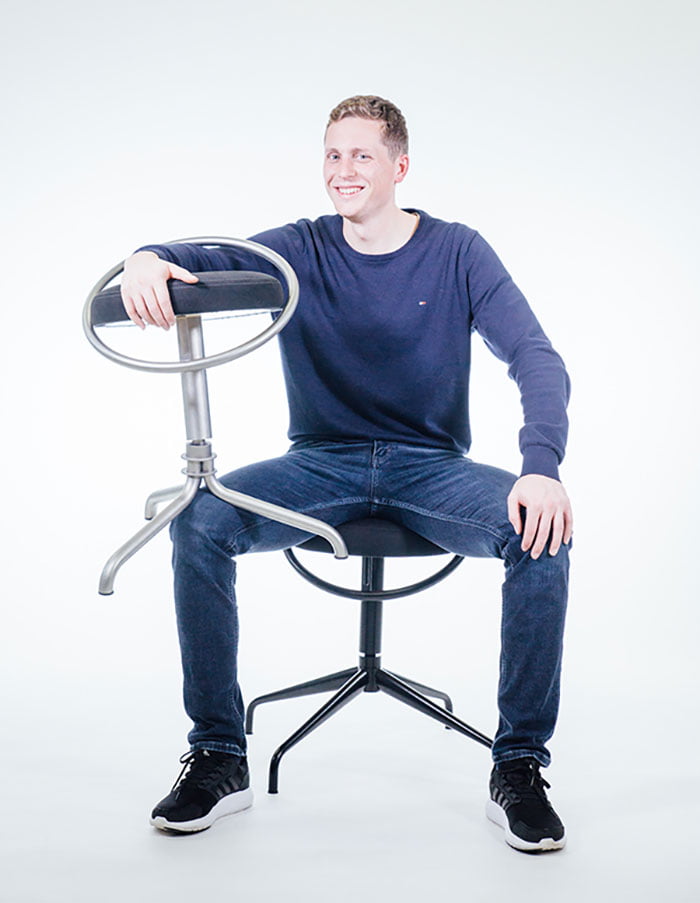 L.P: When did you start with the production and what was your sales strategy like?
T. Aupič: In 2017 we started designing a chair for adults – Active chair PRO. The strategy was as following: we developed two models, we made two prototypes. They were presented at Ambient Expo to the visitors who had an opportunity to test the chair – we collected advance purchase agreements from those who decided to buy the chair. The production of this chair had therefore already been covered and we knew that we would be able to deliver the product very quickly – we managed to manufacture and deliver the pre-ordered products within the period of one month. In this way we created the initial capital, and around seventy chairs were sold in the period of five days. On the basis of these start-up funds we were able to finance the production – with our own sales and financial resources. We started in such a way that a product was first presented to the actual users who also tested it – in this manner we got their feedback, we adjusted the product and altered it in accordance with the users' experiences and comments. Active Chair brand has existed for two years now and has not become widely recognized and trusted yet.
L.P: How successful are you at the moment?
T. Aupič: Due to a very successful Ambient Expo we have really been very active lately. In the first half of the year we also attended two other expos – Din-Design in Milan and Medica Expo in Gornja Radgona which is dedicated to modern health-care. In June we also visited Loft Expo in Karlsruhe in Germany. It is very important that we have been recognized by some important experts working in the area of rehabilitation – Active Chairs have become part of the product mix in Soča pharmacy. Our chairs have been recommended by many experts as chairs that enable healthy sitting, we have been cooperating with various physiotherapists who consider our active chair to be a continuation of their work. We have also established contact with Nobis company from Maribor, which is marketing and manufacturing office chairs and lifting tables, and a renowned company Magnet Design from Ljubljana. These business links are very important for us since their clients understand the concept of active (and appropriate) sitting, ergonomics and healthy working environment.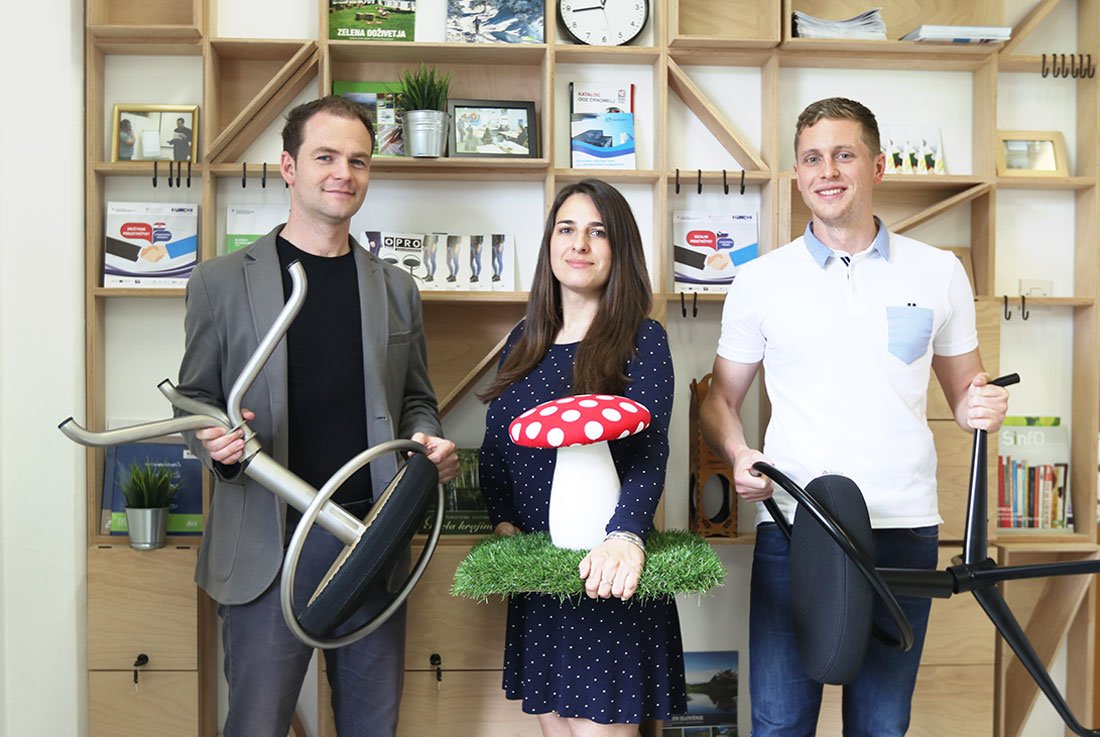 L.P: What are your target markets?
T. Aupič: Mostly German and Swiss markets as well as Poland. The active sitting concept has really become well established in these countries. There is no need to present this system in Germany since everyone is well familiar with it. Scandinavian countries are also well aware of its importance, therefore in the future we will try to penetrate their markets as well. We have decided to focus on Northern Europe which represents a promising market due to its corporative culture and familiarity with the basic concepts of healthy working environment. Everything is different and much more difficult in Slovenia or South-East Europe where the concept of healthy sitting is not very common and well-known – not many people are aware of its importance and in addition the problem also lies in the price itself.
L.P: What should be done in South-East Europe in order to make your product and the idea of healthy sitting more recognisable?
T. Aupič: Children should be informed about the proper sitting posture at a very early age. Courses on active sitting should be organised in elementary schools. Children should be shown how to sit properly behind a table and other general things, such as the height of a table and computer screen. The second important issue is the link between ergonomics and design – interior design experts should not put ergonomics aside, and the companies working in the area of ergonomics should not put design aside. All changes begin with expert public. Such changes can be quite long-standing, but they are absolutely essential for achieving people's well-being.
FILE
Text: Lara Perša
Translation: Lidija Jerman
Photos: Jan Kocjan, Tomaž Aupič, Nevenka Adlešič