Salih Teskeredžić is a designer, a professor at the Sarajevo Academy of Fine Arts and the founder of his Vienna design studio. His impressive design production places him alongside some of the greatest world-renown designers. He is well known for his recognisable style which is a combination of retro-ethnographic local particularities and contemporary design forms which are frequently upgraded by means of certain details that sometimes play a functional role and sometimes they only act as an aesthetic accentuation. The products thus give an impression of being light and natural, primarily due to his ability to follow the natural growth of wood which is one of the essential materials used in his design. A combination of the old and new as well as his masterly accomplished fundamental form and function thus allow his products to be well accepted and widely used in modern interiors. By way of their softness, clean lines and contrast his designs fill the interiors with a touch of cosiness. As already mentioned, his clean forms follow the form of natural wood growth and tree branching, inviting the users to instinctively touch them. His attitude to design is well illustrated in his masterly work and commitment to details. His daring play of combining essential handicraft elements with machine-made items does not only represent certain progress in design, but it also fills the products with designer's emotions as well as his soul and personality. Salih Teskeredžić has undoubtedly put Bosnia and Herzegovina on a map of big design achievements by means of his work and commitment.

(Matjaž Zorc, the award curator)
An interview with Salih Teskeredžić:
Is it true that your work colleagues have nicknamed you Gepetto?
I have just recently heard that from one of my former students. I was apparently nicknamed Gepetto during our practical classes when we were working with wood. Otherwise, my standard nickname is "Teska". These former students have now become my work colleagues. This is the way things work in Bosnia, sooner or later everyone gets his/her nickname.
Your work apparently shows a sincere connection with wood. You strip it naked, in a way, and then expose all its beauty by cutting sections through its structure. It is a well-known fact that, in your view, design and crafts are inseparable. Can you describe the process of designing a piece of furniture in your company?
Our design process mostly takes place in a workroom. This is also the most exciting part of our work. My work colleagues as well as craftsmen, who are artisans with many years of experience, take part in our discussions. As regards the discussions, we stand on an equal footing, but there are no compromises when it comes to design, harmony, proportions, elegance. Those are the axioms that represent the essence of everything and it is difficult to combine them with technical dimensions. Wood certainly remains central to our activities and our attitude to this material is similar to the ties we have with our best and at the same time most unpredictable friend.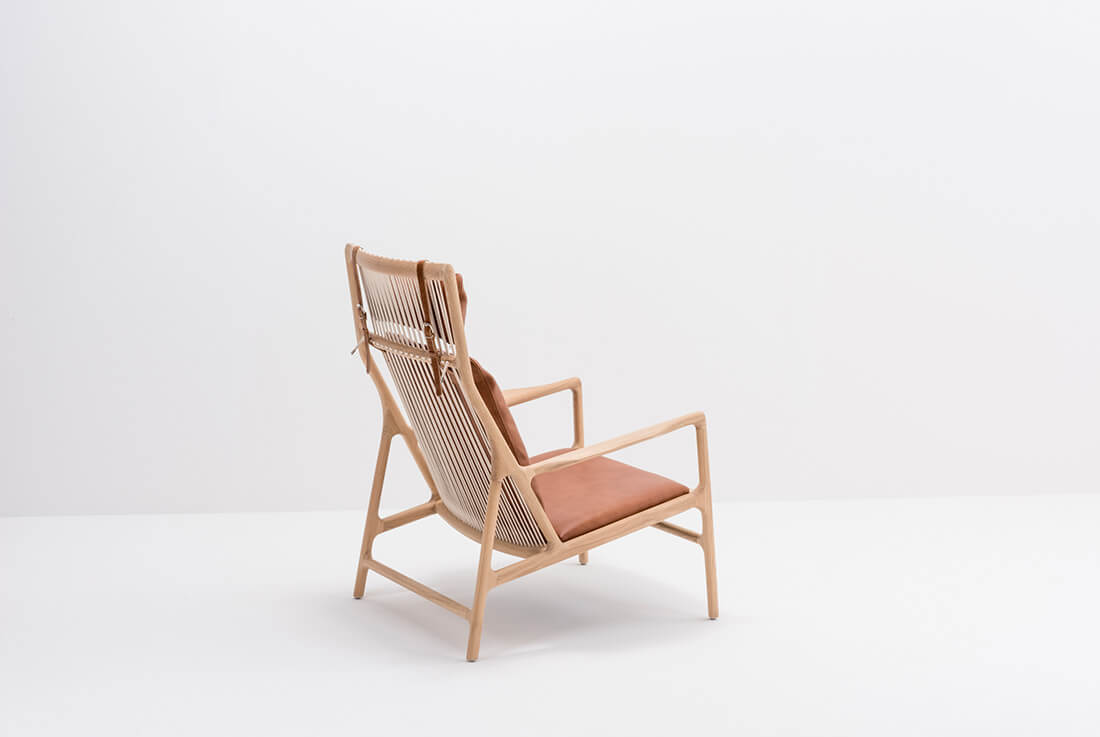 Dedo | lounge chair, 2016. Salih Teskeredžić, Red Dot 2016, brand Gazzda. Photo: archive Gazzda.
Have you introduced that principle at the Academy of Fine Arts in Sarajevo where you give lectures on industrial design?
The academy workroom is a place where students' products are created. They work with materials, they make models and cooperate with our joiner. I try to explain to them that it is impossible to develop a three-dimensional object without using your hands. Computers can be of a great support to your work, but they only represent part of the process and they cannot be used for creating a final product. It is only through handwork that one can get connected with a material. Handwork also makes it possible to get attached to a material and feel it tactilely, by using a sense of touch, while a certain shape can be experienced by seeing the material with your own eyes. It is impossible to do it by means of a photograph or a computer screen.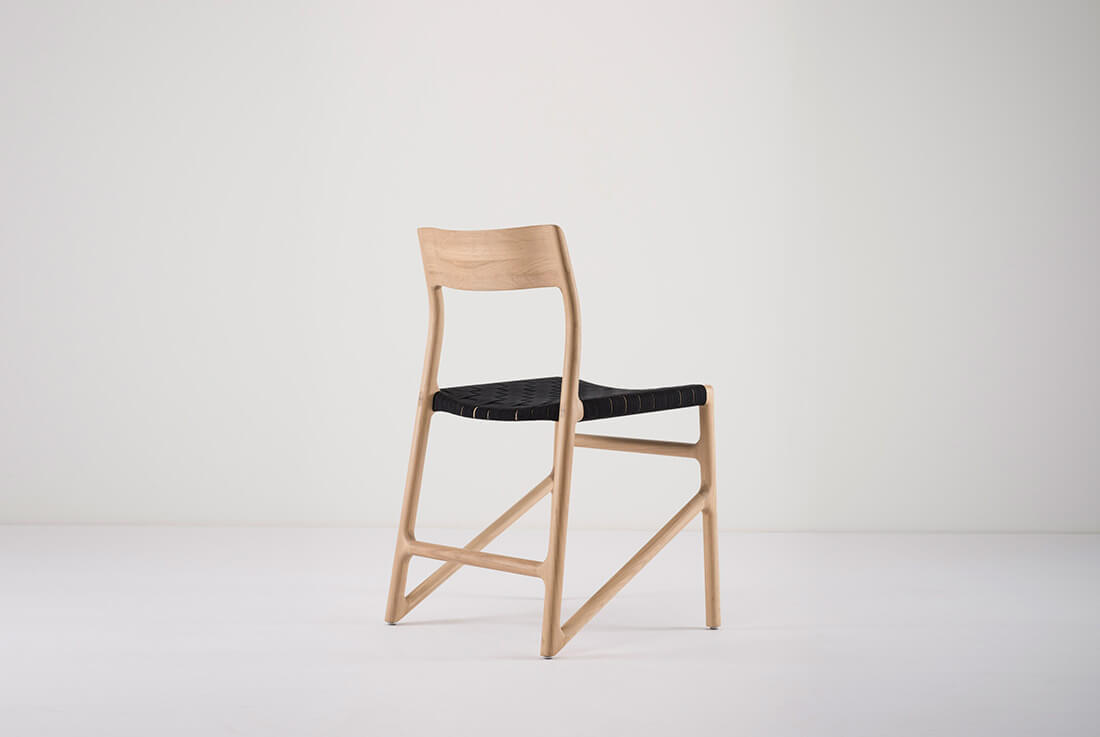 Fawn | chair, 2015. Salih Teskeredžić, Red Dot 2015, brand Gazzda. Photo: archive Gazzda.
In 2002, you were invited by a highly esteemed professor Mr Zlatko Ugljen to start working at the Academy of Fine Arts as a visiting professor. What is your relationship with professor Ugljen like? Were you maybe also his student at the Faculty of Architecture in Sarajevo?
It is true, professor Ugljen was my bachelor's degree advisor and my talks with him have left an important mark on me. I think that it was not until that time that I truly understood what the attitude to architecture, art and professional ethics really is about.
He also encouraged me when I told him, with regret, that after finishing my bachelor's degree I would have to work as a furniture designer in Šišad (furniture factory) since I was obliged to return my scholarship. And so, as a recent architecture graduate, I had to move from Sarajevo to a small town Gornji vakuf and work there as a designer in a "whatever" furniture factory. He said it was a good challenge and that one can do a lot of good work as a furniture designer and that I shouldn't underestimate it. With those thoughts I found myself in a factory workroom as if I had been Alice in Wonderland. I was a designer with an office in a dusty workroom and not in a design centre in Sarajevo. That is how it all started.
My respect towards the professor and the Academy was one of the reasons why I decided to return back from Vienna.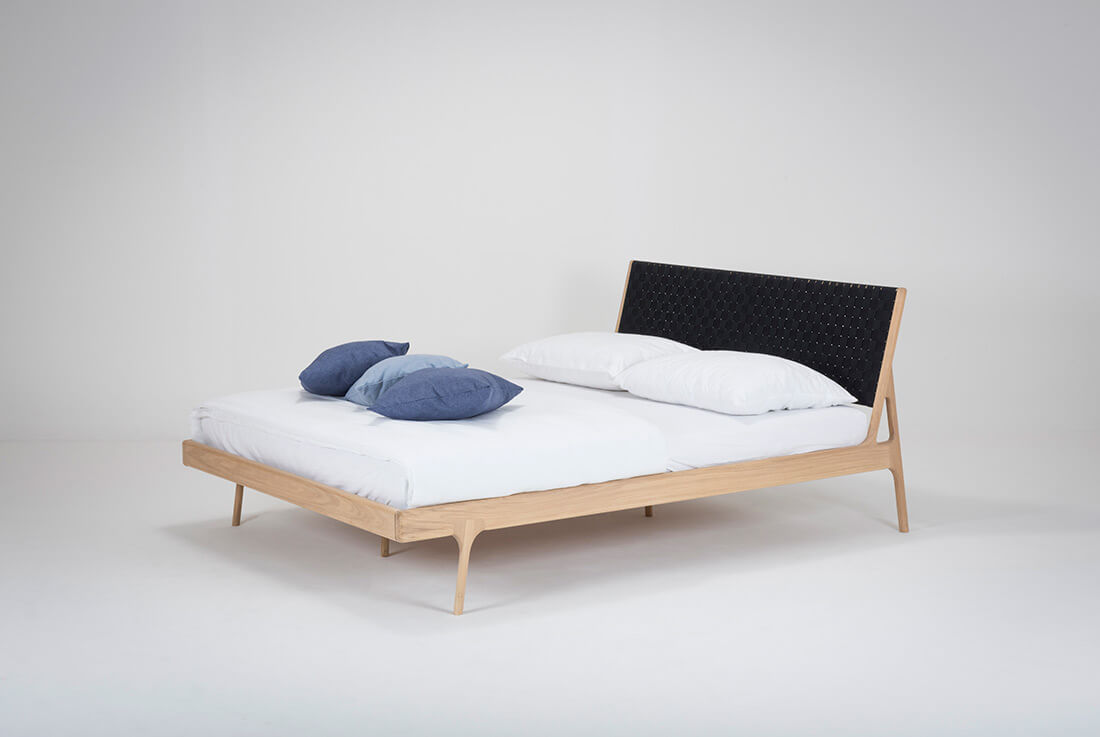 Fawn | bed, 2015. Salih Teskeredžić, Red Dot 2015, brand Gazzda. Photo: archive Gazzda.
Since its establishment in 2013, the Gazzda Trademark has experienced an incredible commercial success and it has gained wide acceptance in global markets. The trademark was established in cooperation with Zlatko Tanoviće and Kenia van Halderen. How did you start cooperating and what role does each partner have in this project?
I met Kenia and Zlatko a few years ago when they were young businessmen trying to establish their small company in furniture industry. I liked their energy and their business spirit.
At that time, I worked for the "Artisan" company from Tešanj where I made a recommendation for the two businessmen. They were given the task of placing Artisan products in the Dutch market. That is how we started socialising, we visited some expos together. While having discussions and debates we came to the conclusion that it would be great if we could establish our own brand in order to be able to develop our own products freely and independently, from design and development to presentation and distribution. That is how the "Gazzda" trademark, which is still in its infancy, was established. As regards the choice of name, it is about a typical Bosnian humour which defined the then wish.
Our roles in the company are very simply organised. The two of them are in charge of managing and advertising while I take care of the creative part of the process. Our roles are certainly often intertwined and they also complement one another. The two of them are in charge of the development of our products, while I am responsible for the trademark evolution.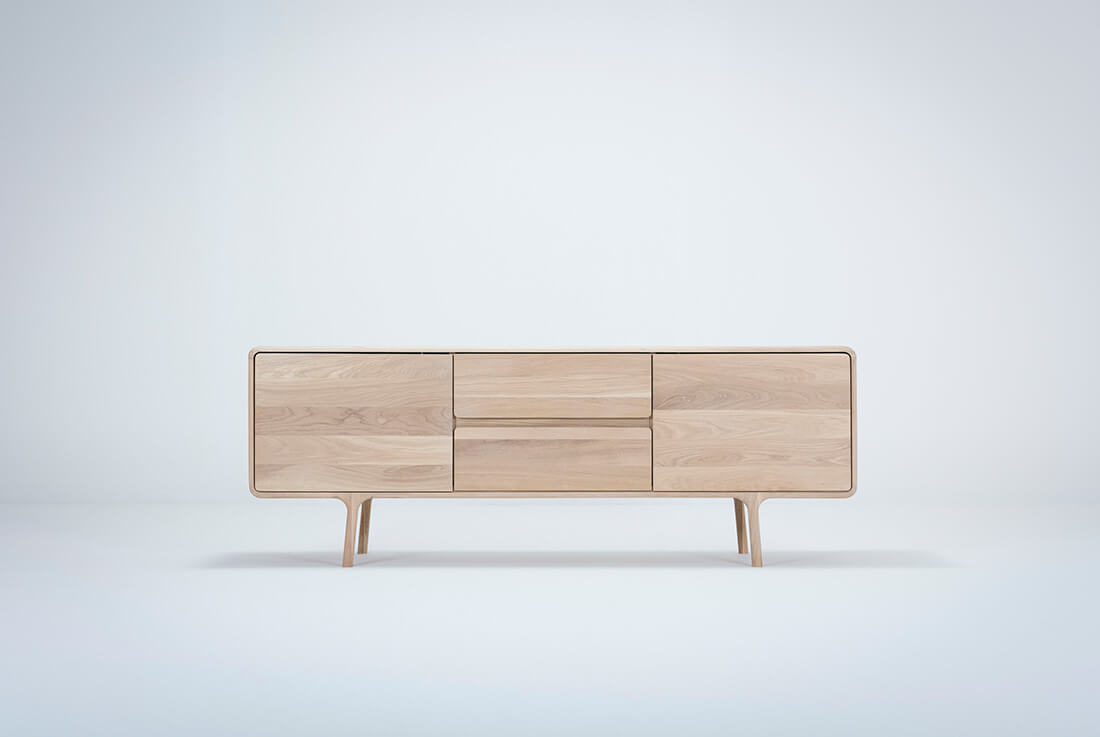 Fawn | sideboard, 2016. Salih Teskeredžić, Iconic Award: Selection 2016, brand Gazzda. Photo: archive Gazzda.
You have been given numerous awards, among others also the Red Dot Design Award and IF Design Award. What do these awards mean to you and do they possibly, after the initial enthusiasm, also represent a disturbing factor since they also trigger certain public feedback after which, I assume, there is less time for creative work?
These international awards mean a lot to me, and I believe it is the same with my other colleagues. However, I have a feeling that they were given rather late. At the beginning of my career, when I really wanted them, there were no awards, and they arrived later along with knowledge and experience. Now I see them as something rather common.
A positive comment given by those who use my products also represents a great award, since the users are, in fact, the most important judges. Some awarded projects were not "awarded" by users and vice versa – there are those that gained patina by being used in various homes. I believe it is a great feeling if one can say: "Look, this is still a great product". Transitional trends really do not mean anything to me. I would like to make a good product. As regards the media, I tend not to lose too much time because of them. Here in Bosnia this miracle usually lasts for one day only! :)
I am also very excited about the awards given to my former students or work colleagues, such as Mustafa Čohadžić, my first work colleague at Gazzda. He has worked independently for a few years now and he has been awarded many times, among other awards he has also received the Red Dot and IF award. It is about the question of continuity. There are no "books that would have one letter only ". There is also the entire palette of new, young designers who are now entering the scene.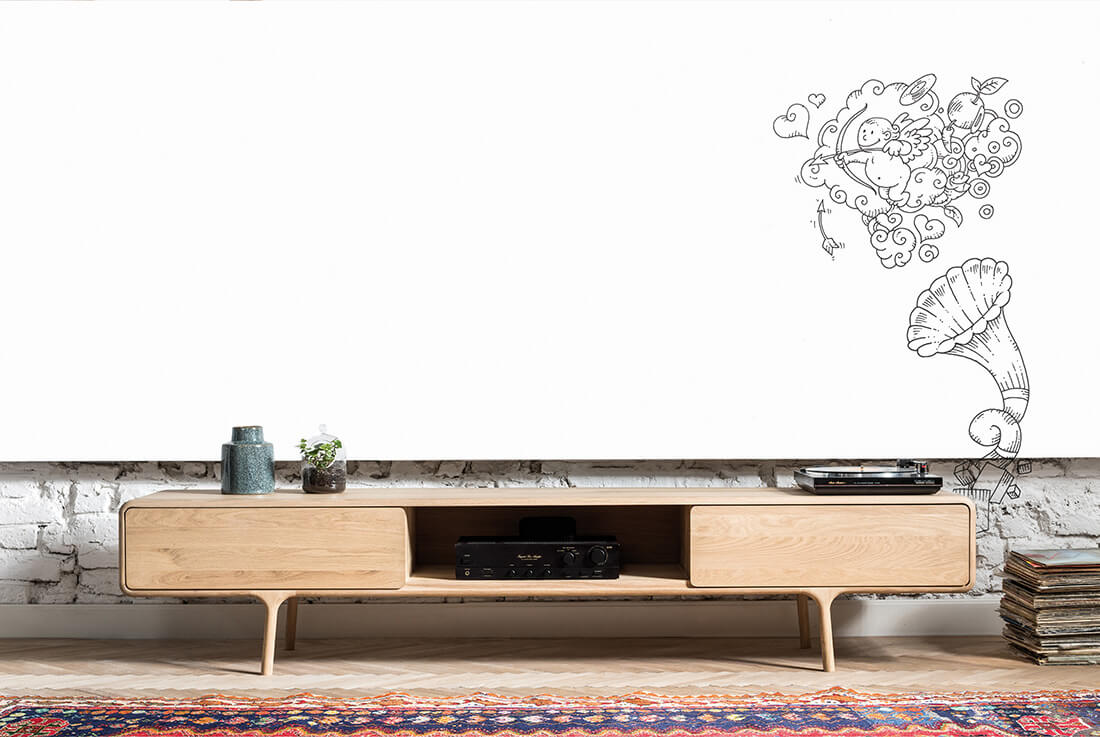 Fawn | lowboard. Salih Teskeredžić, brand Gazzda. Photo: archive Gazzda.
How is your company organised? How many employees do you have and what areas of work are they involved in?
Our company is organised as a Centre for design, development and market positioning. Currently, there are 37 people working in the following departments: design, development, advertising, management, sales and product distribution department.
Your product are made in various small workrooms and bigger factories in Bosnia and Herzegovina. Does this "dispersed" cooperation represent for you an advantage or a weakness, and are the geographical distance and production supervision really economical in relation to the mastery of production that each workroom can provide?
This type of cooperation and physical distance have their advantages as well as disadvantages. Only one factory can have rather limited resources and it is difficult to have work colleagues providing the same levels of quality. This is a rather innovative approach in design world. Thus you can be more focused on the essential qualities of a certain product, and the levels of thoughtfulness and "elaborateness" are higher than they would be if we cooperated with only one factory. In this way product "supervision" can be better as well. And another advantage is greater freedom of design.
There is another aspect of this concept which I consider extremely important and it is the social moment. We can provide work for more people. It is a great feeling when you know that an employee will be able to buy new shoes for his child and that you were personally involved in this – directly or indirectly.
Communication and production supervision are carried out by a team of people who are daily present in factories and who keep track of our production process and at the same time they sort out possible difficulties.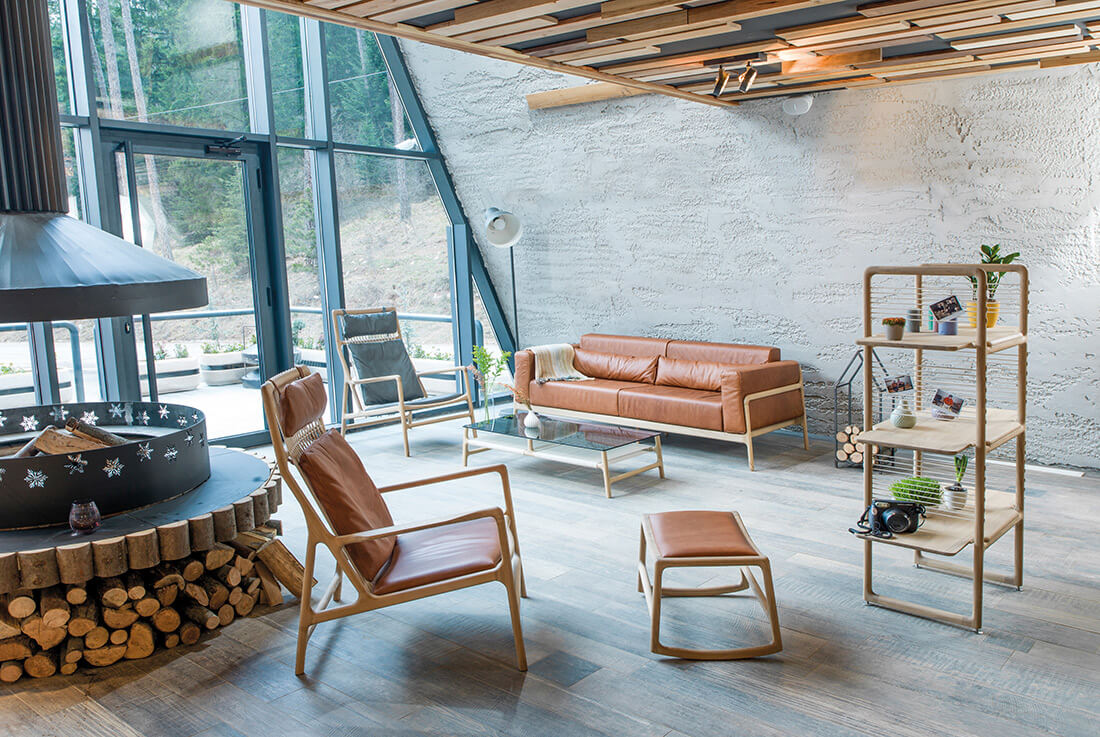 Fawn | collection. Salih Teskeredžić, brand Gazzda. Photo: archive Gazzda.
Your design seems to be significantly affected by Bosnian ornamentation and Yugoslavian furniture design which, intertwined with your creative impetus, turns into some new romanticism. Can we say that the cultural heritage of your country, which throughout history represented the intersection of various religions and cultures, has left a special mark on you?
It is surely true that those factors may affect us consciously or subconsciously. There are many positive things derived from my origins and my own work experience in the former country. These are the qualities I am trying to transfer into my own design work such as, for example, the excellence of craft or the tradition of industrial furniture production. Certainly. Why not? The area of Bosnia, openness to others and things that are different, casualness that lies within us all are certainly a part of me and consequently a part of my design expression. The intersection of various religions and cultures represents a great capital of my country which, as one pro-Bosnian politician from Sarajevo said, "has not been destroyed even by the fascists who are more fervent than the neighbouring fascists".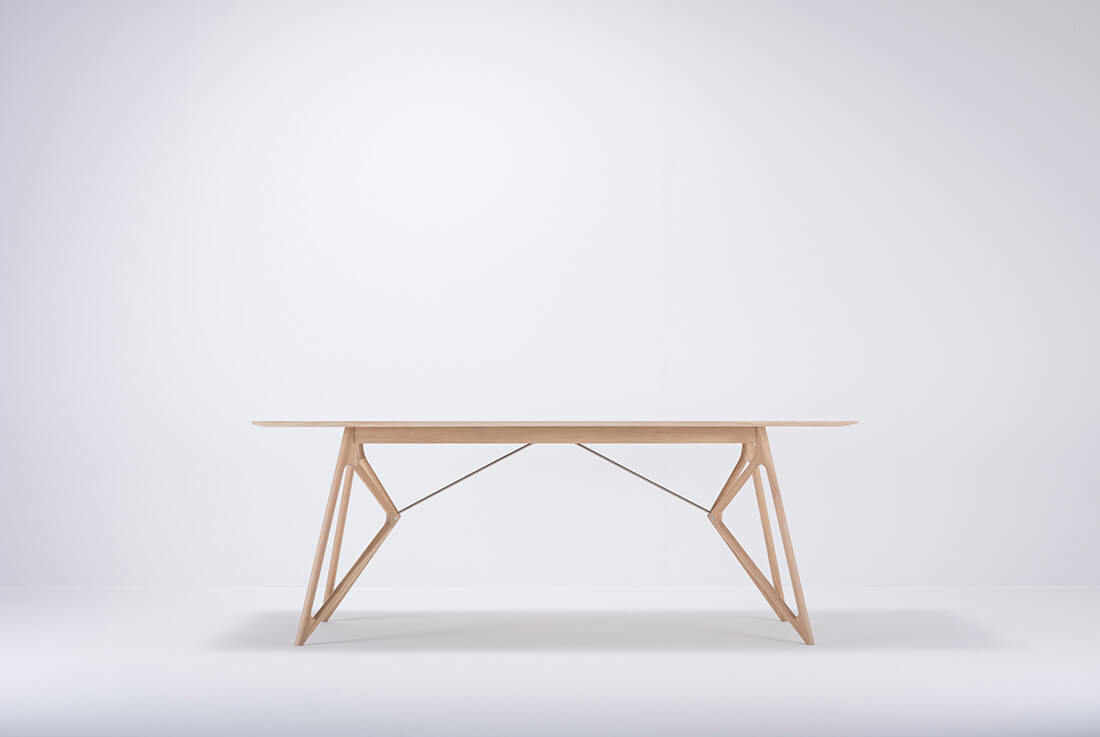 Tink | table, 2016. Salih Teskeredžić, Red Dot 2016, brand Gazzda. Photo: archive Gazzda.
You lived in Vienna for a long time where you worked in a rather different business environment. What effect did it have on you?
It was a wonderful experience. I went to Vienna at the beginning of 1990. My departure was motivated by a wish to learn something new and become familiar with the country of Thoneta, Wiener Werkstätte. The moment I felt that I saw and learnt enough, I wanted to go back home and dust off a tradition of handicraft and craftsmanship through a serial production of furniture and interior equipment. It was a great challenge.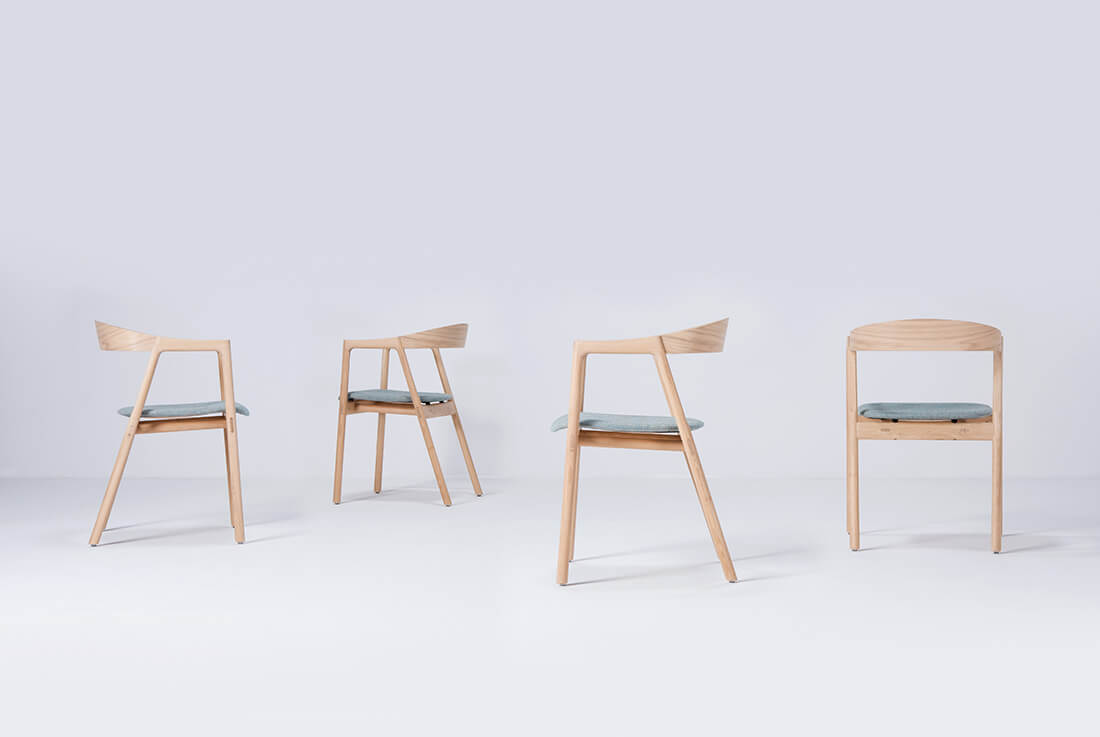 Muna | chair, 2018. Salih Teskeredžić, brand Gazzda. Photo: archive Gazzda.
Bosnia and Herzegovina is slowly becoming an important point of unique, topmost furniture industry. As a designer you have been part of some successful stories within the companies such as Artisan or Zanat who cooperate with some world's design celebrities such as Ludovica and Roberto Colomba or Karim Rachide. I assume that your presence there also contributed to the development of those companies and that it was probably a mutually beneficial relationship.
My cooperation with Artisan and Zanat (at that time Rukotvorine) began 7-8 years ago. At the very beginning Artisan was looking for its own design identity. The tradition of family joiner's workshop and a great wish represented a good basis. I designed 5 collections for them which were clearly segmented in terms of their shape and target users. At that time we also took part at the Köln expo where we presented something new. For such things one also needs support and trust from the other side, it is impossible to be successful without it. There would be no revolution.
There was a similar story with Zanat company from Konjice. They wanted to enter international markets and acquire modern design that would represent a contrast to their traditional carving technique. The process of joining carving and modern techniques represented one of the most difficult tasks for me. In such cases one can easily slip into kitsch. We were very dedicated to our work and we started off with two collections. The international awards that followed and the commercial success of Artisan and Zanat represented a great stimulus for the vision of the development of our own Bosnian product.
Looking back I wonder whether the dreams I had as a student with a vision, and we would often laugh about it, have indeed come true: "the country of best čevapčiči and design". We certainly are far from that, but we are having a great time on this journey. Even if we never reach our final destination, we will at least be able to say that our journey was wonderful and interesting.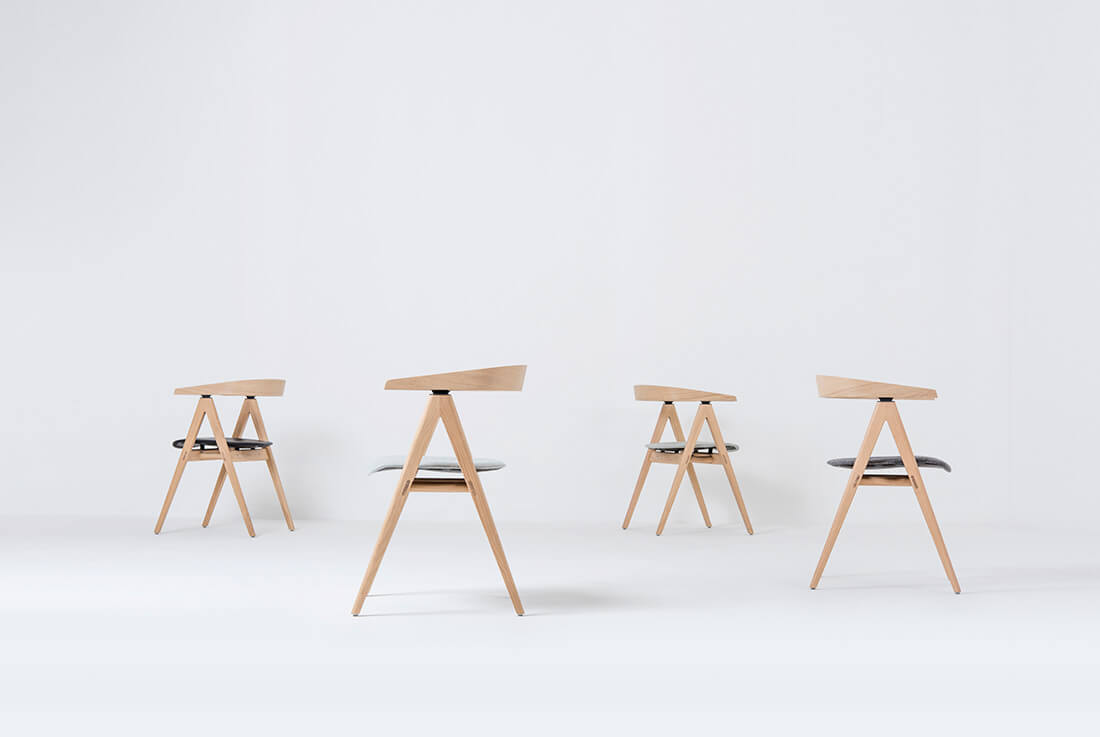 Ava | chair, 2018. Salih Teskeredžić, brand Gazzda. Photo: archive Gazzda.
Do you think that Bosnia and Herzegovina could offer brighter future for the young by means of creative development in wood industry and craftsmanship?
I always emphasize how difficult it was to begin from the position of a devastated country and destroyed industry. Nevertheless, I still managed to find my place in the world's design market. Unlike the post-war serial production of cheap, copied furniture we are nowadays focused on design and uniqueness of our products which are made in small, flexible workshops and not in enormous systems that used to exist in our country in the past. Good design is today highly desired and respected and producers are moving in the direction of the appropriate development and enforcement of their own products which represents the biggest success of the vision we dreamt about and paved the way for it. I hope this trend will continue in the future as well. Creative development and furniture industry of high-level design can represent a good role model also for other branches, and the young want to be a part of this positive development. Moving away and trying to find one's opportunity in Germany and other countries is not the only possible solution.
Your website exists only in English language, your products are intended for foreign, wealthier markets. Have you been thinking about making the products for domestic market which would become a part of every simple household? Or do you think that it would not fit within quality materials and topmost production that you greatly appreciate?
It is a good question. I have, of course, been thinking about keeping our products somewhere here and that they should be more accessible to our domestic customers. For a start, these middle-class customers live in the West.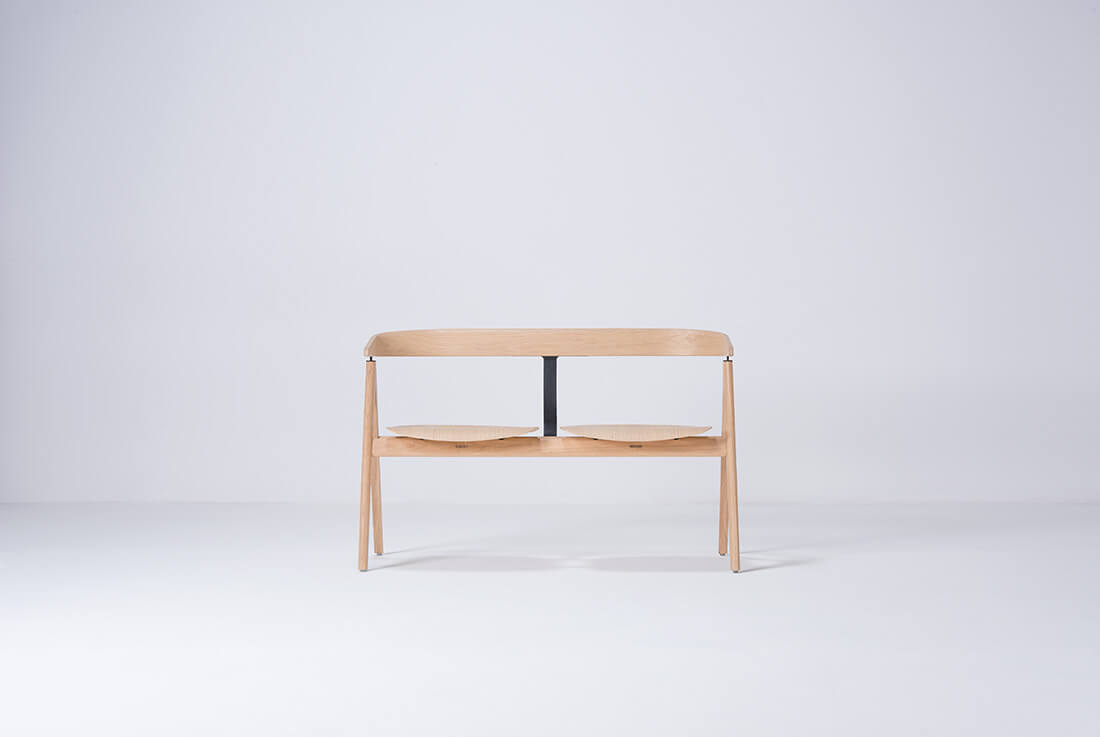 Ava | bench, 2019. Salih Teskeredžić, brand Gazzda. Photo: archive Gazzda.
Is there anything you regret you haven't managed to accomplish in your life yet?
In fact, there are many such things. I have always been dreaming and working on my wishes, and wishes should come true if you are devoted to their accomplishment. Maybe I regret a bit that I haven't managed to realize more architectural projects that would be on the same level as my design projects. Architecture is, after all, my primary profession.
What are you going to do when you retire?
I never see myself in pension. I think I would die because of boredom. Besides, I would also bore everyone around me.
They say you can often be seen in Baščaršija where you drink coffee. Is this coffee also as natural as your design or is it more in accordance with the old Bosnian habit, the ratio 1:1 regarding sugar and coffee.
My coffee is always without sugar, sugar makes coffee taste bad. It is like nitro lacquer on wood. It destroys what is most beautiful.
How do you manage to combine your private life and work?
I think I am annoying for both. This barrier between work and private life is very thin …
Some time ago you told a story for Mladina magazine about the picture of St Anne that you were asked to paint for the local church by a Franciscan vicar. When the vicar visited your home, you told him that it is very difficult for you to paint St Anne since there is no description of her looks. At that moment the vicar saw your mother who was bowing down (praying in accordance with your religion) and the priest said you did not have to be looking further. This story really got engraved in my memory. It describes that special, infinite spirit of Bosnian territory. Does that spirit live on? Is it still present in new generations as well?
That spirit certainly lives on, regardless of all the obstacles coming from the "narrow minded souls" who do not understand that the most exciting stories are the ones that are colourful, not the ones that are dull and monotonous. We are lucky that the idea of openness is still an attractive one and it protects us from those who would like to establish narrow-mindedness. I was lucky to have an opportunity to be growing up in a very liberal environment where two of my best friends were two Africans, Edward and Felix, who were adopted by a Roman Catholic priest from the previous story. This was my truly nice experience that enriched my social mosaic. And even today, when we are contacted by Felix through the social media, we (his childhood friends) are all incredibly happy. It is about this modern spirit that keeps a small country alive and makes it attractive. For me, at least. I hope that young generations still understand this charm.
The interview with Salih Teskeredžić was carried out by Ivana Ljubanović.
BIG SEE VISIONARIES 2019
The Award is granted by Zavod Big to those individuals who enrich and inspire the world of creativity, tend to move forward by pushing design boundaries, and help to encourage the creative environment in the region of South-Eastern Europe. Their activities represent a significant contribution to the role of design in the region, and due to their efforts, the South-East European design has been put on the map of the greatest design achievements. We are all overwhelmed with emotion and deeply touched by these visionary leaders' creative work which ignites our passions and steers us in the right direction to bring out the best in us.