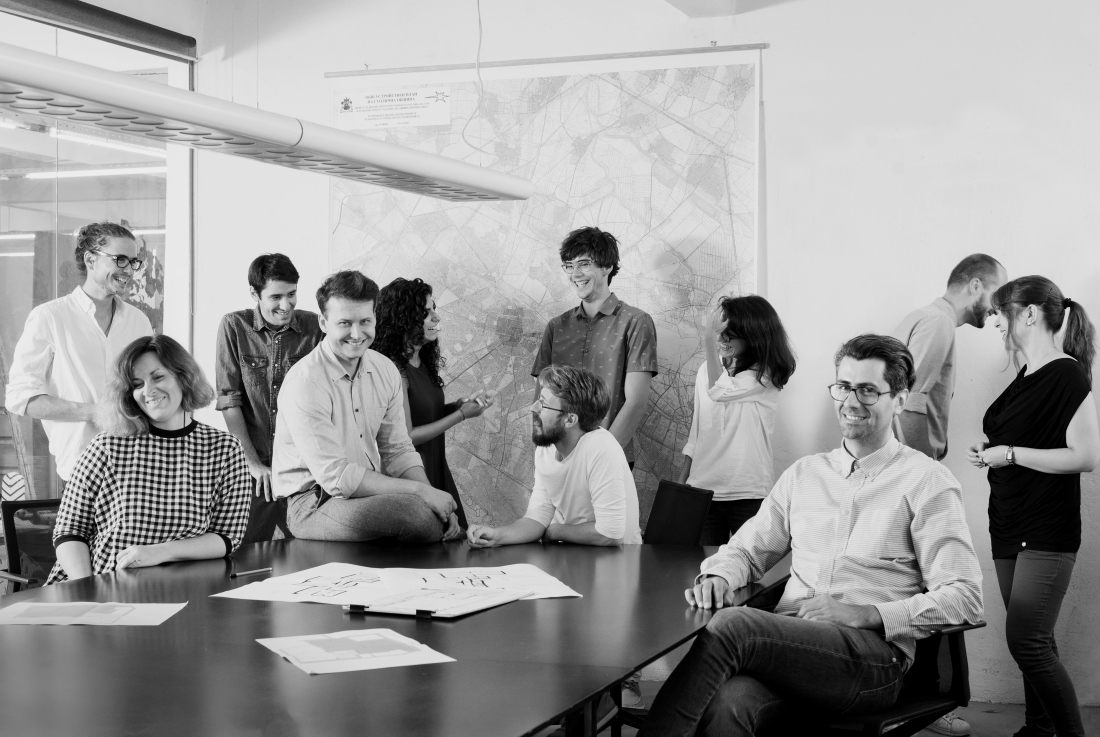 dontDIY
Design and focus: Both architectural and interior design to us are a way to situate people in the world of objects, systems and concepts both larger and smaller than themselves. It is our belief that each interior space, and each building should fit comfortably within the wider spatial, cultural and temporal context of its building, neighbourhood, city, and country, and should not be an isolated entity of self-sufficient beauty. Similarly, we believe that neither our architecture and design studio, nor any other participant in the design-and-build process, is a self-sufficient unit that brings about successful design realizations all by itself. Instead, we appreciate the multidisciplinary and multi-person collaboration that stands behind every piece of built environment, as reflected in our studio's name. We focus not only on the quality of our design, but also, importantly, on the quality of our communication with studio members, clients, partners, and contractors.
Predominant topics in our work are: historicity of spaces and design-objects and its place in the life of contemporary people (worldwide and in our country); ways to manifest modernity in design and architecture; plants and the built environment; visualization of processes – of building, of dwelling, of work, of interaction.
Community work and city-making: The studio realized the project "Architecture Seeks" – a series of meetings between mentors from different cultural fields and a group of young Bulgarian architects in seven creative workshops - within the framework of Sofia Architecture Week 2012, as well as the project "Architecture Meets" in 2013 in collaboration with curator Vladiya Mihailova. dontDIY was the curator of the 2014 One Architecture Week – the longest running architecture festival in Bulgaria, with considerable contribution to opening hidden city spaces to the community. Over the years, the studio members have been actively involved in educational workshops in association with the local architecture and design education institutions.
Accolades: dontDIY won first prize in the 2012 Passive House International Design Competition, and third prize in the competition to design the interior of Bulgarian National Television's Studio 5, also in 2012. Other notable accolades for the studio's projects are the 2017 Dibla Shop/Exhibition Area Award and the 2015 Velux Prize. dontDIY was the curator of the seventh edition of One Architecture Week festival in 2014. Our projects have been featured in a number of international publications such as A10, Bravacasa, Abitare, Frame, dezeen.
The most notable testament to our work is the fact that more than half of our current projects come from clients that we have previously worked and completed one or more projects with.
Studio context and references: On the one hand, dontDIY is deeply rooted in Sofia's reality – Sofia being a city in the state of notable political, economic, and social transition over the last three decades. On the other, the studio partners benefit from educational, professional and personal experience acquired abroad to address local conditions with objectivity and without holding a grudge to the bad aesthetics of change. Both our project work and our community work are a reflection on phenomena and processes in the environment we inhabit. Our focus is to observe, to discuss with each other, and to understand these processes, then to try to extract the positive and the specific. In this way, we hope, our projects are a constructive commentary to the present that we project back into the environment.
Over the first five years of the studio's life, dontDIY has accumulated a considerable portfolio of realized refurbishment and interior design projects, some of which seem to have become instrumental in the development of Sofia city culture. One such project is Betahaus Sofia – one of the studio's first completed projects and the first notable instance of a fully functional co-working space in Sofia. The interior design project comprised the refurbishment of an old building of the national telecommunications operator and was completed in the summer of 2012. Betahaus Sofia (www.betahaus.bg) features an open co-working space for up to 70 people, an event space, small offices and conference rooms and a cafe.

Awards
I think