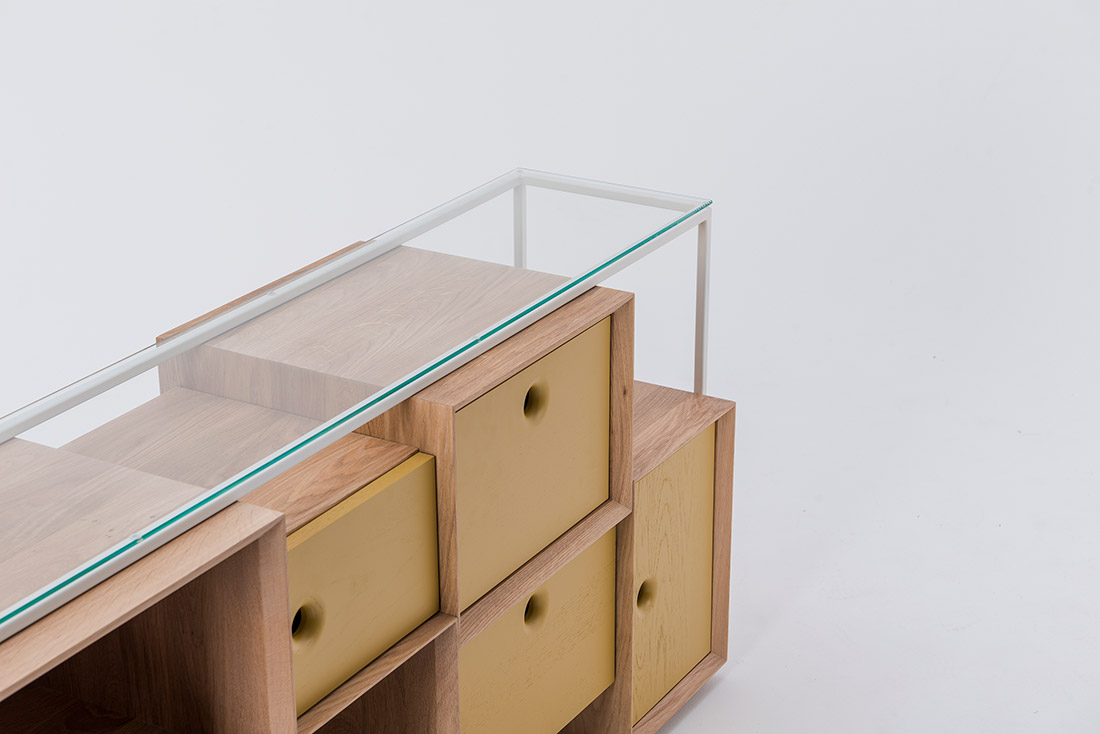 NUR Modular System explores the possibilities of optimizing material usage and reuse of production residues. Therefore, the design consists out of different size boxes, made out of wooden boards with different texture orientation, which are produced by using short pieces of wood. The size and shape of each box matches the size and length of wooden pieces that emerge as leftovers in everyday production process. The boxes are connected together by the simple metal frame, thus creating scattered, playful and relaxed image aiming to bring atmosphere of ease and fun within ones living area.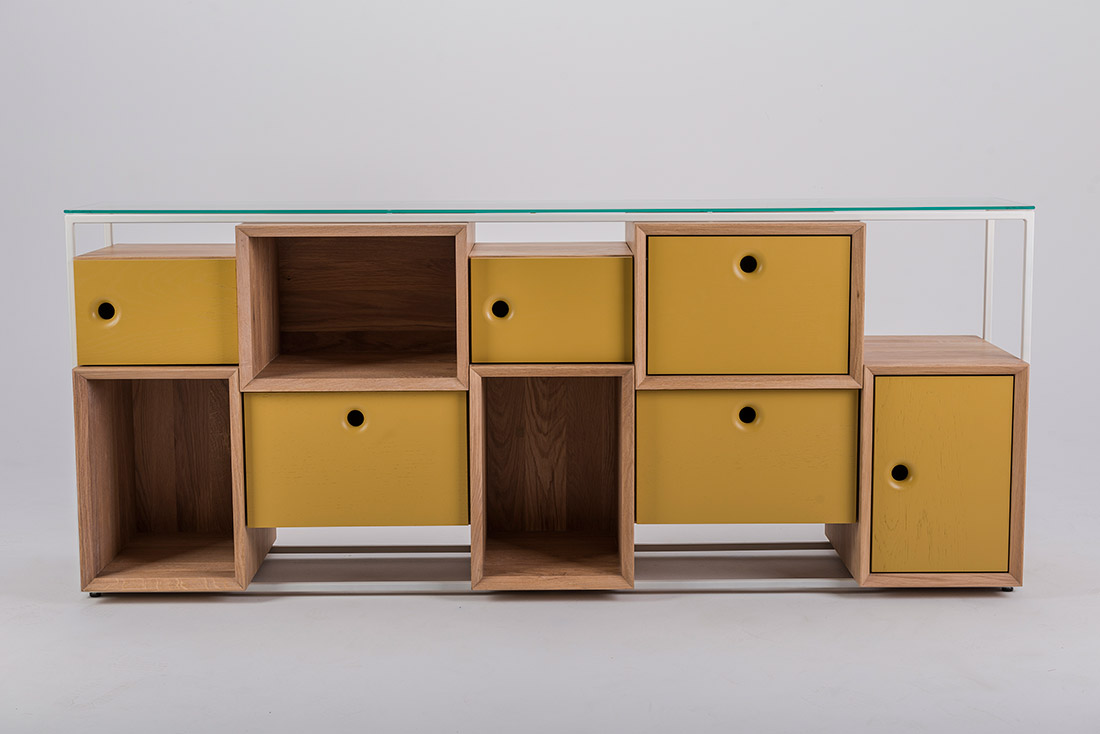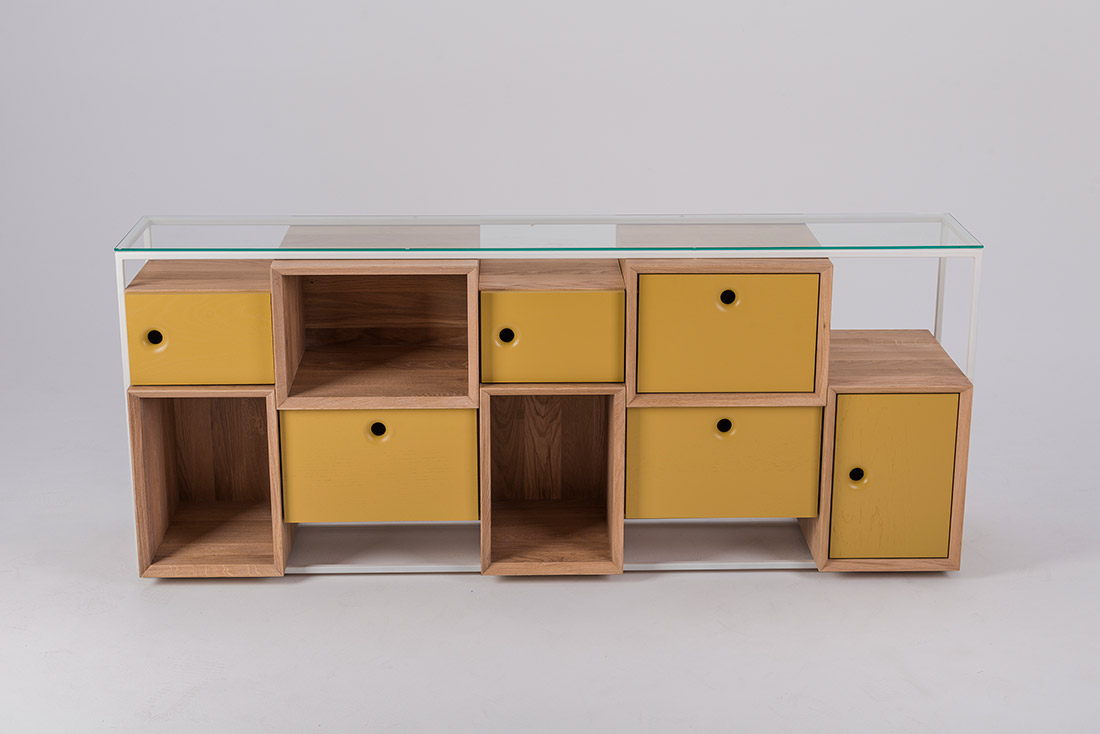 About the design studio:
FILTER is an internationally renowned studio for architecture and design, based in Sarajevo. Along with a number of international awards and exhibitions held many European cities, FILTER is being considered as the most awarded studio in Bosnia and Herzegovina today.
Some of the awards include Collegium Artisticum Grand Prix, Balkan Designers 2015 'Common Grounds' and Qercus 2013.
FILTER team: Vedad Islambegovic, Nedim Mutevelic, Kenan Vatrenjak, Asmir Mutevelic, Ibrica Jasarevic
About the producer:
The Artisan factory emerged from the traditional woodwork shop Ćostović, which conveyed all its love towards wood and 50-year experience of wood processing into it.
Artisan specializes in the manual production of high quality furniture made from solid wood, and this insistence on manual, artisan work is what sets us apart.
We acquired our first experiences by producing furniture for Dutch and British designers, and we started our own first collection in collaboration with the regional designers in 2007.
Since then, our aim has been to reaffirm the philosophy that guides us with each collection, each piece of wood, with each designer's vision and diligent craftsmen's touch.
With the aim to create a new brand, which would target a much younger audience, emerged the idea of Insan. Insan was established in 2017, and has presented its designs for the first time at the IMM Cologne in 2019.
Insan was established with the ambition to produce a piece of furniture with an accent on the modern way of life and sophisticated industrial production. Through our dedication to simplicity, details and perfection in furniture production, attractive in the whole world, we try to achieve the dream where design would be accessible to as many people as possible. Design has to be available and affordable.
Insan is inspired by man, his simplicity, but also his perfection. Insan is a harmonious, perfect, natural state within every man. We transmit this state through our tools (hands) to our work (furniture) and it is the reflection of this state. Our furniture is the reflection of men i.e. Insan.
FILE
Designer: FILTER 
Producer: ARTISAN DOO- Insan created by Artisan
Country: Bosnia and Herzegovina
Year of production: 2018
Photos: by Fabrika
Text provided by the authors of the project.