Brand Identity in Design
MHP is one of the leading grain-trading companies in Ukraine which also specializes in areas like poultry farming, cattle farming, meat processing and other operations. Their vision of becoming one of the world leaders of the agricultural sector in the field of poultry farming, gives a clear picture of their brand identity. This workspace has been designed building on their vision and company culture.
The logo of the company also symbolizes the identity of the brand and is one of the most significant branding investments a company can make. As the face of the company, it impacts public perception. Consequentially, the initial inspiration for the visitors' welcoming lounge and seats have been drawn from the logo design.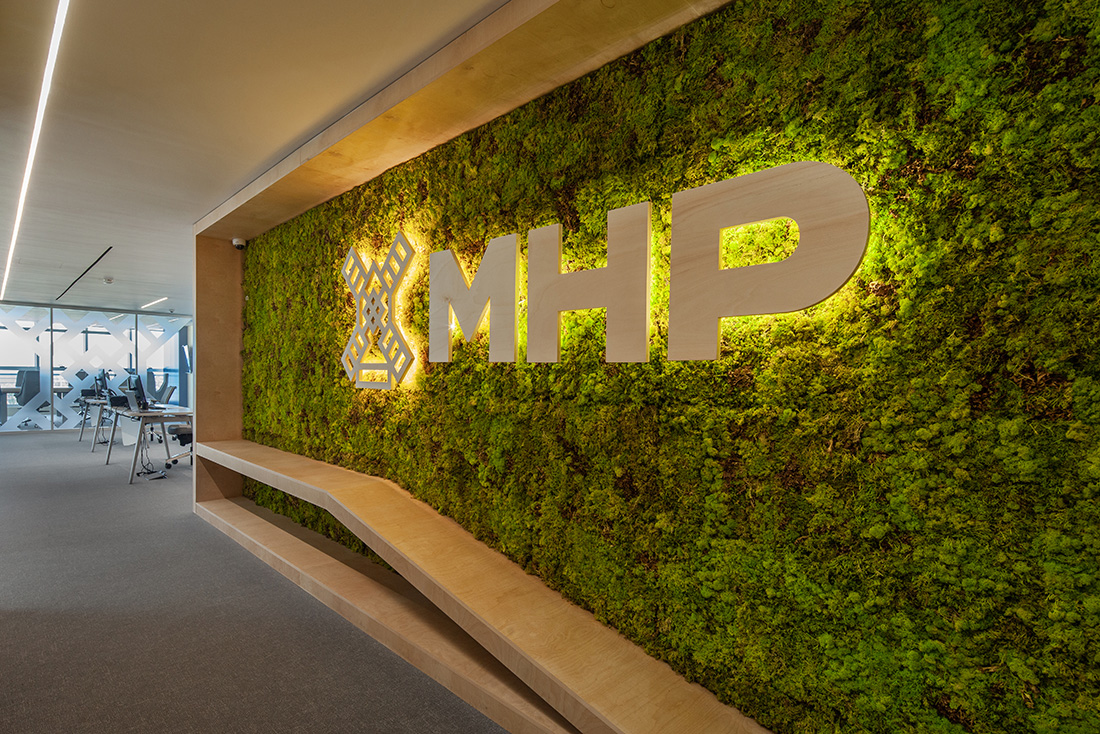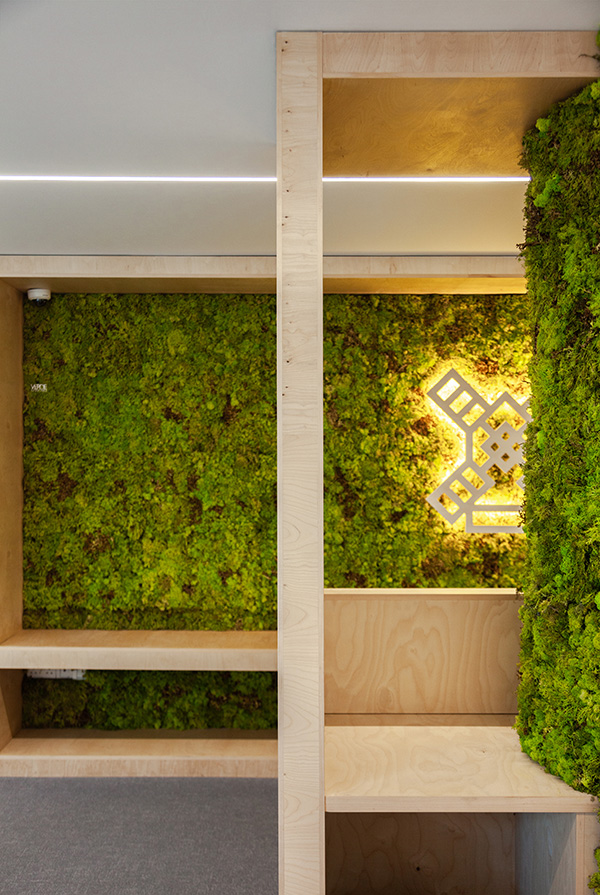 Creativity in Design
Given that MHP is an agricultural organization, the entrance to the office with the reception area, is creatively decorated with greenery along the walls and pillars where the company name and logo are also proudly displayed. Additionally, the floor of the office has been designed referencing tilled soil in a cultivated field in agriculture, illustrating the striped element which prevails on the ground with three different colours.
The interior of the office is decorated in tones of teal blue, beige and light brown. The main colour that dominates the office is teal blue and is offset by the beige corporate colour and the wooden lining. The carpet has shades of teal blue, off white and grey and the work areas have been ergonomically designed.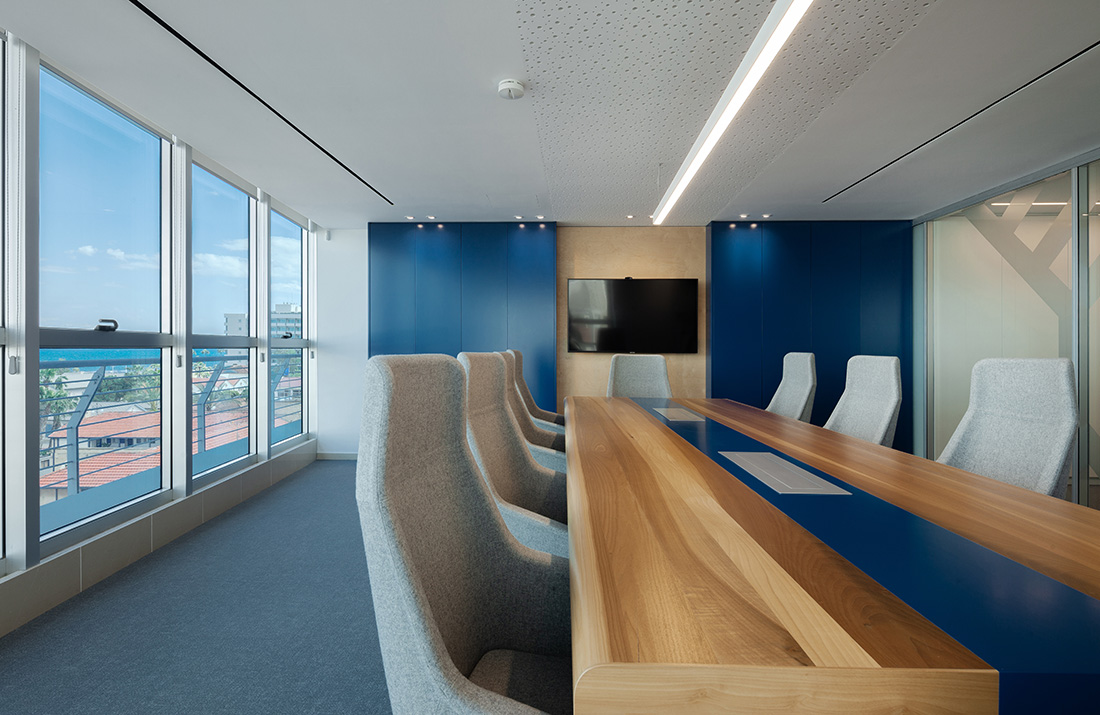 The visitors' waiting area is to the left, tastefully located near windows and also has a couple of small white tables with rounded edges next to the seats which can be used to place beverages and magazines. To the right is an open workspace with desks and chairs, boosting efficiency and productivity.
The conference room is at the farthest end of the office and also has a similar colour scheme, costume made furnished with a long rectangular table and chairs. Tow sides of the room has floor to ceiling sea view windows which allow ample light into the room making it bright. The glass partitioning in the conference room carries the logo design throughout the surface of the glass, once again reinforcing brand identity.
The chairs in the lounge are of Kayak model in tones of light wooden brown. Different models of chairs in different colours have been provided for different areas, depending on their utility and functionality.
Based on all the above considerations, the interior of MHP Larnaca office has been tastefully designed and furnished.
By Nisha Shankar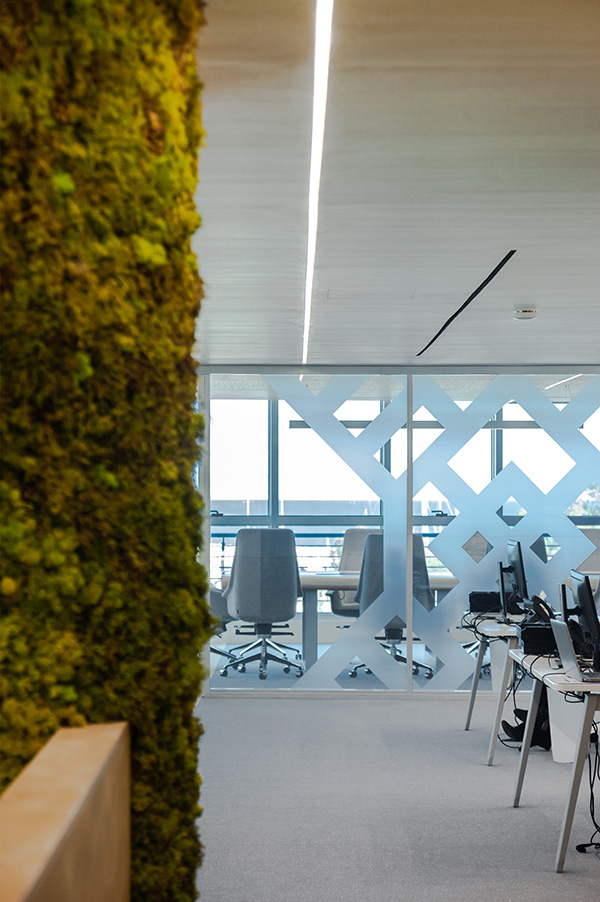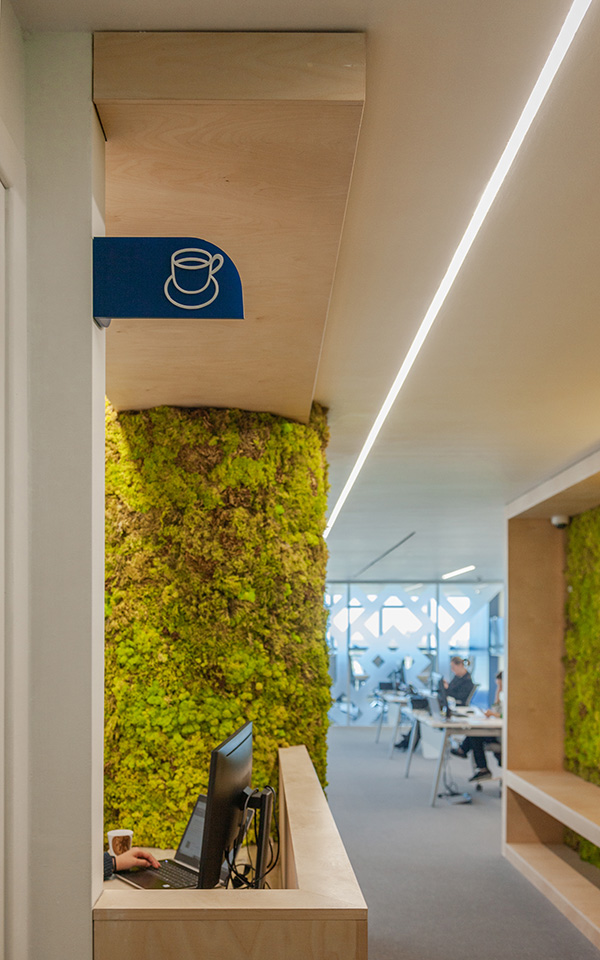 FILE
Authors: Christos Paraskeva, Evdokia Papoui; C+STUDIO ARCHITECTS
Client: MHP SE
Photos: Maria Efthymiou
Year of completion: 2018
Location: Larnaka, Cyprus
Total area: 180 m2
Text provided by the authors of the project.