Maça Kızı, reflecting a time-honored tradition which brought the beach club culture to coastal town Bodrum, inspired by the original guesthouse of the 80's, the ambience sustained as a stylish reconstruction with passion for conservation by minimalizing the structures' environmental effects.In principle, ingenious comfort features hidden details and finest quality of holiday service, with understated luxury, achieving minimal architectural impact.  Draped in bougainvillea, you walk into reception which is kind of inside and outside at the same time; an open and chilled atmosphere with the warmth that comes from a family business. The shoreline organization, landing pier, floating dock, and the pergola system have been the main design focuses. The expansive waterfront deck over the sea is to relax, mingle and experience the spectacular Bodrum sunset.  Parallel to the shore, floating dock is attached to the rocks subtly, without impairing them.  Leaving water in between the deck and rocks, lighting elements below the deck present a dramatic, visual treat at night, joining sea sparkles.Eclectic in style with subtle references to past, natural qualities, sensitive designs and soft muted shades, combination of soft fabrics and stiffer materials, including the light beige colored military camouflage net used to cover the pergolas; the choice of this simple material resonates with the low-key mode of camouflage is described by its proponents as "quiet luxury." In combination with a straightforward design, retractable awnings grant glittering and playful shadows on the timber flooring, besides granting maximum protection from environmental influences, mainly the strong sunbeams. Integrated in nature, light, and breeze, a mixture of semi-open and open spaces are the core of design. Being one step away from sea, one feels as part of nature, in the artless setting. An understated luxury and a pared-down aesthetic is the architectural language that offers alternatives for operational functions without disturbing its essential qualities.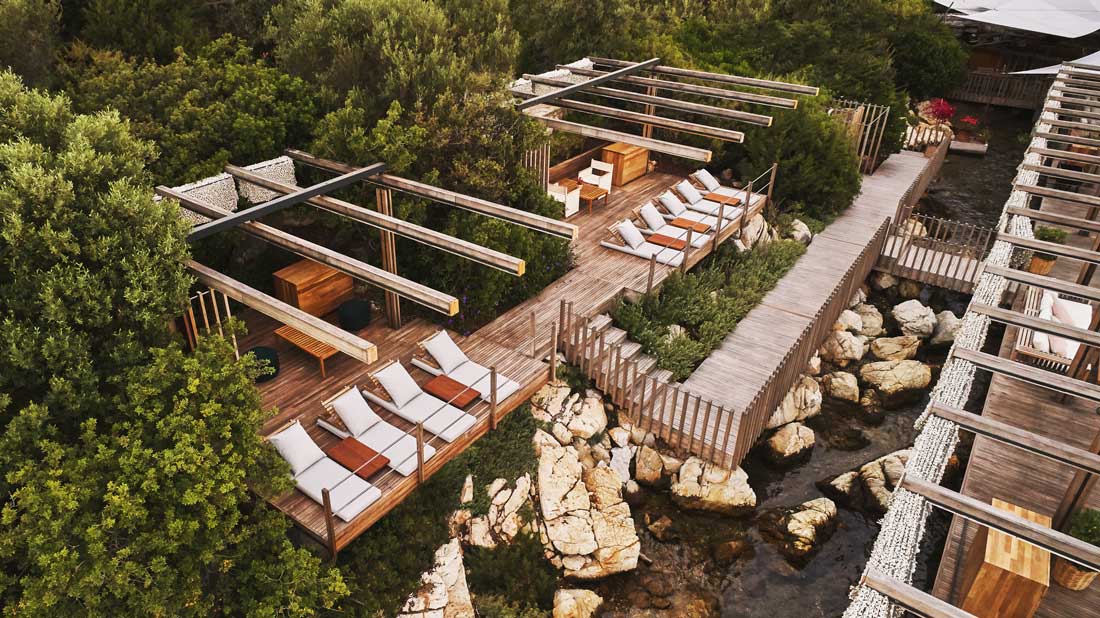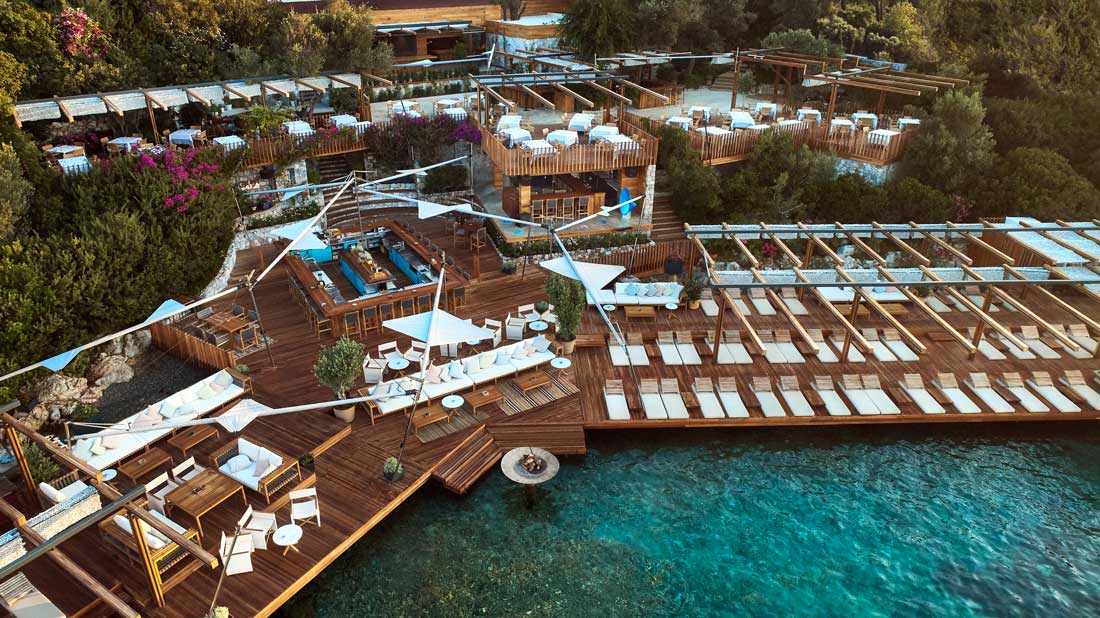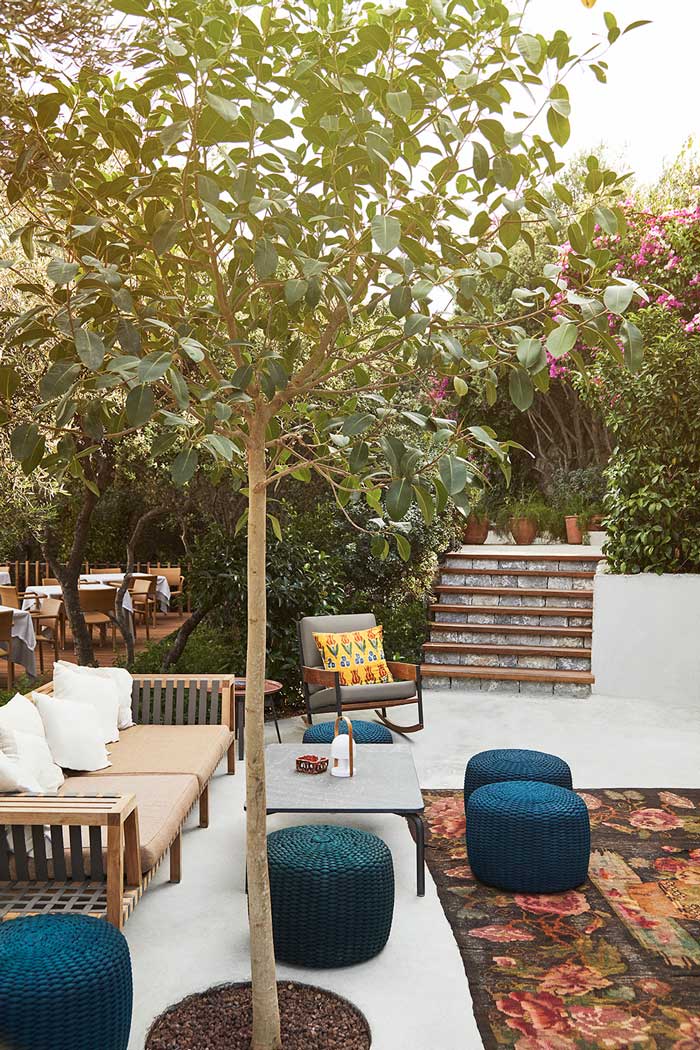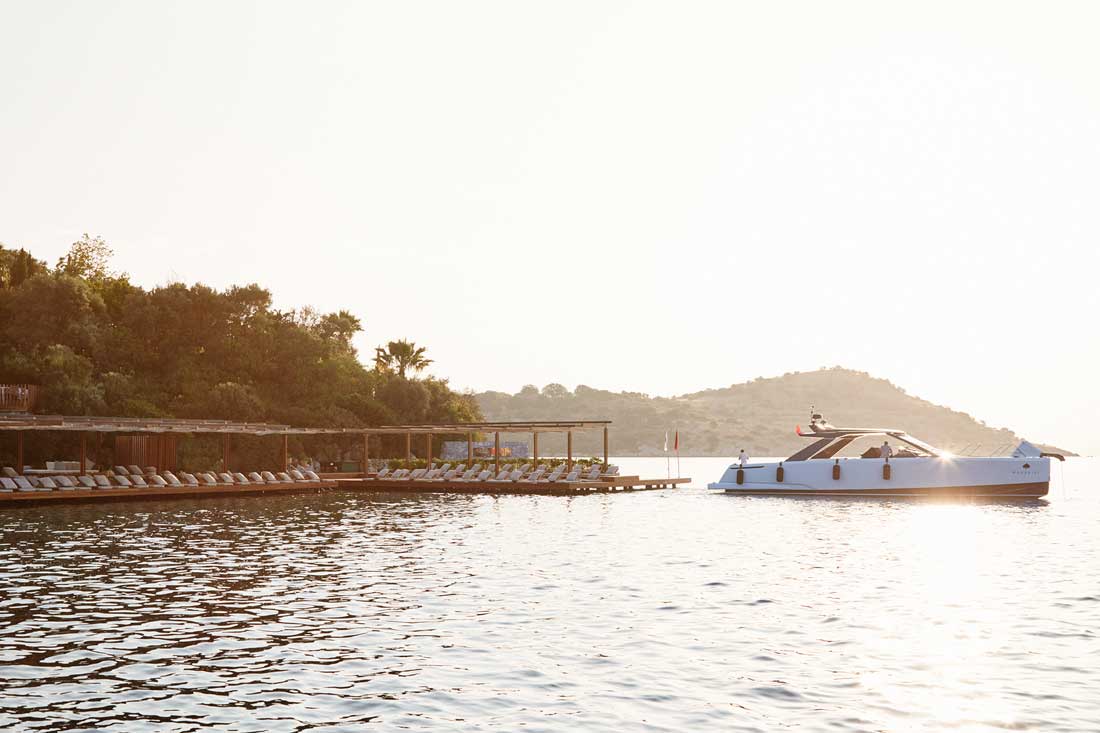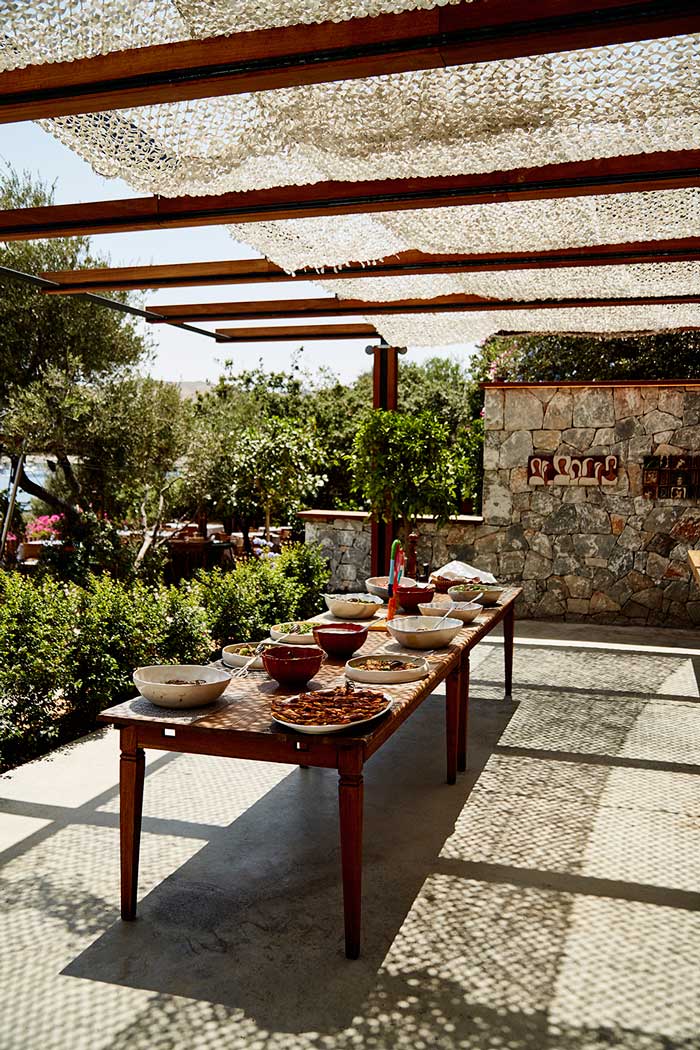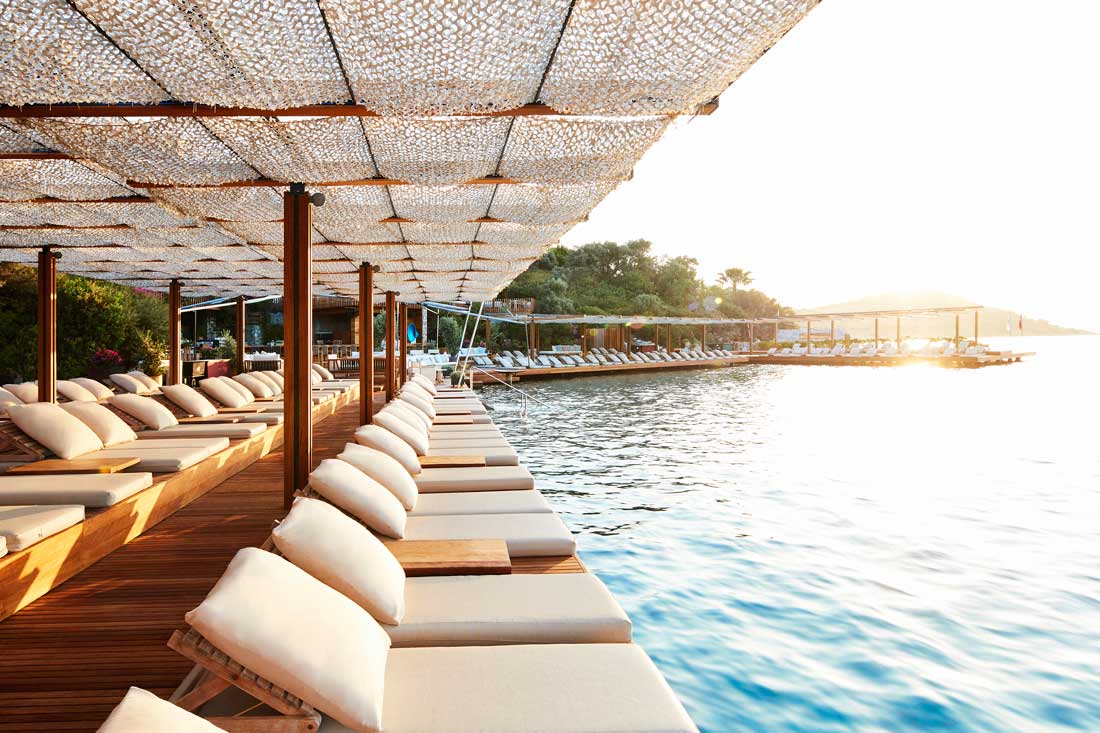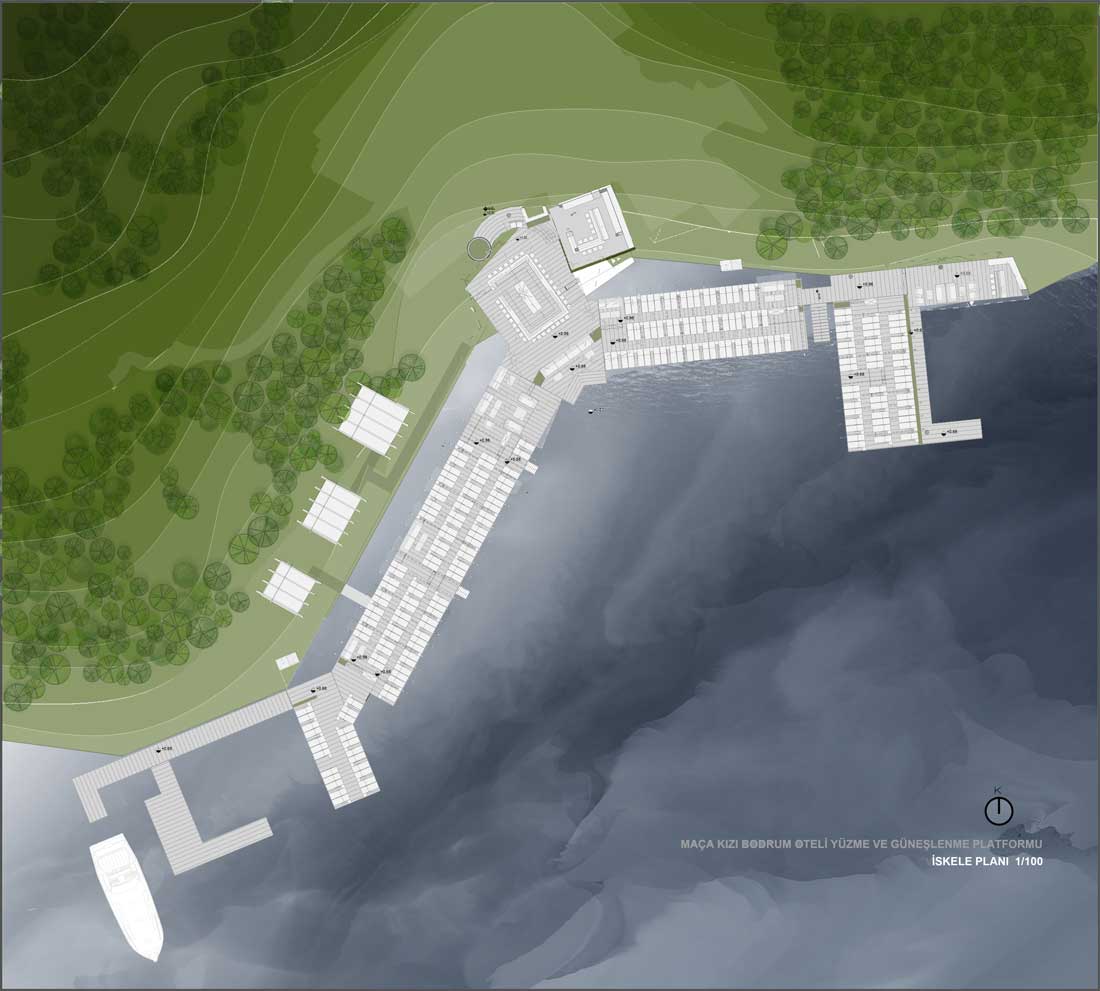 About authors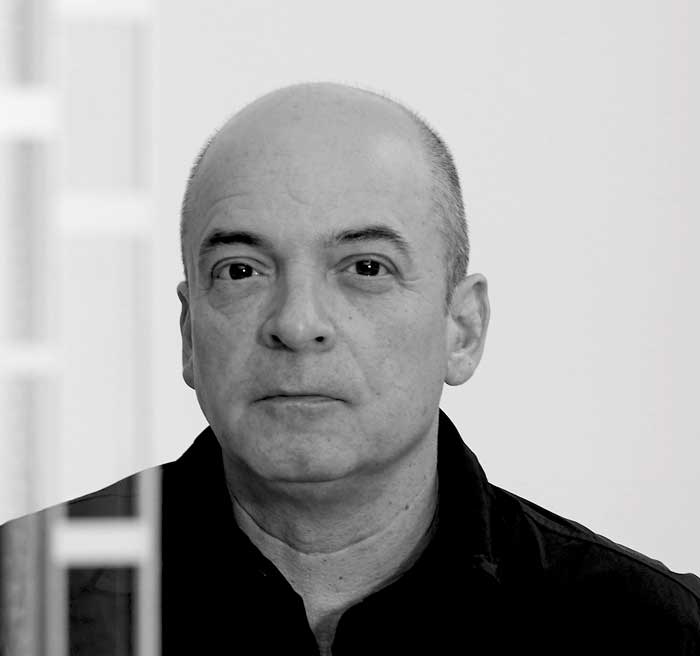 Murat Tabanlıoğlu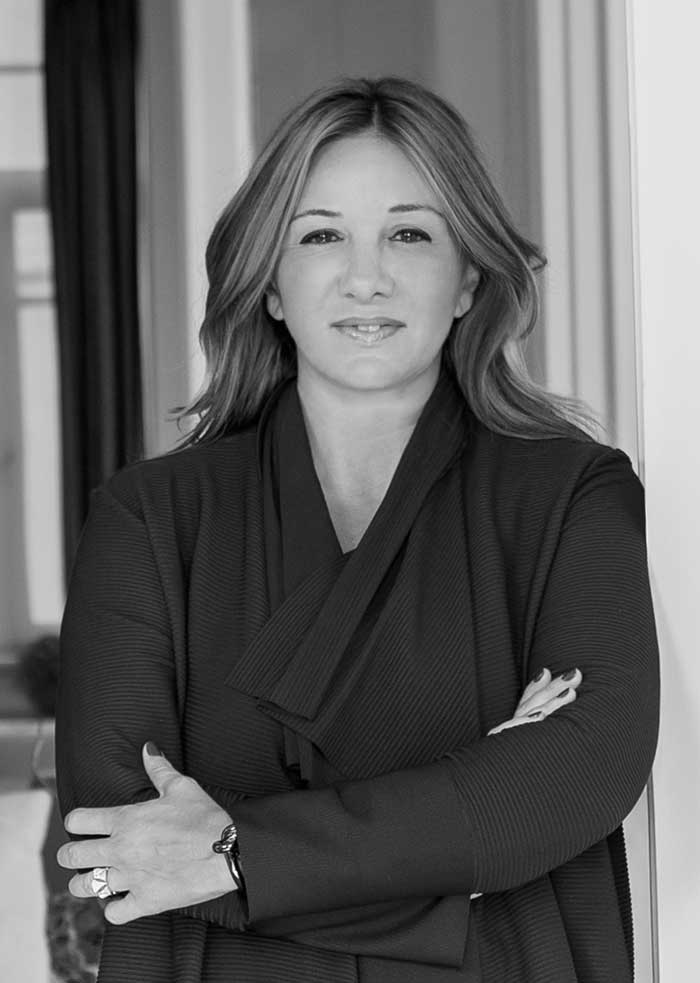 Melkan Gürsel
The architecture firm TA_ was founded in 1990 by Murat Tabanlıoğlu (RIBA, Chartered Member, and Int'l. Assoc. AIA) and his father; the office's pronounced affinity for architecture can be traced back to Dr. Hayati Tabanlıoğlu's architectural work, which stretches back into the 1950s. Melkan Gürsel (Int'l. Assoc. AIA) joined as partner, in 1995.
TA_ has been the firm behind a number of key sites in Turkey. These include the Atatürk Cultural Center (AKM), Istanbul Atatürk Airport, Istanbul Modern Art Museum, and Bodrum International Airport.
Considering the uniqueness of the "place" and the individuality of requirements, the innovative, yet efficient and economically viable design alternatives of the office range from opera houses and libraries to hotels, arenas, airports, and train stations as well as commercial, residential, and industrial buildings, with various awards including RIBA International in 2011 and 2013. The quantity and quality of projects, awards and publications endorse its solvency.
Spanning over six decades, the office demonstrates a professionalism based on rigor and know-how, rendering services of projects and counselling in architecture, urban planning, and interior design internationally. The firm step by step led to international renown and today TA_ counts more than 150 employees in offices in Istanbul, New York, Dubai, and Doha.
FILE
Authors: TA_ Tabanlıoğlu Architects
Country: Turkey
Year of completion: 2018
Text provided by the authors of the project.