Knot is a collection of stately pendant lights that appose two dramatically dissimilar materials. The design combines coarse natural fibre with smooth, transparent blown glass to arouse a contrast as striking as it is dignified. Full-bodied globes of varying shapes and sizes are penetrated by robust cords that seemingly pull the bottom of the glass inward for a bemusing plastic effect. The LED light source is housed in a handsome top hood, which, like the cord end cap, is fashioned in refined metal. The collection comprises four pendant lights of different shapes available in two sizes and the table version where the rope is the handle to pick up the lamp.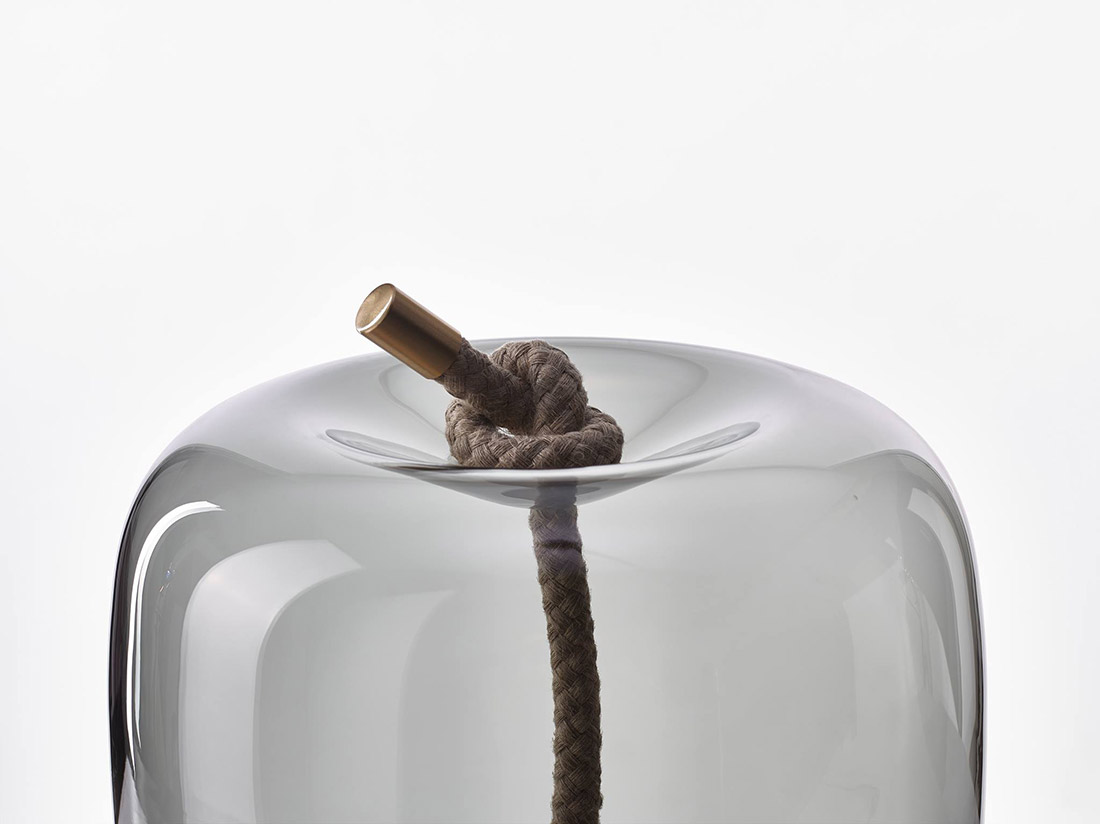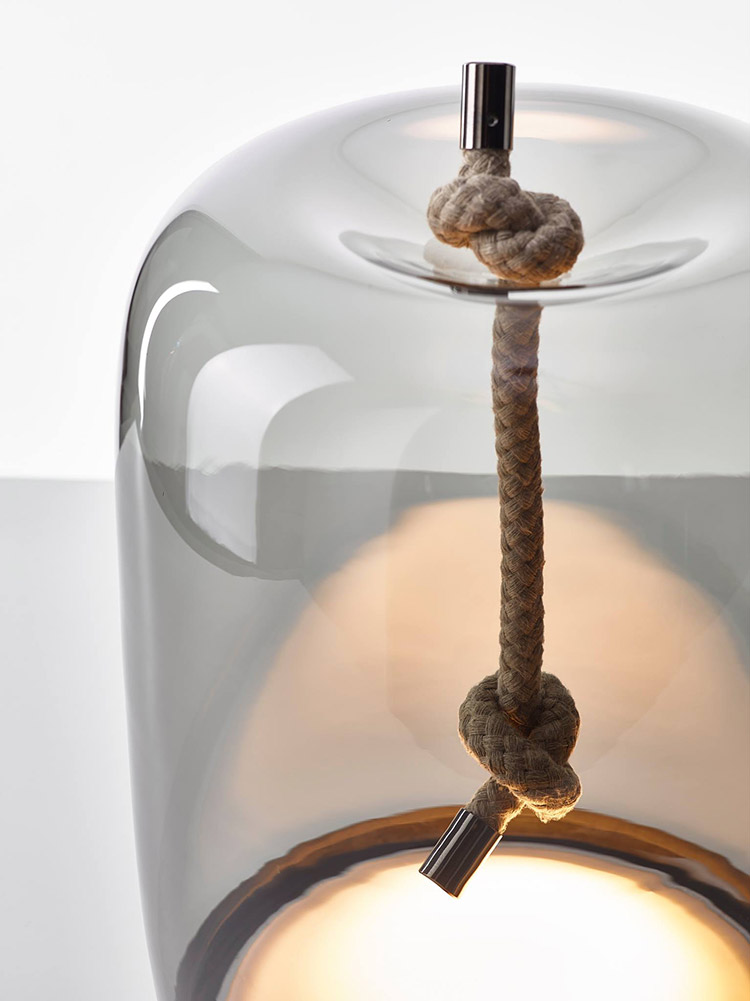 About the design studio:
The passion for objects meant as industrial products is the glue of the professional partnership between Alfredo Chiaramonte and Marco Marin, promoting partners of the homonymous Designstudio.
The different activities experienced through the years (interiors, graphics, industrial and lighting design) brought to a mixed knowledge, contaminated by ideas developed in many fields.
Alfredo Chiaramonte was born in Bologna in 1961 and studied at the Faculty of Architecture of Venice.
Marco Marin was born in Venice in 1964 and graduated at the Academy of Fine Arts specializing in industrial design.
They worked together with well known companies such as Andromeda International, Axo Light, Artificia, Bonaldo, Calligaris, Cattelan Italia, Emu group, Eurobags, Estasis, Fornasarig, Gruppo editoriale Gemina, Hoffman Italia, Miniforms, Moulinex, NasonMoretti, Renault Italia, Sica, Vistosi.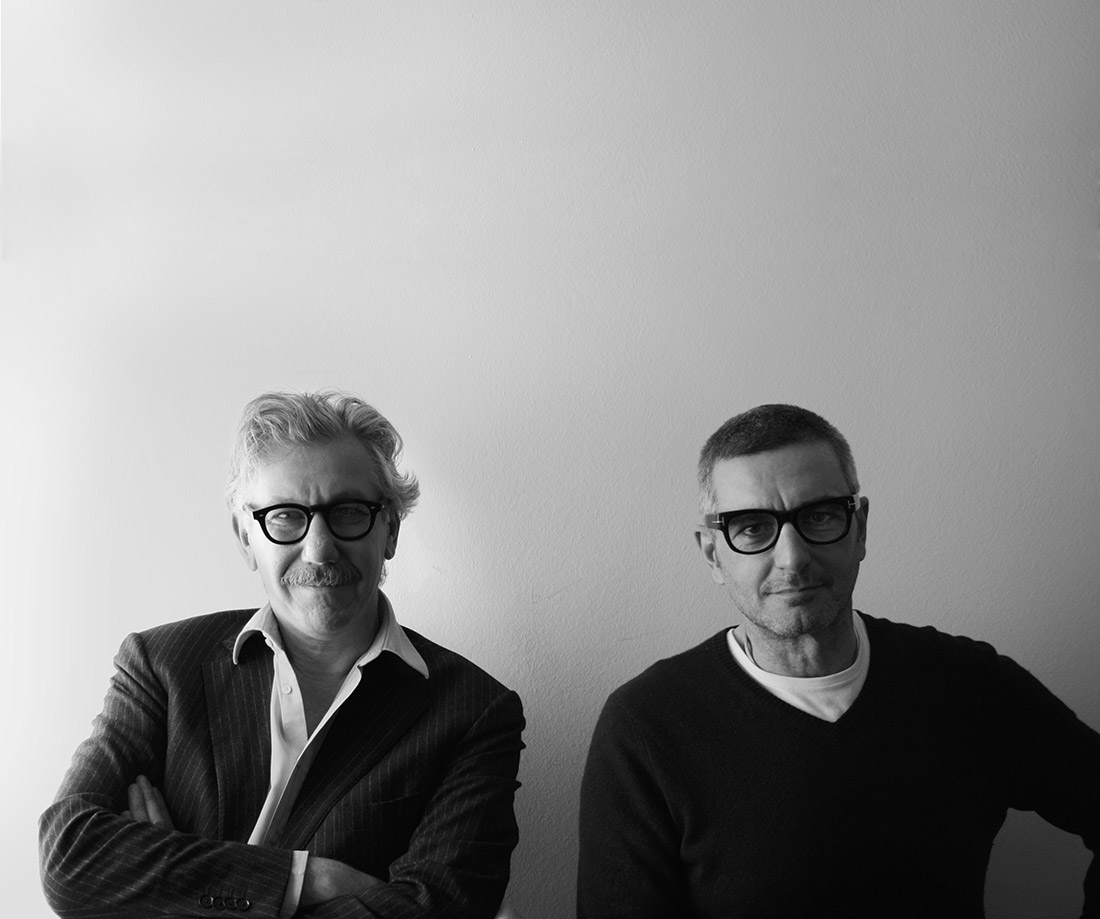 About the producer:
The Czech premium lighting brand Brokis stands for the synthesis of exquisite design, superior quality, and the remarkable craftsmanship of Bohemian glass artisans. Conceived by renowned Czech and foreign designers, the original BROKIS lighting collections have steadily earned international acclaim and recognition. The company combines handblown glass with other refined materials, such as wood and manually pressed metal, in bold lighting compositions that push the boundaries of contemporary design. The Brokis portfolio features modern functional lighting fixtures, decorative objects, and unique lighting solutions for architects and interior designers. With its own high-capacity production facilities rooted in more than two hundred years of history, Brokis is free to experiment and develop innovative materials, techniques, and technologies as well as offer bespoke lighting solutions.
FILE:
Design: ChiaramonteMarin Designstudio (Italy)
Producer: Brokis (Czech Republic)
Year of production: 2018