Supported by a fine metal grille, the cabinet is a prism of wood with two doors made from a laser-cut steel sheet fitted with solid black walnut or dark wedge wood slats. The cabinet is decorated on all sides, so it can even be placed in the middle of a room. The shelves are 'lightened' by a 45° cut at the front. The base is available in a number of different metallic finishes that match the doors.
 Layered transparency: a diamond-shaped wooden grille, perforated sheet metal, subtly contoured shelving and, finally, objects (those that each of us choose to place inside).
The doors act as a membrane in a continuous alternation of matter and space, a filter that lies between light and shade, between the 'inside' and 'outside', offering fragmentary glimpses.
It is a symbolic invitation to be curious, to wish to reveal the secret of what lies inside.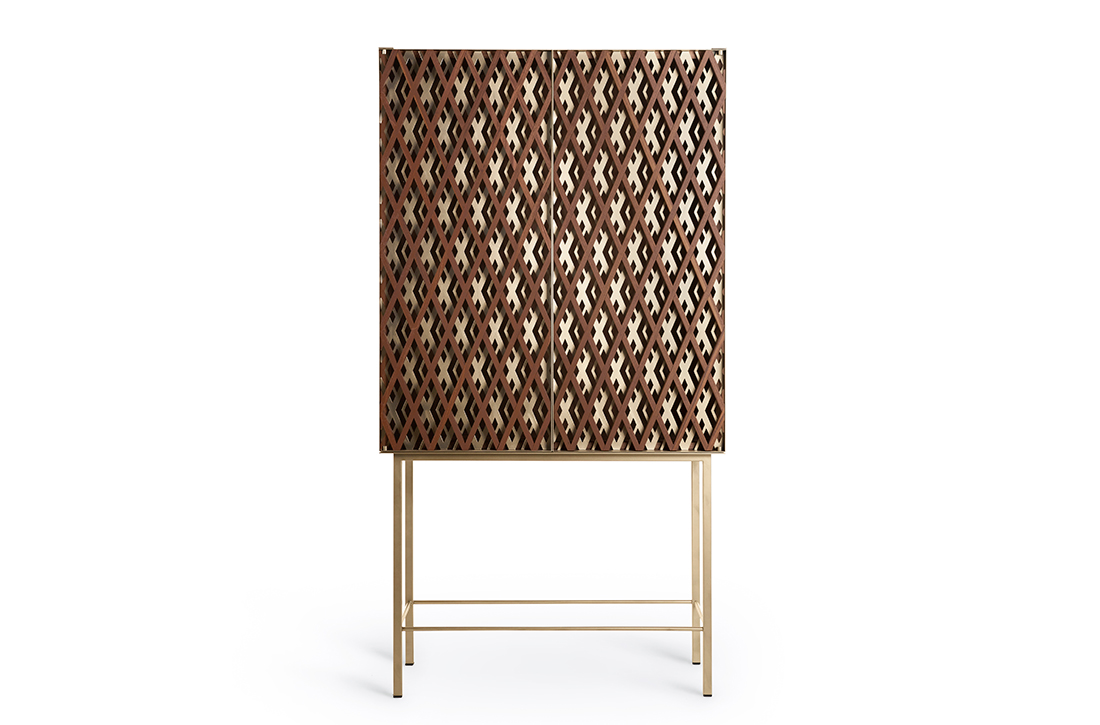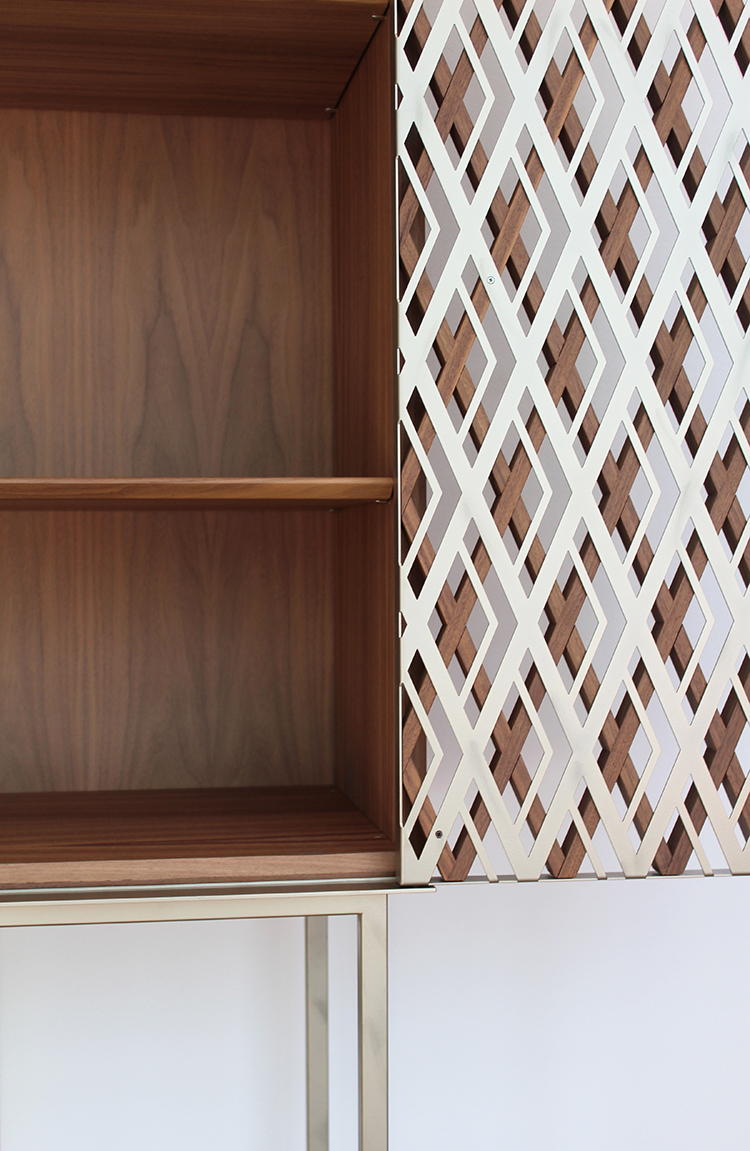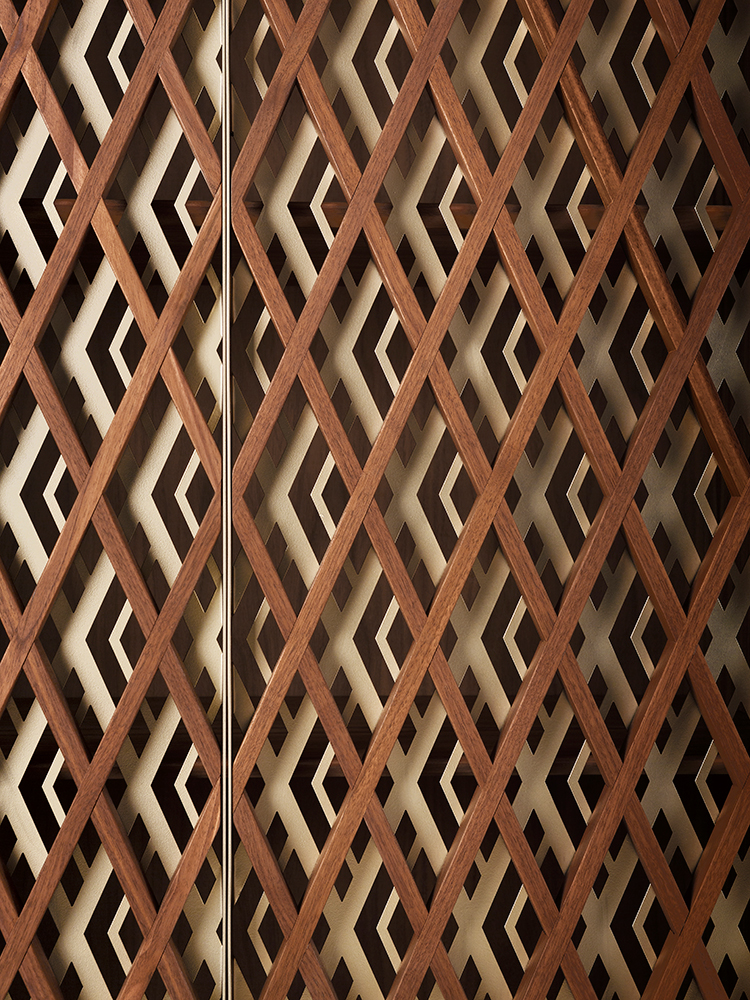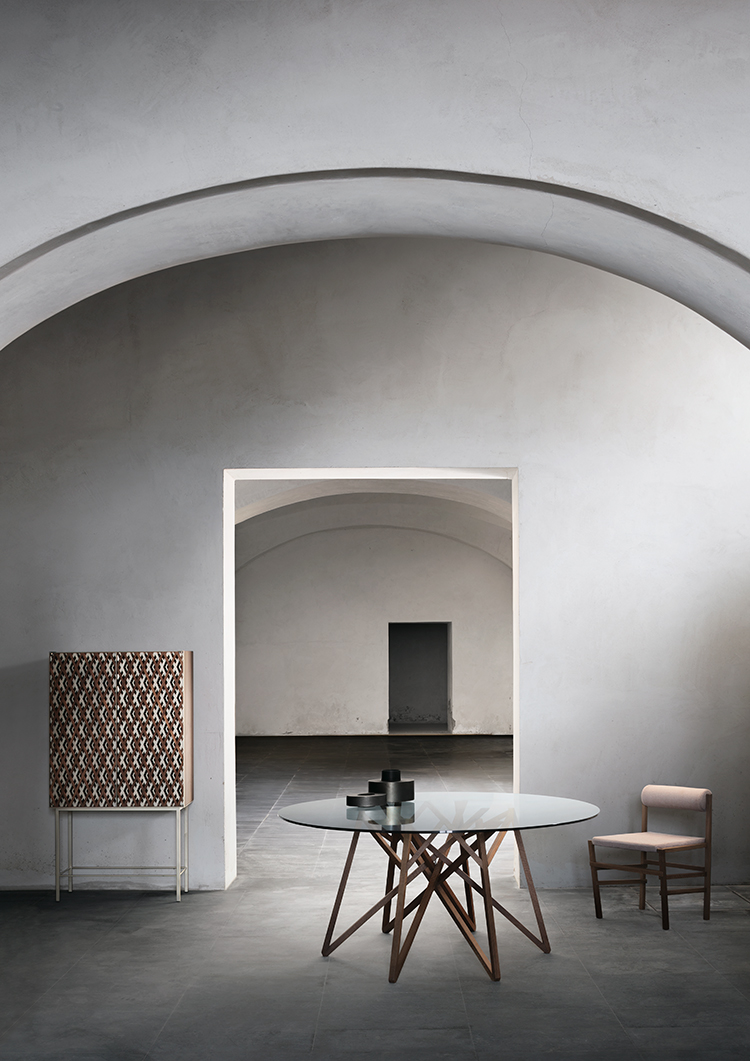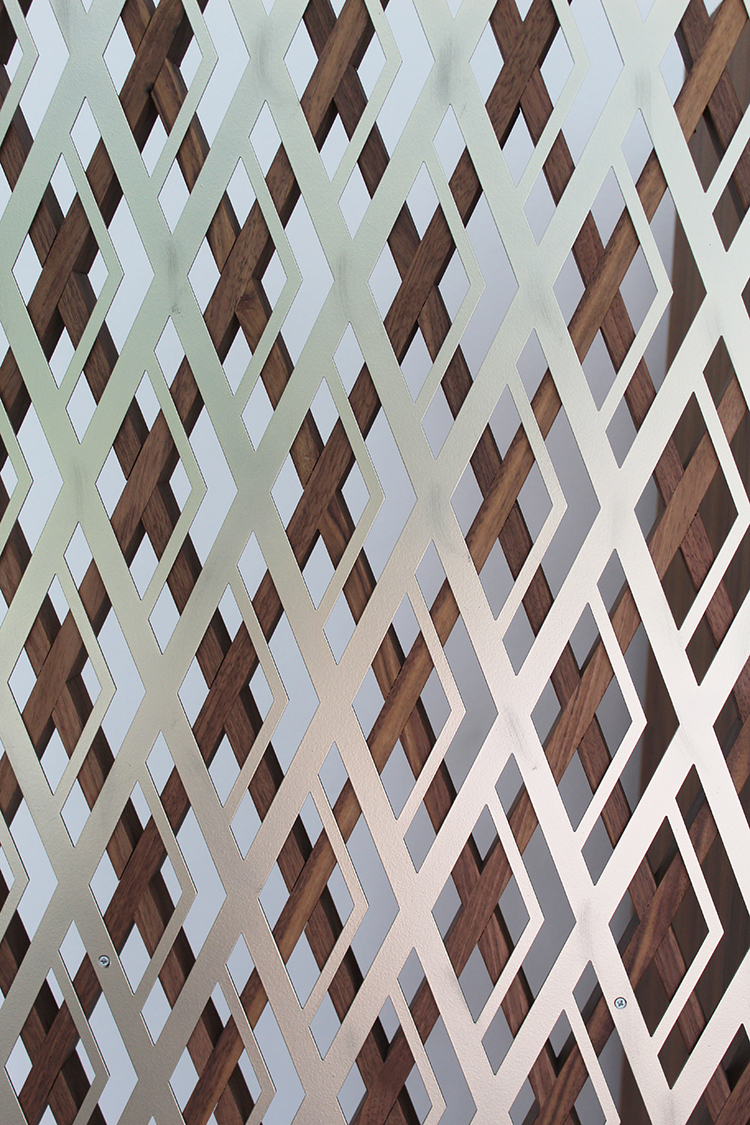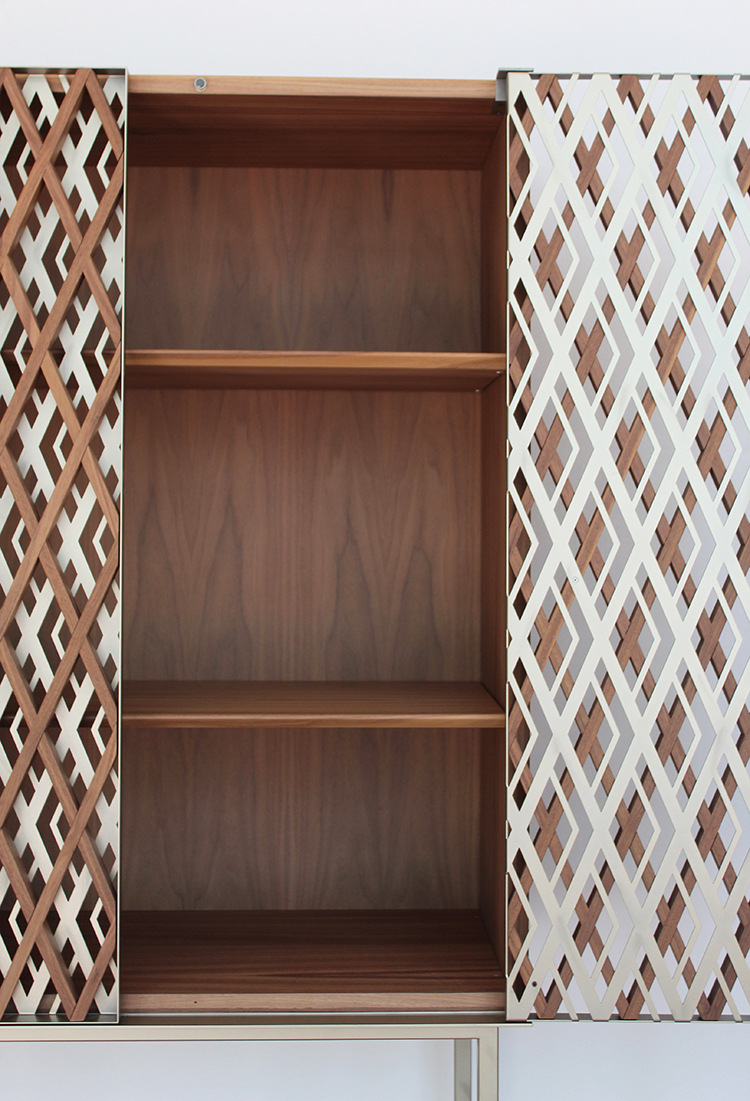 About the design studio:
Marta Laudani works in the fields of interior, exhibit and product design. She designed, among others, for Arflex, Daa, Dorelan, Driade, Fiam, Glas, Nodus, Oluce. In 2011 she won a collective "Compasso d'Oro" for an experience with local artisans, promoted by the Sardinia Region. Her work has been extensively published by the main international magazines and displayed in exhibitions and museums including: the Venice Architecture Biennale, the Poldi Pezzoli Museum and Triennale in Milan, the Maxxi in Rome, the Correr and Ca' Rezzonico Museums in Venice. She was a professor of Interior Architecture and History of contemporary design at "La Sapienza University" of Rome.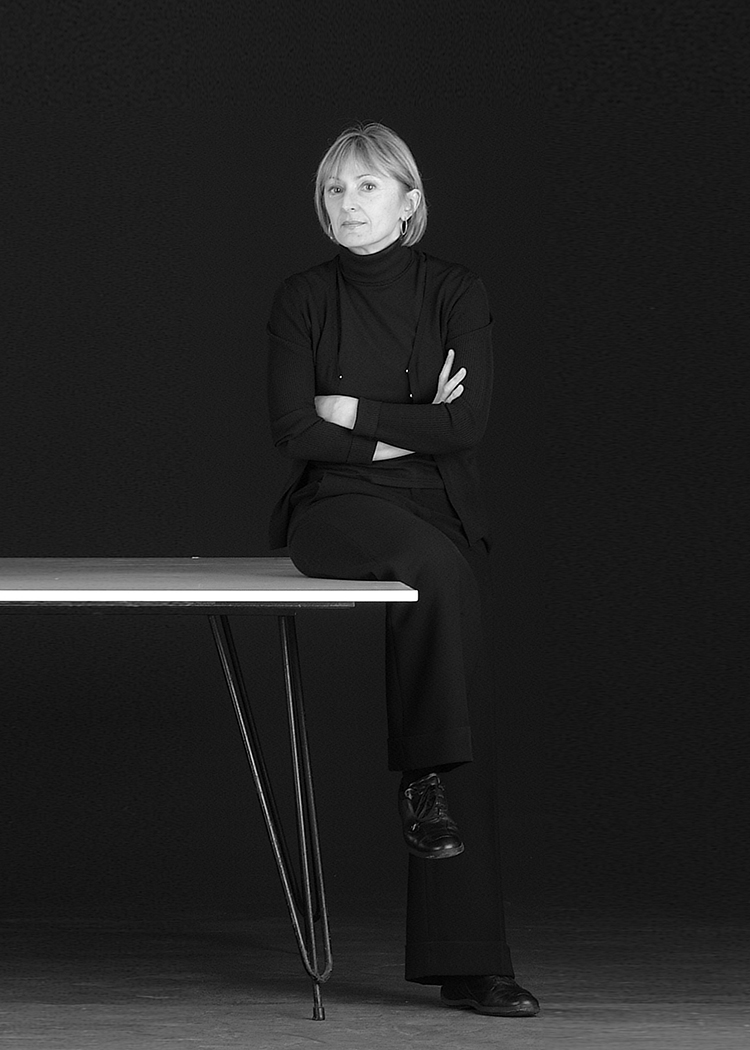 About the producer:
The history of the Rubinacci company is the history of the Rubinacci family. It is a fascinating story that has seen fathers and sons challenge ever-changing markets with unwavering perseverance. It is the result of a family philosophy that has always looked to improvement, innovation and quality. The Rubinacci philosophy focuses on know-how, on the ethics of making things properly, on attention to detail, on the ability to combine the undeniable charm of craftsmanship with innovative production processes, and on respect for people and the environment. High-quality solid wood is the secret behind Rubinacci products: a warm, sympathetic, strong material that can be reinterpreted using design in order to meet new home furnishing needs.
FILE
Designer: Design Studio Marta Laudani and Stefano Ragazzo 
Producer: Rubinacci Napoli
Country: Italy
Year of production: 2018-2019
Photos: Thomas Pagani  and courtesy Rubinacci
Text provided by the authors of the project.