KAZA, known for rebranding concrete as a luxurious material for the creation of their 3 dimensional elements for bold accent walls, introduces Handcrafted Precast Terrazzo Collection, redefining this centuries old material in a contemporary fashion, further stretching the boundaries of what's possible with cement-based design.
Building on KAZA's progressive design and moulding expertise, the collection -combined with a mix of 8 exciting surfaces – represents a new and unexpected form of geometric and organic modularity for terrazzo.
KAZA uses carefully selected natural stones: marble, granite, basalt and limestone in various shapes, sizes and colours, to add to their coloured cement formula, corresponding to the preceding wide ranging in-house material and aesthetic research.
Next, these minerals are exposed via a human-controlled, mechanical wet grinding and subsequent honing and polishing process, shedding light on mesmerizing patterns, somewhat coincidental in nature. Final hue, saturation and contrast is optimized and achieved following the sealing of the surface, adding depth and detail to nature's millions of years of work.
Shapes range from basic geometric forms like triangle and hexagon, to more organic references like Weave by Stockholm-based powerhouse Note Design Studio.
Tiles are all handmade, manifesting the care and skill invested in every single piece.
Full customization options in terms of the tile's shape, stones and colours, including combination with plain concrete surface of the same shape, paired with excellent slip and abrasion resistance properties, make this collection an ideal choice for architects and designers to create one of a kind contemporary feature floors, indoors and outdoors, for generations.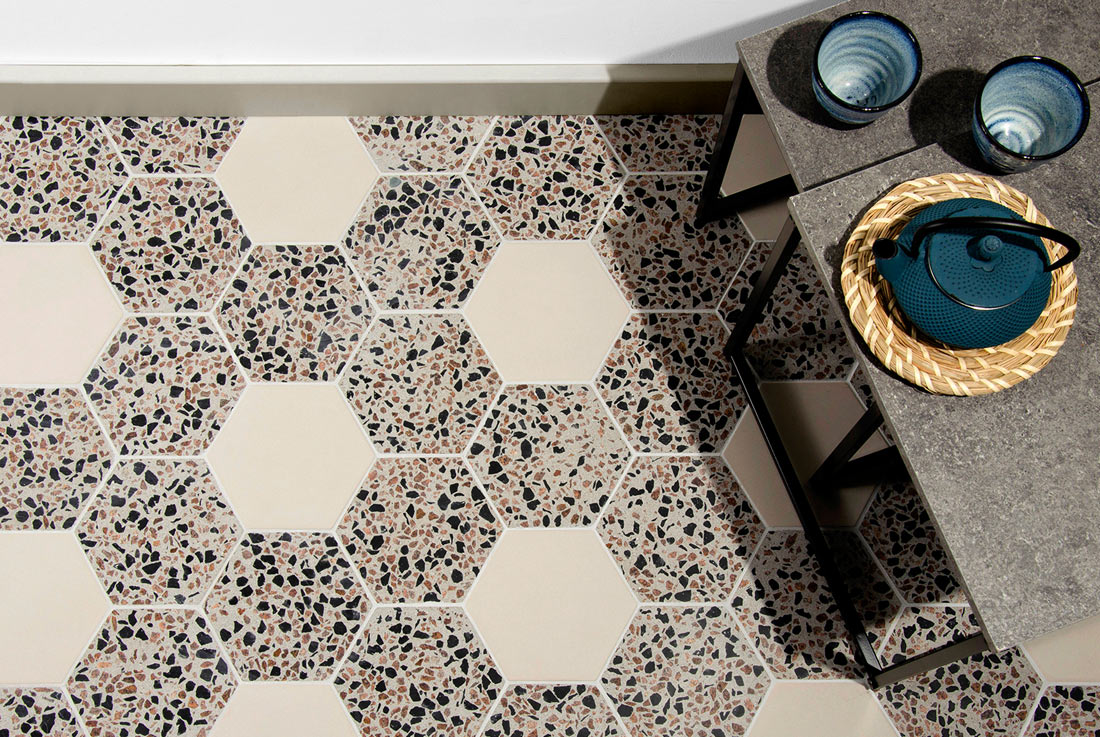 Credits
Category
Floor
Manufacturer
KAZA Concrete