On HSV apartment with Boštjan Vuga. 6 years after!
How did you define the objective of this project? Did the client already know what atmosphere he wanted to live in or did you assist him in this respect?
I have known this client for a long time, we have been friends for many years, therefore I can say that he is not a very ordinary person. He is an aesthetic surgeon with very clearly defined views on what is beautiful and what isn't. Design ideas regarding his flat have thus always been related to his character. At the beginning of this project we talked a lot about his lifestyle – what his lifestyle was like, how we saw his lifestyle, and how he himself perceived his lifestyle.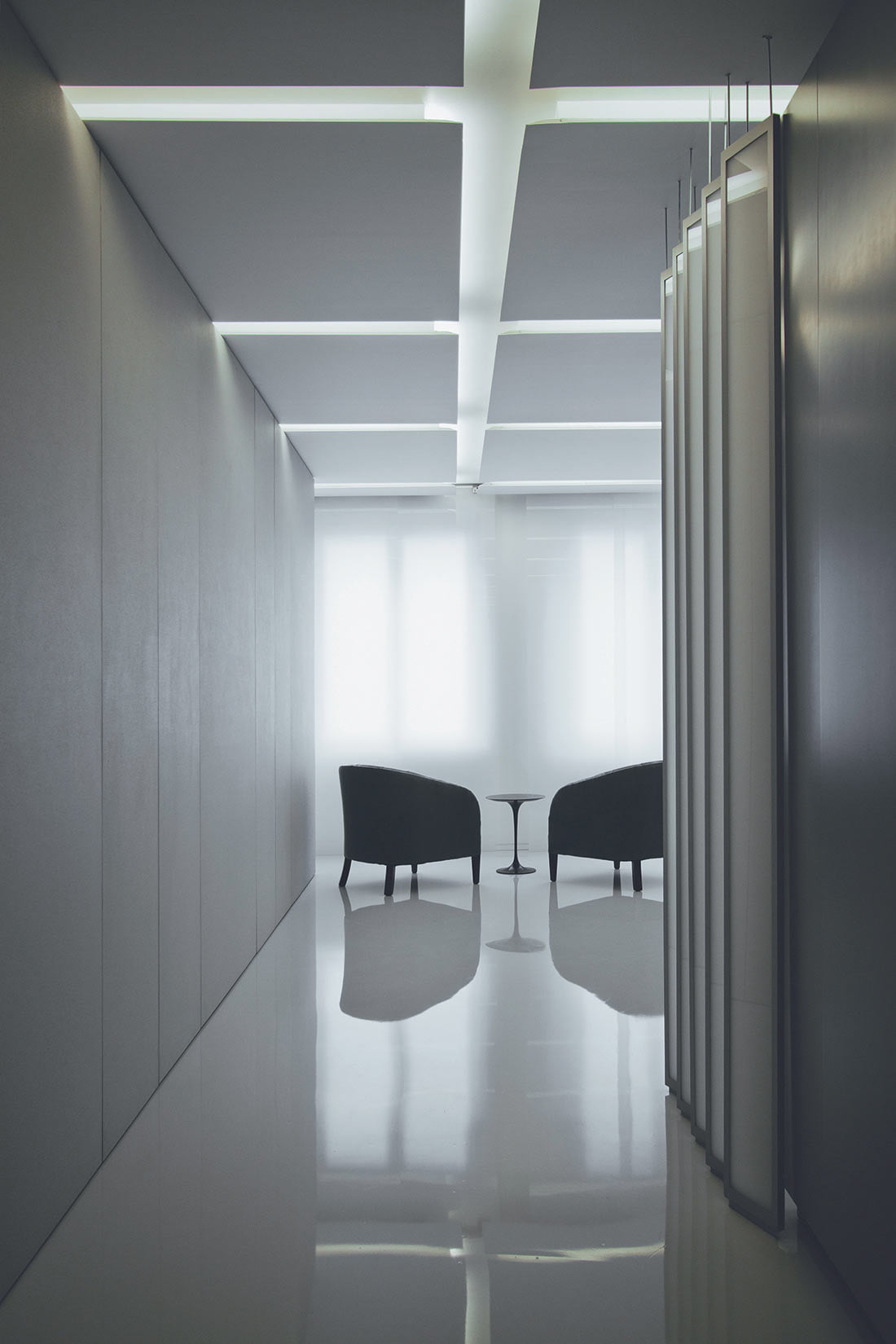 Does the client live by himself in this flat?
He lives in the flat by himself, there is also a room for his son who occasionally visits him. We insisted that the client was to be included in the planning process, which in this case turned out to be a really good and effective idea. At the beginning he would often reject our suggestions because he could not identify himself with our ideas. Nevertheless, towards the end of the project we made progress by gaining his complete trust and finally he believed the flat we were designing would perfectly match his character. The entire atmosphere in this flat is very specific, just like his own worldviews that are very unique as well. It is a very special living place, yet it is neither cold nor impractical. It is not about not feeling comfortable there, however, the methods providing pleasant atmosphere have been reached in a slightly different way.
It is a rather introverted flat since it makes contact with its surroundings only through light which is the key element of the atmosphere. Do you think that during the day the flat absorbs light and emits it at night? Can we say that the flat feels during the daytime and speaks at night? What does it tell us?
When we enter the flat we actually enter the introverted interior where we are completely separated from the outside world. We can only see light in this flat, but no shadows since there is no direct sunlight. Although it is a corner flat which is illuminated from two sides, the sunlight comes in through translucent laminated- glass panels that disperse light. When looking at the flat while standing in the street at night, one can only see an illuminated cube and a flat that is glowing, which is the effect caused by the panels themselves. We can say that we are outside place and time when we are in this flat since one can neither see the path of light nor realize what part of the day it is. The flat is illuminated by sunlight, but one can only see the changes in the intensity of diffuse light. All the above features represent just one type of the flat's different nature and there are many more such unique elements. Floating is another peculiar characteristic of this flat. There is a coffered ceiling with upward light, and the floor is coated with shiny epoxy material that draws a perfect reflection, which gives us an impression that everything is much bigger and provides the sense of floating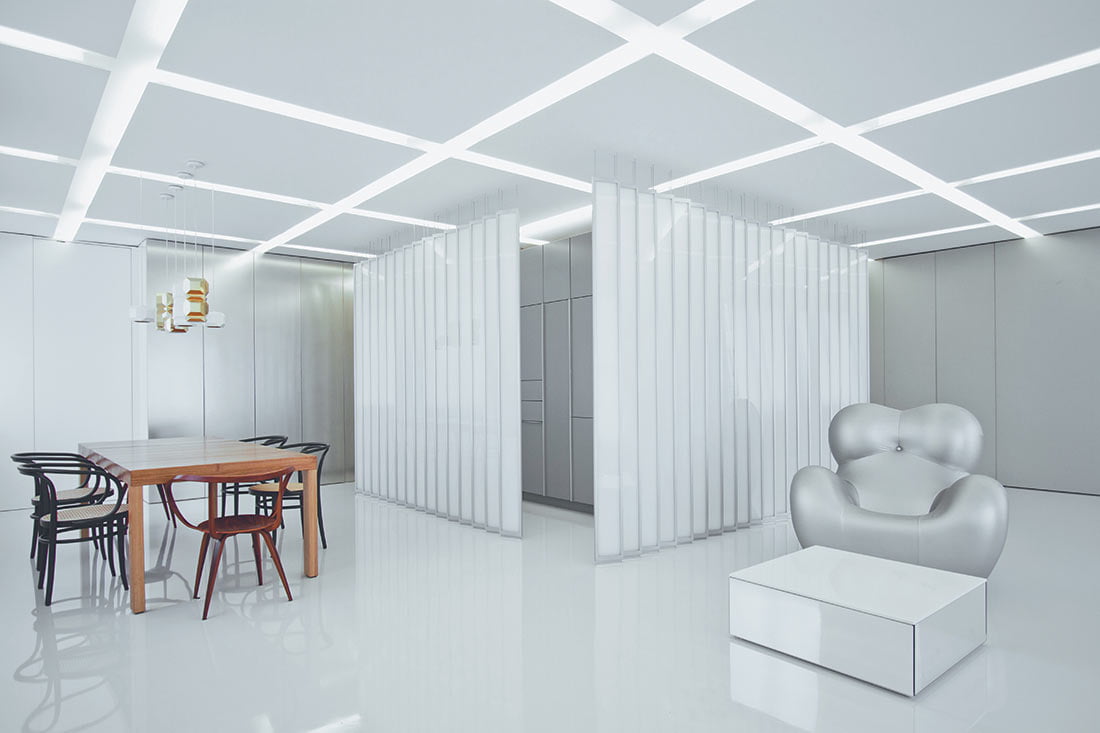 The flat has been divided according to the intended use, for example: sitting, taking a shower, cooking, storing. Therefore, the flat comprises exposed programmes such as sitting and taking a shower, and hidden programmes such as cooking and storing. How did you determine this boundary, and does it correspond with the everyday habits of the client?
The flat interior has not been divided, except for the daytime and night-time units. There are no visible wardrobes, a cloakroom or other architectural elements that would contribute to the perception that it is a real home. If, for example, a sofa and a dining table were removed – or two armchairs – and replaced by a diagnostic table, the flat would still be functioning in the same way. Nothing would be changed. Our leading idea during the planning phase of this project was that the client's professional life and his private life are actually one and the same thing. The difference between his home and his doctor's office is really insignificant. What is especially interesting is the fact that this place contains all the elements needed for our wellbeing – a big bedroom with a cloakroom, pleasant light, a big massive-wood dining table and classical chesterfield armchairs which, together with the materials such as plexi-glass, concrete walls and special flooring, create a pleasant atmosphere.
We can say that this flat does not have any individuality since anyone can live in it, but at the same it is full of individuality because it rejects all current trends and it knows very well what it really wants. Can you comment on this boundary, up to where can individuality take a physical form? Up to where can it be present in a certain place?
That's a very good question. In my opinion this flat is, after all, »hardware« that has been designed for a very specific "software". It is also interesting and important to note that even if the client decided to sell the flat, "hardware" would basically stay the same since the flat comprises all the necessary functions. It certainly is not intended for a family with two small children, but it can be suitable for a young couple. This flat is very specific, but at the same time these specifics can also be altered. After 6 years I still think that it can be described with the word "statement" because it perfectly corresponds with the owner's character.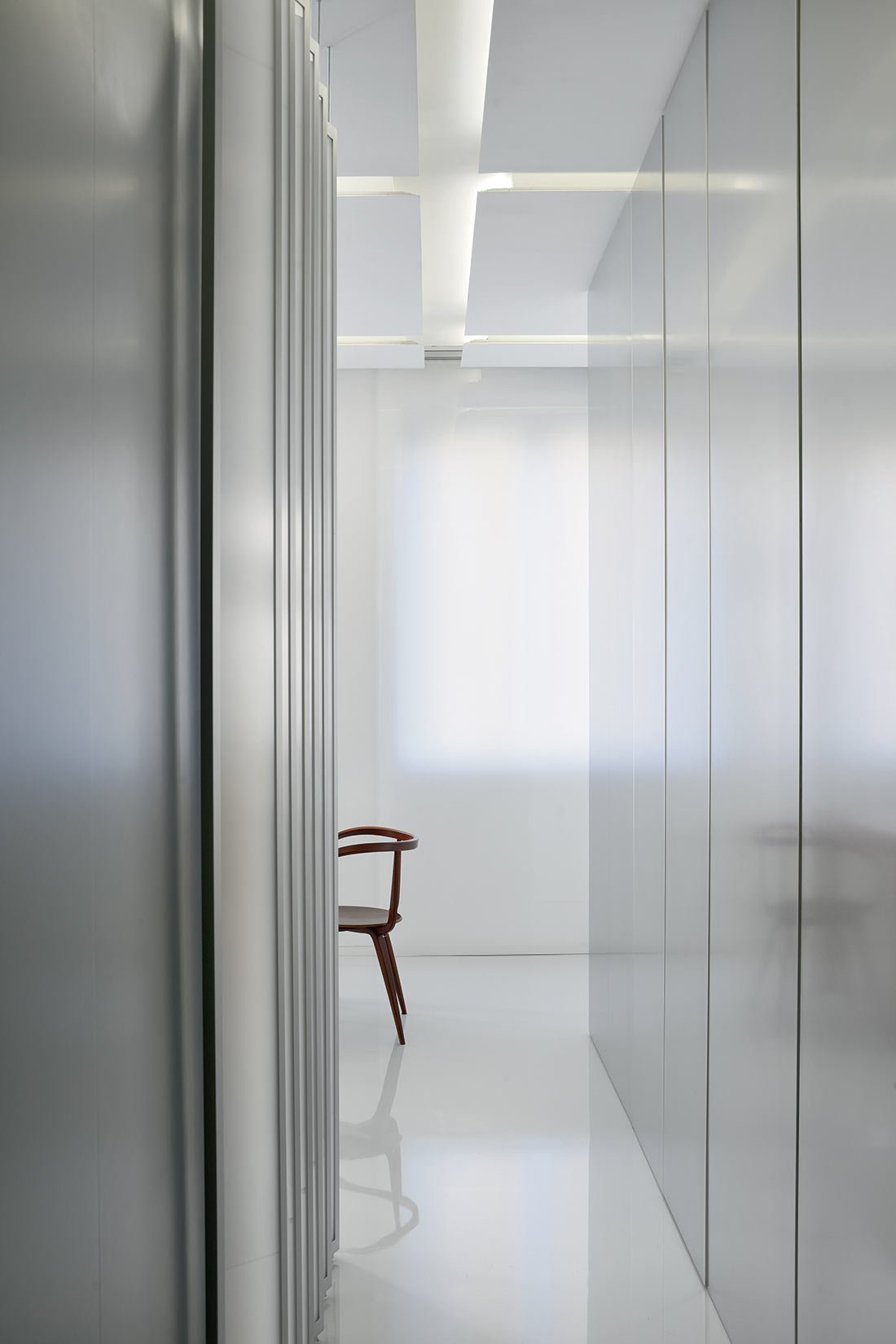 As early as in 2012 when the flat was completed it looked futuristic, and today – 6 years later – the story has not been changed. Which design element is crucial for retaining time? In your opinion, how will the flat be perceived in ten years' time?
Its freshness will be retained due to our decision to create an atmosphere by means of the architectural elements, not with decoration. Even if we introduce a completely different furniture style, the flat atmosphere will still remain unchanged.
FILE
Editorial and interview: Eva Vasileska,Flirtatious architecture
Translator: Lidija Jerman
Photographs: David Lotrič, Miran Kambič
Apartment VHS, Ljubljana
Architecture: Sadar + Vuga; Jurij Sadar, Boštjan Vuga, Tina Hočevar
Location: Ljubljana
Project year: 2012
Area: 130 m2