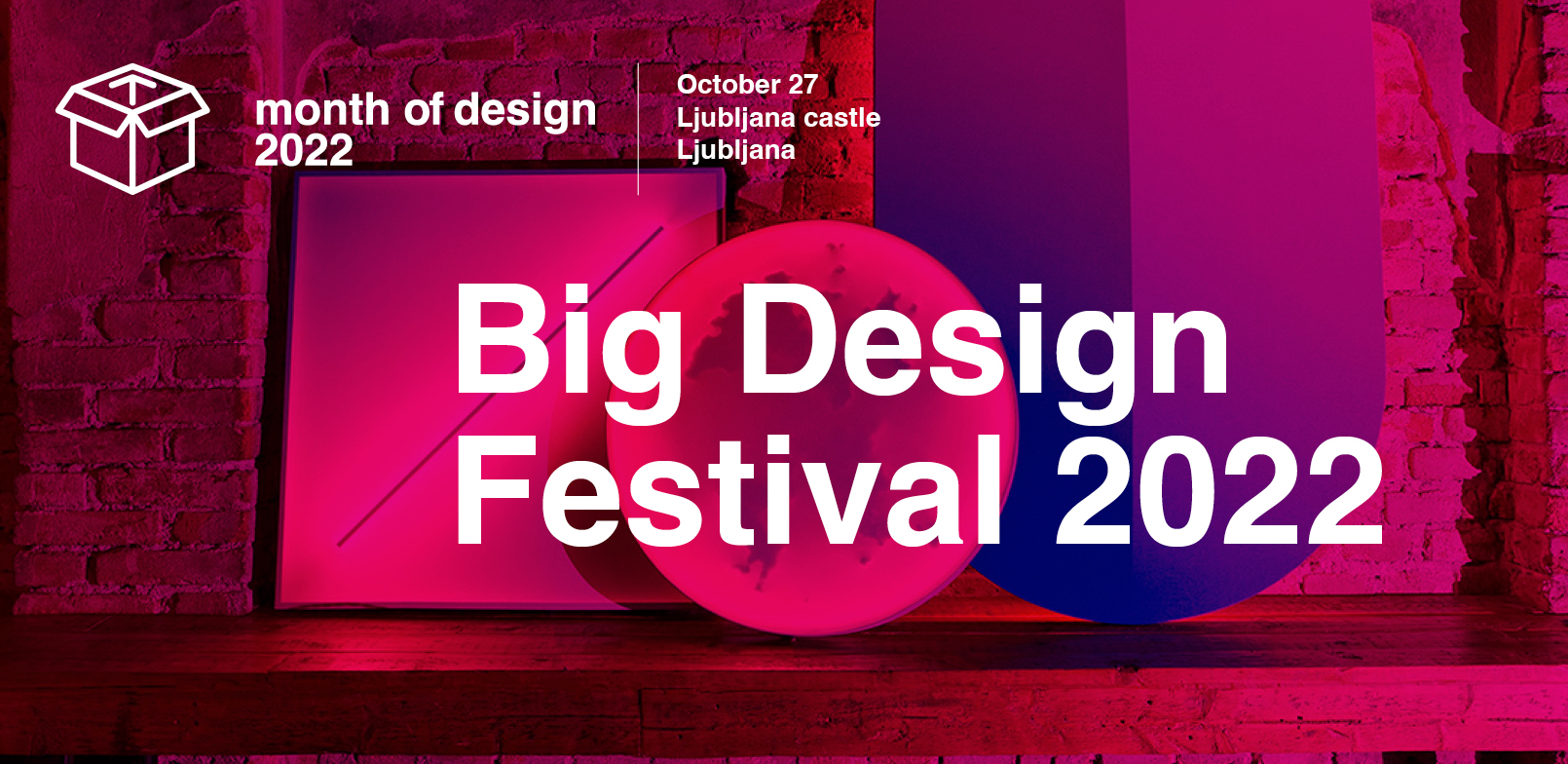 Oct 27
Ljubljana Castle
Ljubljana,  Slovenia
BIG DESIGN FESTIVAL is a SERIOUS OVERDOSE of all things design in the fascinating region of South-Eastern Europe. Placed in the middle of the Ljubljana Month of Design, it is a genuine festival day in the mould of the region's ancient feasts and gregarious celebrations.
It is at the same time an A-List conference, a networking whirlwind for designers and investors and everyone in between, therefore a boundless opportunities generator, and BIIIIIG IDEAS LAUNCHPAD. Plus it includes several curated international exhibitions and one of the continent's major design award shows showcasing fantastic creativity from South-Eastern Europe's 21 COUNTRIES.
Creativity discovers or builds connections between previously unrelated things, concepts, even industries – and countries. BIG DESIGN does all that and packs its major punch in a single day. This makes it THE ONE UNMISSABLE EVENT for everybody involved in creating, marketing or buying product, fashion, wood and tourism design. And even more for those who think about creatively linking these or other fields of creative industries.
LJUBLJANA as the BIG DESIGN FESTIVAL HOST CITY itself epitomizes the regional melting pot: the world's oldest wheel was excavated nearby, and it boasts fine Roman remnants, lovely baroque and early modernist core plus has made a strong claim for the future by being named Europe's 2016 GREEN CAPITAL.
Programme
BIG DESIGN 2022
 27. 10., Ljubljana castle, Ljubljana
10.00-17.00: Big Design Conference: Progress powered by Design
10.00-17.00: Winning project presentations with Prize Trophy awarding
10.00-22.00: Exhibition Shine
20.00-22.00: Grand Prix Award Ceremony & Dinner Party (SOLD OUT!)
22.00-24.00: After Party

Daily tickets
By Registration I authorize the use of my personal data in accordance with the applicable Personal Data Protection Act and the General Data Protection Act (GDPR) and the Privacy Policy of the Zavod Big.