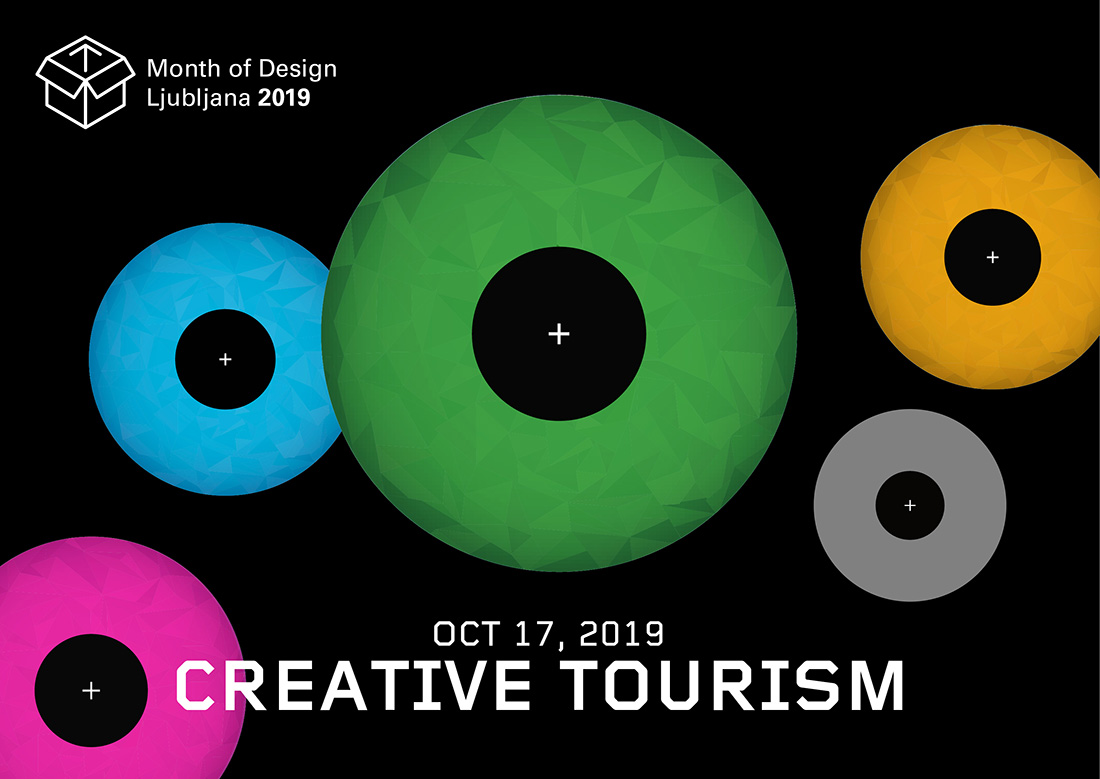 CREATIVE TOURISM
October 17, 2019
City of Design, Dunajska cesta 123, 1000 Ljubljana, Slovenia
Southeast Europe has great potential for tourism development. Creative industries, combined with innovative tourism-business ideas, can have an important impact on development f high value-added tourism products . The festival is intended to establish a dialogue between suppliers in tourism, tourism service providers, investors, architects and designers in order to promote the development of the local environment in innovative and sustainable tourism destinations.Festival Creative Tourism is the right meeting place for interdisciplinary meetings of all who see business potential in tourism.
TOURISM TRADE SHOW
Tourism Trade Show presents top top tourism products and destinations from the region SE Europe and  the most innovative products and services for tourism industry. It is a perfect opportunity for the professional visitors to experience creative tourist destinations in Southeast Europe to catching up on the latest trends in the region and a great opportunity to  familiarize professionals in tourism industry  with new products, innovative technologies and advanced solutions for tourism. Is the meeting place for agencies, tourist providers, suppliers and agencies.
BUSINESS DESIGN FORUM: ARCHITECTURE AND DESIGN FOR THE CREATIVE TOURISM
Tourism is fast growing sector with great potential for further development.
Diverse geographical landscape and rich cultural heritage are advantages for the tourism in the region.
At the same time, it remains a great challenge to develop the sector in a way as to avoid the traps of massive low-cost tourism.
Representatives of investors in tourism and architects, designers and other experts will discuss the way in which architecture and design could help to develop successful tourist stories with high added value. On their own examples of good practice, they will explain why it was worth to include architects, designers and other creative people in development of the business models, and how this affects their competitiveness.
There will be discussed the investment challenges of the bigger providers of tourism services that provide a stable backbone of tourist infrastructure (hotels, health resorts, etc.), and business models of the smaller tourist destinations (eg wine tourism, glamping, etc.). The participating architects and other experts will explain how to plan tourism projects to optimise the return on investment.
BRANDS AND BRAINS 180˚
Experts on new services and innovative equippment/technologies important for the development of tourist industry on cases of good practice, and providers of high value added tourism services on their own strategies and visions.
BRANDS AND BRAINS SHOW
Informal business meetings of owners and managers of companies with tourism providers, opinion leaders, media and other interested public on their exhibition space.
LECTURES TOURISM 180˚
A series of short presentations of award-winning projects BIG SEE and other original tourist destinations and services is intended to exchange information, opinions and reflections on the creative tourism offer in the region.
They will present their own innovative and development experience, their competitive advantage on the market, such as: how they managed to create innovative tourist product, how they positioned on the market, what stands behind their success etc.
TOURISM SHOW
Investors in tourism, architects, designers and other experts on the role and importance of integrating creative industries into the development of commercially successful tourist stories.
TOURISM MATCH
Tourism Match are individual business meetings for networking professionals in tourism, agencies, suppliers, architects, designers with the purpose to efficiently exchange expert opinions and information and to make new business contacts.
They enable establishing new business relationships and opportunities.
BIG SEE VISIONARIES TALKS
BIG SEE TOURISM VISIONARY AWARD is intended to reward exceptional personalities who enrich and inspire creative tourism in the Southeast Europe. The award winners will be discussing the background of their life-paths, the forces of their creative passions, influences they have been affected by, personal values and challenges.
BIG SEE TOURISM AWARDS AND EXHIBITION
BIG SEE TOURISM AWARDS recognise and expose excellence in creative tourism from Southeast Europe in categories:
– Creative story and identity as experience
– Architecture and design as experience
Gala award giving ceremony with exhibition opening will be on October 17 2019.
EAT AND DRINK DESIGN
Eat & Drink Design is a social event of the Month of Design, and it has been carried out as an independent culinary-design event since 2008. This year we will have an opportunity to see and taste the culinary delicacies from South-East Europe that will create some completely new flavours and shapes by means of joint creative energies. It will surely be an unforgettable culinary-design performance that will forever remain in your memories and hearts.
FREE ENTRANCE ONLY WITH ONLINE REGISTRATION. REGULAR FEE AT THE ENTRANCE REGISTRATION DESK 7 EUR.
Free registration includes:
– Tourism Trade Show
– Lectures Tourism 180
– Business Design Forum: Design and Architecture for Creative Tourism
– Big SEE Visionary talks
By Registration I authorize the use of my personal data in accordance with the applicable Personal Data Protection Act and the General Data Protection Act (GDPR) and the Privacy Policy of the Zavod Big.
Coupons for Eat & Drink Design, October 17, 20.00
City of Design, Dunajska cesta 123, Ljubljana, Slovenia
By Registration I authorize the use of my personal data in accordance with the applicable Personal Data Protection Act and the General Data Protection Act (GDPR) and the Privacy Policy of the Zavod Big.