Folding space into space, Plasma draw landscapes into buildings, streets into façades, inside to outside. Since 1999 innovative award-winning architecture office Plasma Studio, founded by Eva Castro and Holger Kehne, has evolved to address the complex potentials and challenges of today: from diverse studio locations (London, Bolzano, Beijing, Hong Kong) the studio mediates globalization with local specificities, linking landscape, urban and environmental forces to the scale of material, construction and use. It is working across a wide range of scales from furniture and installations to urbanism and master planning.
Plasma Studio completed a varied oeuvre from experimental interior projects to an engagement with topography and strong local vernacular traditions as in many buildings completed in the Dolomite area of Northern Italy, where a branch- led by partner Ulla Hell- was opened in 2003. A pronounced shift in opportunities eastwards came with winning Longgang City Masterplan and Xi'an World Expo in 2008, sparking the establishment of the Beijing office. Working in China meant expanding in scale: a 37ha park with 3 major buildings enabled the practice to articulate a radical and visionary integration of architecture and landscape.
About the project STRATA HOTEL
Architect Peter Pichler designed STRATA HOTEL which was completed in 2007. A subtle volume of horizontal wooden larch sticks that peel off the building, run over it, and seem to grow out of the surrounding topography. In 2014, to the neighboring RESIDENCE ALMA (built in the 1960s) a previously non‐existent vertical circulation and the dwelling for the host family were added. Due to the immediate neighborhood of the Strata Hotel, the theme of the wooden stick was readopted. In 2018, the building was extended by 9 generous suites for family vacations and communal areas: the very steep slope was unfolded and a new volume was positioned behind the existing one and the addition of 2014 . The theme of the wooden sticks was applied once more.
The strategy of Strata and Paramount Alma is continuously followed‐up: starting from the steep terrain, the larch wooden sticks peel off the volume, form covered outer spaces, are partially brought into the interior, then turn into the ceiling of the access and parking deck to create an atmospheric and thematically coherent space, which allows framed views into the surrounding mountain landscape. Coarse spray plaster, large floor‐to‐ceiling windows and the slightly faceted wooden strips define the external appearance. The interiors are characterized by a strong relationship to the exterior: light and views are brought far into the interior space.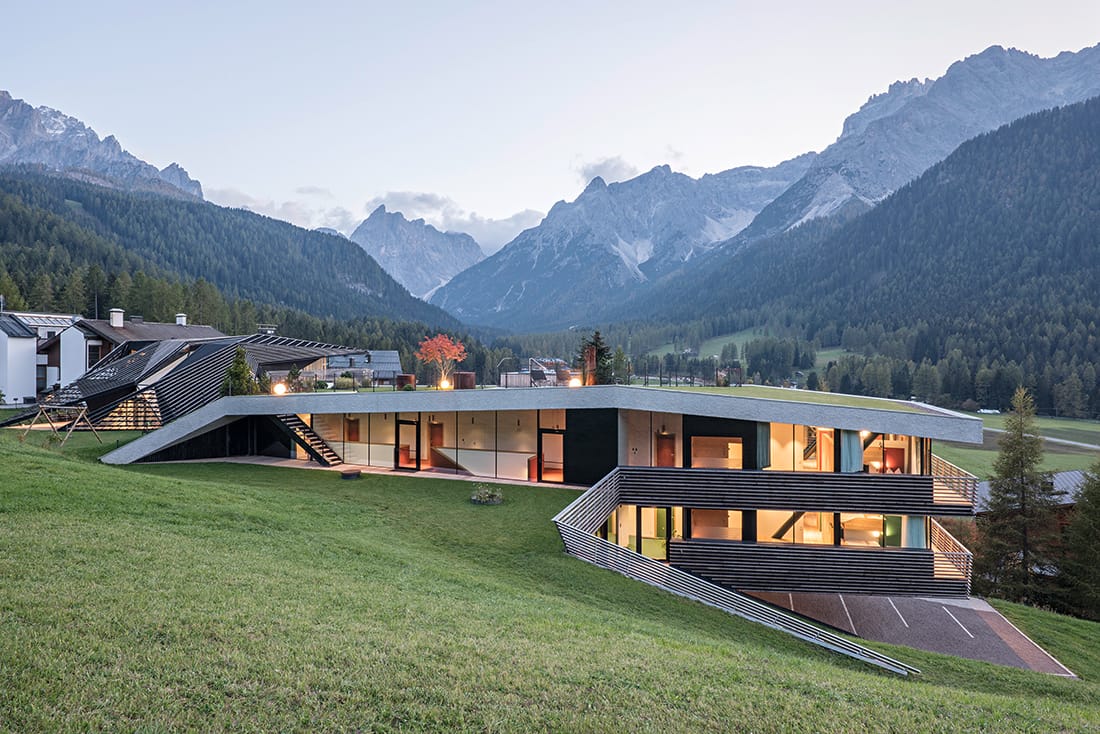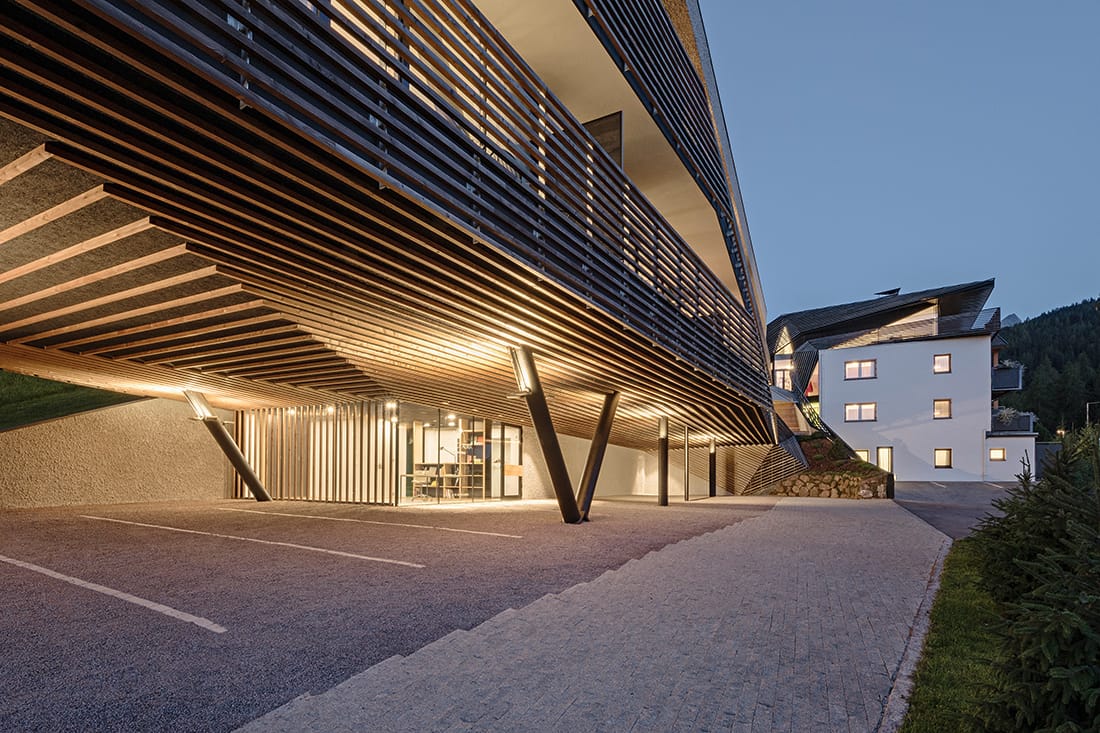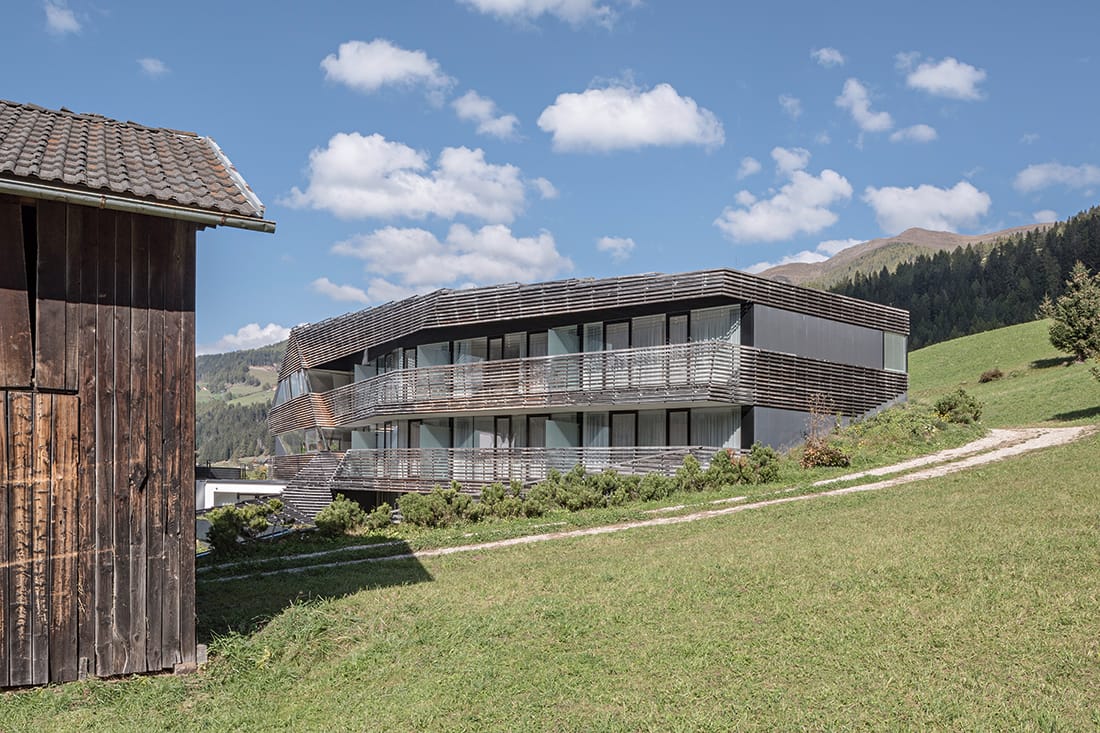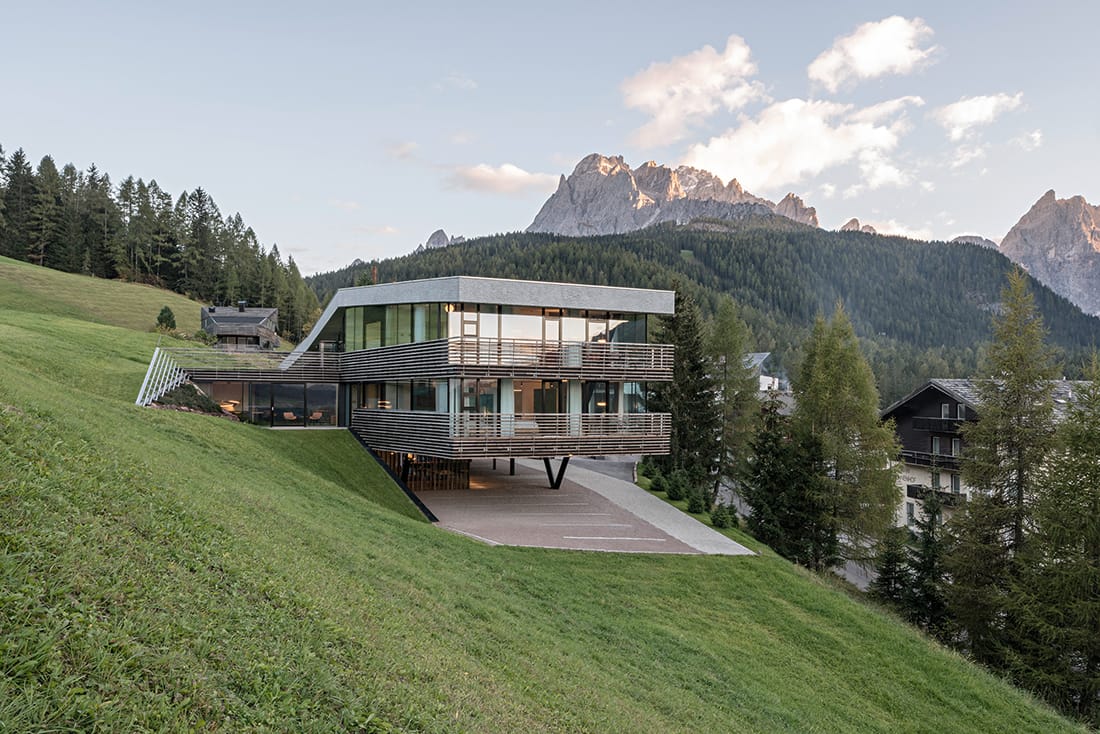 STRATA HOTEL, photos: © Hertha Hurnaus