Imagine a playful mosaic of square modules arranged in any shape you could dream up. Symmetrical, regular, and totally irregular patterns will breathe new life into public spaces. You could experiment with the orientation of the wooden lamellas in the wood's natural hues, or alternately go for more colourful displays. You could create simple, subtle, monochromatic forms, or you can take part in a playful game of tones, resulting in a blanket of colour you would find nowhere else. At the same time, we are still talking about a functional seating element for the public space. The individual modules are supported by a central leg and can be fitted with additional elements in order to minimise the amount of unnecessary supports. The modules function not only as just ingredient parts of bigger arrangements, but also completely independently as one-person seats. The Pixel system can be customised with an array of original accessories, including backrests, tables, flowerpots and more.
Galvanized powder-coated steel structure. Seats made of wooden lamellas are fitted using a unique attachment system or zinc and powder coated steel round grids. The basic version features underfloor anchoring; another version is available with anchoring above the ground, and a free-standing model is also available, suitable for interior use.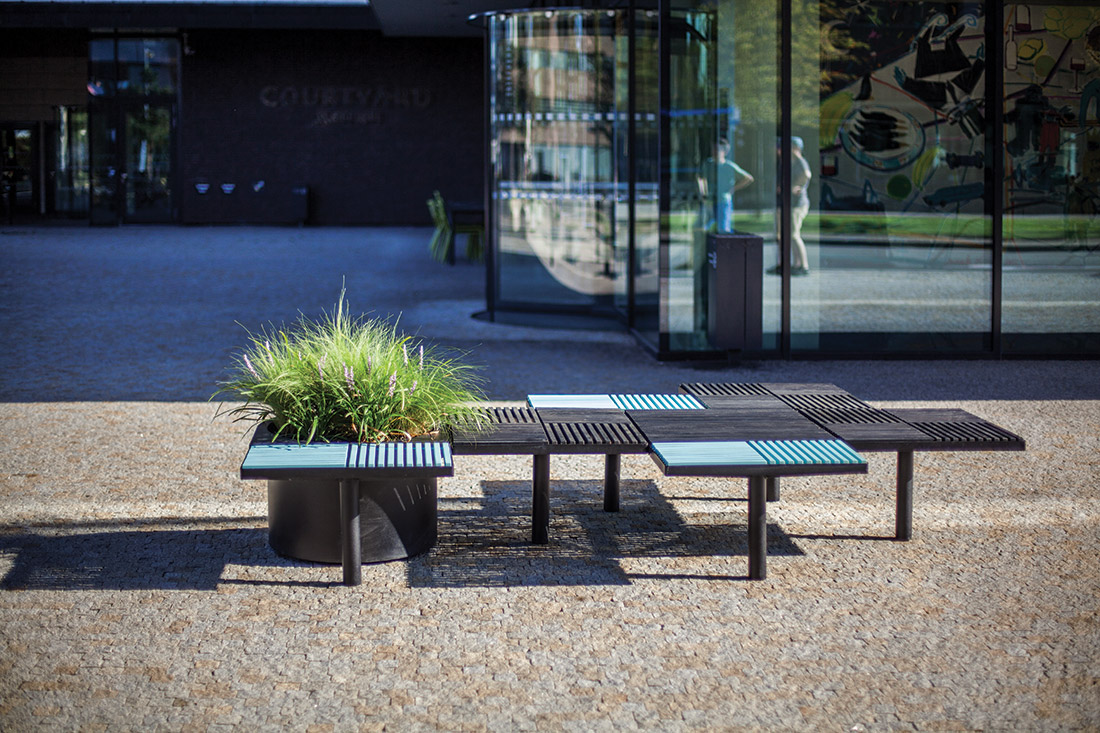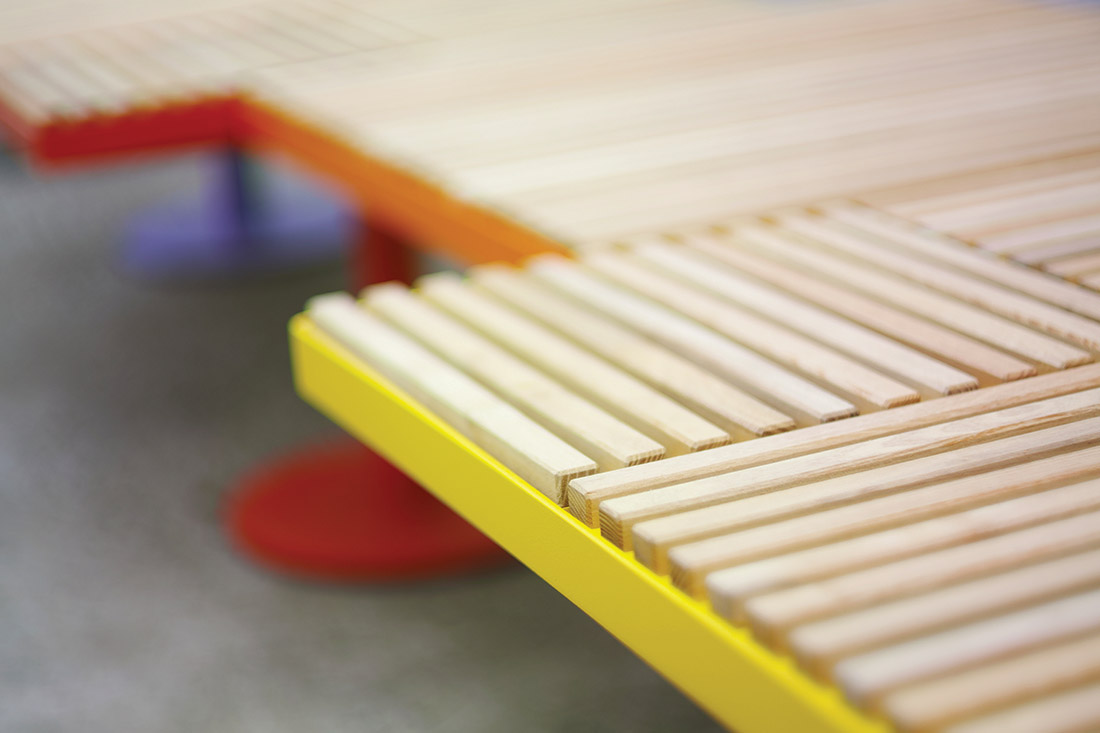 Video of the product: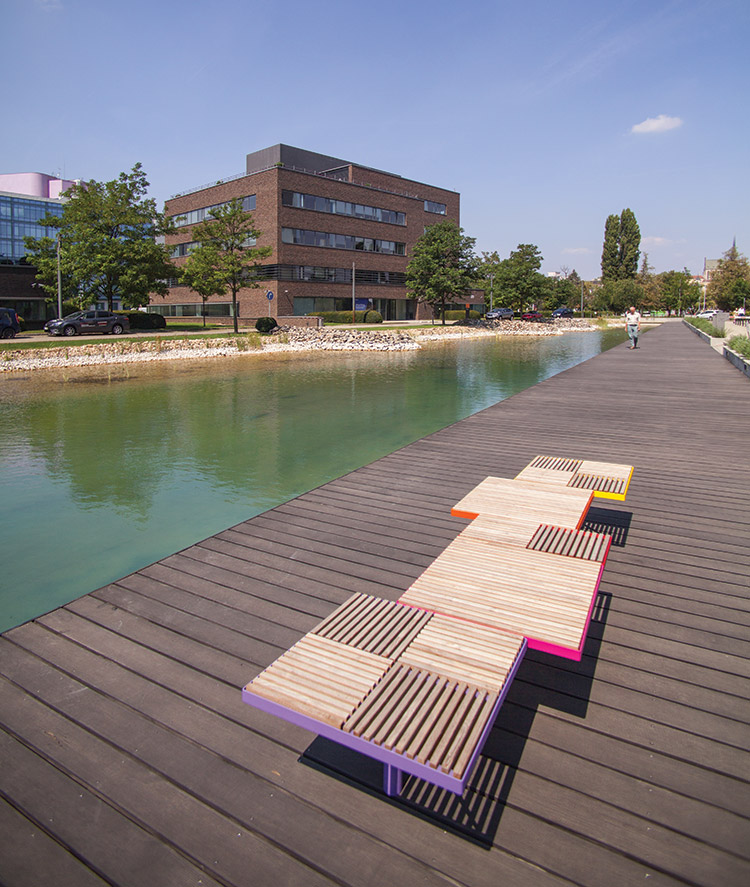 About the authors:
Herrmann&Coufal
Eduard Herrmann and Matěj Coufal met during their studies at Prague university of arts and design (Umprum). They found out that they are originally from the same town. Their collaboration was sealed when they won a university competition together. Later they established independent design practise Herrmann&Coufal, which is focused in the fields of product, exhibition and installation design.
"We are fascinated by the latest technology and precision, yet we deeply admire the old crafts and nature. We prefer pure and minimal form, yet we give all our creations a little bit of hot spice. Every project we do is totally different from the last one. That is how we keep our self with fresh mind."
mmcité street furniture
For more than twenty years, mmcité street furniture has earned a great reputation as a Czech design studio for its excellent designs for the public realm. The main area of focus is street furniture in all variations. The studio has a strong design team created not only by a professional skilled team of designers but also engineers, project managers, calculation specialists and of course marketing and graphic designers who all are an integral part of the whole team led by David Karásek. Mmcité street furniture strive for development complexity transforming the ideas from the first sketch to the final contemporary solution; being used in series production as well as in custom projects. Committed to meeting and exceeding the client´s objectives and expectations, the team continually search for new approaches, pushing themselves to find new design solutions with the ongoing innovation and exquisite design in mind.
The studio is well recognized in the sphere of design for public realm, even on the global scale. You can see the mmcité street furniture products in many countries, from Paris through to Moscow, Dubai to New York and San Francisco. Mmcité street furniture has repeatedly earned numerous awards for its hard work such as Red Dot Awards, Good Design Awards, IF Design Awards, Czech Grand Design and others.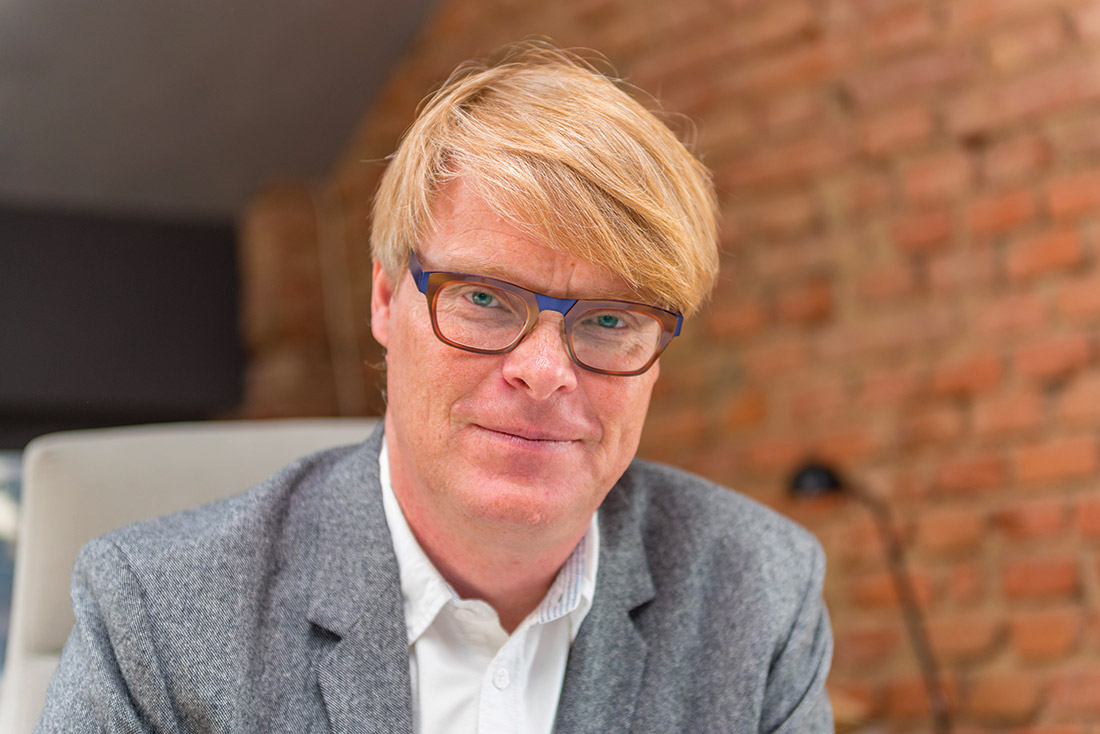 David Karásek
FILE
Design: David Karásek, mmcité street furniture; Herrmann&Coufal
Producer: mmcité street furniture
Year of production: 2018
Text provided by the authors of the project.