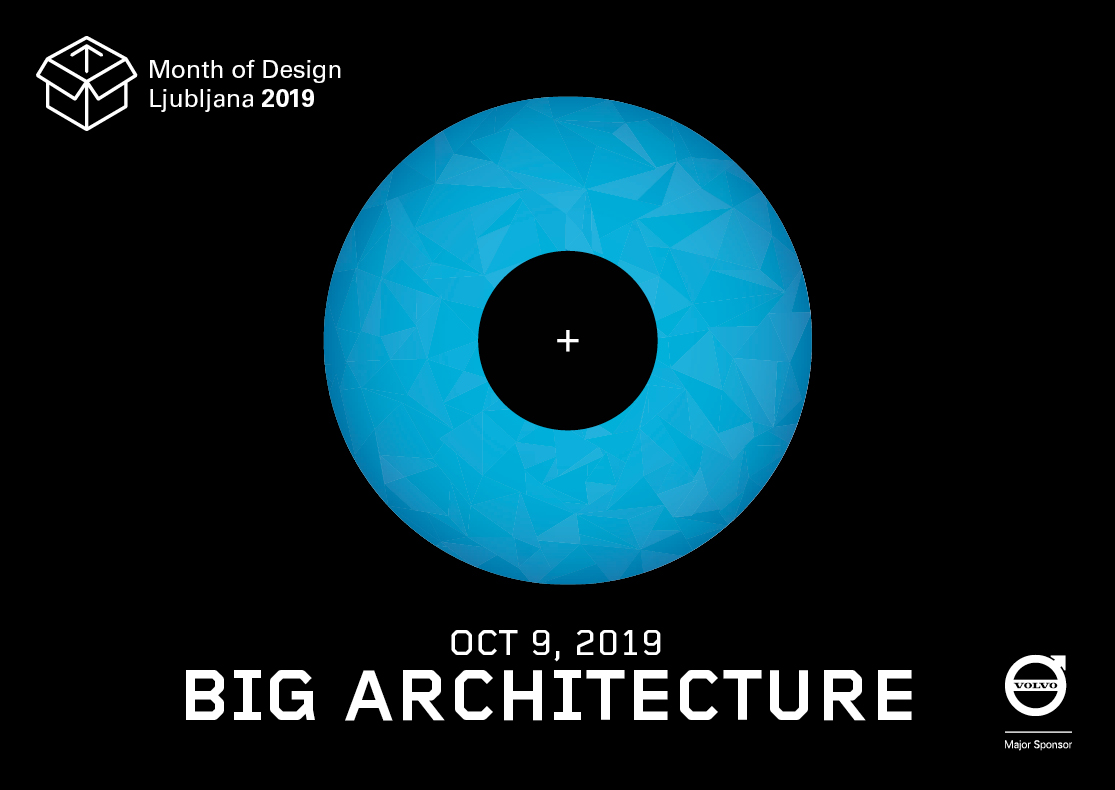 FESTIVAL BIG ARCHITECTURE 2019
October 9, 2019
City of Design, Dunajska cesta 13, 1000 Ljubljana, Slovenia
Big architecture is a leading business and educational event related to advanced architecture. It is intended to strengthen business success and attractiveness of South-Eastern Europe by researching, evaluating, and promoting architectural excellence. It serves as a catalyst of reflections about the crucial importance of architecture in the environment that takes into account and responds to the contemporary social challenges which are important for our existence, economy, and future.
The purpose of the festival is to familiarise architects and professional decision-makers with the new concepts of living, innovative technologies, building systems, services, and advanced solutions in forming and implementing a high-quality architectural envelope and interior. It is also an opportunity for the architects to present their work.
Focus on October edition of the Festival are interiors.
ARCHITECTURE 180˚ (Brands Stage)
Construction experts and architects on new materials and technical solutions through advanced architectural examples: wooden construction, doors & windows, facades, roofs, insulation, light, ceramics, floor and parquet, water, sanitary equipment, heating and air-conditioning technology, photovoltaics, garden and surroundings, technical security, fireproof materials, stone, light, glass, furniture.
ARCHITECTURE 180˚ (Awards Stage)
A series of short, concise presentations of the awarded BIG SEE projects which aim to confront critical thinking about the quality in architecture and establish quality communication within the profession.
ARCHITECTURESHOW EVENTS
An event organised by an exhibitor at one's own exhibition space shall raise the visibility of a trademark and at- tract different business partners and clients (i.e. meeting with designer, architect, general manager, owner…). When organised in the frame of the Month of Design the event is additionaly promoted in digital an printed media as the Month of Design Partner Event.
ARCHITECTURAL CHALLENGES AND RESPONSES
The selected architects will present the current architectural challenge and look for an appropriate response in the polemic debate.
BUSINESS-ARCHITECTURAL FORUM: WOODEN INTERIORS
You are kindly invited to attend Business Architectural forum on the topic of wooden interiors, which has been organised by the Ministry of Economic Development and Technology – Directorate for Woodworking and SPIRIT Slovenia – Public Agency in cooperation with Zavod Big and the Association of Woodworkers in Slovenia and some other partners.
What is the future of innovative use of food in interiors what are the trends and opportunities for greater use of wood in public and commercial buildings as well as appartments are the issues that will be addressed by top foreign architects in forum.
Curator: Mateja Panter
TRADE SHOW
The leading Trade Show for advanced architecture and professional civil engineering in the region that aims to familiarize architects and other expert decision-makers with new materials, innovative technologies and advanced solutions related to planning and implementation of high-quality architecture and interior design. It is also an opportunity for the architects to present their work.
BIG SEE INTERIORS AWARD CEREMONY AND EXHIBITION
BIG SEE INTERIOR DESIGN AWARDS recognise and expose excellence in interior design from Southeast Europe in categories:
– Retail (shops, shopping centres, showrooms, department stores, hairdressers, doctor's & dentist's rooms)
– Hospitality (bars, restaurants, hotels, boutique lodges, spa centres, casinos, clubs, cinemas, fitness centres)
– Workplace (offices, factories, warehouses, studios)
– Civic (galleries, museums, concert halls, theatres, community centres, educational institutions, places of worship, hospitals, libraries, consulates, law courts, parliamentary buildings, airports, railway stations, ports & ferry terminals, prisons & police stations)
– Installation (installation structures, set designs, galleries and museum exhibitions, pavilions, pop-ups, showrooms)
– Residential
EXHIBITION OF THE MONTH OF DESIGN AND BIG SEE AWARDED PROJECTS
The awarded Southeast European projects will be displayed in the national pavilions at the BIG SEE exhibitions in the following areas: architecture, interior design, product and fashion design, wood design and creative tourism. They aim to promote business and creative excellence of the Southeast Europe and as such they offer an in-depth insight into the current situation in the field of creativity in the region.
Please, fill in application form:
By Registration I authorize the use of my personal data in accordance with the applicable Personal Data Protection Act and the General Data Protection Act (GDPR) and the Privacy Policy of the Zavod Big